Got a question? Google it. Thinking about your special someone? Text them. Fancy a new pair of shoes? Scroll through and take your pick.
You can do that. Right here. Right now. With that clever device in your back pocket.
Smartphones have redefined the way we learn, socialize, and shop.
They've transformed the speed at which we access and share information. They've accelerated our daily processes. All the things we were once content to take our sweet time with, we now expect to be completed in seconds.
No matter what you think about it, that's the reality. The question you should ask yourself is – can my business keep up?
And the answer is yes – if you have a mobile CRM.
Mobile CRMs bring businesses up to speed, so they can operate at the same rapid pace as the rest of the world.
With a mobile CRM, you have instant access to leads, internal and external messaging, deals, and business updates in real-time, from wherever they are.
With your entire workstation in your back pocket, you can complete tasks, make sales, and ultimately run your business on the go.
Say hello to productivity, efficiency, and more responsive service to your customers.
Let's talk more about the benefits of a mobile CRM, how it can help different industries, and which options are the best fit for your business.
The 5 Benefits of CRM Mobile Applications
A mobile CRM allows employees to perform the same tasks on their smartphone or tablet as they could on a CRM hosted on a desktop computer or laptop.
Except, with the advantage of cloud computing, a mobile CRM allows employees to perform these functions wherever they are – at home, on the bus, or…
By taking advantage of mobile CRMs, businesses can maximize results, be more accommodating to employees, and offer the best service to customers.
By implementing a CRM with mobile functionality, businesses benefit from:
Higher productivity
Greater speed and efficiency
More practical solutions
An affordable business tool
Better service to customers
Let's take a closer look.
1. Productivity
Let's be honest, your sales team doesn't spend 100% of its time 'in the office' being productive.
We're not suggesting your salespeople are lazy procrastinators, though. That's just life.
Things come up, delays happen, and the time between 9 am and 5 pm sort of… disappears.
Think about the minutes spent…
Waiting for your computer to turn on or update
Rushing to work after the bus was late
Sitting on hold with a lead
Bringing the slow guys up to speed at the meeting
Waiting for coffee or lunch to be ready
Without a mobile CRM, those minutes add up as wasted company time and lost revenue.
But, when staff can use their device for work-related tasks, businesses can gain an additional 240 hours per year.
With access to a CRM phone app, staff aren't completely reliant on their computers to complete tasks and make sales.
This means more opportunities to qualify leads, call prospects, close deals, and communicate with their team on the go.
The result? A more productive and agile sales team that never misses a beat.
2. Speed & Efficiency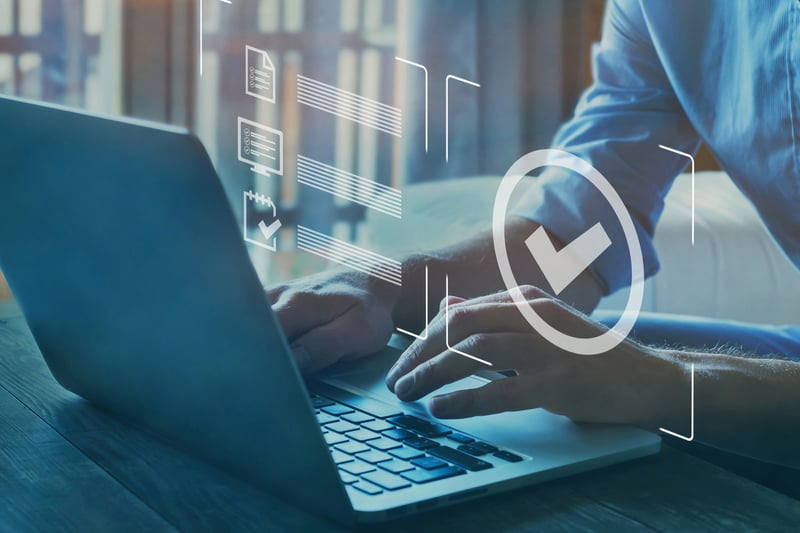 Sales is a fast game. But it's not just about operating swiftly. It's about taking an opportunity and not just letting it slip. Mom's spaghetti.
Check out these stats:
If you call a lead in the first 5 minutes after they've submitted a web form, they're 100x more likely to accept a sales call
You're 15% more likely to connect with a lead between 8 am and 11 am their time
With these proven strategies in mind, you've now got the power to be more successful and efficient with your sales calls.
You can act on these stats by:
Grouping your prospects by location and organizing your call sessions between 8 am and 11 am their time
Set up a prompt to call a lead as soon as they respond to an email drip campaign or online form
With access to a mobile version of your CRM, you don't have to worry about being out of the office or being separated from your computer when these opportunities arise.
You're positioned to respond to sales opportunities immediately. By just whipping out your smartphone and responding instantly, you can reach targets faster and maximize results.
By giving teams the ability to be more responsive, decisive, and effective with their time, a mobile CRM is guaranteed to improve not just your speed but your effectiveness. Achieve more in less time.
3. Practicality
A mobile CRM solves multiple practical problems that arise from being chained to a computer-based CRM.
We've created a handy table to show you:
| | |
| --- | --- |
| Practical Problem | Solution |
| Unable to move desktop computer | Use your phone or iPad, duh |
| Answer a phone call on the weekend and need to make an update | Now you can work 24/7 (yay) because you have a mobile app |
| Clicking and dragging all day gives Johnny a sore, tired hand | Swipe, swipe, swippitty swipe |
Moves with the modern human who is multitasking, on-the-move, a more flexible workday rather than 9 to 5.
4. Affordability
Most sales CRMs offer a mobile app for free with the platform, which is good news for you number-crunchers!
What this also means is that you're IT team isn't going to need to spend extra time and money developing specialized user-friendly tools.
Plus, many CRMs offer client-facing features such as customizable forms, yet another line item off of the old expense book!
5. Improved Service to Customers
All of these benefits, from enhanced productivity to greater efficiency, are not only wins for your business; they're wins for your customers.
By freeing up sales and support reps to work from any device, and giving them access to powerful new workflows, you're empowering them to deliver better service to your customers.
And what does that mean?
Reduced churn
Greater customer lifetime value
Stronger customer reviews which you can use as social proof in your marketing efforts
What Types of Industries Need Mobile CRM Software?
Mobile CRMs might not be a great fit for everyone, and clearly, sales reps that are on the go are going to get more out of the helpful platforms.
So, which industries benefit most from the use of mobile CRM solutions?
Let's explore.
Insurance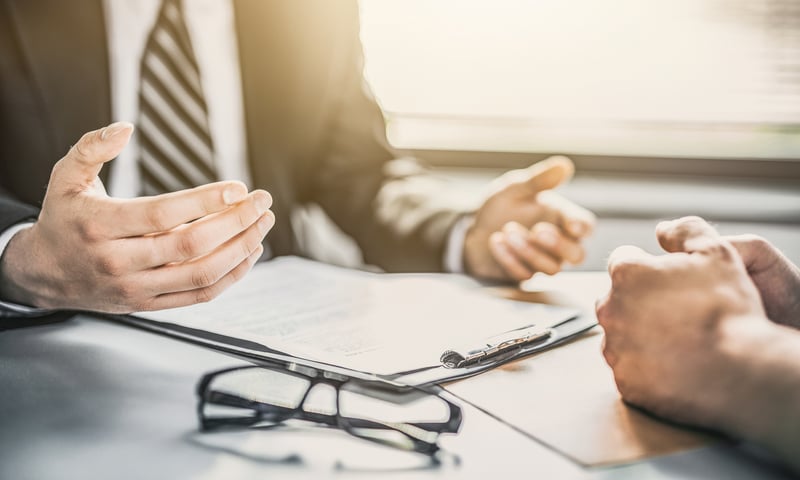 The insurance industry is evolving rapidly. To succeed in such an increasingly competitive environment, insurance agents must respond to the times.
Right now, millennials are replacing baby boomers as the primary customer of insurance companies.
Yikes, millennials.
If you're selling insurance to millennials, there are three crucial things to know:
They're the least insured generation – so they need some education about what types of insurance exist, how they work, and which policies will work best for them
They hate pushy salespeople – millennials respond better to gentle yet meaningful interactions
They expect everything to be instant and easy
That last point is where the win is for mobile CRM users, especially if it's a tool with client-facing features.

As an insurance rep selling to millennials, you want to make sure that the customer experience is frictionless, and embraces modern tech as much as possible.
For example, most millennials don't own a printer, so physical insurance policies are a waste of time.
Finance
What is it about the finance industry that makes it a good fit for mobile CRM?
For starters, it's the amount of customer information that they're storing.
Over the years, lenders capture thousands of data points from hundreds of different customers, so there is a growing need for a security-focused CRM to help manage all of this information.
Mobile CRM platforms in particular are helpful for lenders as they can meet clients at their home or out for coffee, and complete applications on the go.
It also makes for a much more user-friendly experience from the client's perspective.
Law
If there's one thing that law firms have a lot of, it's information.
Information and their clients. Information on their cases. Information on their contracts with their clients. Information on their contracts with their clients for their cases.
You get the point.
Implementing a mobile CRM helps law firms not only keep all of this data safe, secure, and in a single storage destination, but allows lawyers, clerks, and paralegals to work without the confines of a computer.
Need to run down to the library to cite a previous case?
Worry not, you'll be able to punch some notes straight into your CRM using the mobile app, which you'll be able to access on the client's file back at base.
Small Businesses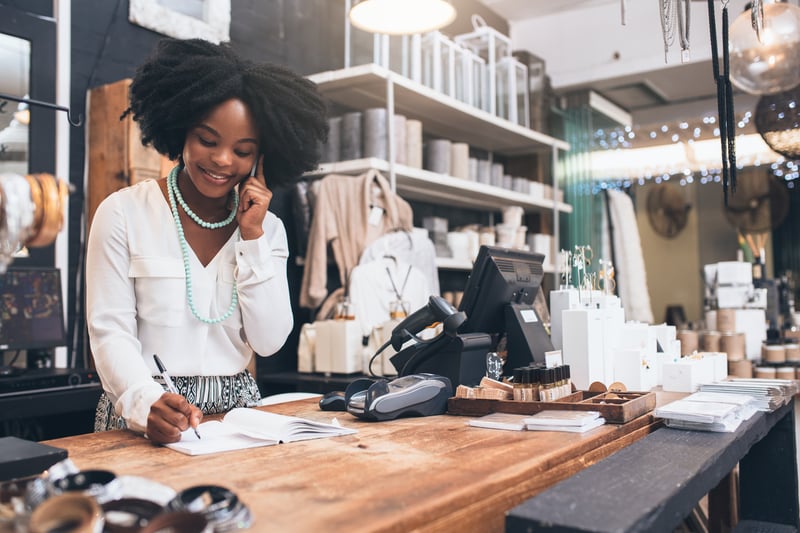 Small business owners are busy. They're constantly on the go, attending to one issue or another.
They might not have a whole lot of customers just yet, but you guarantee that each one of them is absolutely vital to the growth of that company.
That's why they need a mobile CRM.
So they can make sure to keep on top of customer interactions, build relationships with their most valuable clients, and keep their system up to date when they're moving from one meeting to the next.
4 Best Mobile CRM Apps on the Market Today
Ready to choose your fighter?
We're about to discuss 4 of the best CRM mobile app providers out there, but first, let's quickly discuss the criteria we've used to evaluate each of them.
| | |
| --- | --- |
| Criteria | Why It Matters |
| Ease of Use | Mobile applications need to be straightforward and simple to use, with an effective and inviting user interface. Otherwise, they simply won't get used by your team. |
| Flexibility | You want to prioritize finding a dynamic CRM mobile app that allows you to customize things like pipeline stages and reporting. This means you can craft the software to suit your process, not the other way around. |
| Automation | Sales automation is a huge time-saver and can put hours back in the hands of your reps, allowing them to spend more time selling each month. |
| Integrations | A good mobile phone CRM plays nicely with other tools you're already using, saving you the need for tonnes of double work, and spending up your workflows. |
| Cost and Pricing Model | Of course, you'll need to determine if a given platform fits within your budget, but you should also consider the pricing model of the mobile app. The two most common are the monthly or annual subscription, or a one-off purchase (known as a perpetual license or lifetime deal). |
1. Ringy
Ringy is a powerfully capable desktop and mobile CRM that empowers both fields and inside sales teams to exceed sales targets and deliver exceptional customer experiences.
Yes, we're repping ourselves, but just take a look at why:
Ease of Use
The Ringy mobile app is designed to be user-friendly and not overly complex, working perfectly on both iOS and Android devices.
Drag and drop functionality makes it simple to manage your pipeline on a mobile device, and you can quickly and easily click to call or send a text message from your phone.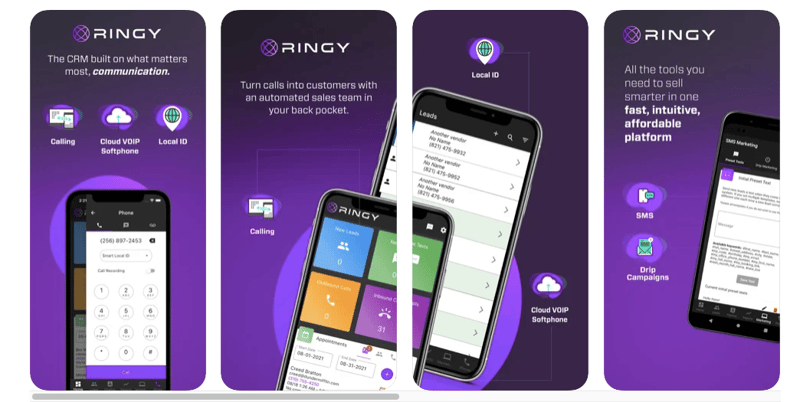 Flexibility
Ringy gives you the tools you need to craft a workflow and workspace to suit your needs.
Want to change the stages in your pipeline? Not a problem. Need a custom report emailed to you every morning? Consider it done.
Automation
We know from experience just how much of a typical salesperson's day is spent on manual, repetitive tasks that get in the way of valuable conversations and actual selling.
That's why we've made Ringy one of the most automatable mobile CRM tools around.
Check out how we can transform your sales workflow through AI-powered automation here.
Integrations
Ringy integrates with tools you're already using, such as:
Google Maps
Zapier
Facebook
Cost and Pricing Model
Ringy operates on a subscription model and costs just $109 per month. Find out more here.
Pricing as of 9 July 2021
2. Pipedrive
Pipedrive is a renowned CRM tool with an effective and easy to grasp interface.
Ease of Use
The Pipedrive mobile CRM app is fairly simple to get your head around, though it's not quite as sleek as the desktop version.
In any case, users can view contact information and move deals between various stages of the pipeline, and even access reports in real-time.
Flexibility
Pipedrive is a reasonably flexible tool, with customizable pipelines and the ability to create your own fields to store customer data in.
These custom data fields can be given properties such as:
Short text
Long text
Single option
Multiple options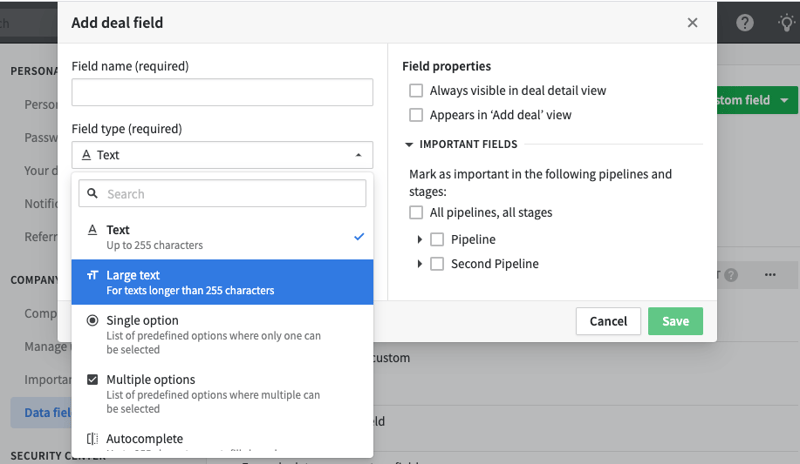 One thing customers have found with Pipedrive in the past though is a lack of flexibility when it comes to setting up custom reporting dashboards.
Automation
Pipedrive is fairly strong in the automation space.
Examples of activities you can automate include:
Email sends
Moving deals from one stage to another (based on specific actions)
Reminders
Integrations
Pipedrive offers a tonne of integrations. It's probably one of their greatest strengths. If you're using these tools and want them to plug and play with your CRM, Pipedrive has your back:
Zoom
Slack
Xero
Microsoft Teams
PandaDoc
Twilio
Cost and Pricing Model
Essential: $12.50 per user, per month
Advanced: $24.90 per user, per month
Professional: $49.90 per user, per month
Enterprise: $99.00 per user, per month
Pricing as of 9 July 2021
3. Zoho CRM
Zoho CRM is a little on the older side, having been around since the early 2000s when Macs looked like this: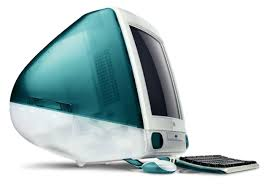 Thankfully, their mobile CRM app is a little more up-to-date.
Ease of Use
The Zoho app is relatively easy to use, with a clean and modern interface.
It has some cool features too, one of which is the ability to scan a person's business card and upload the details into your CRM!
It also has an offline mode, which is great for keeping going even if the internet drops out, or if you're on the road.
Flexibility
Zoho CRM offers customizable page layouts, allowing you to match a view to your workflow and work both faster and smarter.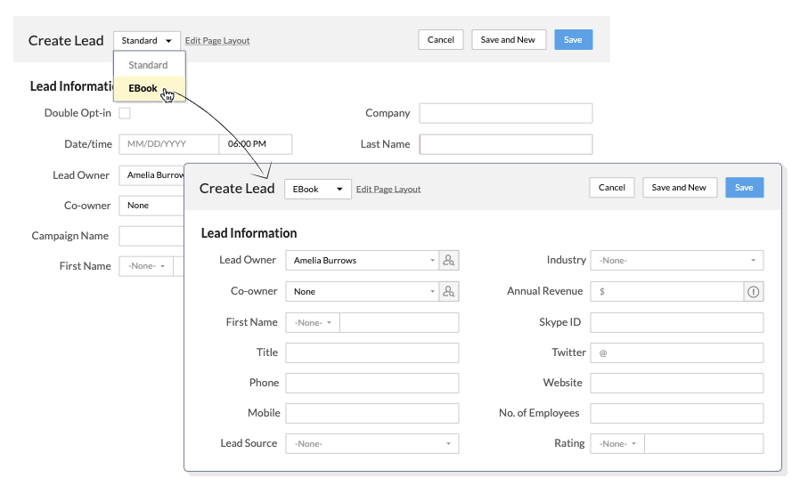 Plus, you can customize field types and modules within the CRM, allowing you to store and visualize data in a way that makes sense to your team.
Automation
You'll find some pretty robust automation capabilities in Zoho CRM, giving you the ability to rinse and repeat actions like:
Email sequences
Lead routing and distribution
Customer support ticket management
Integrations
Zoho has a tonne of integrations.
You'll find Zoho CRM phone integration options from the likes of RingCentral and Twilio, as well as native integrations with often-used tools such as:
WhatsApp
PandaDoc
BurstSMS
Eventbrite
Zoom
Quickbooks
Leadfeeder
Mailchimp
Cost and Pricing Model
Free: Supports up to three users
Standard: $14 per user, per month
Professional: $23 per user, per month
Enterprise: $40 per user, per month
Ultimate: $52 per user, per month
Free trial of paid plans: 15 days
Pricing as of 9 July 2021
4. Salesforce CRM
Salesforce CRM is probably the best known of all CRMs, powering tonnes of enterprise sales teams the world over.
Ease of Use
Let's be honest:
Salesforce isn't exactly known for being an easy-to-grasp, user-friendly tool.
It's complex as hell, and though the features it offers have plenty of use inside the world of enterprise sales, it doesn't make them easier to get your head around.
Flexibility
What Salesforce does have to go for it is flexibility. And it's got it in spades.
Custom pipelines. Flexible reporting dashboards. Automated lead routing the way you want it. Check, check, and check.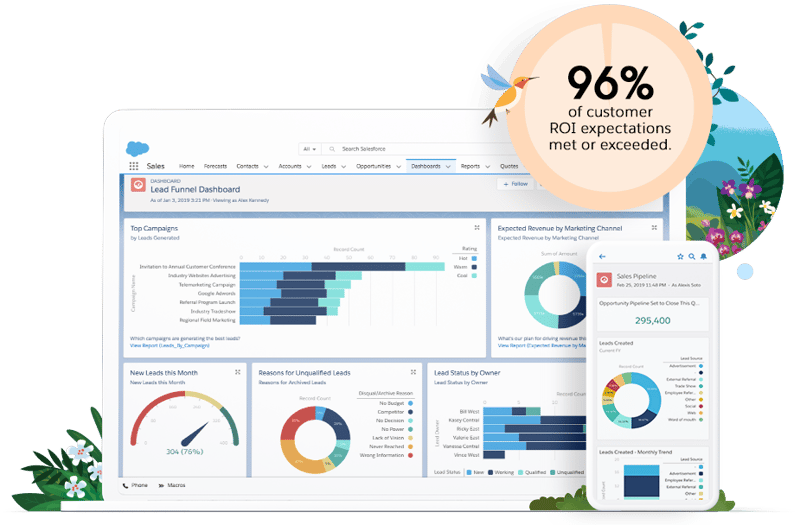 Automation
You can automate quite a bit in Salesforce, though sometimes you need a bit of technical coding expertise or the use of a third-party automation tool.
Still, most of your standard sales and workflow automation functions are there, so you should be able to get set up quickly with a few time-saving rules.
Integrations
Given Salesforce's size and influence, it's perhaps unsurprising that there are few platforms it doesn't integrate with.
Software tools that Salesforce's CRM has native integration with include:
Quickbooks
DocuSign
LinkedIn
Jira
Dropbox
ActiveCampaign
Cost and Pricing Model
Free Trial (Essentials): 14-day free trial
Free Trial (Professional): 30-day free trial
Essentials: $25 per user, per month
Professional: $75 per user, per month
Enterprise: $150 per user, per month
Unlimited: $300 per user, per month
Pricing as of 9 July 2021
FAQ
How much does a Mobile CRM App cost?
Most mobile sales tools are available on a subscription basis, and typically cost between $29 and $149 per user, per month.
How to set up a CRM Mobile App?
Each mobile CRM works differently, so there is no 'one size fits all solution here.
However, the typical steps you need to follow to get set up with a mobile CRM are:
Determine which app works best for your needs
Sign up with the service provider
Download the app from the App Store or Google Play
Sign in to your device
Import your customer data
Set up your integrations and automation rules
Get selling!
What can a Mobile CRM App do?
CRM mobile apps can do pretty much anything a desktop CRM can, including:
Make and receive phone calls
Lead and pipeline management
Email and SMS send
Reporting and analytics
Take notes on customer interactions
Does Ringy have a mobile app?
Yes! Ringy has one of the most intuitive and easy-to-grasp mobile apps out there. Download it here.
Conclusion
Ready to get started selling using a mobile CRM?
We're pumped for you! Don't forget to make sure that the solution you choose nails these 5 areas:
Ease of Use
Flexibility
Automation
Integrations
Cost and Pricing Model
Oh, and if you're still not sure, here's a little hint for you:
Ringy is a chart-topper in all 5 categories. Book a demo with our team today, and we'll prove it to you.