Agency life just hits different.
You're busy, and you need to provide solutions for your clients now.
You have to work smarter and not harder. You need to be able to choose an agency CRM that can handle what you need without you having to do a ton of research.
Don't worry, we got you. Let us turn your agencies into CRM agencies.
Why do you need a CRM for Advertising Agencies?
Think of the top 3 things that you would need if you owned a marketing, advertising, or creative agency. We'll wait.
Chances are some sort of client management was near the top of your list. How a creative or marketing agency tracks and manages client projects and keeps communications organized is essential for staying efficient.
Imagine having to manually keep track of multiple clients, including where your employees progress with a particular project, such as email threads, texts, calls, financials...it would take so much time and effort to keep this all organized, especially if multiple forms of communication and technologies are being used.
As an agency grows, using common tools like excel to keep track of client projects just doesn't cut it, and honestly, it's easier and better to use tools that can scale with your company as it grows rather than always having to switch to new tools and go through training and onboarding over and over again.
Luckily, there are a lot of great CRMs (Customer Relationship Management) systems out there that are tailor-made for creative agencies.
What features should you look for in a CRM for a Marketing Agency?
Determining what features you should look for in a CRM depends on what your agency does. We can't tell you "this is the best CRM for a digital marketing agency" or not, since that's subjective. But we can tell you what to look for so you can make your own informed choice.
For instance, if you're a specialized digital marketing agency focused on written content creation like blogs and website copy, you'll likely want a CRM that either offers integration with popular Content Management Systems (CMS) like WordPress.
For CRM software for advertising agencies, you'll likely want features like a native social media management system built-in or the option to integrate with one, and the ability to integrate with Google.
If you're a more general agency offering different types of marketing work across the board, then the best CRM might be more of a "jack-of-all-trades" so that you cover all the bases for what you need now and in the future.
The features you want in a CRM for your agency should align with the type of work you provide. It's also worth looking into whether the CRM is "a CRM for creatives" in the sense that it caters to creative people.
Here are some questions you can ask yourself before you make a decision on which CRM to buy for your agency:
Does this CRM cater to my type of agency (marketing, advertising, creative)?
Which CRM features would benefit my agency the most?
Which communication features do I need? (email, phone, SMS, instant messaging, etc.)
Which project management features do I need? (Calendar, appointments, Gantt chart, etc.)
Which automation features do I need? (Marketing automation, sales automation, customer service automation, etc.)
Evaluation Criteria for CRMs for Digital Marketing Agencies
Even when you know what you want in a CRM for your digital marketing agency, there are so many out there that it can be tough to decide which one is going to be the best for your business.
Considering that implementing a CRM is at the very least a decent investment, and it's usually quite a process to switch from one CRM to another, you probably want to make sure that you get it right the first time.
Here are 6 considerations that should help you make the best CRM choice for your creative or marketing agency:
Flexibility
Integrations with third-party apps
Communication features
Usability
Automation
Price
Keep in mind that different features will be more important to one agency than another, so numbering those features isn't needed since they are all equally important.
Top 10 CRMs for Digital Marketing Agencies Compared to Ringy
Full disclosure: we're here to promote Ringy as your agency CRM of choice, but we also understand that it's going to take more showing than telling when it comes to convincing you to give it a try.
Here's a detailed rundown of what Ringy offers to creative and marketing agencies, based on the criteria we outlined above:
Now that we have the rundown on Ringy, here are 10 popular CRMs and how they stack up against Ringy. These CRMs were chosen based on their overall popularity and how they claim to cater to creative and marketing agencies.
Hubspot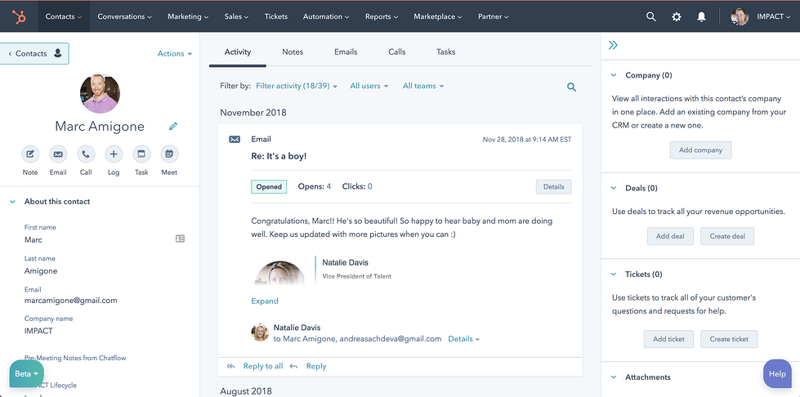 There's no denying it - Hubspot is one of the biggest names for CRMs for all types of businesses and is often considered the CRM for agencies. Hubspot has a lot of different tools and features, plus a hefty resource and training offering through the Hubspot Academy.
Comparison to Ringy:
Compared to Hubspot, Ringy is less expensive, doesn't charge based on users (instead it's a static price per month), and includes business SMS and calling options like VoIP softphone.
Engagebay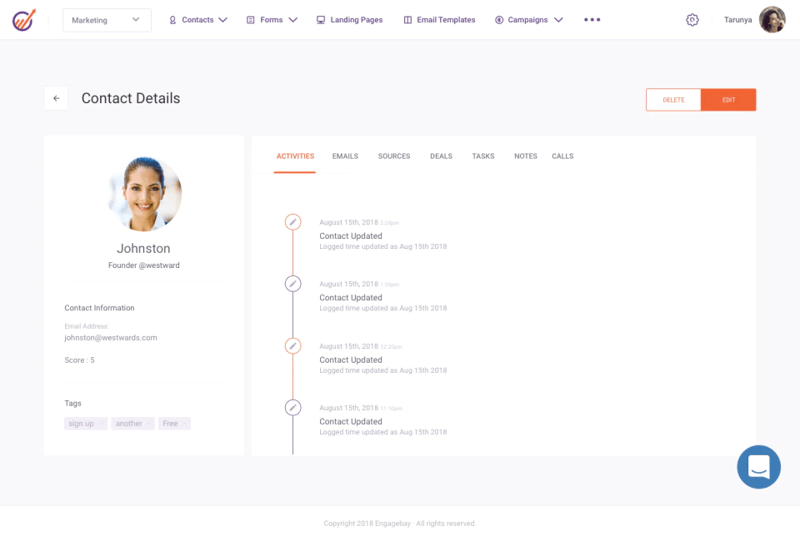 Engagebay boasts that they are the most "affordable all-in-one growth software", with a full suite of features from email marketing, lead management, automation, etc. Engagebay offers a similar setup to Hubspot where you can subscribe to their all-in-one suite or one of their "bays", either for marketing, CRM & sales, or service.
Comparison to Ringy:
Overall, Engagebay seems like a great choice for small businesses, as it comes with a lot of features for a low price. But when you go through the features individually, there are functionality limitations here and there. With Ringy, you know what you're getting straight up, and additional features are fully accessible.
Monday CRM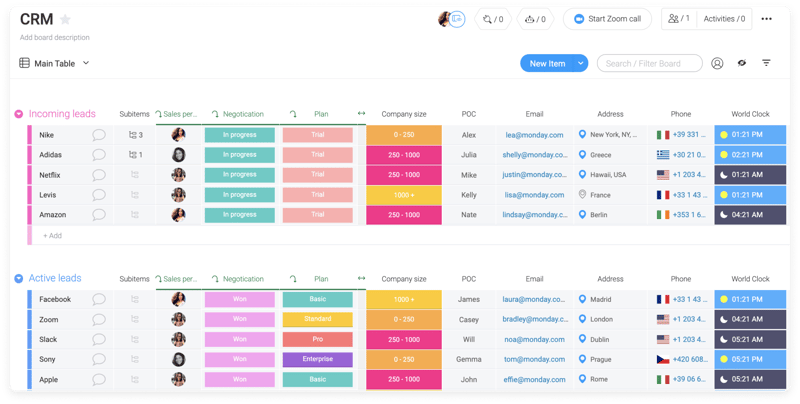 Monday CRM is advertised as an all-in-one sales and marketing CRM that can grow with your business.
Comparison to Ringy:
Monday CRM is more like a robust project management software system with CRM features built into it. That being said, it's used by a lot of recognizable organizations and does have a lot of third-party integrations available. If you prefer more calling and SMS features though, Ringy still wins out.
Insightly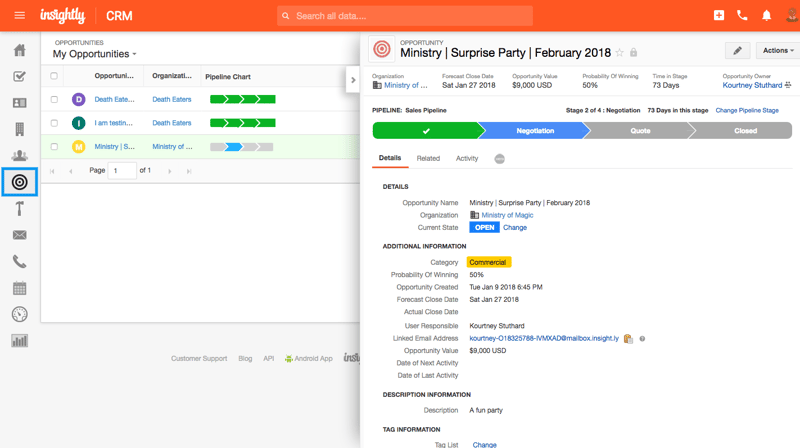 Inisghtly is an agency CRM with marketing and sales additions, rather than it being an all-in-one system. However, it does include all of the standard automations that you'd expect in a CRM and offer a lot of customization options.
Comparison to Ringy:
Ringy is preferable to Insightly in that it includes marketing and sales features without an additional cost. Also, Ringy has a built-in calling and SMS system, and third-party app integrations don't cost extra.
Act!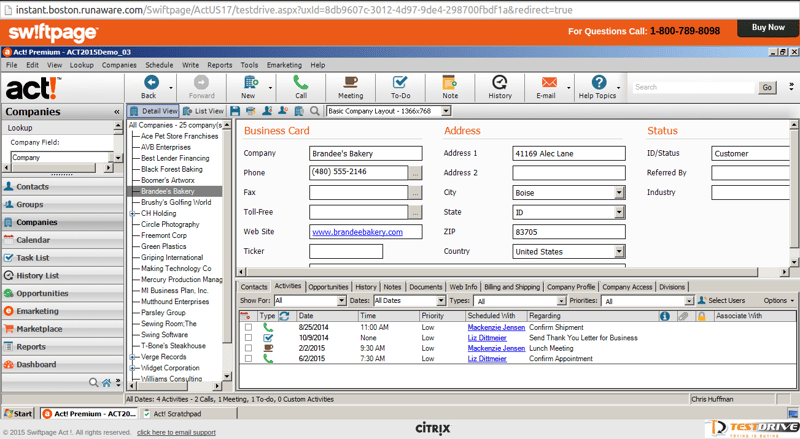 Act! comes in both cloud and self-hosted options, which is interesting since most modern agency CRMs are cloud-based. As a CRM, Act! markets themselves as able to grow with small businesses. The interface isn't as pretty as some other CRMs, but the software itself is seemingly user-friendly and functional.
Comparison to Ringy:
As with a lot of the CRMs that we are looking at here, additional features come at an additional cost. Ringy includes all features available with a subscription, and the ability to integrate with third-party apps at no extra cost.
Copper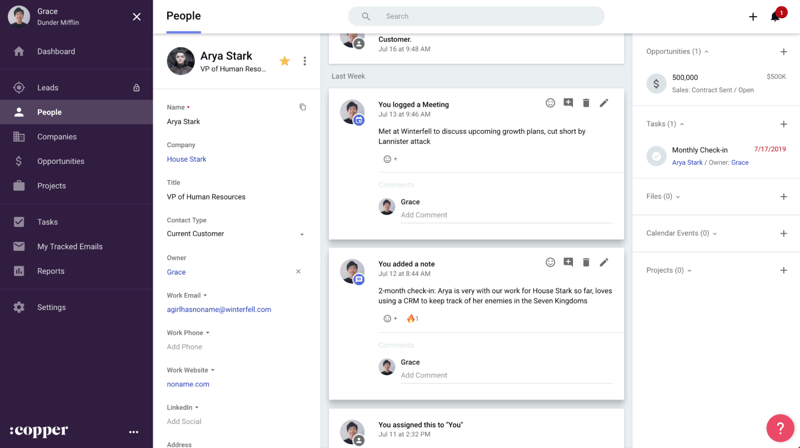 Copper boasts agency CRM features that you'd expect while telling you exactly why it's perfect for your industry.
Comparison to Ringy:
Copper is very focused on the Google Workspace for most of its features and doesn't seem to offer any call or text functionality out of the box. It can, however, integrate with other CRMs that do offer call and texting. As we've said before, Ringy offers a complete call and business SMS solution right out of the gate, as well as additional sales and marketing features for no extra cost.
Zoho
Zoho is a customer service, sales and marketing, and email solution. It even has features for human resources, IT, and legal. SaaS as well as small to midsize businesses are Zoho's main audience.
Comparison to Ringy:
There's no doubt that Zoho is a robust CRM that can grow with businesses, but its myriad of features and offerings can be confusing to someone who is just looking for a simple solution. Ringy is feature-rich but simple and can grow with your business without the confusion.
Salesforce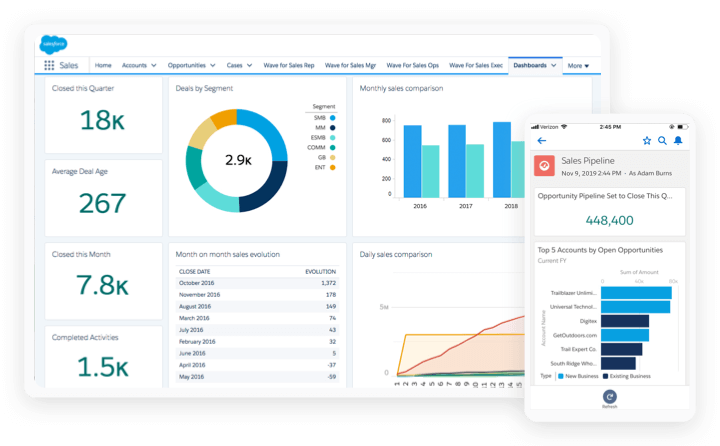 Salesforce is a tough competitor for sure, as it's the most used CRM in the world. Salesforce offers endless features and integration compatibility, and it's useful for pretty much any business.
Comparison to Ringy:
Salesforce is an impressive CRM to be sure, but it takes quite a lot of time and money, let alone training, to be effective. However, it does grow with your business. Ringy is just a simpler solution if it includes the features you need, as you can be up and running in no time and onboarding and support are included in the subscription fee.
Creatio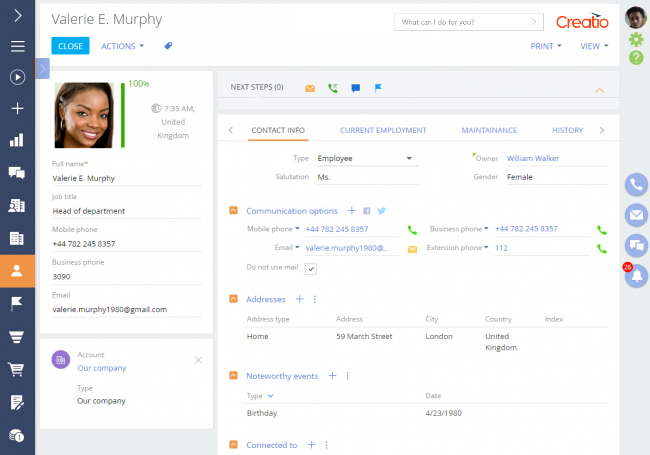 Creatio is a process management and CRM platform that offers drag and drop, as well as "low-code" or "no-code" solutions for you to build out targeted communications.
Comparison to Ringy: Creatio is a full-featured CRM, but they charge extra for support costs, and although solutions can be purchased together as a bundle, they still charge per user for each solution.
Pipedrive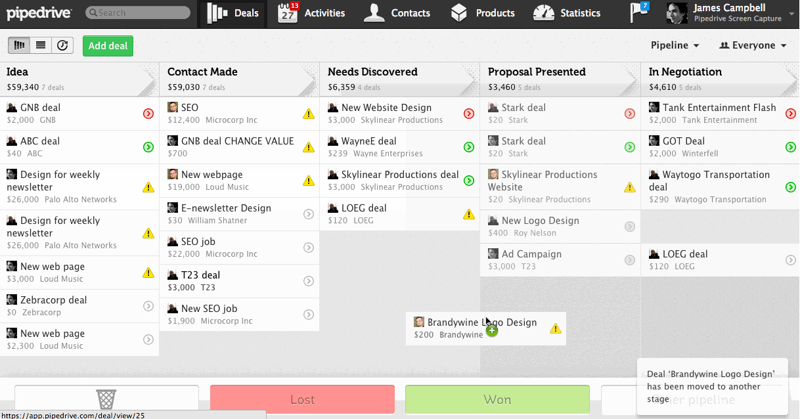 Pipedrive is a simple, sales-focused agency CRM with a user-friendly interface that caters to teams of all sizes.
Comparison to Ringy: Pipedrive has similar features to Ringy and is inexpensive, but they still charge per user and lock you into an annual subscription if you want the cheapest price.
Frequently Asked Questions
What is an agency CRM?
An agency CRM is a customer management system that has features and benefits that cater to an agency. For example, Ringy is a CRM that has a campaign management tool to allow you to set up and manage SMS and email campaigns for different clients. To choose the best agency CRM for your business, you have to determine which features you are looking for and compare and contrast different CRMs to find the right fit.
For instance, a CRM for creative agencies usually has flexibility and communication features, usability, integration with third-party apps, automations, and more.
What Makes a Good CRM for Advertising Agencies?
A good CRM for Advertising Agencies usually includes a 360-degree view of the customer in the form of lead capturing, lead management, and lead nurturing tools. Advertising agencies may also look for CRMs that have a wide variety of automation features to reduce workload, and a good interface for managing different client projects.
What features does CRM Software for Advertising Agencies Have?
The features of CRM software for advertising agencies are typically:
A lead management system
A lead nurturing system
A lead capturing system
360-degree customer views
Automations for administrative tasks
How Can I Choose the Best CRM for Marketing Agencies?
The best CRM for digital marketing agencies share some common characteristics, from collaboration tools like instant messaging, calendar, and email integration, to good reporting and workflow automation. To choose the best CRM for marketing agency, be sure to look for CRMs that have these features, such as Hubspot, Copper, Insightly, and more.
What is the best CRM for Creatives?
The best CRM for creatives is one that allows them to work freely without being the reason for a creative block. The best CRM for digital marketing agency full of creatives is one with automation tools and workflow management tools are the best features for creatives to have in a CRM.
Summary
Choosing an agency CRM isn't always an easy process, but if you're armed with the right information, you'll be well on your way to making the right decision for your business.
Thankfully, most agency CRMs are flexible in that they can be used for many different types of businesses, but there are still some that cater more towards some business types than others.
Before you start looking into different CRMs, think about what you need them to do for your business. For instance, a CRM for a digital marketing agency might also be fine for an advertising agency, but you need to make sure that the features align with your use cases and budget.
Book a demo with Ringy today to see how our feature set can meet the needs of your business.