Things can get complicated as your business grows.
The confusion and the mess can make your life as a salesperson incredibly difficult.
What seemed easy when you only had ten customers now seems impossible with hundreds and hundreds of accounts to look after.
Even preparing for calls and meetings has turned into the business equivalent of running a marathon.
We feel your pain, and honestly: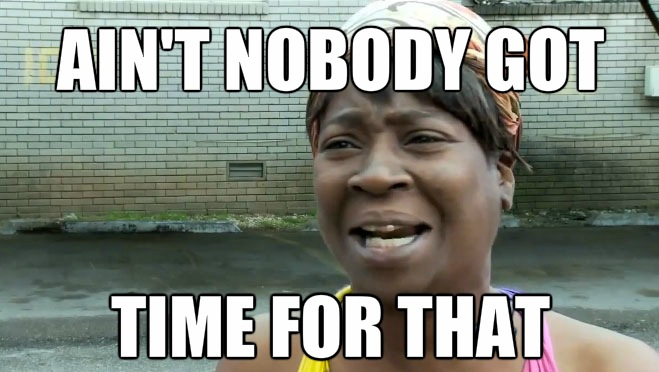 It's time to do yourself and all of your sales reps a massive favor.
You should streamline your sales process by investing in one of the best CRM systems known to mankind.
These virtual assistants are the most efficient way to set your team up for success.
Just imagine, an adequately implemented CRM could deliver an ROI of up to 771% and increase your sales by up to 29%.
Awe-inspiring numbers that warrant you spending the next 20 minutes of your day reading this helpful blog post.
You'll learn all about CRMs, and most importantly, you'll uncover the five best CRM platforms for optimizing how you manage your sales pipeline.
So without any further ado, let's dive straight in.
What Exactly Are CRM Systems?
CRM stands for customer relationship management, and CRM systems are pieces of software that help companies record and manage their client interactions.
These solutions can get pretty complex, but their underlying goal is always simple.
They help businesses develop better relationships with clients and leads while improving customer satisfaction and sales numbers.
Cutting-edge CRMs achieve this by:
Creating a 'single version of the truth' that eliminates information silos
Streamlining clunky processes
Automating time-consuming menial tasks
Using artificial intelligence (AI) and analytics to provide actionable insights
They're an enormous step up from the first iteration of CRM technology, the Rolodex.
And thankfully, the days in which only large enterprises could afford CRMs are long gone.
Nowadays, 74% of all organizations use this type of software, and that number grows to 91% if we only consider firms with over 11 employees.
This CRM revolution has made CRMs the largest business software category globally and resulted in tons of CRM solutions popping up worldwide.
Some are good, some are bad, and some are phenomenal.
But it isn't easy as a salesperson to find the best platform for your specific company.
You need an expert to hold your hand and point you in the right direction — and that's exactly what we'll do in the following sections.
A Roundup of the Best CRM Software
Before getting bogged down in the (beautiful) details, let's give you a super-quick CRM comparison snapshot of the five programs we'll be reviewing today.
| | | | |
| --- | --- | --- | --- |
| Rank | Best CRM Programs | Score | CRM Software Pricing Comparison |
| 1 | | 4.7 | $25 - $330 per user per month + $50 per user for AI capabilities |
| 2 | | 4.5 | $109 per month |
| 3 | | 4.4 | $18 - $55 per user per month |
| 4 | | 4.3 | $18 - $83 per user per month |
| 5 | | 4.1 | $11.90 - $74.90 per user per month |
*Pricing as of August 2023
We realize these links look really tempting — go ahead and click them, we don't mind.
A bit of background reading on the best CRM tools on the market won't hurt.
But do us two favors:
Don't get lost doing too much research just yet.
Only sign up for a CRM system AFTER you've finished reading this article.
You'll thank us at the end.
What Qualities Do the Best CRM Software Have in Common?
When it comes to choosing the best CRM software, there are several key qualities that set the top options apart from the rest. These qualities ensure that the CRM system you select not only meets your immediate needs but also supports your long-term business goals. Here are four essential qualities commonly found in the best CRM software:
1. Good Balance of Features and Functionality
The best CRM software stands out by offering a comprehensive set of features and functionality that cater to various business needs. This means it should cover essential CRM functions like contact management, lead tracking, and sales automation. Additionally, it should support customization, allowing businesses to adapt the software to their specific processes.
A strong CRM system often integrates with other tools and platforms, such as email marketing, e-commerce, and social media. This integration streamlines data flow and provides a 360-degree view of customer interactions. The ability to manage customer data effectively, including storing contact information, purchase history, and communication logs, is essential.
2. Easy to Use
User-friendliness is a critical factor in CRM software. The best CRM systems are intuitive and easy to navigate for users of all technical backgrounds. This ensures that employees can quickly adapt to the software and start using it efficiently, minimizing training time and improving productivity.
A well-designed user interface with clear menus, customizable dashboards, and straightforward data entry processes is crucial. Additionally, the software should offer mobile compatibility, enabling access on smartphones and tablets for on-the-go sales and customer service.
3. Robust Reporting and Analytics
Top CRM software provides robust reporting and analytics capabilities. It allows businesses to gain insights into customer behavior, sales performance, and marketing campaigns. This includes the ability to create custom reports and dashboards tailored to specific business goals.
Effective CRM reporting should offer features such as real-time data updates, data visualization tools, and the ability to drill down into detailed information. Predictive analytics and AI-driven insights are increasingly valuable, helping businesses anticipate customer needs and make data-driven decisions.
4. Onboarding and After-Sales Support
The best CRM software vendors understand that the relationship doesn't end with the sale. They provide comprehensive onboarding and training services to ensure their customers get the most out of the software from day one. This includes documentation, tutorials, and responsive customer support.
Ongoing customer support is equally crucial. The software vendor should offer a range of support options, including email, chat, and phone support, with reasonable response times. Regular software updates and improvements demonstrate the vendor's commitment to staying current and addressing customer needs.
Top CRM Evaluation Criteria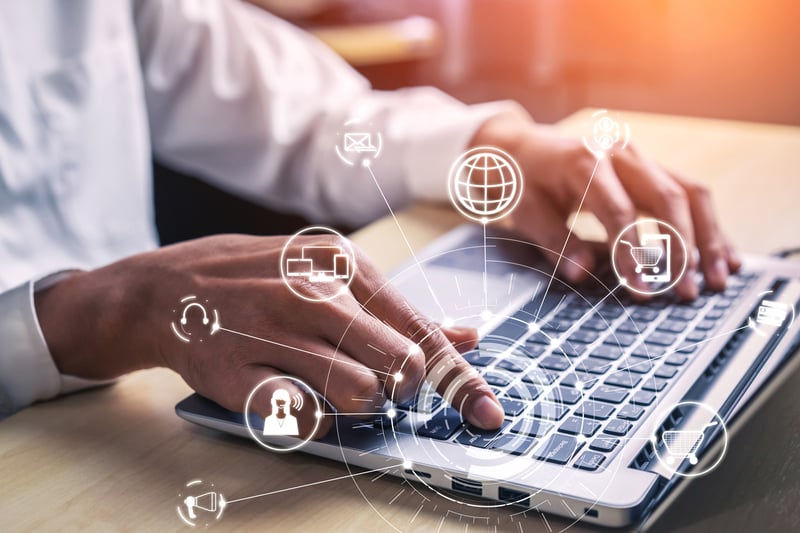 Comparing different CRM systems is no cake-walk, especially if you aren't sure what features to look for and how to evaluate them.
But no need to worry, we'll explain everything you need to know.
And since we know that salespeople are often short on time, you have the choice between two options for reviewing our evaluation criteria.
A super-quick essential list of the seven criteria:
Price
Ease of use
Lead management capabilities
Sales automation
Extra features & tools (cloud-based / integrated SMS, VOIP softphone, email, and calendar capabilities / analytics / mobile-friendly)
Customization
Support
And a detailed deep-dive on each factor:
1. Price
The price of CRM software can vary significantly, making it essential to align your budget with your specific requirements. Generally, CRM pricing models can be categorized into two types: per-user pricing and tiered pricing based on features.
Per-User Pricing: This model charges a set fee for each user accessing the CRM. For instance, a CRM that costs $1,000 per user per month may provide robust features, making it suitable for larger enterprises with substantial budgets. On the other hand, a CRM priced at $100 per user per month might be more accessible for small to medium-sized businesses.
Tiered Pricing: Lower tiers may include basic functionalities like contact management and email integration, while higher tiers might offer advanced features such as marketing automation and analytics. Choosing the right tier ensures you pay for the features your business truly needs.
2. Ease of Use
CRM sales tools shouldn't make you feel like this: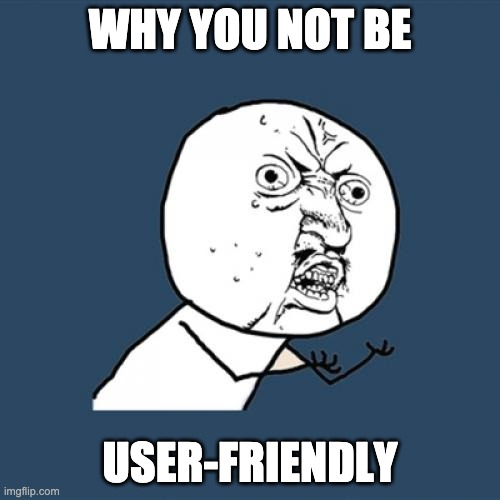 But unfortunately, many of them do, and it's not great for your cardiovascular health (or your sales numbers).
You need to invest in a solution that's intuitive and easy-to-use, not one that drives you up the wall with its complex processes and thousand-page manuals.
Consider factors such as customization options, ease of data entry, and the availability of training resources. Some CRMs provide onboarding assistance and tutorials to help users get started quickly.
After all, what's the value of having state-of-the-art technology if you don't have the faintest clue on how to use it properly?
3. Lead Management Capabilities
There's nothing more important for a salesperson than managing their pipeline.
And that means there should be nothing more important for a CRM than helping a salesperson manage their pipeline more effectively.
Good CRMs are well-aware of this role, and they'll empower you to:
Stay on top of your pipeline and your new leads
Streamline your workflows with automation and AI
Reach out to your hottest leads at precisely the right time
Make data-driven decisions
Effortlessly use a variety of communication channels
Schedule your workload with an easy-to-use calendar integration
View customer profiles (whenever and wherever)
Also, evaluate how well a CRM handles lead tracking, scoring, and nurturing. Look for features such as:
Lead Capture: Can the CRM capture leads from various sources, such as web forms, email campaigns, and social media?
Lead Scoring: Does it allow you to assign scores to leads based on their behavior and demographics, helping your sales team prioritize high-value prospects?
Lead Nurturing: Is there automation for sending personalized follow-up emails and nurturing leads until they are ready to convert?
4. Sales Automation
Wouldn't it be wonderful to have a colleague that's happy to take all the most boring and menial admin tasks off your plate?
And no, interns don't count because, sooner or later, they'll ask for some better tasks. 😛
On the other hand, CRM software systems with built-in automation are more than pleased to do your grunt work because that's what they were programmed to do.
Solid automation features allow you to focus on the value-adding parts of your job (like building relationships and selling) and do more with your precious time.
Say goodbye to leads slipping away because you don't get around to them in time, and say hello to sky-high sales numbers!
5. Other Features & Tools
No matter how important lead management and sales automation are, a quality all-in-one CRM is far more than just these two features.
Various other secondary capabilities prove vital when you're using this type of sales software day in and day out.
This CRM feature comparison table details the seven ones you can't live without.
Secondary Feature

Why It's Important

Cloud-based

A cloud CRM software ensures:

Quick deployment
Universal access to customer data
Lower costs
Collaboration across teams, departments, and subsidiaries

Texting capabilities

Simple SMS integration enables you to:

Contact your prospects with the click of a button
Automate text message sequences
Quickly follow up with leads and send reminders

Calling capabilities

A built-in VOIP softphone allows you to:

Save time with features like click-to-call and progressive dialing
Purchase and organize your phone numbers in a single place
Call leads with a local number
Train sales reps via call recording or listening

Emailing capabilities

Email integrations permit you to:

Use your CRM as your email hub instead of having to manage a separate platform
Build email drip sequences and automatically send them to your prospects at precisely the right moment

Calendar capabilities

Calendar integrations empower you with:

Total control over your workweek
Complete visibility of your meetings and calls across all your devices thanks to live syncing

Analytics

In-depth analytics capabilities:

Show you the info you require to improve performance and make data-driven decisions
Help you build a culture of continuous improvement

Mobile-Friendly

The best mobile CRM software:

Features both iOS and Android apps to ensure all your salespeople can use their CRM on the go
Enables field agents to cut down on admin work and unproductive 'office days'
6. Customization
Every organization has a slightly different sales pipeline with unique processes, workflow, and data management.
Experienced SaaS providers should be aware of this universal truth and create customizable CRM software that can adapt to many different ways of operating a sales team.
However, there's a caveat — this extra flexibility should never sacrifice user experience.
It's highly counterproductive to code in a never-ending amount of options that make an end-user pull their hair out.
7. Support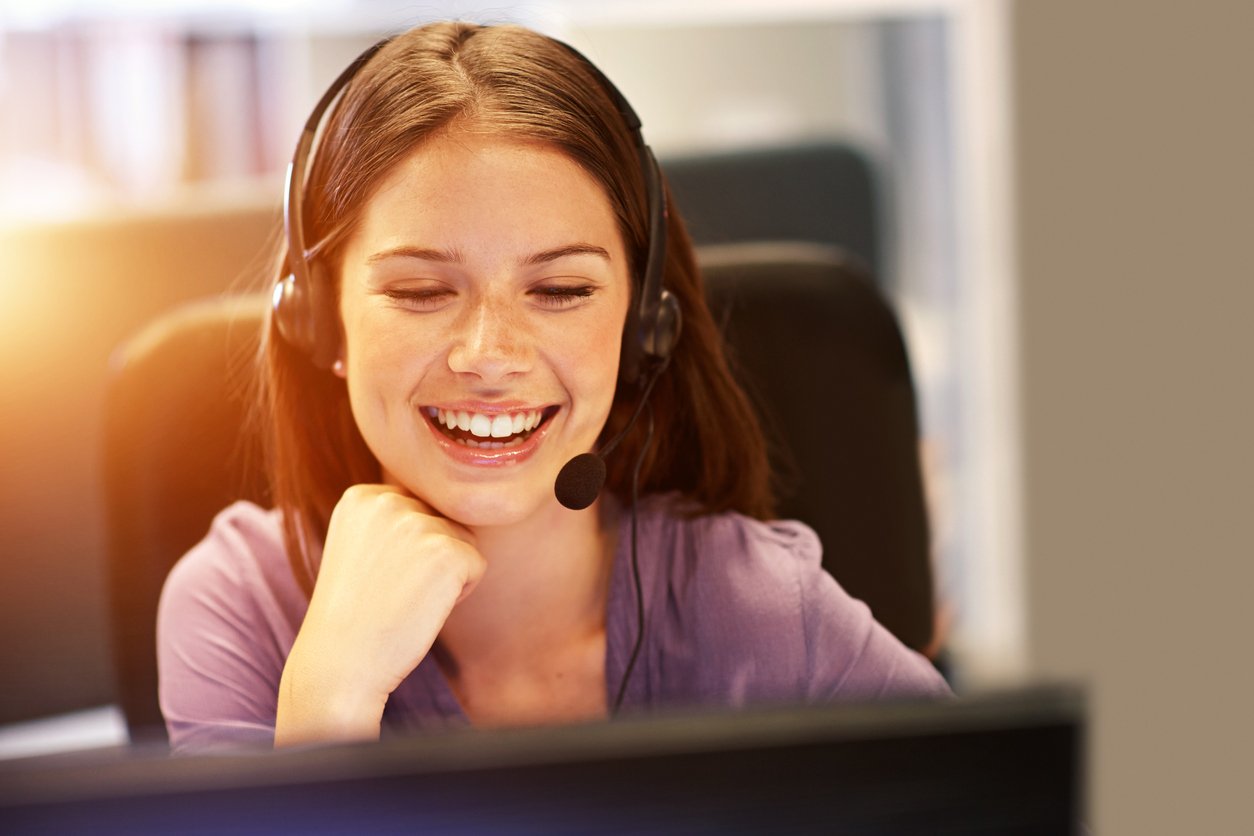 The last evaluation criterion to make it onto our checklist is customer service.
Anyone that has previously dealt with a glitch or bug in enterprise software knows why we've included it.
There's no alternative to the peace of mind that comes with knowing that a helpful customer support agent is only a click or a call away.
Whenever you have a problem, it helps that someone knowledgeable will hold your hand until your pesky issue is resolved - no need to lose your temper and rage against the machines (finally).
And that's it...
You've just learned everything you need to evaluate CRM businesses and compare CRM systems properly.

But don't pat yourself on the back for too long, because it's time to rank and review the top CRM software against these seven criteria.
Best CRM Software for Sales [Ranked and Reviewed]
1. Salesforce Sales Cloud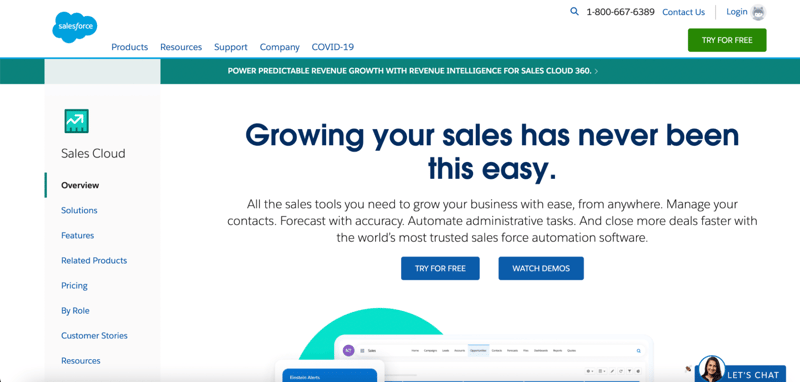 Monthly cost: $25 - $330 per user + $50 per user for AI capabilities (as of August 2023)
No surprises here; the best online CRM is the Salesforce Sales Cloud (SFSC).
The folks at Salesforce are our industry's pioneers, and they've spent the best part of the last 25 years delivering the gold standard that everyone else measures their software against.
SFSC is an outstanding CRM — it's easily the most capable and complete tool available to business owners and sales teams. It's highly customizable and comes with a wealth of impressive features, automation, and integrations.
But what truly sets SFSC apart is a little feature called Einstein. It's an add-on AI integration that can optimize your decision-making by automating tasks, scoring leads, engaging in social listening, and creating forecasts and opportunity insights.
What about its drawbacks?
There's only one. SFSC can only be appropriately implemented by organizations with deep pockets and a skilled technical team.
It's just too complicated and expensive for smaller or inexperienced companies (and the $25 entry-level plan isn't powerful enough to be worth investing your energy in).
Pros
Excellent automation and workflow streamlining capabilities
Phenomenal AI integration
Over 100 third-party integration possibilities
20+ years of experience as a CRM industry pioneer and leader
Easy mobile integration
One of the best dashboards in the CRM category
Best CRM for service businesses thanks to its tight integration with Salesforce Service Cloud
Cons
Expensive
Difficult to configure (requires an experienced implementation team)
Steep learning curve
2. Ringy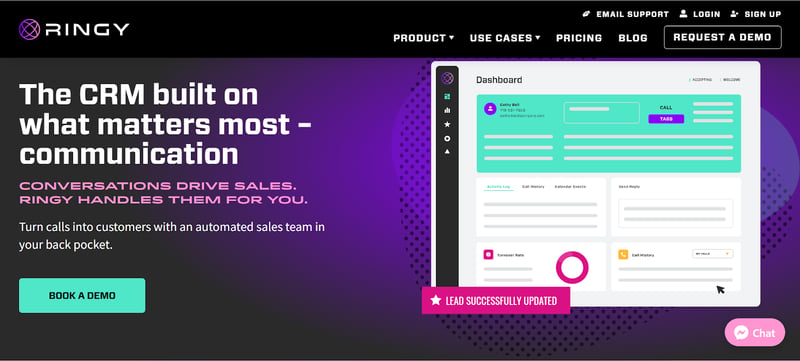 Monthly cost: $109/month (as of August 2023)
The second best CRM platform is our very own Ringy.
It's also our pick as the best CRM for sales reps and the best CRM for small businesses.
Before you start suspecting otherwise, let's clear the air and say straight up that we haven't awarded ourselves either of these accolades simply because we built this product.
We've done it because we honestly believe that we've come up with an excellent solution for salespeople — one that helps you focus on selling rather than spending most of your day on low-value tasks.
Being overly modest about our CRM system wouldn't do us any good as a company, and it wouldn't convince enough sales professionals to take our software for a spin and increase their productivity.
And who wants to embark on a lose-lose scenario? Definitely not us.
So here's our elevator pitch:
Ringy is a quality all-in-one CRM program that combines cutting-edge sales tools with an affordable monthly subscription that even independent advisors can afford.
It empowers you to:
Spend far more time communicating with your hottest leads
Work from wherever you'd like thanks to our iOS and Android apps
Make more sales and commission
Sound too good to be true?
Then take a quick look at our testimonials and reviews and get some external confirmation from what other sales experts are saying about our Ringy online!
Pros
Excellent sales pipeline and lead management capabilities
Integrated VOIP, email, and SMS messaging
Convenient automated workflows
Automated local presence dialing from each of the 50 US states
Affordably priced (and includes free onboarding and customization)
Great customer service
Syncs with Google Calendars
Cons
Not as powerful as Salesforce (fewer features and integrations)
Specifically made for sales teams, so it won't work as well for service functions
3. Zoho CRM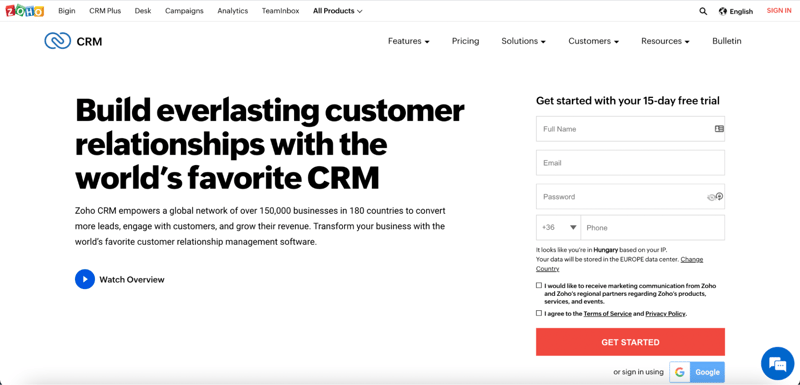 Monthly cost: $18 - $55 per user (as of June 2023)
Zoho CRM, one of the world's most used customer relationship management programs, takes home the bronze medal.
And it's really not that hard to see why.
Zoho has built a robust, feature-rich CRM that's ideal for firms of all shapes and sizes at an affordable monthly price.
This means you get a serious bang for your buck.
Users enjoy a user-friendly interface, time-saving automation, sales gamification, flexible workflows, and an incredible amount of integrations with other Zoho solutions.
This last feature is particularly impressive. It ensures that it's never too difficult or prohibitive to upgrade your current CRM and add whatever extra functionality your growing team requires.
Alright, I'm impressed. Now hit me with the negatives.
There are three things to keep in mind.
Zoho has average customer service, its AI is only available in the premium packages, and it takes time to master all of the program's capabilities.
Pros
Simple user interface
Sophisticated AI and automation
Gamification
Fairly priced
Compatible with Zoho's nearly infinite suite of apps
Free version for up to three users
Cons
Zoho's customer support isn't the greatest
Steep learning curve (but not as steep as Salesforce)
AI is only available in the most expensive packages
4. Freshworks CRM (formerly Freshsales)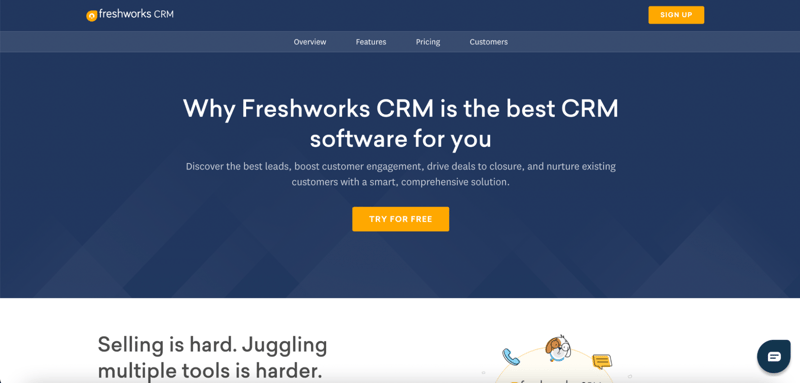 Monthly cost: $18 - $83 per user (as of August 2023)
Next up (and just narrowly missing out on a podium place) is Freshworks CRM.
It's an excellent all-in-one CRM system for sales teams because it's simple, quick-to-learn, and accessibly priced.
You'll be up and running with Freshworks in no time, and you won't need to spend a fortune on an implementation team (if you don't have the skills in-house).
It's also ideal if you lack the time or resources to train your sales team to use more complex tools like Salesforce or Zoho.
This simplicity, together with its sophisticated features and integrations, explains why 40,000 companies have switched over to Freshworks from their previous CRMs.
So why did it miss out on a top-three finish?
It's more expensive and less flexible than Zoho CRM, less user-friendly and sales-focused than Ringy, and less powerful and customizable than SFSC.
But despite that, Freshworks CRM is still an outstanding solution that's worth taking for a 21-day free spin to see if it's the perfect fit for your organization.
Pros
Visual sales pipeline
Excellent for small to medium-sized businesses
Features the best CRM app (iOS and Android)
AI-generated lead scoring with customizable criteria
Integrated VoIP and emails
Website-to-CRM smartforms
Cons
Not the best choice for larger enterprises
Reporting isn't as robust as it should be
Slightly lacking in certain key areas compared to the other leading CRMs
5. Pipedrive

Monthly cost: $11.90 - $74.90 per user (as of August 2023)
The final solution to break into our shortlist of the top CRM systems is Pipedrive.
Pipedrive is a sales-focused CRM that's built to help you gain better visibility into your sales pipeline and turn more leads into clients.
And that's exactly what it does, no more, no less. But with two significant advantages:
One: it's very affordable.
Two: it's ridiculously easy to use and set up. Depending on how tech-savvy you are, it'll take you between a few minutes and a couple of hours to get started.
Using Pipedrive is simply a matter of:
Signing up
Creating your sales pipelines
Migrating your past data
Mastering the drag-and-drop interface
Tracking leads and nudging them down the funnel
Checking analytics and improving performance
Sound too easy? That's because it is!
But don't think that just because Pipedrive is incredibly user-friendly and well-priced, you'll have to sacrifice the most important features (like automation) or 24/7 customer services.
Because you won't, just be aware that this isn't the best sales CRM in the world, and it's most definitely not an all-in-one solution like the three medalists we've reviewed above.
Pros
User-friendly and quick to set up
Features automation and AI
VOIP softphone
Email and calendar integrations
Excellent document management
Good customer service
Cons
Not an all-in-one solution
Leads can't be separated from contacts without a workaround
Limited reporting
Summing up the Best CRM Software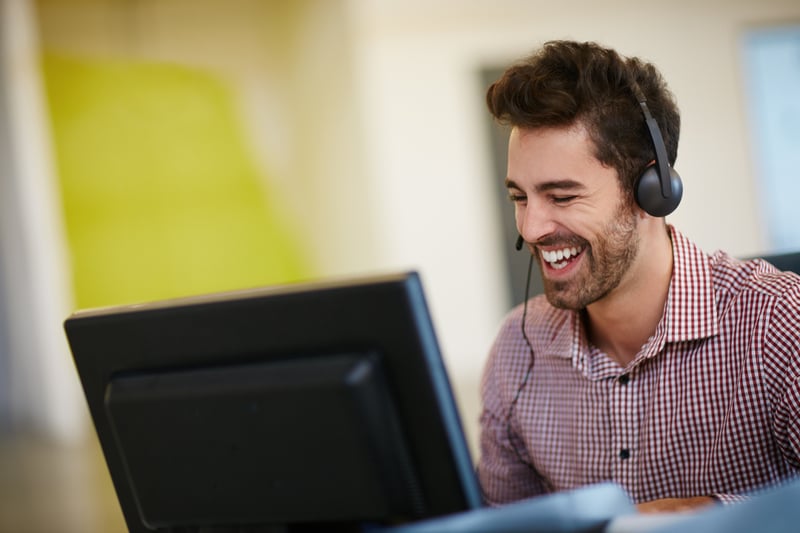 You've just been through a concentrated CRM masterclass, and you can now confidently refer to yourself as a 'CRM comparison expert.'
Well, almost.
The only thing missing is personal experience using the best platforms on the market. So let's change that.

Put your newly found knowledge into action and sign up for a couple of your favorite CRMs by making use of their free trials!
Your five go-to options are:
Salesforce Sales Cloud
Ringy
Zoho CRM
Freshworks CRM
Pipedrive
We suggest trying a few of them out to give you the chance to play around with their features before deciding which one is right.
We'd be incredibly honored if our Ringy platform made it into your shortlist. You won't be disappointed as it's the best CRM software for sales reps, independent advisors, and small businesses.
And please don't hesitate to contact us if you have any questions or doubts.
Our friendly customer support team is always happy to help with any CRM-related queries, whether you're a customer or not.