In the ever-evolving financial advisory space, customer relationship management (CRM) systems have become the trusty sidekicks for professionals in the field.
This informative guide explores CRM systems designed specifically for financial advisors while regular CRMs sit on the sidelines wondering what all the fuss is about.
Get ready to explore the unique features, benefits, and top choices in CRM systems for financial advisors, equipping you with the knowledge to make savvy decisions for your practice that even your financial spreadsheets would give a nod of approval to!
What Makes CRM Systems for Financial Advisors Different?

Financial advisors operate in a niche where personalization, compliance, and client-centricity reign supreme. Therefore, CRM systems for financial advisors must cater to these specific needs, setting them apart from conventional CRMs.
Here's a breakdown of the distinctions:
| | | |
| --- | --- | --- |
| Aspect | Financial Advisor CRM | Regular CRM |
| Client Data Management | Client-centric focus | General contact info |
| Compliance Integration | Regulatory adherence | Basic data storage |
| Investment Tracking | Portfolio management | N/A |
| Financial Planning Tools | Financial analysis | N/A |
| Reporting Capabilities | Performance metrics | Limited reporting |
It's essential to draw comparisons to their more generic counterparts to grasp the full scope of the uniqueness of financial advisor CRM systems.
Regular CRM systems serve a broad spectrum of industries and functions, making them versatile but not tailor-made for the specific demands of financial advisory services. By juxtaposing the functionalities of these two categories, we can uncover the particular advantages CRM systems for financial advisors bring to the table.
Features and Benefits of a Financial Advisor CRM System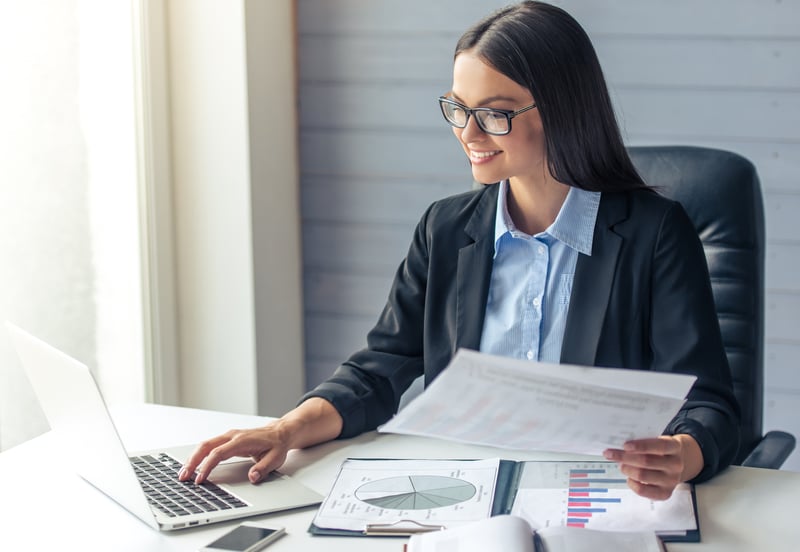 One of the core strengths of CRM systems for financial advisors lies in their diverse feature set, meticulously designed to cater to the intricacies of the profession.
These CRM for financial advisor features are the building blocks of efficient client management and business growth, ensuring that advisors can provide optimal service while maintaining compliance with regulatory standards.
Below, we delve into the key features and benefits typically found in these specialized CRMs, shedding light on their significance.
Manage Leads
Businesses can oversee potential customers (leads) and guide them into the sales pipeline.
This involves:
Recognizing prospects
Monitoring their engagements
Pinpointing those with the highest conversion potential
Fostering these connections until leads transform into loyal customers
CRM systems for financial advisors play a crucial role in handling the multitude of touchpoints commonly associated with this journey, including phone calls, meetings, and email communications.
Get Business Insights
In the data-driven finance landscape, insights are the currency of success. Top financial advisor CRM systems excel in providing valuable business insights and reports derived from a wealth of data points.
These insights range from:
Client demographics
Investment performance
Prospect movement through the sales funnel
Harnessing this data empowers advisors to make informed decisions that drive business growth and enhance client satisfaction.
Boost Revenue
Financial advisors are deeply immersed in wealth management for their clients and their own financial prosperity. Within this overarching mission, a pivotal focus revolves around the twin objectives of revenue maximization and the provision of outstanding service.
CRM systems for financial advisors are not merely digital Rolodexes for contact information and interaction histories; they're sophisticated platforms meticulously engineered to assist financial advisors in their professional endeavors.
Improve Sales and Marketing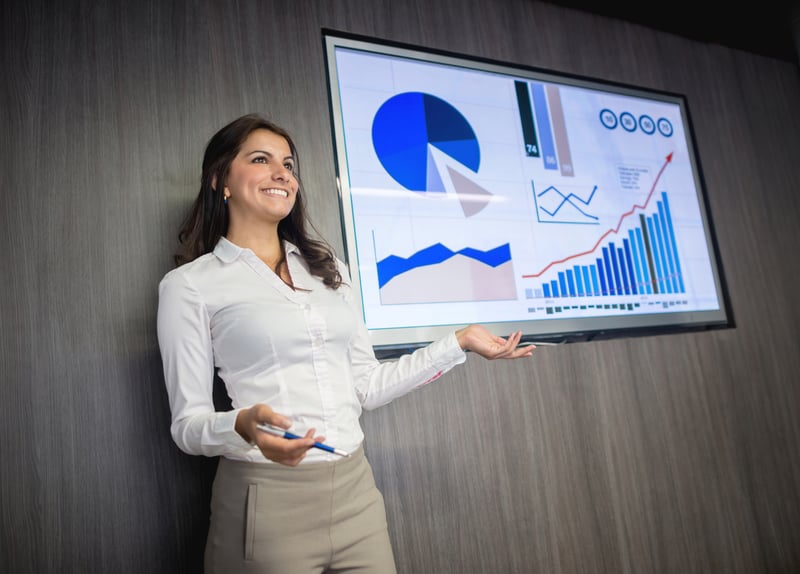 Sales and marketing are the dual engines that propel any thriving financial advisory practice. CRM systems for financial advisors arm users with specialized tools to enhance these critical aspects of their business.
From segmenting client lists to automating marketing DRIP campaigns, these platforms streamline processes while boosting the effectiveness of sales and marketing efforts.
CRM systems for financial advisors also augment collaboration between both departments, making data accessible to the employees who need it.
Improve Workflow with Automation
Efficiency is the keystone of success in financial advisory. Advisors handle numerous tasks, including:
Client onboarding: The initial stages of client onboarding often involve copious amounts of paperwork, data entry, and documentation. Financial advisor CRM systems automate these processes, enabling advisors to swiftly collect, organize, and process essential client information.
Compliance management: CRM systems for financial advisors seamlessly integrate with compliance protocols, automatically tracking and recording client interactions.
Task and Appointment Scheduling: Financial advisors often juggle appointments, meetings, and deadlines. CRM systems excel in managing these scheduling complexities by automating reminders and notifications.
Portfolio Monitoring: Automation features can continually track the performance of investment portfolios. Alerts can be set up to notify advisors of significant changes, enabling proactive decision-making and timely adjustments to optimize client portfolios.
The incorporation of automation features within financial advisor CRM systems is transformative. These functionalities are specifically engineered to alleviate the burdens associated with manual labor, mitigate the risk of errors, and ensure that no vital aspect of financial advisory is overlooked.
Track Clients
Within client-centric financial advisory services, customer tracking is a guiding compass. It is the fundamental navigational tool for financial advisors, allowing them to chart a course toward fulfilling their clients' economic aspirations.
In this regard, financial advisor CRM systems shine brightly, offering an expansive suite of indispensable client-tracking capabilities.
These functionalities harmonize seamlessly to empower advisors to provide unparalleled service and cultivate more robust customer relationships:
Holistic Interaction Monitoring: Financial advisor CRM systems provide a 360-degree view of client interactions. Advisors can effortlessly monitor every touchpoint through emails, meetings, phone calls, or any other form of communication.
Progress Toward Financial Goals: Tracking progress toward financial goals is pivotal in the advisory process. CRM systems enable advisors to establish and monitor these goals, setting benchmarks and milestones.
Comprehensive Communication Records: Accurate and detailed communication records are essential for high-quality service. CRM systems automatically log all client communications, ensuring that nothing is overlooked.
Client Segmentation: Through client tracking, advisors can categorize clients based on their financial profiles, investment preferences, and life stages. This segmentation informs tailored communication and investment strategies, demonstrating a deep commitment to personalized service.
Alerts and Notifications: CRM systems can be configured to provide alerts and notifications for critical events, such as upcoming reviews, account changes, or opportunities for portfolio adjustments.
Data-Driven Insights: Client tracking generates valuable data and insights that can be harnessed to make informed decisions. Advisors can refine their strategies by analyzing historical interactions and outcomes while enhancing the client experience.
Enhanced Client Engagement: Armed with a wealth of information from client tracking, advisors can engage clients more meaningfully. They can offer timely financial advice CRM, address concerns promptly, and proactively propose opportunities aligned with each client's unique financial journey.
The arsenal of client tracking capabilities within financial advisor CRM systems is a testament to their transformative impact. Finely tuned for precision and efficiency, these tools elevate the service advisors provide and deepen client relationships.
4 Best CRM Systems for Financial Advisors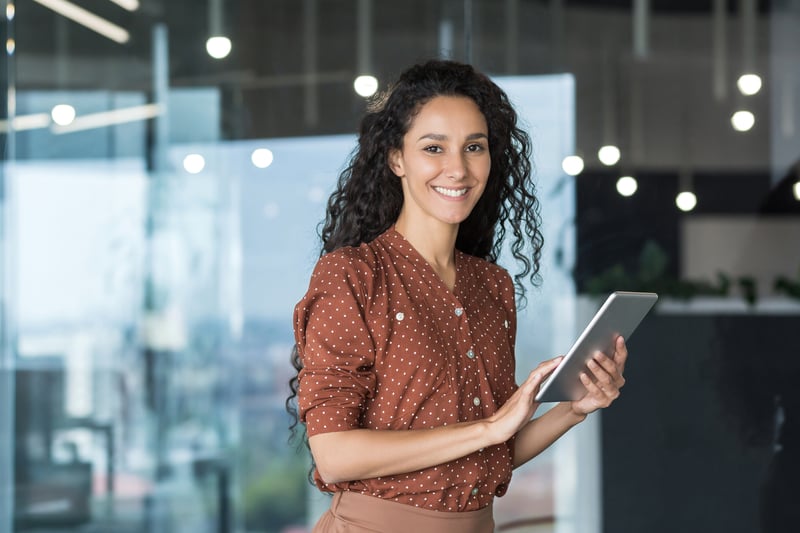 Having explored the essential features and benefits of Financial advisor CRM systems, it's time to divert toward practical considerations.
You're probably wondering, "What is the top CRM for financial advisors?"
In the ever-expanding landscape of CRM options, pinpointing the right fit for your financial advisory practice is crucial.
Below, we present the four best CRMs for financial planners. Each option offers unique strengths, and your choice should align with your practice's specific needs and objectives.
Ringy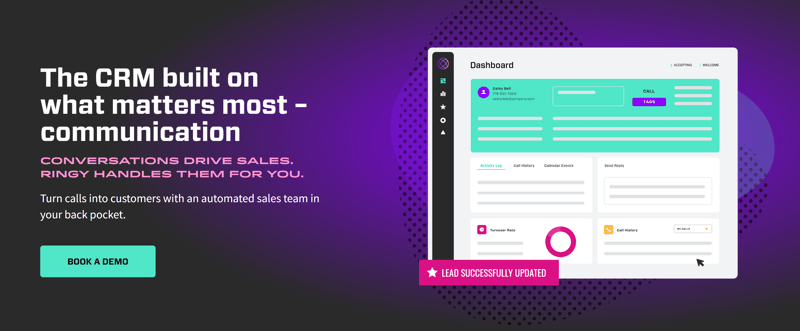 Introducing Ringy, a top-tier CRM system for financial advisors that proudly claims the first spot on our list.
Before any misconceptions arise, we must clarify that our inclusion of Ringy isn't motivated solely by ownership. In fact, if that were the case, we could have easily ranked ourselves at the pinnacle and merely highlighted our competitors' shortcomings.
But that's not our modus operandi.
We genuinely believe in the caliber of our CRM solution, viewing it as a standout choice for financial advisors. We're eager to be part of your journey toward achieving your sales and service objectives.
So, why do we firmly believe Ringy deserves this esteemed position among the industry's best?
Here are six compelling reasons:
Cutting-Edge Sales Tools: Ringy offers cutting-edge sales tools, including robust automated workflows, superior pipeline and lead management, efficient email and SMS messaging, and a user-friendly click-to-call VoIP softphone.
Affordable Monthly Pricing: We understand the importance of cost-efficiency in business. Ringy provides a financially accessible option with affordable monthly pricing.
Auto Local Presence Dialing: With Ringy, you can effortlessly dial from any of the 50 US states, ensuring that your calls resonate with local authenticity.
Responsive Customer Service: Our commitment to customer satisfaction is unwavering. Our customer service team is not content until your query is resolved, offering responsive and friendly support whenever needed.
Outstanding Mobile App: Stay connected and productive on the go with our amazing Android and iOS app, granting you the flexibility to manage your CRM from virtually anywhere.
Comprehensive Support: We go the extra mile by providing free onboarding, CRM setup, and ongoing training to ensure you make the most of our CRM solution.
To maintain complete transparency and objectivity, we invite you to explore our testimonials and reviews, where you can gain insights from our satisfied customers.
If what you've learned about Ringy piques your interest, remember that we offer a risk-free two-week trial with no obligations. It's the perfect opportunity to take the best for small financial services firms for a spin and experience its benefits firsthand.
Zoho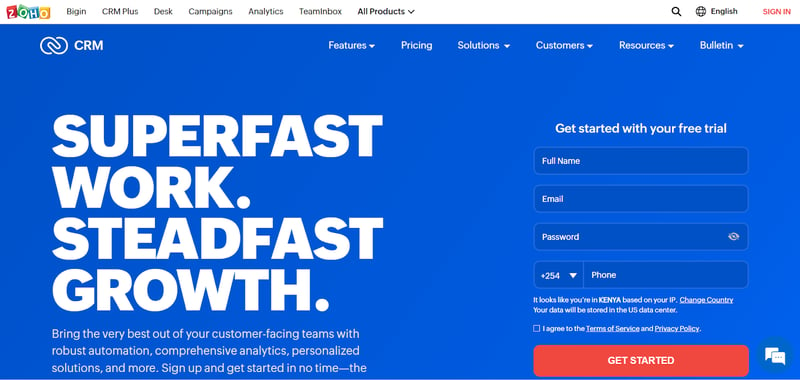 This iteration is a customized adaptation of the widely popular Zoho CRM, a platform cherished by an impressive roster of over 150,000 businesses spanning 180 countries.
Although it may not boast the same degree of potency and industry prominence as its counterparts in the financial planning CRM category, Zoho Finance CRM presents a compelling choice for financial advisors intent on enhancing and automating their client relationship management.
One noteworthy feature is its compatibility with Zoho's expansive suite of supplementary applications. This versatility ensures you are only a few clicks away from augmenting your tech stack with additional functionalities. Features such as invoicing, accountant CRM activities, surveys, digital signatures, and appointment management are readily accessible, typically for a modest monthly subscription.
Now, addressing the less favorable aspects:
Customer Support Limitations: It's worth noting that Zoho's customer support, while serviceable, may not match the industry's finest.
AI Assistant Availability: The AI assistant, Zia, is reserved for the pricier packages, starting at $50 per month per user.
Learning Curve Consideration: Zoho Finance CRM has a steeper learning curve than the other available CRM options.
While not the pinnacle of financial planning CRMs, Zoho Finance CRM offers a compelling proposition. Its intuitive interface, AI capabilities, and extensive integrated application suite make it a contender worthy of consideration for financial advisors aiming to revamp their client management strategies.
Wealthbox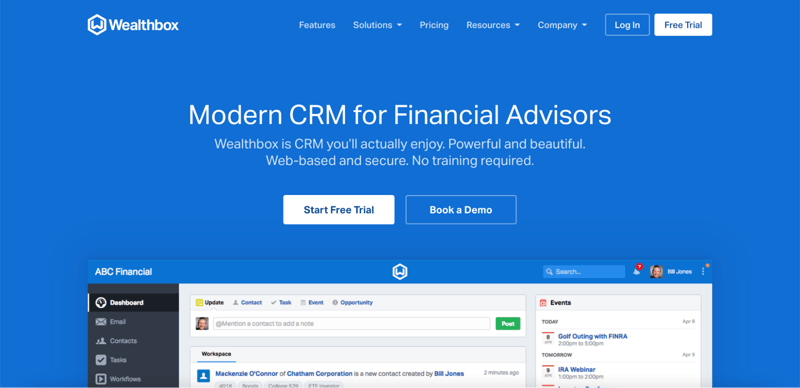 Wealthbox is gaining significant traction within the best CRM financial services category. This rapidly growing solution has recently surged past several competitors, securing the second-largest market share position despite its relatively recent establishment in 2014.
Its tailored approach sets Wealthbox apart, catering perfectly to an overlooked market segment: independent advisors and small financial companies. It empowers smaller firms with high-end CRM functionality without the accompanying costs and setup complexities.
The process is straightforward, with easy onboarding and user-friendly guides enabling quick start-up for managing contacts, tasks, automation, projects, and pipelines.
Wealthbox's standout features include robust CRM for banking-level data security, click-to-call capabilities, seamless integration with email platforms and financial tools, and effective social media monitoring.
However, it's worth noting that Wealthbox's customer service is rated as average, and system updates and patches can be relatively slow. While these factors aren't deal-breakers, they are considerations before adopting the platform.
Salesforce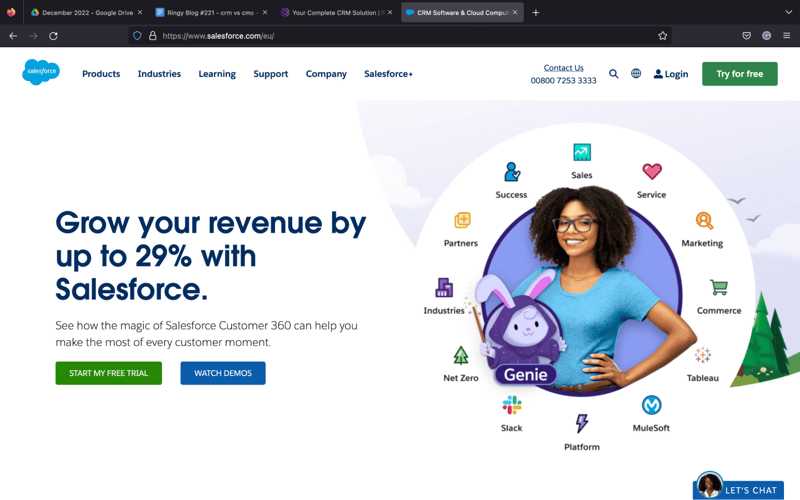 When seeking a wealth management CRM solution for medium or large enterprises, Salesforce is an indispensable contender. It remains the most comprehensive and capable CRM tool in 2023.
Salesforce delivers cutting-edge, highly customizable software. With features ranging from workflow automation and artificial intelligence to over 100 integration options, you can customize a solution precisely to your customer data management needs.
Moreover, Salesforce offers seamless mobile integration, bespoke tools, and one of the industry's premier CRM dashboards.
However, there are trade-offs. Salesforce comes with a hefty price tag, demands substantial expertise for mastery, and presents unusual complexity during configuration. Success with Salesforce hinges on deep financial resources and a skilled technical team.
For those undeterred by these three challenges, Salesforce is the ideal choice to empower your firm to forge stronger client relationships and drive increased sales.
CRM Systems for Financial Advisors - Final Thoughts
CRM systems for financial advisors have become indispensable tools in the dynamic landscape of wealth management. These specialized banking CRM platforms are not mere conveniences; they are the compass guiding advisors toward success in delivering exceptional service and maximizing revenue.
As we've explored various options on the market, it's evident that the right CRM can revolutionize client relationships, automate critical tasks, and provide data-driven insights. Among these, Ringy rises as the number one solution, offering a robust suite of features for the needs of financial advisors.
With our cutting-edge CRM sales software, affordable pricing, comprehensive local presence dialing, responsive customer service, a top-notch mobile app, and free onboarding and training, Ringy is designed to elevate financial advisory practices to new heights.
If you're ready to transform your financial advisory journey, request a demo to test drive our software today!