A reliable customer relationship management (CRM) system is essential for any business that offers field services. You can achieve unparalleled customer satisfaction through a CRM for field service by managing your organization's operations and streamlining procedures.
This can lead to higher efficiency in the workplace and, ultimately, more efficient business practices.
But is it worth investing in a field service CRM? Absolutely! But we'd love to add some substance to that answer.
How about we share some of the top reasons why you need a CRM field service system and explore some of the benefits it can bring to your business?
This guide will explain the following:
What a CRM field service is,
Why it is important for a business,
The features,
Benefits, and
The best field service CRM software on the market.
What Is a CRM Field Service?
A CRM field service is a software solution that provides businesses with the tools to manage field service operations. This technology enables companies to track and manage their services, from scheduling and routing to servicing customer needs.
By leveraging the power of CRM technology, companies can have a comprehensive view of their entire operation in one easy-to-use platform.
Businesses can easily create and manage service orders and assign technicians. This helps ensure that technicians are sent to the right place at the right time, helping reduce customer turnaround times.
Additionally, this technology allows businesses to coordinate resources more efficiently, reducing wasted person-hours and eliminating unnecessary travel costs. As a result, organizations can maximize efficiency while providing better customer service experiences.
There's a wealth of achievements to gain from a CRM for field service, and we look at the top five reasons why you need one in the next section.
Why Is Field Service CRM Important for Businesses?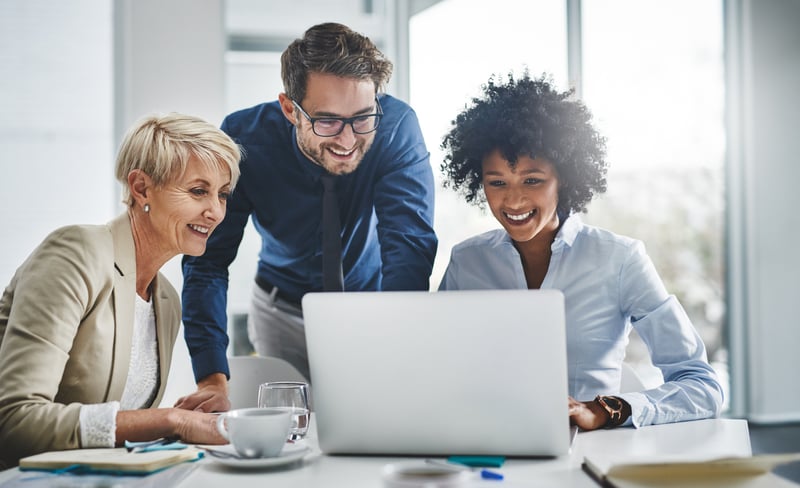 Fieldwork is challenging to manage and often requires coordinating resources from multiple departments. Without an effective field service system, companies may struggle to keep track of their operations, leading to miscommunication and wasted time.
That said, the following reasons are why using a field service CRM is essential for businesses:
1. Streamlined Operations
Using a CRM for field service is known to streamline operations by providing an easy-to-use system that simplifies the management of services. It efficiently manages customer data, scheduling, dispatch, invoicing, and more from one centralized platform.
Having all operational tasks managed through the CRM system allows businesses to enjoy increased collaboration between departments, improved customer communication, and better resource allocation.
Additionally, a field service CRM can help reduce operational costs by automating manual processes requiring many person-hours.
According to research from the Web Tribunal, organizations that implement a cloud-based management solution save up to 15% in all IT operational costs.
2. Improved Customer Service
Utilizing a field service CRM is an effective way to enhance customer service and satisfaction further. It provides an easy way to track customer records and interactions.
This makes it easier for staff members to quickly and accurately respond to customer inquiries or requests without searching multiple databases or platforms.
Additionally, since all customer data is stored within the CRM system, it ensures that any staff member can access the information they need to provide effective support. This makes it easier for them to personalize their interactions with customers and ensure they provide the highest level of service possible.
3. Increased Productivity
Using a field service CRM can also help businesses significantly increase their productivity levels by reducing administrative tasks associated with managing multiple separate systems or processes manually.
Forester research reveals that 50% of teams experienced a productivity boost when they adopted mobile CRM technology. This leads to higher sales numbers, contributing directly towards increased profitability across the board.
The ability for staff members to easily access data means they spend less time searching for information or completing tedious tasks such as filing paperwork or updating spreadsheets.
Instead, they can focus on higher-value activities such as building customer relationships or creating new sales opportunities.
4. Accurate and Secure Data Storage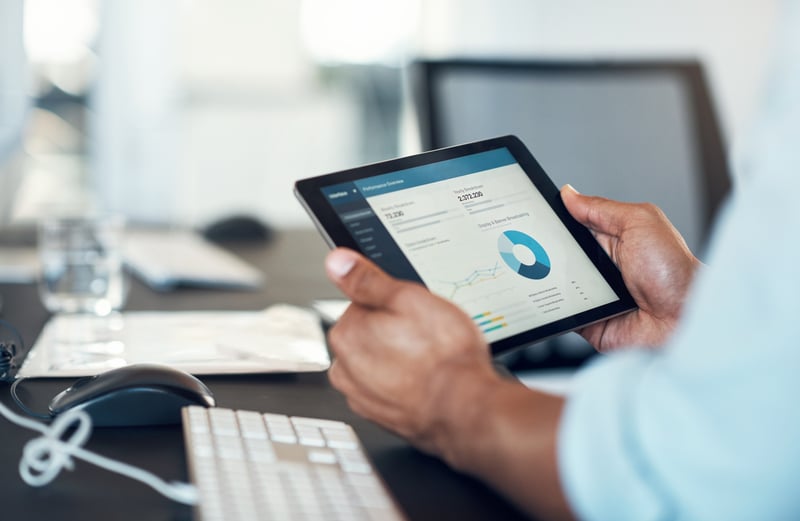 CRMs are explicitly designed with data security in mind. Businesses using them can rest assured knowing their sensitive information is safe from malicious actors or accidental loss due to user error or other technical issues.
Moreover, all your customer information is consolidated into one place instead of being dispersed over different computers.
This system allows staff members from various departments (like marketing and finance) to quickly access accurate information when needed. No need to worry about different versions or old documents being accessed erroneously.
5 Automated Sales Processes
With automated sales tools such as drip campaigns built into the CRM system, businesses have greater control over how prospects are contacted and followed up after initial contact.
By taking this step, everything runs smoothly, eliminating confusion between company departments. The best part is that sales automation can revolutionize your business, increasing productivity by 14.5% and reducing marketing costs by 12.2%.
With minimal effort, you can save time and money while optimizing the performance of your sales team - what could be better?
These are just a few of the many reasons why your business needs a CRM field service solution. By leveraging the power of CRMs, field teams can increase efficiency, enhance customer service, and improve overall productivity while reducing operational costs.
But wait! There's more! Let's dive into the next section to help you understand the features of a field service CRM that can make all the difference you're looking for.
Features of Field Services CRM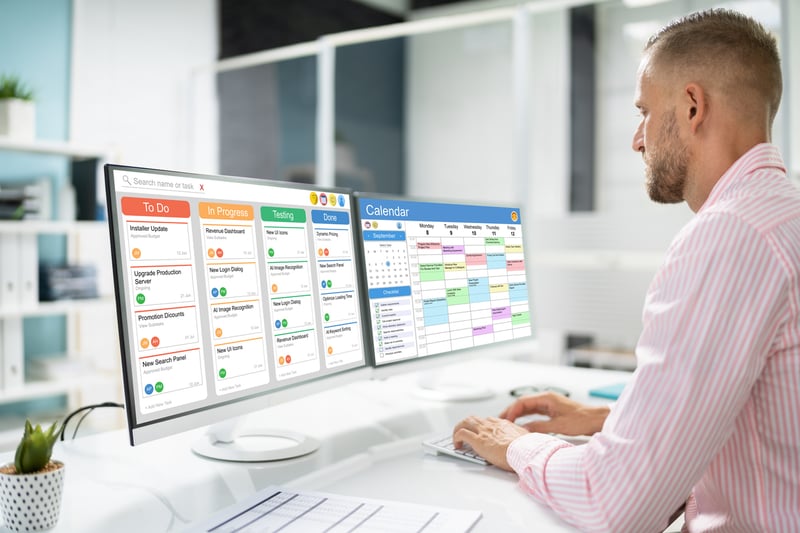 The features of field service CRMs vary depending on the specific platform. Still, they generally include the following:
1. Contact and Lead Management
CRM software designed for field service businesses helps manage customer contacts and leads. It allows you to store contact information such as name, phone number, email address, and more in one centralized location.
Additionally, CRM systems let you track sales leads and progress through the pipeline with automated notifications and reporting.
You can also record all customer conversations, notes on products they've inquired about or purchased, their history with your company, and more.
2. Service Scheduling & Dispatching
Field service CRM software offers powerful tools to schedule customer services easily and quickly. You can create custom scheduling parameters such as date, time window preference, and technician availability to ensure the right technician is assigned to the job at the right time.
Furthermore, better dispatching capabilities improve customer service since technicians are dispatched more quickly. This means technicians arrive onsite with the necessary information and the right parts, helping minimize delays and improve customer satisfaction.
3. Mobile Accessibility
Access to your business data from any device is vital for staying organized when working in the field. Field service CRM solutions provide mobile resource management capabilities so technicians can access work orders from their smartphones or tablets while in the field.
According to a survey of over 1,000 B2B sales executives conducted by Adobe, an overwhelming majority (84%) of sales managers consider app-based solutions paramount in achieving higher sales productivity.
With real-time updates on job completion status, technicians can provide accurate ETA's (estimated time of arrivals) for customers, which increases customer satisfaction levels significantly.
4. Automated Invoicing & Payments
Automated invoice generation after concluding jobs makes it simpler than ever for businesses to regulate their billing with minimal labor from your side. Seamless and efficient, this process allows you to take control of your finances without dedicating an excessive amount of time or effort!
Automated invoicing eliminates the costly errors associated with manual processes and speeds up payment cycles significantly since payments are instantly collected after generating an invoice.
5. Reporting & Analytics
With practical reporting tools offered as part of field service CRM solutions, businesses can gain insights into various aspects of their operations, such as:
What type of services generates the most revenue?
Which customers are most profitable?
And how efficient are my technicians?
Businesses can obtain answers to these questions quickly thanks to pre-built dashboards explicitly designed for field services businesses giving them key insights into their operations.
Benefits of CRM for Field Services
By having proper CRM software in place, businesses can enjoy numerous benefits, including:
1. Improved Customer Service
CRM for Field Services can provide a more efficient and streamlined way to manage customer relationships. It allows you to do the following:
Track customer service inquiries,
Automate responses, and
Provide insights into the customer.
These capabilities help field service companies provide better customer service and generate more repeat business.
A recent survey conducted by Zippia shows that almost half of the respondents believe that CRMs improve customer satisfaction, resulting in better customer retention.
Additionally, 45% found an increase in sales revenue, and 39% experienced success with upselling and cross-selling services when using CRMs.
2. Increased Efficiency
Automating steps in the workflow allow organizations to finish their tasks quicker and with fewer mistakes.
Freeing field service staff from manual processes means they can concentrate on better-value activities such as giving personalized help or coaching customers about products and services.
Nucleus Research found that companies that implemented CRM systems saw an average of $8.71 in revenue for every dollar invested in their CRM system due to increased efficiency.
3. Accurate Data Collection
With data collection capabilities, field service teams can easily store information about each customer interaction. This can include notes about conversations or service calls and details about technical solutions provided or needed parts orders sent out.
This gives staff an accurate record of past events, which they can use to understand current problems better while also providing insight into trends that may arise from working with specific customers or geographic areas.
By relying on CRM software, you can expect your sales productivity to skyrocket by an average of 50% and vastly improve the accuracy of your sales forecasts and total sales numbers.
4. Better Visibility
CRMs provide a comprehensive view of each customer, allowing field service teams to see their problems and how they solved them.
This visibility into past incidents helps field service teams anticipate future needs and proactively address any potential issues before they occur. It also allows them to identify trends in customer interactions, allowing them to improve the right way!
5. Enhanced Collaboration
Through its centralized platform, CRM for field services makes collaboration much easier since everyone involved has access to real-time updates on projects no matter where they are located geographically.
This makes it simpler for teams to stay connected and communicate quickly. Hence, they can resolve any issues quickly while allowing staff members from different departments, such as sales and marketing, to collaborate more efficiently on joint projects if necessary.
Overall, a CRM for field service can offer numerous benefits, allowing businesses to operate more smoothly and efficiently while enhancing their customer service.
With the right CRM software in place, they will have everything they need to ensure their business runs as smoothly and productively as possible.
Best Field Service CRM Software
Now that you know why your business needs a CRM for field service, let's take a look at some of the best software solutions on the market.
1. Ringy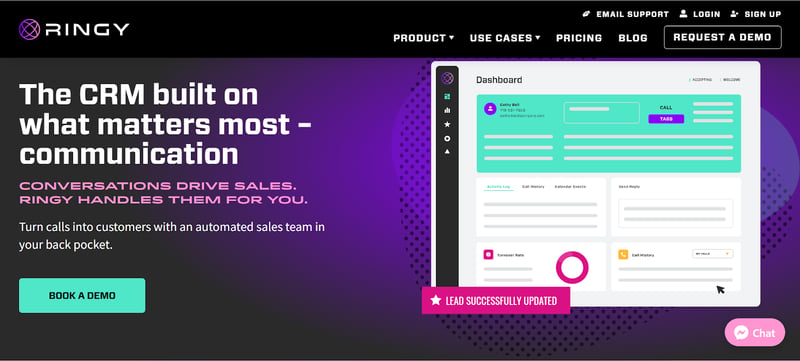 Have you ever been on a service call and wished you could see what the customer was seeing? Well, even better because Ringy allows field service technicians to experience their customer's concerns.
Was that a bit perplexing? Don't worry! Allow us to simplify our statement.
With Ringy, technicians can virtually join their customer's phone calls to identify and resolve problems quickly. Our calling capabilities ensure that field service staff can connect with customers from anywhere, anytime.
But it doesn't stop there, there's a wealth of features you can use on our CRM to enable efficient customer service.
| | |
| --- | --- |
| Features | Purpose |
| | Easily automate routine tasks and save time. |
| | Integrate your CRM with other applications through our API. |
| | Generate detailed reports on all aspects of your business with advanced data analysis & visualization capabilities. |
| Reporting | Generate detailed reports to track performance and progress. |
| | Give field workers access to all their task lists directly from their mobile devices with Ringy's mobile app. |
For businesses seeking field service CRM software to enhance their customer experience, increase productivity, and streamline every operation, Ringy is the ideal choice at only $109/month!
*Pricing as of January 2023
2. Verizon Connect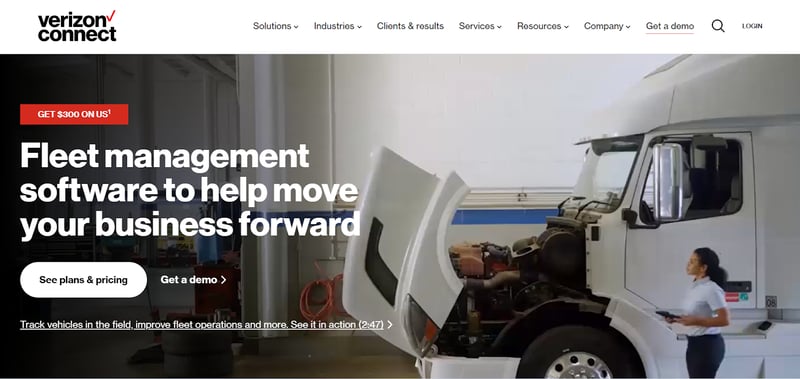 Verizon Connect offers an array of features to help boost productivity and efficiency for your team.
These features include:
| | |
| --- | --- |
| Features | Purpose |
| Automated Scheduling | Schedule jobs quickly with automated job scheduling using optimized routes for quality assurance. |
| Analytics | Painless insights into customer data for better decision-making. |
| Job tracking & Invoicing | Track jobs in real-time and generate automated invoices quickly upon completion of each task. |
| Automated Dispatch | Dispatch jobs quickly using the intelligent dispatch board which optimizes the most efficient route for each job |
Overall, Verizon Connect is an effective yet user-friendly field service CRM that offers an array of features to help streamline and improve your business's operations.
3. Salesforce Field Service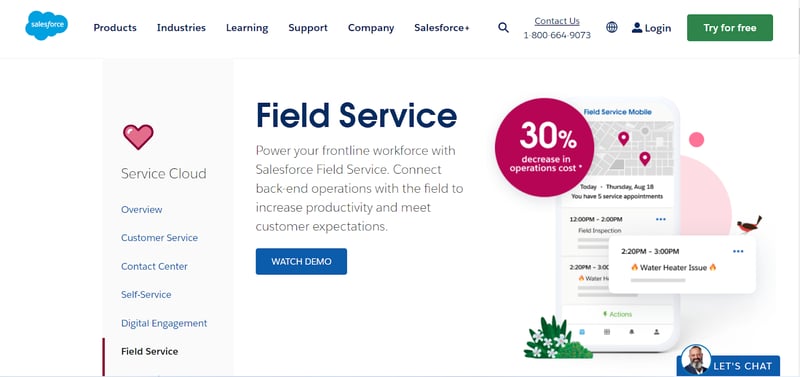 This is another good CRM software designed to streamline and optimize field services. It provides users with an easy-to-use dashboard that can easily manage customer service requests, track field technicians, and provide end-to-end visibility into the customer experience.
Some key features of Salesforce Field Service include:
| | |
| --- | --- |
| Features | Purpose |
| Robust Reporting & Analytics | Get instant access to performance data across multiple channels so you can identify trends and areas for improvement. |
| Automated Workflows | Create custom processes based on specific criteria for faster processing of tasks such as customer requests or scheduling changes. |
| Technician Scheduling | Easily manage schedules for technicians by assigning jobs based on skill set or location |
| Resource Management | Track resources in real time including technician skillsets, availability levels, and equipment status. |
| Service Delivery Tracking | Monitor job progress at each stage with detailed reports that allow you to see what's working best in your field service operations. |
Overall, Salesforce Field Service helps businesses streamline their customer service process while providing robust reporting capabilities that drive effective decision-making within the organization.
Conclusion
The bottom line is that having a field service CRM can help you better manage customer relationships, automate tasks, and increase overall efficiency.
With the right software to manage your customer relationships, you can better serve your clients, streamline operations, and boost your bottom line. Ringy CRM is an effective choice for businesses looking to get the most out of their field service CRM.
With our innovative features and powerful analytics, you can easily track customer interactions, automate tedious tasks, and monitor field service performance to drive better results. Give us a try today to make managing your field services effortless and efficient!