Imagine orchestrating a symphony of customer interactions with skill and expertise. That's the essence of customer relationship management (CRM). It's like tidying up a chaotic puzzle of customer exchanges across a company by gathering and decoding the data that matters.
This treasure chest of insights finds its cozy home in a specialized database - the CRM platform.
But there's a twist—many of these platforms now frolic in the cloud, offering a backstage pass to instant access, lightning-speed processing, and flexibility that bends and shapes an organization's every whim.
Let's learn more!
What Is a Cloud-Based CRM?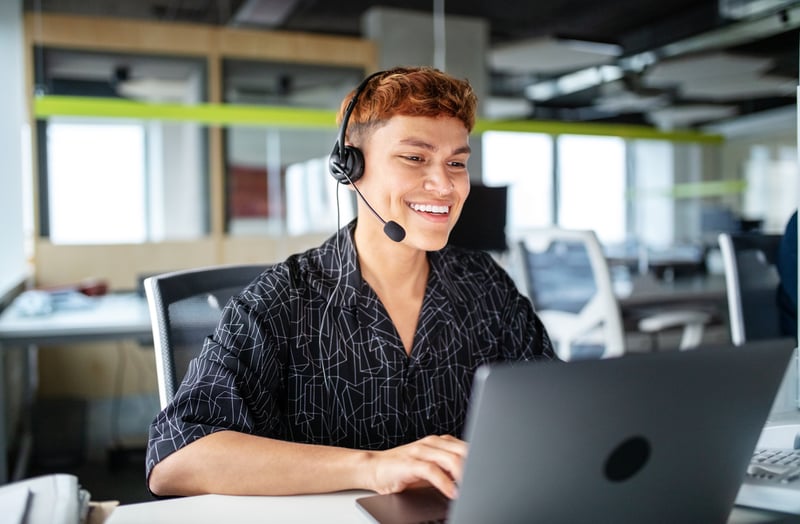 This software's delivery form is often called SaaS (Software as a Service.) However, the landscape has not only been limited to the cloud, as CRM platforms have also found residence within businesses' local infrastructure.
In contrast to cloud-based CRM solutions, the conventional approach necessitates substantial upfront investment and ongoing personnel commitments.
CRM in the Cloud vs. On-Premises CRM
As organizations seek to optimize their customer relationship management strategies, a critical decision rears: Should they embrace the cloud or stick to on-premises solutions and infrastructure?
This choice can shape a company's approach to data management, accessibility, scalability, security, and more.
Check this insightful comparison table for more information.
| | | |
| --- | --- | --- |
| Aspect | CRM in the Cloud | Non-Cloud-Based CRM |
| Accessibility | Accessible from anywhere | Tied to a specific physical location |
| Deployment Speed | Swift and hassle-free | Lengthy setup and configuration |
| Scalability | Easily scales with growth | Limited by hardware constraints |
| Maintenance | Managed by the service provider | Requires in-house IT expertise |
| Cost Efficiency | Subscription-based model | Upfront hardware and software costs |
| Security | Robust encryption and backups | Self-managed security measures |
| Customization | Flexible and easily adaptable | May involve complex custom coding |
The comparison between on-premise CRM and web-based CRM for small business extends beyond technology; it shapes an organization's approach to efficiency, flexibility, and overall customer experience.
Exploring these attributes provides valuable insights into which solution aligns best with your company's goals and objectives. Whether you're searching for strict data control or dynamic scalability, keep these distinctions in mind as we delve into the features of CRM in the cloud further.
Features of a CRM in the Cloud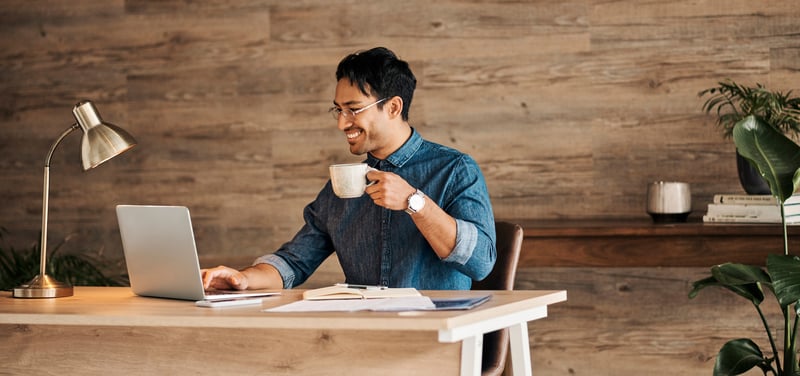 Whether you're a small business looking to expand or an enterprise seeking streamlined operations, this section highlights the top CRM in the cloud features to look for.
Workflow Automation
CRM in the cloud allows teams to streamline workflows and amplify productivity. Employ customizable rules to automate:
Reporting
Message routing
Responses
By applying customizable rules, the automation of critical tasks becomes not just a possibility but a tangible reality.
Customization
Every business is bespoke, so why wouldn't its requirements be? Seize the power of cloud-hosted CRM software to tailor features precisely to your organization's distinct needs.
Customize contact fields, design intuitive dashboards, and craft reports tailored to your strategic goals. Enhance your CRM in the cloud's capabilities further with plugins, integrations, and compatibility extensions, aligning the software seamlessly with your evolving demands.
Third-Party Integration
Forge operational coaction by seamlessly integrating your CRM in the cloud with existing solutions.
Seamlessly sync data with:
Email clients
POS systems
Marketing software
Cloud backup services.
This integration fosters a collaborative ecosystem, minimizing manual data input and maximizing efficiency.
Customer Service
Equip your workforce with a comprehensive understanding of prospects and buyers through CRM in the cloud. Realize efficient communication logs that enable personalized correspondence, elevate client support, and foster improved customer engagement.
Employee Tracking
You can utilize cloud-hosted CRM to manage and monitor staff activities and performance. Businesses can grant individual accounts to employees for:
Sales metrics
Meetings
Tracking tasks
Sales goals
Concurrently, supervisors can access a dashboard with KPIs to overseas individual accomplishments, enabling performance evaluations, incentivization, and targeted growth strategies.
Social Media Engagement
Boost your marketing endeavors with CRM in the cloud's built-in social media monitoring capabilities. They efficiently manage brand reputations while garnering insights into consumer behaviors across multiple platforms.
Lead Management
The complexities of lead management become arduous, especially when navigating through different sales funnel stages. CRM in the cloud (like Ringy) allows you to store, categorize, and distribute leads, ensuring timely follow-ups and effective engagement strategies.
Real-Time Data Utilization
The real-time data capabilities inherent in CRM in the cloud facilitate informed decision-making. Adapt marketing strategies promptly and identify revenue-generating opportunities based on the most up-to-date insights.
CRM Analytics
Valuable customer insights hide within the analytical prowess of CRM in the cloud. Multiple tools are available to make your life easier, such as:
Web analytics
Profit and loss data
Customer segmentation
CRM analytics is not just an abundance of numbers and statistics; think of it as a treasure map leading you to the heart of customer understanding.
In-Depth Reporting
Access a diverse array of reports through cloud-hosted CRM, facilitating a comprehensive assessment of lead generation, sales performance, agent effectiveness, call analytics, email impact, and conversion stages.
Strategic Sales Forecasting
The analytical capabilities of CRM in the cloud can predict future trends based on existing sales pipeline data. Forecasting like this enables agile adaptation of marketing strategies and empowers proactive risk management in response to market fluctuations.
Email Management Efficiency
Enhance email communication effectiveness through the robust features of cloud CRM solutions. Seamlessly integrate calendars, automate appointment scheduling, and create email templates that expedite and streamline engagement processes.
Benefits of a CRM in the Cloud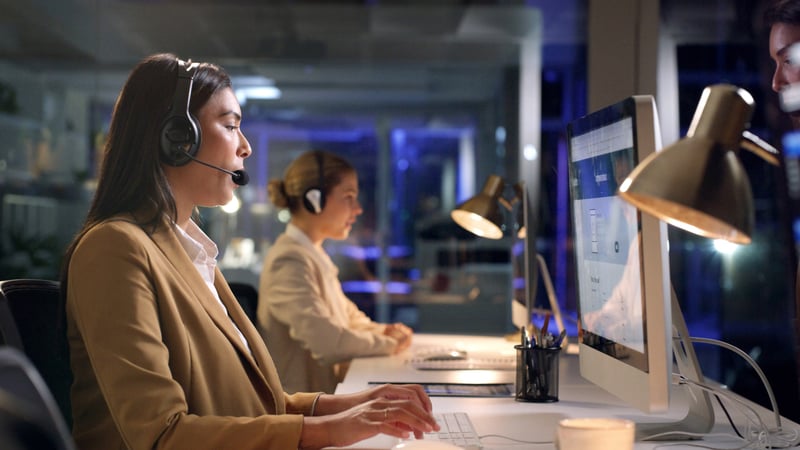 The benefits of cloud CRM are endless.
However, this section will only touch on a few cloud-based CRM small business benefits.
Let's delve in!
Effortless Installation
Shedding the historical complexities of CRM installations, CRM in the cloud brings simplicity to the forefront.
The modern cloud CRM eliminates the need for:
Extensive setup processes
Technical maintenance
IT personnel on-site
With a stable internet connection and a few clicks, you can launch cloud-based CRM systems and instantly tap into their full potential. Leave hardware setups, server maintenance, and upgrades to your service provider, allowing you to focus on what truly matters.
Round-the-Clock Access
The appeal of round-the-clock accessibility defines the essence of cloud-based CRM. Unlike traditional office-bound systems, cloud CRM solutions break the geographical and temporal barriers.
Web-based CRM for small businesses is accessible from anywhere and on any device, including:
Desktop
Laptop
Smartphone
Tablet
Whether making urgent sales calls on the go, amending proposals remotely, or accessing critical information outside office hours, the cloud fosters seamless access to your centralized database.
Cost Effectiveness
Cloud-based CRMs overturn the paradigm of hefty upfront investments. These solutions redefine financial feasibility by adopting a pay-as-you-go subscription model. By slashing upfront capital expenditures, cloud CRMs minimize financial risks, enabling businesses of all sizes to capitalize on costs to scale sooner.
Here are two additional cost-effectiveness advantages of CRM in the cloud:
SME empowerment: Small enterprises can harness advanced capabilities without straining their financial resources, fostering growth and financial stability.
Lower Total Cost of Ownership (TCO): Cloud CRM systems reduce TCO with decreased IT personnel costs, maintenance, and hardware expenses, enabling resource allocation for core operations and growth.
Free from the burden of substantial initial costs, small enterprises can utilize advanced capabilities while bolstering their financial health.
Robust Security
Contrary to misconception, CRM in the cloud prioritizes data security with utmost diligence. Industry-leading providers implement stringent cybersecurity measures, including resilient recovery plans and automated backups.
Bolstered by two-step authentication and strict password protocols, these solutions align with GDPR compliance, ensuring data protection remains paramount.
Flexibility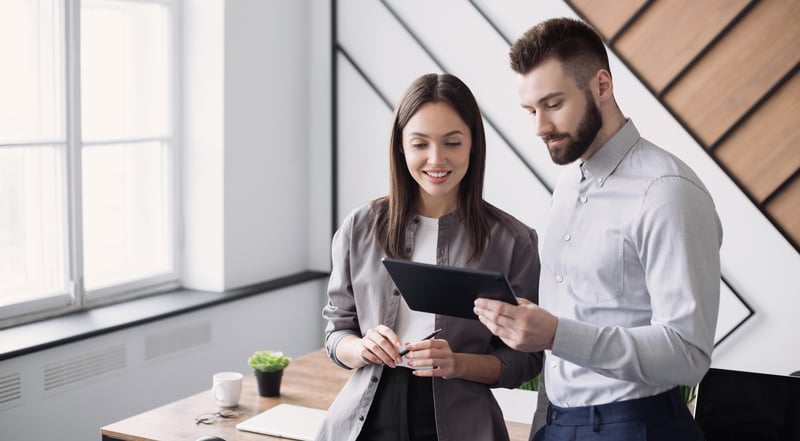 CRM in the cloud epitomizes adaptability, catering to diverse organizational requirements. Customizing your CRM precisely to your needs is at your fingertips. Scaling from essential features for fledgling companies to advanced modules as you grow, cloud CRMs evolve alongside your business.
As requirements dilate, CRM in the cloud effortlessly integrates new capabilities, grating your team's flexibility and agility in achieving tasks efficiently.
Seamless Integration
In a world dominated by interconnected technology, integration is key!
CRM in the cloud excels in the domain, offering seamless compatibility with various software and applications.
Your CRM in the cloud ensures a cohesive ecosystem by integration with the following:
Productivity tools
Email clients
Calendars
Payment processing gateways
This interconnectedness delivers end-to-end visibility across sales processes, streamlining operations for enhanced productivity.
Best Cloud-Based CRM for Small Business Recommendations
Whether you're a thriving local establishment or a burgeoning startup, these cloud CRM solutions will serve as a compass in the journey to harness the full potential of customer relationships and propel your organization toward sustained success.
Enter the best web-based CRM for small businesses.
Ringy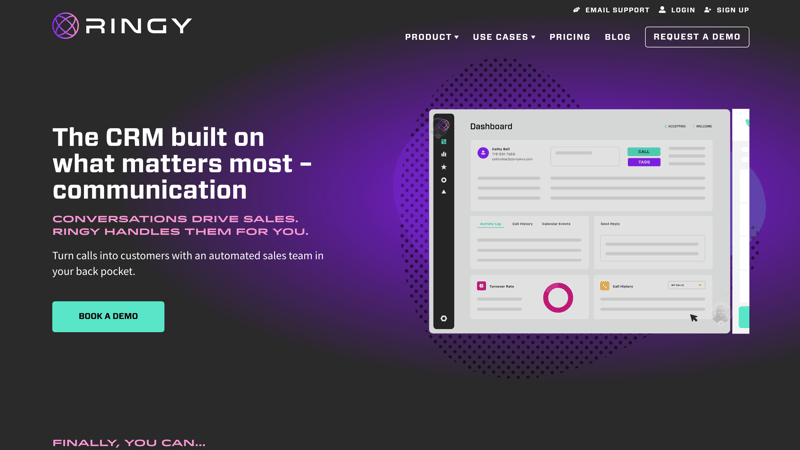 Our tailored CRM solution is designed with a laser focus on phone-based sales strategies. Meet Ringy, the innovative system that seamlessly facilitates VoIP calls through your web browser or mobile app while meticulously recording and transcribing every conversation. This empowers you to engage in discussions and track call outcomes, paving the way for effective lead and customer follow-ups.
Embracing versatility, Ringy effortlessly integrates with popular tools like Gmail, Outlook, Zapier, and Slack, ensuring a smooth convergence of your existing workflows.
Starting at just $109 per month, Ringy's pricing opens the door to a comprehensive suite of features that kickstart your journey into enhanced customer relationship management.
With functionalities ranging from a predictive and power dialer to call transfers and advanced CRM features, Ringy's offerings are underlined by a 14-day free trial, making it a compelling choice to explore.
Salesforce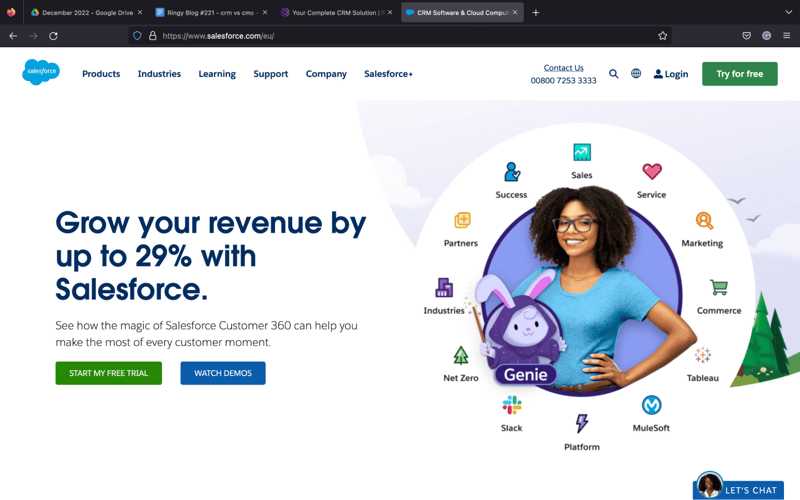 Salesforce offers extensive features, including lead management, opportunity tracking, sales forecasting, and robust analytics. The software has a built-in AI-driven system called Einstein that enhances decision-making with predictive insights.
While comprehensive, Salesforce's vast array of features can be overwhelming for newcomers.
However, its intuitive interface and customizable dashboards provide a personalized user experience.
This CRM in the cloud boasts seamless integrations with a multitude of third-party apps and tools, allowing companies to build tailored ecosystems that match their unique requirements.
HubSpot CRM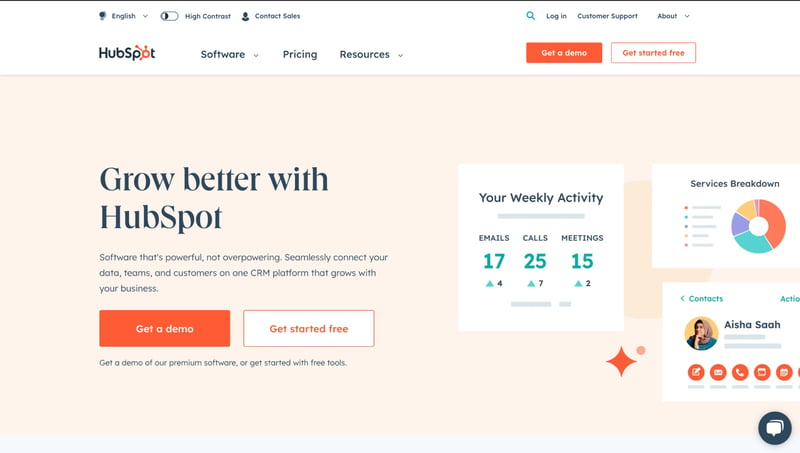 HubSpot CRM emphasizes ease of use and scalability. It offers core CRM features like contact management, email tracking, and deal tracking. The software is known for its inbound marketing and sales tools that integrate seamlessly with the CRM.
HubSpot's user-friendly interface makes it ideal for businesses looking for a quick onboarding process. The platform's drag-and-drop customization adds to its usability. HubSpot also offers many integrations, particularly well-suited for businesses blending marketing, sales, and customer service efforts.
HubSpot CRM is free, making it an attractive choice for small businesses. More advanced features are available in paid plans, including a Marketing Hub and a Sales Hub.
Zoho CRM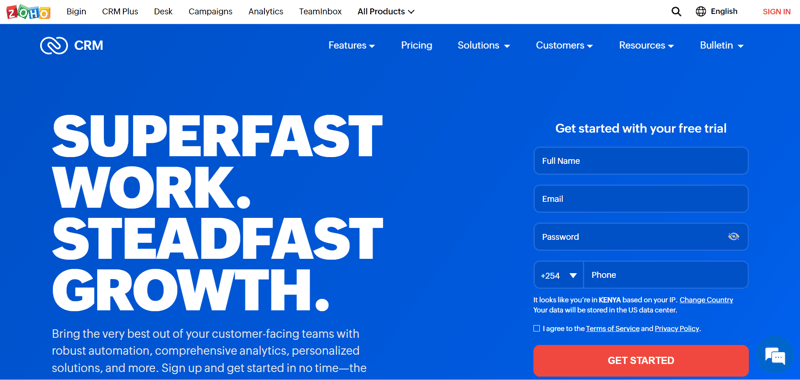 Zoho CRM is designed with small businesses in mind. It provides contact and lead management, sales automation, and AI-powered analytics. Its Blueprint feature streamlines and automates complex business processes.
The solution's user-friendly interface allows for smooth navigation and customization. The Blueprint feature simplifies workflow automation.
Zoho CRM offers integrations with popular tools and apps, enhancing its versatility and adaptability.
Microsoft Dynamics 365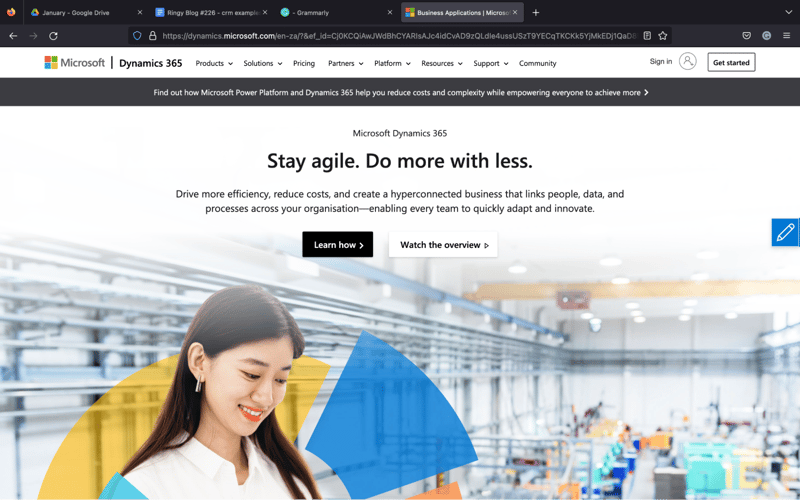 Microsoft Dynamics 365 offers a comprehensive suite of CRM and ERP functionalities. It covers sales, customer service, field service, and marketing, all integrated with Microsoft's suite of productivity tools.
Users familiar with Microsoft products will find Dynamics 365's interface intuitive. However, its extensive capabilities might require additional training.
The software seamlessly integrates with Microsoft's ecosystem, offering a unified experience for businesses already reliant on Microsoft tools.
Microsoft Dynamics 365's pricing varies based on the modules and functionalities chosen, catering to various business needs.
CRM in the Cloud - Final Thoughts
As we navigate the digital age, the significance of a robust CRM system cannot be overstated. It's the backbone of successful customer interactions, empowering businesses to track customer journeys and craft meaningful experiences that resonate. With the vast array of cloud-based CRM solutions available today, finding the one that aligns seamlessly with your business needs is paramount.
Please don't settle for mediocrity when it comes to your customer relationships. Embrace the power of Ringy's innovative features and discover a world where every interaction is an opportunity.
Elevate your business with our small business web-based CRM and embark on a journey of enhanced customer engagement, streamlined processes, and unparalleled growth.
Request a demo and get started today!