Providing an excellent customer experience (CX) is a big thing. Especially in the retail sector.
Or is it?
Let's check in with someone that has almost 900 years of experience: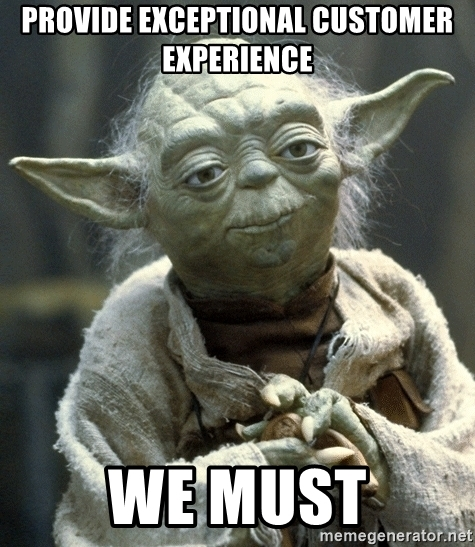 You heard it here first: Yoda backs CX as a big thing.
That should be more than enough to convince you, but we'll give you two more compelling facts anyway (in case you're a fan of the dark side and don't trust this darned rebel):
77% of consumers say poor customer experiences decrease their quality of life. Ow.
39% of CEOs believe improving customer experience is key to a lasting competitive advantage.
Alright, so we agree. CX = big thing.
But what does that have to do with retail CRMs?
Everything and more.
A retail CRM is a technology that underpins all of your clients' experiences with your organization, from the first time they lay eyes on your website to their 100th purchase.
You simply can't deliver cutting-edge CX without a cutting-edge retail CRM (and knowing how to unleash its force).
And that's why we'll teach you everything you need to know about retail CRMs, including:
What a retail CRM is
Its seven major benefits
Four proven CRM strategies
A few case studies
The criteria for choosing a retail CRM and the five best platforms
FAQs
It's a lot to get through in one post, so let's dive right in!
What Is a Retail CRM?
A retail CRM is a CRM system that's been customized to meet the needs of the retail industry.
Slow down there, mister; what's a CRM system?
Easy: a CRM (short for Customer Relationship Management) is a software solution that enables companies to collect, store, organize, access, and analyze their customer data.
It also works wonders for managing prospects, optimizing marketing efforts, and staying on top of the sales pipeline.
The main goal of a CRM system is to empower companies to build better relationships with their customers (current, past, and future) — hence its name.
And it isn't hard to imagine the effects of better relationships → better business performance.
Now that we're all on the same page, we can get back to retail CRMs.
What Are the Particularities of a Retail CRM?
Because developers created CRMs primarily as B2B enterprise technology, most CRM software is geared towards companies with long sales cycles and complex deal pipelines.
But that doesn't work when you're a retailer, no matter whether you're selling in brick-and-mortar stores or online in a snazzy webshop.
Luckily, software developers noticed that retailers were struggling to customize CRMs and took action.
They optimized CRM for retail industry clients to support a completely different business model, where the norm is high frequency, repeat purchases without long deliberation periods.
These modern programs can now:
Provide retail-specific insights, including average order value and lifetime spend
Segment customers
Inform and optimize loyalty programs
Support multi-channel or omnichannel retailing
Empower in-store staff with timely customer data
Analyze sales trends and consumer behavior
Integrate with:

Enterprise resource planning systems (ERP)
Inventory management systems (IMS)
Point of sale systems (POS)
Sound like the kind of thing you need?
Awesome. Keep reading and dive deeper into this powerful symbiosis.
Retail and CRM: The Ultimate Team
If we said that retail CRMs and retailers went together like peanut butter and jelly, we wouldn't be exaggerating in the slightest.
Just think that retailers have emerged as the largest end-users of CRM software at 23.5% of the total market , beating out other industries more usually associated with this technology.
Why?
Cut-throat competition and online sales growth have driven the entire industry to demand technology that allows retailers to become more customer-centric and offer a seamless experience across channels.
And that's what retail CRM systems do best.
Here's a quick infographic from the wonderful folks over at HubSpot to prove this point: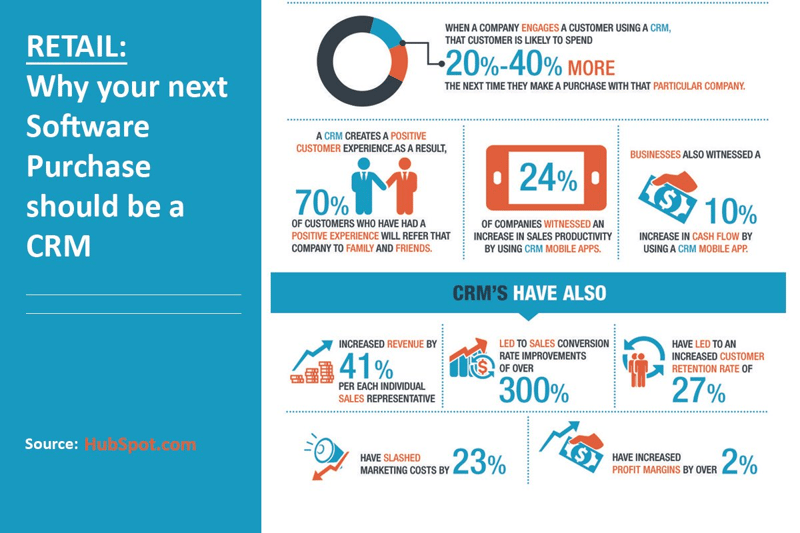 Need a bit more information about the benefits of implementing a retail CRM?
Don't even think about doing another Google search; we've got you covered right here with the seven benefits of CRM retail software.
P.S. If you were satisfied with the infographic and want to save a bit of time, don't be shy to skip ahead to the four retail CRM strategies we promised you in the title.
The Seven Key Benefits of CRM in the Retail Sector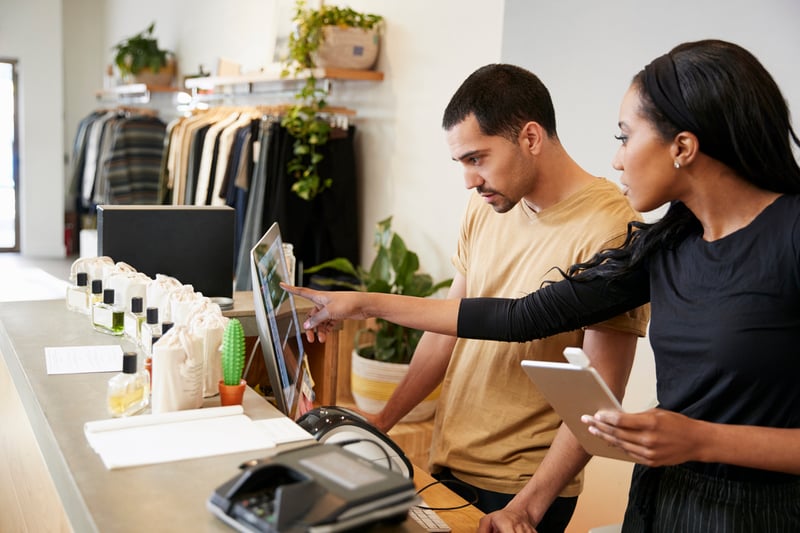 1. Better Customer Service
Did you know that a massive 65% of consumers have stopped patronizing a brand over a single bad customer service experience?
Yikes.
That means you need to step your game up if you intend to retain your customers and prevent them from jumping ship to the competition.
Retail CRM software helps retailers better equip their employees to handle tough situations. With a retail CRM, your customer service staff have all the information they need to answer questions, resolve problems (reactively and proactively), and go above and beyond for clients.
Your customers will finally feel like they're speaking to a real person, and they'll happily say goodbye to poor service, irrelevant communication, and frustrating experiences.
The stats back us up here:
47% of business users confirm that their CRM had a significant impact on customer satisfaction rates.
2. More Personalization
Everyone has their particular likes, needs, and lifestyle, and our shopping habits and preferences reflect these differences.
Let's give you an example:
Extroverted Jane loves going to the mall every Saturday, while introverted John hasn't been since the late 90s when online retailing took off.
Can you target both Jane and John and transform them both into loyal customers?
You can IF you have a retail CRM.
A CRM platform gives you all the shopping data you need to segment your customers and personalize marketing campaigns and communications.
This approach ensures John only receives online vouchers about products he cares about, while Jane is pampered and rewarded for dropping by your store every Saturday.
3. Improved Customer Experience
Time for another jaw-dropping statistic about CX:
Nearly three-quarters of people (73%) identify customer experience as a pivotal factor in buying decisions.
If you ignore the customer experience, you will essentially cut your potential audience down to the 27% of consumers who aren't bothered about CX.
Not a smart move when you're in one of the most competitive industries around.
CRMs, on the other hand, make it nearly impossible to neglect CX because these platforms bring customer information and insights to the forefront of your mind.
How can you possibly stand idly by when you know that 95% of your customers make one measly purchase and then never return?
You won't, and that's the beauty of retail CRMs.
4. Data Collection, Storage, and Access Made Easy
If you're old or unlucky enough to remember what it was like to manage customer data in Excel or a legacy system, then using a CRM to store data is like finding the Holy Grail.
A CRM all but guarantees that you won't have to fidget around with customer data, spreadsheets, invoices, surveys, or whatever else the CEO demands. Ever again.
Hallelujah!
And on top of that, since a CRM is a machine, it's not prone to making errors or forgetting a couple of critical details because it hit the town too hard last night.
In summary: you won't break a sweat to enter the data or organize it, and you'll never lose your cool again because what you're looking for has mysteriously gone missing.
74% of users agree that their CRM helped them organize and retrieve customer data.
5. Reduced Operating Costs
"Reduced operating costs" is usually not the first expression to come to mind when people think about customer relationship management software.
After all, implementing a CRM brings added costs to your P&L statement.
However, take a closer look. You'll uncover the significant cost savings of using a CRM as the technological backbone for delivering a superior customer experience.
Deloitte estimates that implementing a CRM can lead to a 33% reduction in the cost of serving customers.
Cha-ching.
6. More Repeat Purchases
Customer loyalty is one of the major factors driving costs down as you improve CX.
It's a simple chain reaction:
Superior CX → Happy customers → Loyal customers → 5x more likely to buy again and 4x more likely to refer friends → More sales without having to spend a fortune on marketing
And it gets even better:
With a retail CRM, you know precisely who your loyal customers are, so you can send them an impossible-to-overlook offer at the perfect moment.
This message shows them you care and results in even more sales.
What could be better?
Only one thing:
7. Great ROI & Higher Revenues
Standing up in front of your C-suite and telling them your company's retail CRM solution has produced an ROI of as much as 771% .
With numbers like those, you're sure to gain the respect and admiration you deserve (especially amongst the finance folks that'll be approving your future investments).
But it isn't merely your ROI that will skyrocket; it's also your organization's revenue.
Just consider that retailers that provide first-class personalized CX bring home 5.7x more revenue than competitors who struggle in this crucial area.
This number helps explain Amazon's incredible success and demonstrates that no retailer (online or not) can afford to fall behind.
Four Proven CRM Strategies in Retail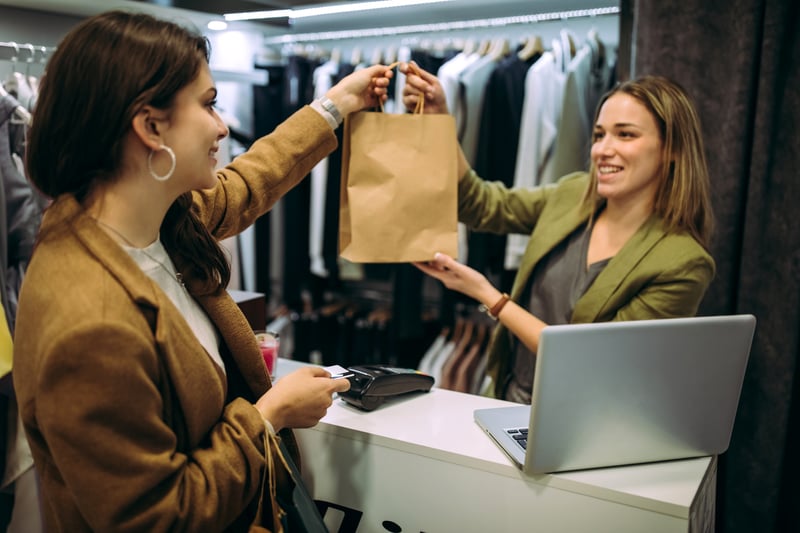 These benefits sound really good. Are we right, or what?
You betcha, BUT don't take them for granted.
A retail CRM is powerful, but it's not a genie in a bottle, and implementing one won't magically turn you into the next Amazon.
You still need to learn how to leverage a CRM's powers before your organization begins seeing any of these seven benefits.
But don't panic; we've got your back with four strategies on how to get started with CRM.
1. Leverage CRM Data To Strengthen Customer Loyalty and Retention
A retail CRM system puts more customer data at your fingertips than you ever imagined possible.
What are you going to do with it?
A great idea is to transform your CRM into the lifeline of all your customer loyalty and retention efforts.
It's a proven strategy that research has linked to up to 27% increases in customer retention.
Put this plan into action by trying these tactics:
Have one-on-one conversations with your customers — personalization is the key to moving away from pushing products and supporting customers in answering the question, "How can I achieve my goals?"
Improve and digitize the in-store experience — give your staff the tools to take advantage of technology while customers shop (i.e., use mobile apps, offer discounts, and identify up-sell/cross-sell opportunities).
Monitor and contact customers who've stopped shopping with you — drop them a friendly reminder on the communication channel of their choice and tempt them with a personalized offer.
Deliver exceptional customer service — enable your agents to track past communications and issues and proactively solve problems.
2. Use Your CRM To Increase Marketing ROI
Reaching your target customers isn't easy anymore.
You have to somehow catch their attention amid 4,000-10,000 other ads every day.
How can you cut through all that noise and still grow ROI?
By using your retail CRM, of course.
Your friendly digital assistant can help you:
Segment your customers based on past behavior and known interests
Target specific groups of people with a campaign (i.e., hasn't purchased in six months, loves sneakers) without relying on your advertising platform's data
Identify the perfect places to advertise (i.e., Chuck E. Cheeses for middle-income families with young kids)
Ensure your advertising spend is in line with each segment's expected lifetime value
Collect feedback from customers
Boost conversion rates by 300%
3. Improve Productivity With CRM Automation
Automation is one of the most important capabilities a CRM brings to the table.
It saves you time, reduces errors, increases productivity by up to 34% , lowers costs, and allows you to provide your shoppers with a far better experience.
It's essentially the whole enchilada; no wonder CEOs can't stop talking about automation.
What kind of processes will you be able to assign to your friendly CRM bot?
Data collection and data entry
Data analysis and insight creation
Scraping internal databases and the internet for useful information
Automating email and SMS marketing through drip campaigns to reduce costs and increase the number of touchpoints (i.e., welcome sequences for first-time buyers)
Using chat boxes to answer common questions and direct customers to the right staff
Checking in with customers based on behavioral cues (i.e., abandoned products in their shopping cart)
4. Become an Omnichannel Retailer
Were you aware of the fact that 73% of consumers are now classified as omnichannel consumers?
This means that they interchangeably use multiple channels during their purchasing journey, and they expect it to be a seamless experience (well, at least 87% of them do).
And to make it worse, they often use two channels simultaneously (i.e., a mobile app while they're in a store), so any inconsistency will be glaring.
So wake up; the future is already here.
You need to transform your retail organization to ensure there's no disconnect between your different channels.
You need to look like this:
Online store = Physical store = Catalogue = Mobile app = Telephone sales = Virtual store = Online marketplaces = Door-to-door salespeople
It's a gargantuan task, especially when you have unforgiving clients.
But fortunately for retailers, your retail CRM is your hero.
It can help you break down internal silos, make the same customer data available to all of your employees in real-time, and deliver all the fantastic benefits we've discussed above in every single one of your sales channels.
Retail CRM Success Stories
Curious to see who has successfully put these strategies into place?
Then don't miss this table:
Company

Strategy Used

How They Used a Retail CRM

Results

1 and 2

Amazon built an in-house CRM for online retail that provides them with an incredible wealth of customer data.




They use this to personalize recommendations, tailor marketing campaigns, and offer unrivaled service.

Largest internet retailer in the world

25% of US consumers are Amazon Prime members

1, 2, and 3

Tesco's leveraged its CRM to create the Tesco Clubcard, a loyalty scheme that rewards repeat purchases and automatically gathers an enormous amount of actionable data about returning customers.

Higher customer loyalty and more repeat purchases

Became one of the world's top 10 retailers

4

Boggi uses Salesforce to provide a seamless omnichannel experience to its customers no matter where they are: at home, in a store, or at a chic café in Milan.

100% YOY growth in online sales

12% of digital sales made via apps in-store
Impressed by what you've read thus far?
Understandable — we have done our very best to show off what a retail CRM is capable of.
So, where to next?
The thinking chair.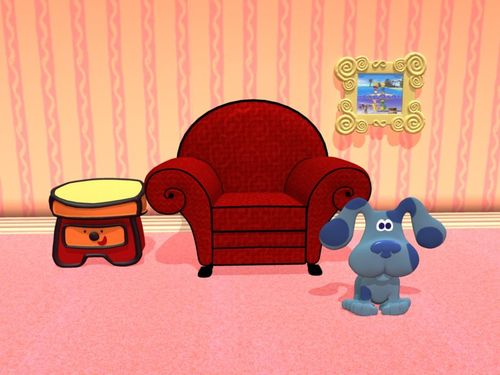 It's time to start reasoning a bit more practically about retail CRMs.
And no, we don't mean looking at specific software. You're not prepared for that yet.
We first need to look at the criteria that can make or break your decision to upgrade your customer relationship management system.
The Five Criteria To Consider When Choosing a Retail CRM
1. Ease of Use
CRMs should be easy to use for everyone in your company, from your store staff all the way to the upper management.
If they're not, people simply won't use them, and you won't see any of the benefits we've mentioned above.
So always remember to take a CRM for a spin and make sure it's intuitive.
2. Price
Retailers operate on thin margins, making it impossible to disregard a CRM's price when evaluating your options.
Finding the right price point is crucial for maximizing ROI.
But don't just go for the cheapest (or the most expensive) option.
Carefully weigh up which CRM offers the most bang-for-the-buck and get your team all the features you need without overspending.
3. Automation
If you pick wisely, your retail CRM could become your very own digital assistant.
One that's happy to automate monotonous, menial tasks, and one that never makes mistakes.
Just imagine that.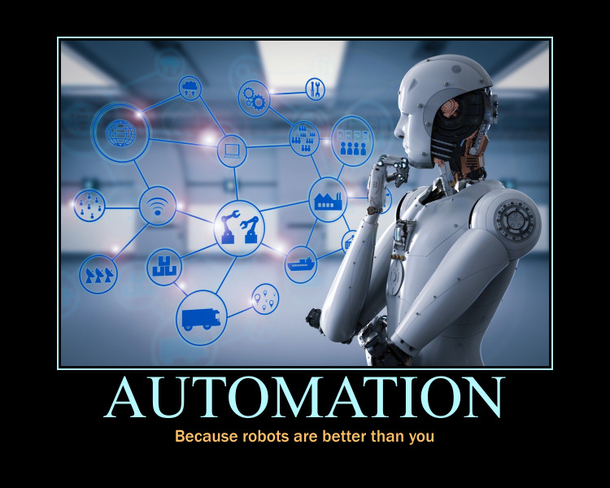 4. Features and Functionality
A CRM should be able to handle a lot more than just automation.
What should you look for?
Let's sum up a quality CRM's main features in this quick table so that you won't overlook anything.
Features

Reasons Why It's Important

All-in-one solution

Simplifies your tech stack
Improves collaboration across sales, marketing, and service
Empowers your team with built-in calling, texting, emailing, and scheduling capabilities

Cloud-based

Quick deployment
Universal access from anywhere with the internet
Lowers costs

Customer and lead management

Gain a clear oversight of customers and trends
Streamline workflows
Communicate at the right time, on the right medium

Mobile-friendliness

Remote working on the rise
Field agents need access to timely data
Improves productivity in 50% of teams

Integrations

Add extra features with a retail CRM API
Connect with your existing platforms
Save costs on custom integrations

Analytics

Data-driven decisions
Continuous improvement mindset
A/B testing
5. Customer Support
Never forget to check out a software provider's customer service.
After all, what can you expect from a CRM company that doesn't deliver on CX, the very thing it's supposed to help other companies excel in?
Nothing good.
Always put them to the test, and see if they walk the walk before you commit.
Guess what? Now you're ready for the top five CRM software programs.
The Five Best CRM Platforms
In this article, it's more than enough to name our five favorites:
But if you aren't tired yet, and you feel up for reading more about these market-leading solutions, then hop over to our detailed reviews.
No worries if not; just save the link and come back to it later.
Retail CRM FAQs
Who Needs a Retail CRM?
All retailers can benefit from implementing a retail CRM, no matter their size, product offering, target market, or preferred sales channel.
Here are a few examples:
Brick-and-mortar stores
eCommerce platforms
Multinational chains
Mom-and-pop operations
Department stores
Supermarkets
Warehouse retailers
What Is the Importance of CRM in Retailing?
Retail CRM systems are fundamental because they help retailers improve the three C's: customer satisfaction, customer experience, and customer loyalty.
They also have four other significant benefits:
They enable personalization.
They make data collection, storage, and access easy.
They reduce operating costs.
They deliver a strong ROI and increase revenues.
Btw: if Google dropped you off at this FAQ and you'd like to learn more about these benefits, use this link to jump back to the relevant section.
How Can I Improve My Retail CRM?
You have two options:
Upgrade your current CRM to a better solution (and at that point, why not take Ringy for a two-week free trial to see the benefits for yourself?).
Get the most out of your current platform by adopting some proven CRM strategies.
If you opt for option two, then here's what we recommend:
Use your CRM to strengthen customer loyalty and retention
Leverage your CRM retail marketing data to increase your advertising ROI
Improve productivity with CRM automation
Become an omnichannel retailer
CRM in Retail: A Digital Sidekick for Happier Customers and Better Business Performance


Ready to unleash a retail CRM's seven business benefits by putting the four strategies you've learned today into practice?

We think so, too. 🙏

Your next step is pretty simple:

Take a breather and then check out the five CRM solutions we've recommended and evaluate them according to the purchasing criteria we've taught you.

We'd be absolutely thrilled if you decided to give Ringy a try by requesting a demo from one of our friendly colleagues.

Rest assured that it's the perfect way to see (with your own two eyes and for 100% free) how a retail CRM can help your company deliver superior CX and grow your bottom line!