eCommerce business owners must understand the differences between CRM vs. CMS to choose one or both for their company. These software platforms may sound similar, but that's where the confusion comes in.
Acknowledging how each one works and the benefits they provide organizations can save proprietors time, money, and frustration.
Content Management Systems (CMS) and Customer Relationship Management (CRM) platforms serve different purposes. CMS assists in the management of digital assets, online stores, marketing efforts, and websites, while CRM helps manage customer relationships through a sales pipeline.
This CRM vs. CMS article explores the difference between these platforms, showcases their features, highlights the benefits, and discusses integrating your CMS with a CRM platform.
What Is a CMS?
Online brands, companies, and eCommerce stores utilize CMS (content management system) technology to create, update, and manage their websites. A CMS is the heart of all digital assets and content required to handle an online company. The software is also the first tool needed when developing a website.
Most CMS platforms offer feature-rich content editors and templates that make setting up a website easier. The software allows novice website developers to schedule content or update their sites without requiring coding knowledge.
Users get flexibility with CMS software through widgets and plugins, which increases their website's functionality and features. The table below showcases the pros and cons of utilizing an open-source or professional CMS for your business:
Open Source CMS

Professional CMS

Pros

Cons

Pros

Cons

Robust security features

Highly complex

Custom built

Average to high-cost

Development and maintenance does not depends on an organization or individual

No technical support

Technical support

Development and maintenance depends on the entity or individual who created the software

Suitability

Lack of warranty

Warranty

Issues with standardization on some platforms

Low-cost

Platform updated based on user requirements
CMS Benefits
Compared to static HTML websites, a CMS content management system has multiple uses. One of the primary advantages of CMS is that individuals who aren't tech-savvy can easily navigate the platform. This saves time and money trying to understand programming languages such as PHP or hiring a web developer to perform the job for you.
Here are seven additional benefits business owners receives when using a CMS to manage their website:
Community and developer support
User-friendly interface
Increased functionality through various extensions, widgets, and plugins
SEO-friendly features
Quick deployment
Easy updates and integrations
Cost-effectiveness, especially with freeware, open-source, or out-the-box solutions
Carefully selecting and implementing the correct CMS for an eCommerce store or website project reduces maintenance costs while streamlining the authoring process. You can update a website remotely and integrate it with other business software, such as asset or customer relationship management systems.
CMS Features
Many content management systems are available, each with different features to fulfill various company purposes. Selecting the best CMS for an organization requires that the software's characteristics align with its goals and objectives.
For example, checking out a CMS with built-in SEO tools is recommended if you want blog posts optimized for search engines. These tools provide on-page SEO tips and advice to give the content a better chance of showing up on the SERP (Search Engine Results Page.)
Here are key features to consider when signing up for a CMS:
Intuitive dashboard – Is the software user-friendly? Every CMS should enable content distribution and production activities directly from the dashboard.
Responsive mobile-friendly themes – Does the CMS offer themes that work on computers and mobile devices? Over four billion people access the internet via mobile devices and having a website that's not mobile responsive means you're missing out on valuable traffic.
Robust integrations – Which platforms can your CMS connect to? Depending on the third-party platforms a business utilizes, the CMS should integrate with them. Social media sites, CRM systems, and marketing automation tools are examples of integration options.
While every CMS is different, you may need to look at some core features to select the right one. A platform that amalgamates advanced security configurations with an innovative dashboard and built-in SEO tools will let you grow and maintain content that captivates, engages, and thrills your audience.
CMS Pricing
Most CMS content management systems range in price from free to over $299 per month for highly customized packages. Depending on your requirements, add-ons, and the business scale, numerous options exist to fulfill these needs.
Most domain providers offer various CMS solutions in the cPanel section of their client dashboards. This is helpful for people purchasing a domain from a hosting and service provider recommended by a friend.
The requirements of business owners generally determine the price of CMS subscriptions or yearly fees. Websites may need functionalities or customization that can only be acquired from third-party developers.
CMS Providers
WordPress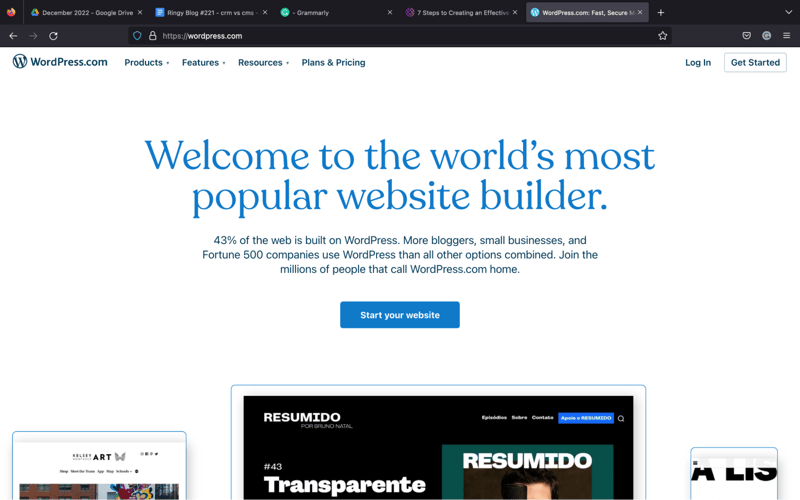 Over 40% of the world's websites are created on WordPress, clearly showing its popularity on the internet. The platform has a user-friendly interface to let you create any website you can imagine. WordPress has flexible tools that give you dynamic control over the functionality and design of the site.
Multiple plugins and widgets make adding extensions to a website through the Plugin Store straightforward. Moreover, if a plugin doesn't fit your criteria, hiring a developer to create one for you is simple.
WordPress has a free version that allows newcomers to quickly and easily start with the platform. However, this option has limited capabilities, so check out the higher-tier package if you require more from this CMS.
Joomla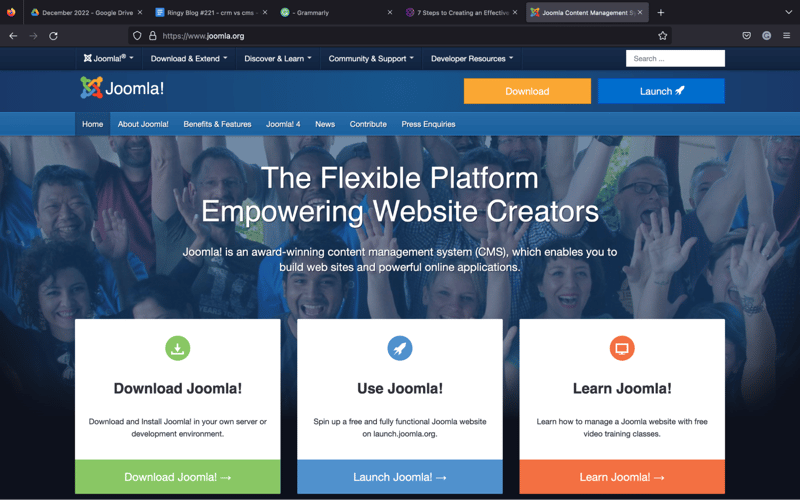 Joomla is a CMS with excellent design flexibility, offering diverse extensions and helpful out-of-the-box tools. The free, open-source CMS was developed to give users design customization that is on par with paid CMS platforms.
Joomla includes a range of free templates and plugins that help personalize a website to the owners' requirements. If the free options don't satisfy their needs, users can purchase a paid template or plugins for their site.
Because Joomla is a standalone open-source, free CMS, it requires you to have a little backend knowledge. You'll have to source your domain name and web hosting before installing Joomla to create your website.
Overall, this CMS is an excellent option for someone looking for complete customizability that'll cost cheaper than other providers.
Squarespace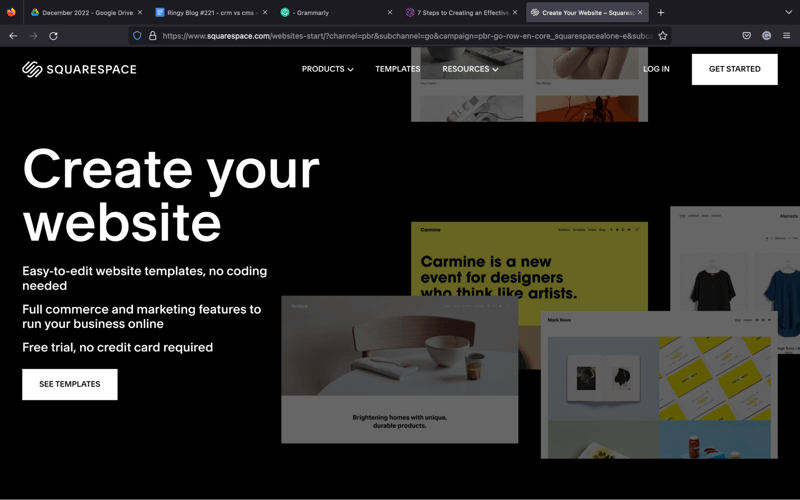 Squarespace is a robust platform that assists in developing responsive websites with unique templates. The software has excellent features, including marketing, email, and social media support.
If you are an artist or photographer looking for a space to show off your content online, Squarespace is perfect for you. It also comes with multiple eCommerce tools to help new store owners create a space to sell their digital or small inventory products.
Squarespace comes with a 12-day free trial. After that, the plan begins from $16 for a personal account. One of the most incredible things about Squarespace is that it comes with 24/7 customer support, irrespective of the package chosen.
Customer Relationship Management
CRM Definition
Sales of an eCommerce business are handled with a CRM platform through each stage of the pipeline.
There are methods of tracking leads, customer interactions, and contacts on a spreadsheet. However, CRM software can significantly increase sales team effectiveness, primarily if you deal with many clients.
A CRM system helps organization owners automate repetitive tasks, optimize their sales team's performance, and spot trends in their eCommerce business. The software can monitor and track analytical insights, including important customer information, preferences, and purchase history.
CRM Benefits
Sales teams utilize the vast amount of customer data stored in a CRM system to understand the customer's journey throughout the sales funnel. Interactions, including calls, meetings, and emails between clients and your sales representatives, are recorded in the CRM platform.
Client interaction data allows sales staff to quickly understand the requirements of each prospect before following up with them. CRM software is effective at locating more sales opportunities, closing more deals, and improving customer engagement.
Here are additional benefits you can receive when implementing a CRM into a small to large business:
Improves customer satisfaction
Helps optimize marketing efforts
Assist in effective team communication and collaboration
Better internal communication
Trustworthy reporting
Boosts client retention
It helps build sustainable relationships
No two customers are the same, so the value of a CRM is that it aids in keeping the right prospects and customizing marketing toward the clients that'll provide the highest customer lifetime value.
Target audience segmentation is the most valuable aspect of a CRM solution. It allows businesses and sales teams to optimize client interactions while recording invaluable customer information.
CRM Features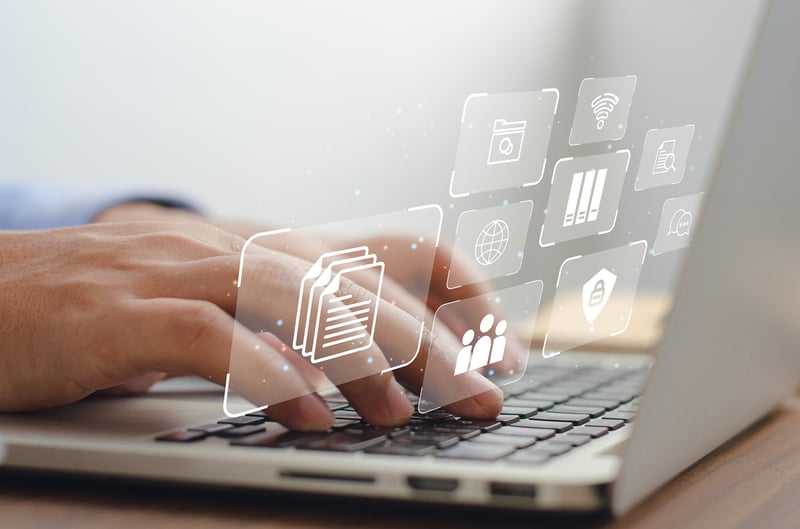 Understanding what CRM solution to invest in requires knowledge of its features. To reap the benefits mentioned above, you'll have to choose the software that suits your business criteria.
Multiple CRM options are available with different pricing, functionalities, and features. Determining your needs before choosing the CRM platform can help narrow down the selection.
Here are three core CRM features that businesses use daily:
Lead management - Moving leads through the sales pipelines requires converting prospects into potential clients. This process CRM includes identifying, scoring, and marketing to these customers in a way that correlates with their expectations.
Interaction tracking - Track interaction history and add notes to specific customer communication. Choose a CRM solution that allows multi-party collaboration, which gives employees access irrelevant to their department.
Contact management - CRMs offer a cloud-based service to store names, addresses, social media accounts, and more in a searchable database. Important information, such as client preferences, can also be noted so sales staff can customize offers.
While every business is unique, the same applies to customizable CRM solutions. Think about your sales strategy and what your sales team requires as you start shopping for the most suitable CRM for your organization.
Ensure you consider any existing software integrations, such as social media marketing, email marketing, and CRM automation tools already used. The CRM platform you choose should have built-in capabilities to integrate flawlessly with these third-party applications.
CRM Pricing
If you're wondering about the cost of a CRM vs. CMS, the answer is that they're similar. There are free CRM solutions that monitor customer interactions and improve overall business performance.
While there are paid solutions, the price varies from around $12 per month for small organizations with more advanced options retailing at $50 to $150 per user per month. If you require additional support or customization and own a large enterprise, some CRM systems could charge up to $500 or more per user per month.
Choosing a CRM platform is a significant investment for any business. Luckily, most CRM software comes with a free trial or demo version that allows you to test the service.
CRM Providers
Ringy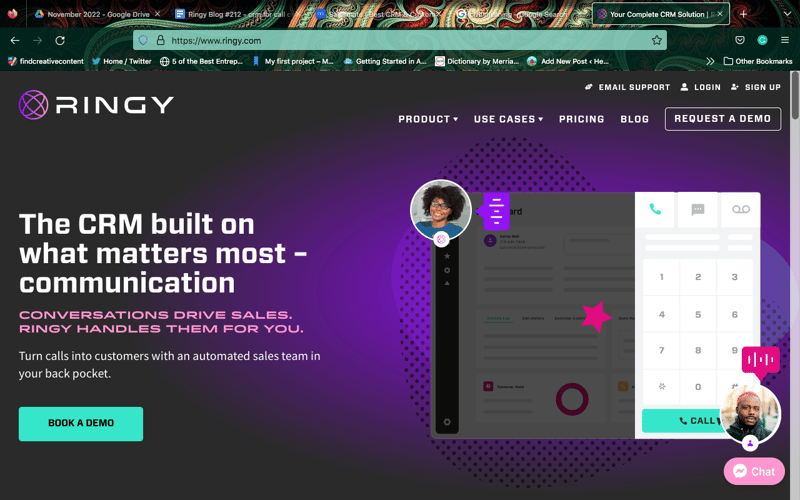 This CRM platform is an all-in-one solution for managing clients. Whether it's emails, SMSs, or phone calls, Ringy has an intuitive dashboard that makes these tasks easy. You can also call directly through the software while routing your number to the local area to appear more credible.
Manual tasks, such as reminder emails or drip campaigns, can be automated to save time. Ringy is an innovative space where you can iterate all your reports, calendars, and contacts in a single location. Another awesome thing about this CRM provider is that it has a mobile-friendly application that allows you to handle calls from anywhere.
With a vast number of integrations and a super helpful customer support team, Ringy is slowly becoming a favorite CRM solution among business owners.
Salesforce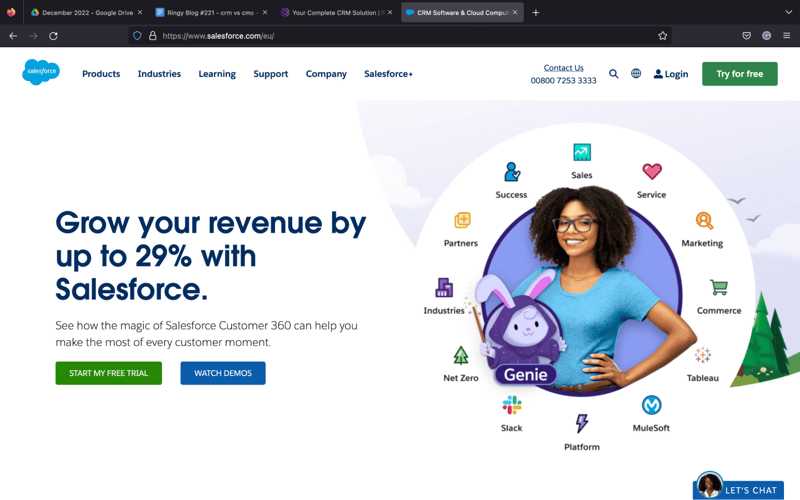 Businesses experiencing rapid growth typically choose Salesforce as the CRM solution to expand with them. This CRM platform may be too advanced for smaller, lesser-developed organizations due to its abundance of features.
However, Salesforce does offer toned-down versions of its CRM for new, small companies to get started with customer relationship management.
Salesforce offers many state-of-the-art features, including
Superior account and contact management
24/7 customer support
Advanced marketing automation
Multiple third-party app integrations
Intuitive user interface
Salesforce is an excellent option for organizations expecting business proliferation or preparing for it. The powerful integrations and robust analytics offered by Salesforce are perfect for growing companies.
HubSpot CRM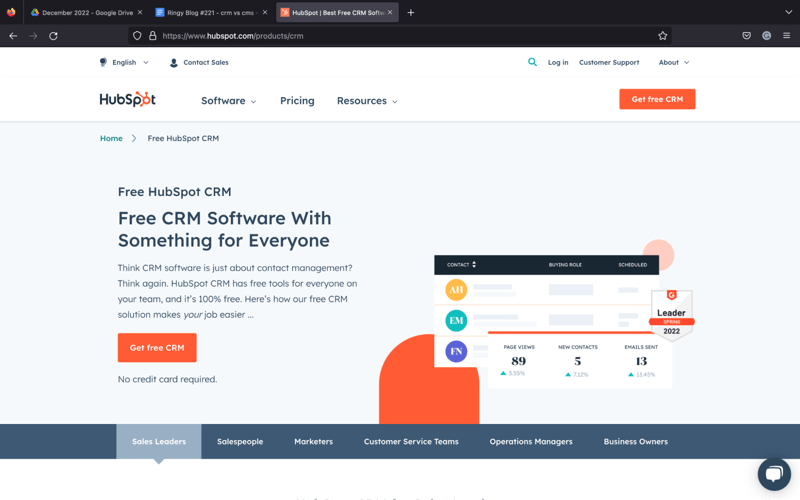 HubSpot is great for newcomers to customer relationship management as it has a free version with many features. The cloud-based customer relationship CRM platform helps businesses nurture, monitor, and track prospects while analyzing company metrics.
Various industries, including real estate, retail, construction, sales, marketing, accounting, and insurance, can utilize Hubspot for B2C or B2B business.
The visual user interface displays a real-time overview of the entire sales funnel, making tracking customer interactions straightforward. Choose HubSpot CRM's free plan and get access to contact management, customer service, marketing, and sales tools for unlimited users forever.
Key Differences Between CMS vs. CRM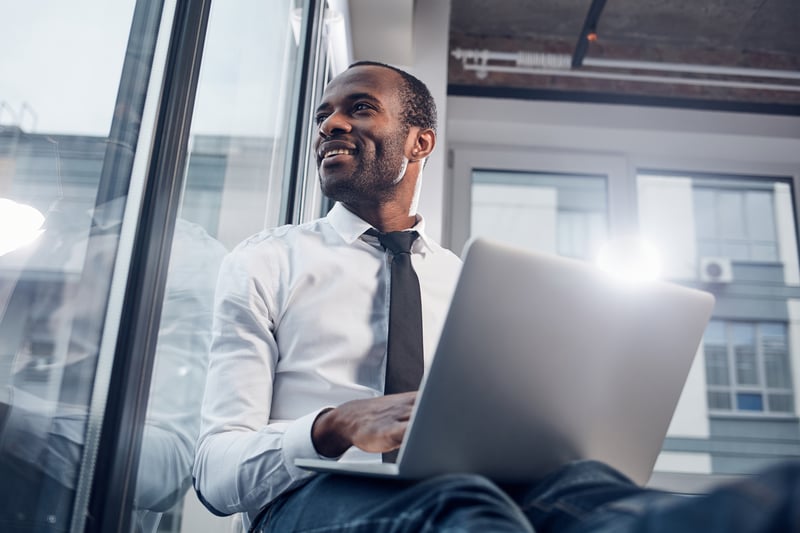 CRM vs. CMS are crucial components for managing an eCommerce business. These tools help company owners make the most of their organization's development efforts and give them insights into client interactions.
This table showcases the key features of CRM vs. CMS.
| | |
| --- | --- |
| Key CRM Features | Key CMS Features |
| Reporting and analytics: Get essential performance data on transactions won or lost and forecast future sales. | Content Library: Organize content, such as documents, videos, or pictures, for publication. |
| Sales pipeline management: Manage prospects through the sales process, assign tasks to representatives, and monitor the outcome. | Site editor: CMS allows users to develop a website with a drag-and-drop editor. There is no previous coding knowledge required. |
| Interaction tracking: Store customer communication data, including purchase history, support requests, calls, and more. | Custom domain names: Registering a domain that matches the name of an organization is a great way to stand out. |
| Email management: Business owners can email campaigns or send follow-up messages directly from the CRM platform after integrating an email account. | Web hosting: Integrating with a superior web hosting service while storing the website and its data on the CMS is the most common method of site hosting. |
| Lead management: Follow up on leads and score them based on their chances of becoming new clients. | Online store: CMS allows you to integrate payment portals and create product catalogs so clients can buy products or services directly from the site. |
It is plain to see that both of these software solutions have their use cases within the online business environment. While the article's title is CRM vs. CMS, there is no competition between the two as each helps an organization uniquely.
How to Integrate Both CRM and CMS into Your Business
Ensuring that your CRM and CMS work closely together is essential to succeed in their implementation. Since prospects interact with your website, the CRM platform and CMS should be connected to track customer interaction data.
Most CRM vs. CMS integrations will diverge website activity information directly to the CRM for actionable insights, reporting, and analysis. Once the platforms are connected, you'll also see how the site performs compared to your other online channels.
Almost all popular CMS software will work with one or more CRMs, but the integration process differs in options, functionality, and cost. Take time to find the best CRM vs. CMS setup that works optimally for your company.
Conclusion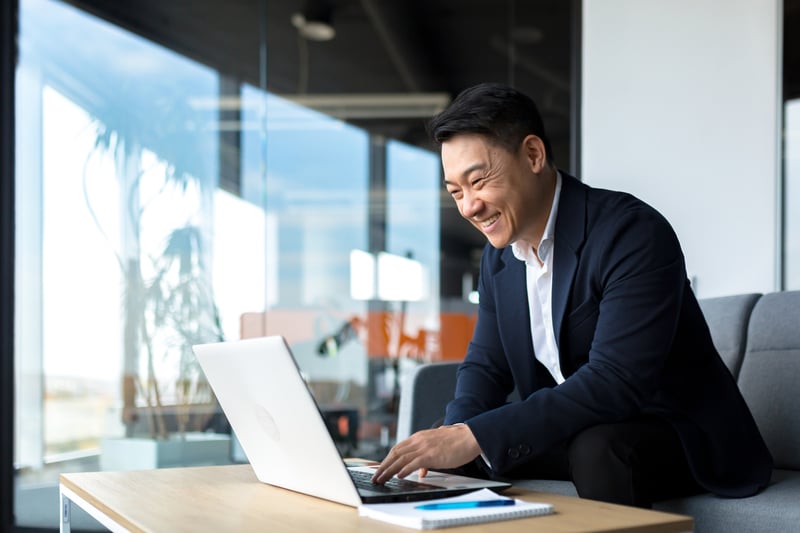 Customer relationship management tools and content management systems help businesses boost their online presence while managing clients throughout the sales process. These tools have become invaluable resources for anyone who owns an online business.
Although these technologies have some primary differences, their foundation is to help create a better experience for a company's customers.
Look for a CRM that connects to your CMS through clever plugins, extensions, or APIs. Software like Ringy is perfect for getting started with CRM vs. CMS incorporation. Request a demo to see how Ringy changes how you handle customers and their expectations.