Looking for a Hubspot alternative?
Understandable. Hubspot is pretty hot. They own 31% of the marketing automation market share - that's one-third of the entire industry.
We'd say that's pretty hot.
Programs like Hubspot and Salesforce are pretty darn popular and if you're reading this it's safe to say you've heard of them, too. A lot of companies are fond of Hubspot and for good reason. It's a solid program.
But some businesses just can't justify the huge monthly costs, especially as a startup. Some businesses don't like the way Hubspot does things. And frankly, some businesses' processes just don't sync up with Hubspot and need something more suitable.
It isn't always smart to just follow the crowd.
You may find that the perfect CRM for your company is waiting right under the radar with your ideal cost and features and your goals in mind.
Sound good? Keep scrolling.
An Intro To Sales CRM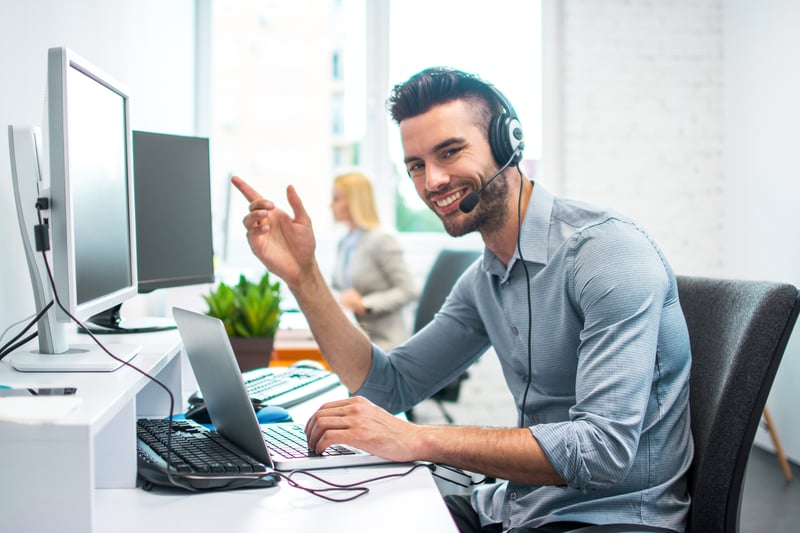 CRM software, or customer relationship management software, is tech that's designed to…well, help you manage customer relationships. A solid sales CRM is able to:
Manage and store contact data
Manage leads and your pipeline
Automate sales, marketing, and customer support
Analyze and track data
Integrate with email, calendars, and other software
Offer a smooth, accessible workflow
…and more.
It can be used by a lot of businesses, but its use in the sales industry can't be disputed. The above features provide a wealth of benefits for a sales team in such a convenient, seemingly-little package.
Here are some things to expect.
| | | | | |
| --- | --- | --- | --- | --- |
| | Communication | Contact Management | Automation | Scheduling |
| Source of Benefits | Lightning-fast, interconnected messaging | Clean, clear data on clients and customers | Smooth, automatic processes | Accessible reminders for dates and meetings |
| Benefits | Increased efficiency and productivity | Customer loyalty and retention | Increased efficiency and improved ROI | Increased productivity and attendance |
Impressive, right? And we're not the only ones who think so - CRM software revenue is expected to reach $80 billion by 2025.
A great CRM is pretty much essential for any modern company, even small businesses. 65% of businesses invest in a CRM within the first 5 years of launch. And 80% of those businesses are in sales.
Talk about a good investment.
They make back every dollar you spend and then some, they automate processes to the point of being another employee, and a great CRM like Ringy is all-in-one, so it isn't just the basics. VoIP, local ID, texting, drip campaigns, and just about anything else you need all for an affordable price.
Alright, alright, we'll stop. For now.
9 Essential Elements You Need in a Good Sales CRM
There's a whole lot of software on the market - plenty of alternatives to Salesforce CRM and programs like Hubspot. But it doesn't mean they don't provide a pretty good example of what features a great CRM should have.
Let's take a look.
1. Automation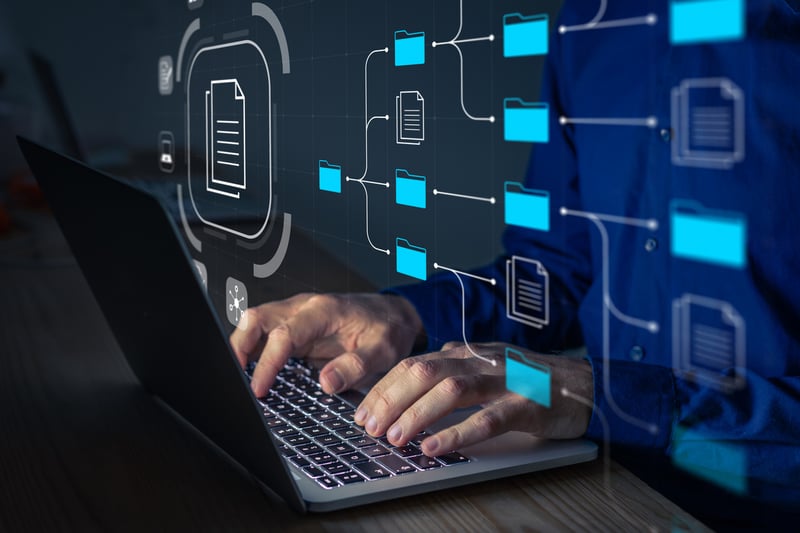 Having technology do things for you is the best part of technology…in our opinion. Generally, automation takes the form of:
Drip campaigns (psst…read all about drip email campaign examples here!)
Email backs and follow-ups
Call scheduling
Lead assigning and workflow
Chatbots and customer support
Having automation take care of the tedious tasks helps you and your team focus on what really matters.
2. Activity tracking
You need to be able to track all kinds of activities in sales: calls, emails, campaigns, demos. It's necessary in order to have a precise account of every client's progress through the pipeline.
It also helps track the activity of your sales reps, aiding not only your management of the team, but also the salesperson's own confidence and development.
3. Integrations
An alternative to Hubspot is still going to feature integration. It's a necessity. Having all your software play nice together so you don't have to have ten programs open and fifteen tabs on your browser let you breathe easy.
Seamless integration with your CRM and your calendar app, your email, and your social media platforms takes a whole lot off your shoulders.
4. Pipeline management and customization
Leaders being able to oversee and manage their own customized pipeline is important. It helps predict future revenues, identify weak spots, and log vital data, which can aid in analyzing the time it takes on average to turn a lead into a client.
5. Easy contact management
A vast, but easy to use, library of customers, clients, and leads makes everyone's job easier and ensures that no contact is left behind. Being able to sort through, follow-up, and talk with clients easily is one of the most important features of a CRM.
6. Reporting and observing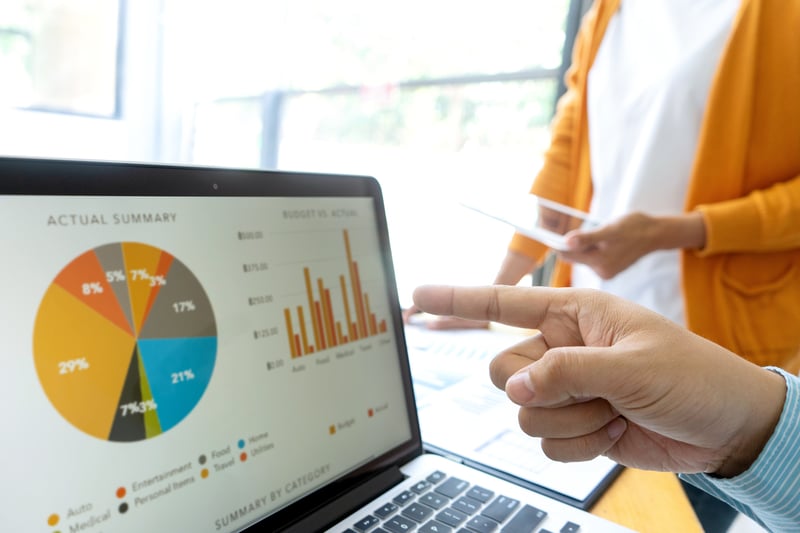 Analytics and data tracking don't only help you find out which age demographic watches your Youtube videos, they also streamline your business and make you money. Your CRM should make it simple to gain insights on:
Current and past sales metrics
Employee performance
Future sales forecast
Which leads are likely to become clients
And yes, demographics of customers
But this isn't exhaustive - for more info, read all about CRM analytics over here..
7. Scheduling
Assigning due dates, managing schedules, prioritizing tasks, and setting up meetings, calls, and demos should be something that's streamlined and headache-free.
They're all the little things that mount in the background. You think they're trivial until they're not organized…then it's chaos.
8. Easy to use and easy on the eyes
It could be the best CRM on the planet and if it's ugly and hard to use you're better off using a clipboard. Ease-of-use, simple learning curve, and a clear, visually appealing interface will help you and your team utilize your software to its full potential.
9. Quick and solid communication
Fast, concise communication is one of the most important things in every business.
Talking with prospects, getting in touch with clients, informing the team of an upcoming meeting, or even just letting Kevin know that he still hasn't paid you back for those beers are all made easier with a good CRM.
Dammit, Kevin.
Many Salesforce CRM alternatives are going to have these features – then just pair 'em with your CRM best practices and you'll be golden.
There are dozens of CRMs on the market so you can pick out the one that fits your company perfectly…like the most comfortable pair of pants in your dresser.
8 Key Considerations When Choosing a CRM
So what should you be considering when purchasing these perfect, comfortable pants?
What points should factor in that'll help you make your decision?
Just answer these questions and you should have a good idea of which Hubspot alternative is right for you and your company.
1. What are your goals?
Take a little time to think about the goals of your business. Is employee monitoring your main aim? Or are you having issues with customer loyalty and retention?
Knowing your objectives and problems will help you find the solution.
2. What's your budget look like?
The big names in CRM software look great at first, but if your budget isn't sky-high, then alternatives to Salesforce CRM might be the perfect answer.
More low cost CRM options are definitely available and even the money spent there will be worth it to even the lowest budget – the average ROI on CRM software is $8.71 for every dollar spent.
3. Which features do you need most?
This ties into your business goals heavily. Do you need progressive dialers? Do you need a CRM with text messaging? Would your company benefit from adapting VoIP phones? (Answer - yes, yes it would) Keeping in mind the features you need will help you get the most bang for your buck.
4. What's the size of your business?
Are you a huge company with multiple branches? Are you a small startup with only 50 or so employees? Knowing the size of your business helps you scope out what type of CRM you need.
Small businesses may not need as big or pricey of a CRM and would most likely thrive with an alternative to Hubspot instead of Hubspot itself.
5. What's the learning curve and ease-of-use?
Definitely look into the CRM's learning curve and interface. A CRM can have every feature you need and an attractive price tag, but if it needs a rocket science degree to understand and implement it ain't gonna do your company any favors.
Accessibility, simplicity, and ease-of-use are key components to any CRM.
6. Does it get along with your other kids?
Or, in other words, does it seamlessly integrate with your other software? Your CRM integrating with your other programs like email, calendars, e-commerce, mobile devices, and more will take a huge amount of stress off your shoulders.
Tell those kids to play nice.
7. Will you need growth in the future?
Consider your future growth. A CRM shouldn't only fit your current needs, but your future ones. How fast are you growing? How long before you're upscaling and hiring new sales reps?
You'll need a CRM that can accommodate that. And programs like Ringy feature plenty of options for scalability.
8. Is support included?
One of those things you don't immediately think about…but trust us, you will after a few days in when you don't know how to make an email template or your computer decides it doesn't recognize your software anymore.
Making sure a CRM has solid customer support will just give you peace of mind.
Even if nothing ever goes wrong.
Top 8 HubSpot Alternative Sales CRM
Maybe Hubspot isn't for you, maybe you're looking for alternatives to Salesforce CRM, but that doesn't mean you're one of the 22% of salespeople that doesn't know what a CRM is, or the 40% of businesses that don't (yet!) implement one.
These companies are still using spreadsheets and emails to track customer data - as crazy as that sounds.
So let's find you the perfect CRM SaaS for your company.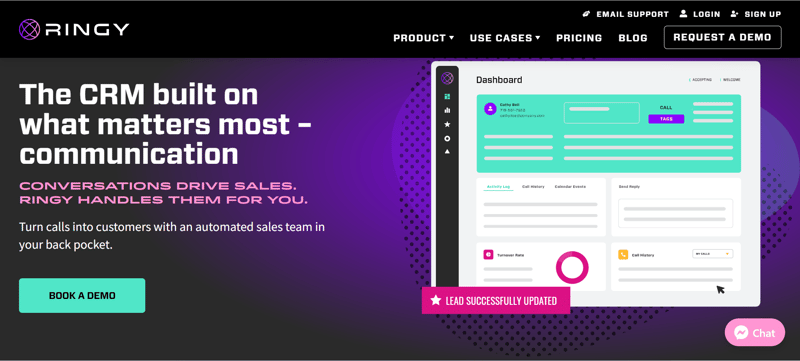 Yes, we know. Ringy's number 1.
But we have a good reason!
Ringy's all-in-one CRM system includes top-notch lead management, sales ad marketing automation, great customization, pipeline management, insights and reports, and a slew of other features:
Cloud-based / integrated SMS
VoIP softphone
Email and calendar capabilities
Data analytics
It's also mobile-friendly, easy-to-use, and has a simple learning curve with amazing, friendly customer support.
All for the price of $99 / month.
See? We said we had a good reason.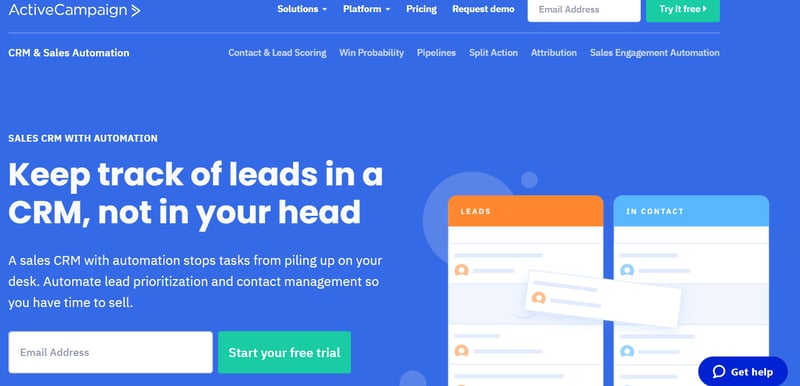 Active Campaign is a CRM with all the good, standard features you'd expect. It gets solid marks for lead management and marketing and people really seem to like its usability and analytics.
Although it doesn't get glowing reviews about its customer support, which is a shame because bugs and glitches seem to be fairly commonplace. While the starting price is $9 per month, with upgrades going to $49 per month, most features are locked out until you shell out $129 per month.
Still, it makes a solid Salesforce CRM alternative.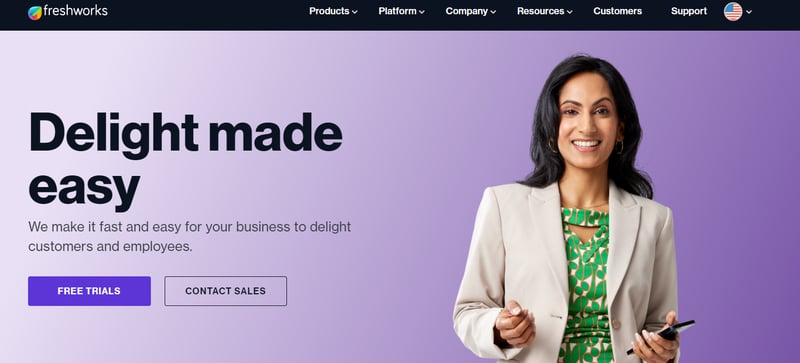 Freshworks CRM, formerly Freshsales, is an all-in-one sales CRM with built-in phone and email, lead scoring, data reports, and a mobile app.
Primarily a small business CRM, Freshworks is recommended for smaller companies with growing sales and marketing automation needs.
People like lead management, pipeline visualization, and automation. Customer support is a little iffy and the interface is somewhat confusing, but at $29 per month, it isn't a bad investment.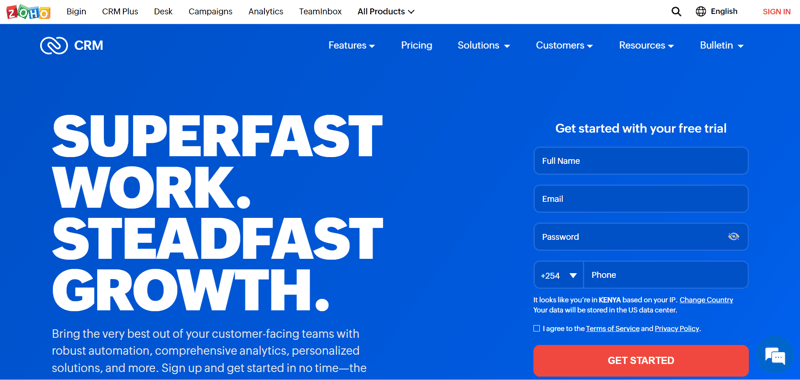 Zoho CRM covers all the basic needs a CRM should, with contact management, marketing automations, and reporting and analytics. It boasts some pretty decent integration, including a recent addition in supporting Canvas for more customization.
The main complaints would be its lackluster customer service and confusing integration.
Rates start at $14 per month and go up from there, but there's also a free trial and a freemium version. Though we aren't too fond of freemium here – it's usually a better deal to just buy a product than opt for freemium.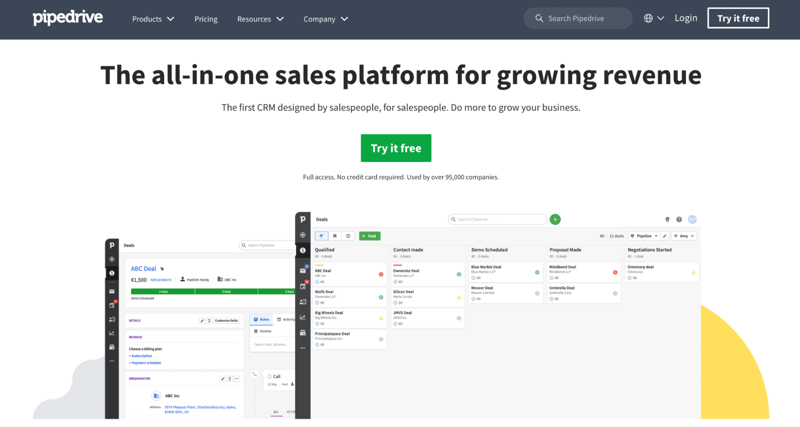 Pipedrive's claim is that it's built "by salespeople for salespeople" and they seem to know what they're talking about. It contains all the solid, baseline features a CRM should have and puts an emphasis on how many construction companies it's helped. Unique!
It starts at only $15 per month and features excellent pipeline management, marketing automation, and a decent mobile app. Its shortcomings seem to be its social aspects, integrations, and, once again, customer support.
People also are pretty disappointed in its campaign planning and managing.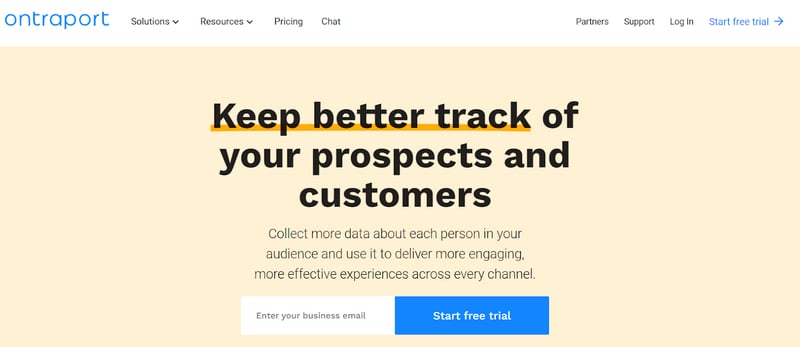 Ontraport is an all-in-one marketing automation and CRM software aimed at small and midsize businesses. Its got high ratings for its email marketing, ease of use, and automation.
A lot of businesses feel that for the price (up to $297 per month…woof!) it could have better reminders, customer service, data tracking, and a mobile app. But even that price tag could be a better alternative to Hubspot if your budget allows.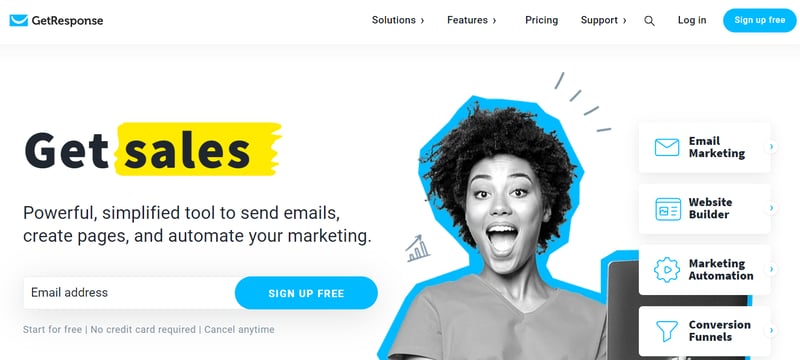 GetResponse is a low cost CRM aimed at improving your marketing campaigns with an emphasis on integration, as it syncs with quite a few third parties such as WordPress, Slack, Facebook, and even Salesforce.
A CRM on a list of Salesforce CRM alternatives that integrates with Salesforce. Interesting. ;)
Starts at $10 per month and goes up to $69 per month. Customers wish that it had real-time reporting to better view the progress of any given campaign and its analytics are a bit confusing, but it's still a good option.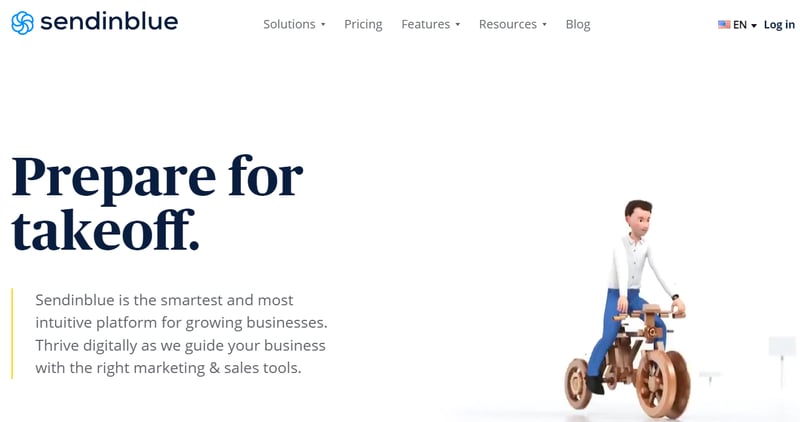 Sendinblue is a CRM that starts off with a free version but goes up to $65 per month for the premium version. It advertises its strong points as being its world-class customer support and its price tag (we guess free is pretty cheap).
Apparently, it's got a pretty steep learning curve for beginners but is easy to use once you get used to it. Overall, companies are impressed by its price-performance ratio and say that it's pretty damn professional for being so cheap.
It also seems to be missing a good few features…like limited integrations and analytics and no multi-channel capabilities. So you can only communicate with customers over email. No text messages, smart messages, or phone calls. And that includes no text message automation.
But that's what happens with the budget CRMs, right?
CRM Alternative to Hubspot: Comparative Analysis
Alright, so now you know some of your options. But maybe you want a little more info on Hubspot itself - its pros and cons, ins and outs, nuts and bolts…the nitty gritty.
You aren't the only one thinking about alternatives right now, as Hubspot's earnings are forecast to decline by an average of 13.6% per year for the next three years.
Let's take a look at some of Hubspot's features and why they're great…but also their shortcomings and why you might be looking for something a little different.
Pros:
All-in-one platform for marketing and sales
Marketing automation software
Good customer service
Can be used to build your website, like WordPress
Good customer service, in particular, is something that a few of the options above are missing, so that's a nice point. But the catch is that Hubspot does charge for tech support - it doesn't come free. This leads to the cons:
Cons:
Locked-in contracts (no cancellations or refunds)
Designed to be all-in-one, i.e. it's hard to use only parts of it (if you design your website with WordPress instead of Hubspot's site builder it can be a headache!)
Some customization uses CSS coding
Technical support is charged
And the most obvious con... it gets very pricey.
The $50 per month Starter pack and free version aren't expensive, but have very limited features. You'll definitely end up wanting to upgrade, which we cover in-depth in our article about CRM online trial.
If you go for the $50 Starter pack, it includes 1000 contacts, which isn't too bad. But if you're planning to upscale? To get another 1000, it's $800 a month.
Which is kind of a jump in our book.
Scalability is absolutely vital for small businesses and startups. Planning for future growth is something that Ringy accounts for without charging you 1500% more. Which yeah, is what $50 to $800 is.
Why don't we sum up those pros and cons in a handy-dandy table? Just to recap.
| | | | | |
| --- | --- | --- | --- | --- |
| | All-In-One System | Customer Service | Low cost or free version | Details |
| Pros | A platform with everything you need for marketing and sales | Helpful, informative customer service | A free version exists, as does the low cost ($50 per month) "Starter Pack" | Features customizable details to suit your business |
| Cons | Very hard to use features separately | Technical support is charged | Price quickly skyrockets if you need more than basic features | Customizing sometimes requires CSS coding knowledge |
Hubspot Alternative Success Stories
If you don't trust us (we thought we were friends!), then check out these businesses that tried out an alternative to Hubspot and were pleased as punch.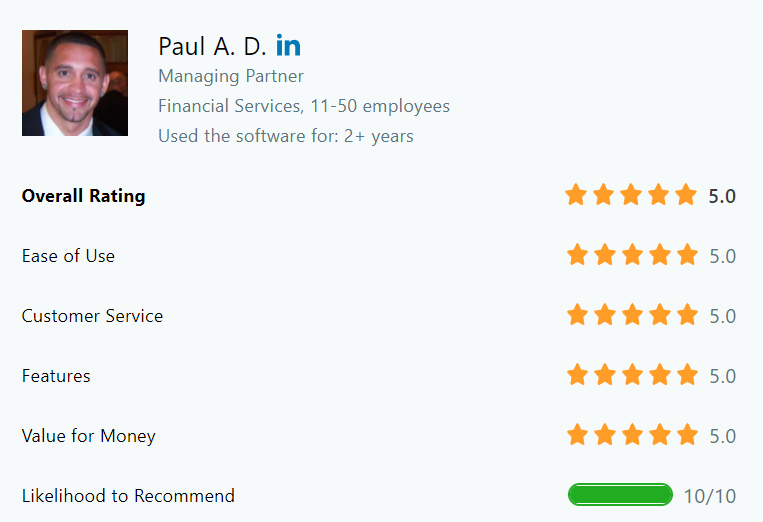 Paul A. D, the managing partner in financial services, claims Ringy is the "Top CRM in the game" and says it allows him to do the job of ten people with just one login.
He says the customization, interface, and the flow from text to email to call are absolutely outstanding. No complaints.
Much the same from David L, who's a health/life insurance agent at a midsize company. He says that texting plays a huge role in his sales and the mobile features of Ringy are "incredible". Seeing what works and what doesn't with Ringy's reports help David with his marketing and he claims Ringy is a "MUST".
Don't look at us that way. David used the all-caps for his excitement. Not us.
Another success story when it comes to Salesforce CRM alternatives is for ActiveCampaign (which you'll recognize as being from our list above) from William S, the owner of a small health company. He says its ease-of-use and implementation is much better than Salesforce, and that you can't beat the available features for the cost.
Frequently Asked Questions
Is Hubspot worth the price?
Honestly? With the main features only available at $800 per month and the highest tier at $3,200 per month? Unless you're a big company with even bigger annual revenue, we don't think Hubspot is worth the price tag.
Especially with that locked-in contract.
Is Hubspot the best CRM?
Isn't everything subjective?
Hubspot is a great CRM, that's for sure, but it doesn't suit everybody. We will say that a lot of businesses use it and sing its praises, so it's definitely a good product.
Although its high price, charged tech support, locked-in contracts, and steep learning curve aren't for everybody.
Is the free version of Hubspot any good?
Sure it is! Who doesn't like free things? It contains quite a few features for a free version, which is pretty impressive.
But people also just love free stuff. Have you seen people at the free sample section in the grocery store going gaga over pumpkin-flavored, well, anything? We rest our case.
And with no customer support, easily maxed-out email tracking per month, sub-par reporting, and little customization, it's a pass from us.
Conclusion
So, there's all the information you'll need to start choosing a great Hubspot alternative. You'll save a lot of cash and without the learning curve, you'll save time, too.
And time is money.
Let's recap what we learned:
Spend a little time to research your CRM's features and benefits
Take into account any important considerations before your purchase
Research the software in our list to find one that suits your business
Compare Hubspot's pros and cons to different SaaS
Then you can go and add your success story to the list of others!
Of course, you could save yourself even more time and just request a demo with Ringy, so you can see what a powerful alternative to Hubspot it is.
Best of all, it's commitment-free. You won't be locked-in here. ;)