The telemarketing and call center industry has grown astronomically over the last few years, not only in volume but in the technology it uses for business processes. Call center staff deal with numerous contacts and technical information daily, which is cumbersome.
That is where CRM for call center teams can help create a centralized database. CRM call center software allows telesales employees to improve overall calling productivity and streamline their operational activities.
This guide explains what CRM call center software is, what are the benefits and features of utilizing it, how to use call center software CRM to help your support team, and much more. After this blog post, the CRM meaning and purpose in the contact center will be clear.
What Is CRM Call Center Software?
CRM for call center teams is more than adding software to a company's processes and streamlining tasks. Call center agents utilize CRM call center software to increase efficiency and enhance the customer experience. CRMs for call center platforms are like digital Rolodexes of customer interaction history.
Telemarketers utilize CRM for call center software to understand a client's history with an organization and personalize communications.
When integrated with call center technology, CRM for call center software becomes more robust in contact center management. For example, when an agent gets a call sent to them, the CRM system can automatically pop up for the employee answering the phone. That allows agents to focus more on assisting clients with their problems instead of fumbling around trying to perform data entry tasks.
Other features of CRM for call center agencies include:
Adding contact records from multiple channels to the CRM platform
Recording customer conversations and listing them in the CRM system
Utilizing local ID wherever you're located
The expansion of the cloud technology space has made the amalgamation of CRM for call center software and telemarketing tools much more superficial. Organizations like Ringy offer a unique cloud-based CRM for call center solutions that can integrate perfectly with your existing contact center technology.
Benefits of Call Center CRM Software
Getting to know clients nowadays takes more than resolving a past issue or listening to their feedback on a particular product or service. Gaining a competitive advantage means business owners need as much knowledge about their clients as possible.
Detailed customer history is one of the most valuable assets businesses have. It helps tailor a better experience for the client and gives the telemarketer information to work with when dealing with the prospect.
CRM for call center solutions is integral to a contact center's success. The streamlining of processes and centralization of data helps organizations operate more fluently. Here are four advantages call center agencies experience when implementing CRM call center software into their business.
Accessibility
Customer technical information must be available to agents in its entirety. With a CRM for call center businesses, all client data is centralized and includes everything from:
Personal contact information
Service History
Previous purchases
Customer preferences
This information makes it easy for agents to communicate with clients in a personalized and timeous demeanor while boosting the success of the problem's resolution.
Improved Accountability and Communication
Having all information in a centralized database means employees can update customer data so that shared records are accurate. For instance, customer support staff may need to speak to someone in the service department before proceeding with the subsequent phases, or sales teams may need to communicate with other sales team members regarding monthly figures.
Therefore, CRM for call center employees holds them accountable for both weak points and successes within the client's lifecycle. Each staff member has sales processes, customer service tasks, or personal responsibilities in the CRM software. That keeps everyone on track to achieving the organization's goals.
Increased Sales
Driving sales is one of the significant benefits of implementing a CRM for a call center in a business. Sales teams may manage current prospects in the following six ways:
Handling post-sales services
Checking warranties
Issuing credits
Processing orders
Accessing transaction history
Managing pre-sales queries
Sales staff may also utilize cross-selling, as purchase history in the database will display invaluable information regarding preferences, ideal for promoting extra services or products and consumer buying habits.
Reduced Expenses
The reductions in contact center expenses are directly correlated with increased efficiency. Moreover, choosing CRM for call center platforms with predictive dialing ensures clients don't answer calls without an agent ready to pick them up.
CRM call center software also records call activity into the applications for superior lead management, helping monitor the best hours to contact customers. Marketing and sales teams utilize these real-time KPIs and metrics to improve customer satisfaction.
World-Class Customer Service
Clients are treated with a flair of personalized, precise, and timely information; this sets the tone for an incredible customer experience. Streamlining business processes and data management autonomously harbors excellent customer retention and brand loyalty.
A CRM for call center agents is what employees require to create a more relevant and meaningful customer experience.
Key Features of CRM Software for Call Centers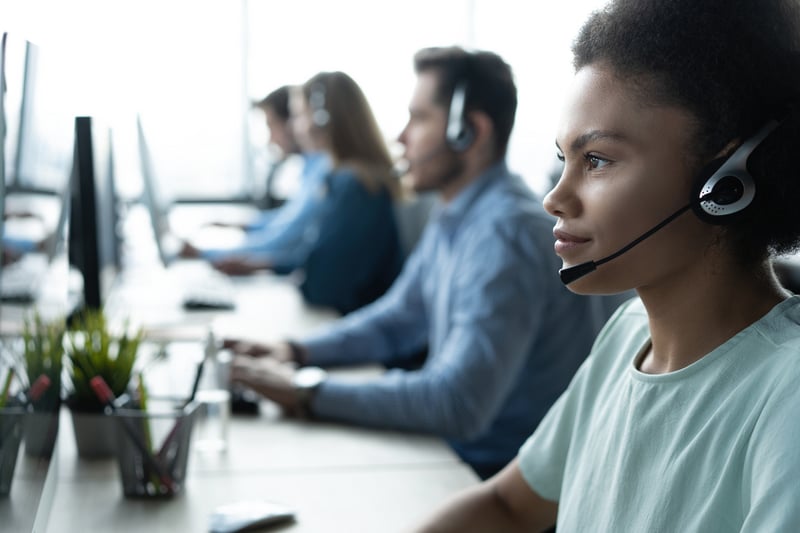 Multiple factors determine the value of a CRM for call center businesses. You'll have to decide whether a CRM is right for your contact center. Let's check out some critical features that benefit the contact center environment.
Get Actionable Reports
Creating reports manually is arduous, time-consuming, and may be recorded incorrectly if the data comes from different sources.
Most CRM for call centers come with customizable and pre-built sales reports. That allows business owners to make intelligent decisions concerning their organization's processes. Company proprietors can identify hurdles and tackle them before they escalate.
Sales reports offer a dynamic overview of team performance, revenue, and sales goals that assist with business strategy development.
Multiple Integrations
Most cloud-based CRM for call center software can integrate with several useful tools and platforms. Telemarketing requires various tools for different reasons, making it challenging to track large volumes of data.
Connecting your CRM call center software to a platform you already use is an excellent time saver. All documents and information are centrally located, giving employees easier access.
Better Team Collaboration
CRM for call center agencies allows for automating team communications to streamline the workflow further. Managers and top-level executives can set task expectations for staff so everyone is on the same page.
While dealing with numerous clients at various levels in the sales pipeline, agents may have to share information with another crew member about the interaction. A CRM for call center companies with a shared inbox allows teams to communicate vital data between divisions to deliver improved and efficient customer service.
Make Calls from a Single Location
A cloud-based CRM for call center agents like Ringy has built-in call features that allow you to handle calls from your phone or the CRM platform. When performing cold calling duties at a call center, staff can contact prospects or customers directly from the system.
You can also pick local numbers to call the client to build credibility among the target market.
How to Use Call Center Software CRM to Supercharge Your Support Team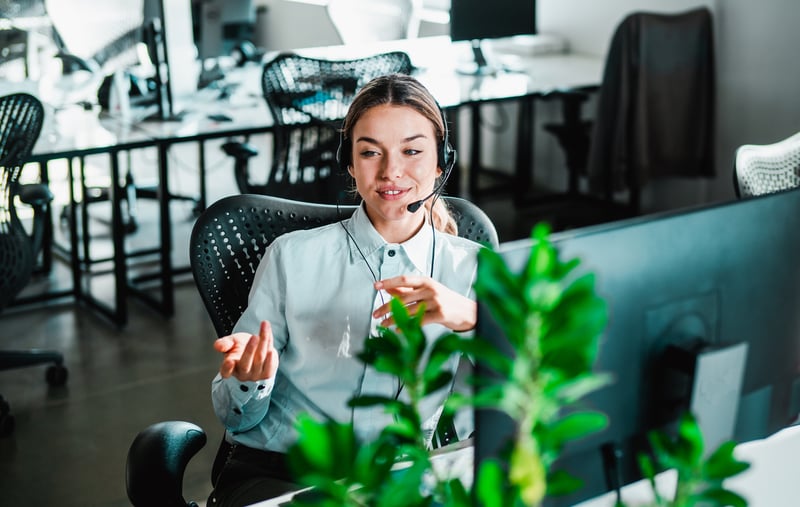 The first step to CRM for call center implementation is developing a solid CRM strategy. Looking at the goals after the CRM system is implemented is critical to the success of its incorporation.
Here are two aspects you should focus on:
Automation - Automating data capturing will allow you to extract large volumes of meaningful data
Integration - Eliminate data silos by making the CRM call center software the primary source of information
Once automation and integration are established, here are other benefits that organizations with a CRM experience:
Personalizing call routing
Making shorter calls
Increasing uptake of self-service
Boosting outbound customer retention
Following this basic guideline, you can keep consistent customer communications through workflow automation.
Call Center CRM Software Cost
Numerous factors come into play when determining the cost of CRM call center software, and rightfully so. Various products on the market can fulfill a contact center's requirements.
Generally, a cloud-based CRM for call center solution retails for around $50 to $300 per employee monthly, while an in-house system can range between $100 to $1,500 per agent.
However, additional fees are correlated to maintenance and support.
The table below shows the primary factors that influence the cost of CRM for call center agencies.
Influence Expense Factor

How Cost Is Effected

Number of users

Most contact centers employ multiple agents to manage calling duties. Basic CRM call center software plans come with primary features like call recording, outbound calling, and automatic call routing for one to three users.

Fees will change respectively whether operations are up or down.

Additional Features

Some CRM packages require that you pay to add extra integrations or features. Intelligent routing, live chat, and email communications are additional features offered by CRM platforms.

Billing Structure

CRM providers offer various types of pricing structures. Users can pay a per-minute, monthly, or fixed monthly fee per call center. Look at understanding the different pricing plans and options before signing up with a CRM for a call center management program.

Currency

Depending on the exchange rate and the currency you're purchasing the CRM in, the price could vary slightly.

Extra Expenses

Additional storage, local callers ID, and toll-free numbers come at an extra cost.
With knowledge of the cost involved in implementing a CRM for call center agencies, business owners can make informed decisions regarding the platform with the most value for money. Ensuring the CRM system meets your budget and company requirements is critical to successful implementation.
Best CRM Call Center Software
Ringy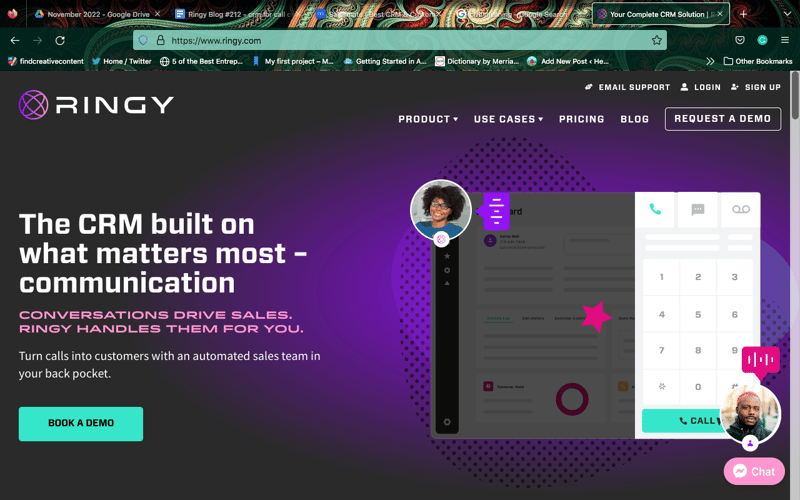 Ringy is a CRM for call center agents concentrating on direct client communication. The platform is intuitively built to make understanding the interface easy for beginners and advanced CRM users.
The cloud call center software was developed to support telemarketers and enhance performance while increasing the chances of closing more deals.
You can automate manual tasks, finetune drip messaging campaigns, and integrate all reports, calendars, and customers in one place. The software is also ideal for coaching sales staff in real-time as calls are recorded.
Ringy is priced right and can integrate with other contact center management tools for premium results. Request a demo to see how Ringy can help you.
Salesmate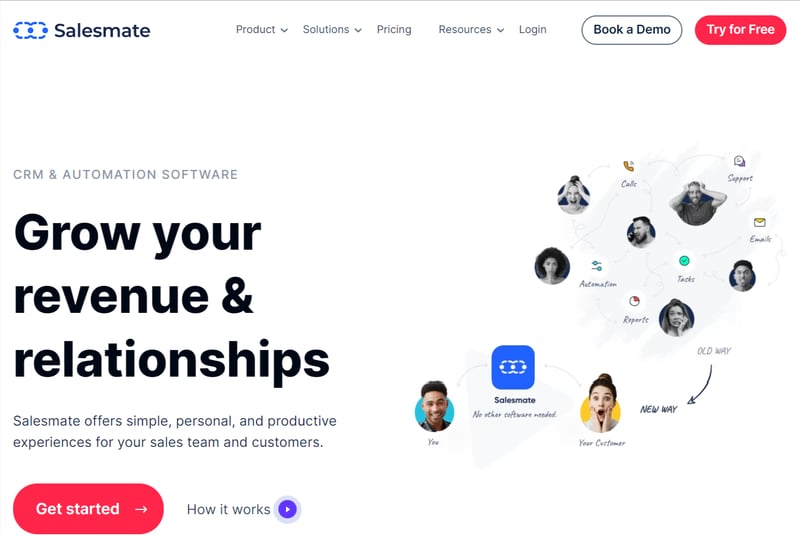 Salesmate CRM offers various forms of communication, including calls, chats, emails, and more. Users can create personalized experiences across multiple channels, services, sales, and marketing touchpoints.
The platform has comprehensive features that allow businesses to build lasting client relationships, close more deals, and generate more leads. It's a value-for-money CRM for call center systems perfect for the finance, insurance, real estate, software, marketing, and contact center industries.
Pipedrive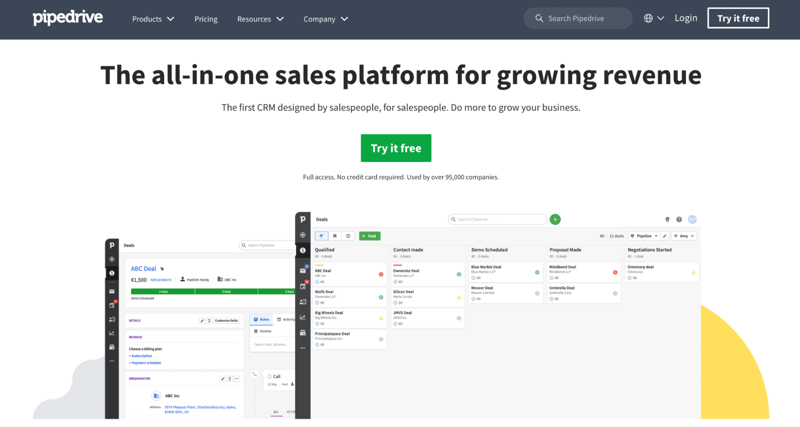 This CRM for call center software allows you to get up and running quickly. Pipedrive CRM is a straightforward and reasonably priced CRM that helps call centers accomplish their goals. When performing follow-up automation and lead tracking, Pipedrive's super effective user interface makes haste of the work.
The CRM for call center solutions can also be used for business development or increasing customer retention. Analytical data and reports allow agents to handle customer queries in a personalized, purposeful manner.
Conclusion
Without a CRM for call center agents, a contact center may leave value data on the table.
CRM call center software's power allows the recording, tracking, and monitoring of client interactions to improve operational efficiency.
Consider the key features of the CRM software before deciding if the platform matches the desired implementation goals. Ensure the chosen CRM solution has sufficient integrations, calling capabilities, and an innovative dashboard to handle all administrative tasks.
Ringy is a CRM platform that works hand-in-hand with contact centers. The application is designed to make customer communications easier while delivering the analytical aspect of a CRM that every business requires. If you are looking for a CRM for call center agencies focused on what your company does, request a demo to see how Ringy can work for you!