Technology is changing at record-breaking speeds. And we're struggling to keep up.
Just think about it: every year, it seems like there's a hot new technology disrupting established industries and forcing us to play catch-up.
It's tiring, right?
You betcha, and that's exactly why 75% of people prefer good old-fashioned human interactions over technology when it comes to customer support.
Despite the odds, humans still triumph over machines.
Well… that's only because, like in the Terminator, there's a friendly machine on our side helping us overcome our human limitations.
It goes by the name of Cloud Call Center Software.
You can call him (or her) Cloudy.
But we'll do much more than merely give this software a catchy name; we'll take you through everything there's to know in a single, comprehensive blog post.
Need a quick preview of what you'll learn? Good idea. Here you go:
The ins and outs of cloud call center software
The common challenges Cloudy resolves
The major benefits he/she brings to the table
Four success stories
How to pick the correct version of Cloudy
Five awesome cloud call center solutions
Now enough small talk; it's time to get down to business.
Step 1: What is Cloud Call Center Software?
No surprises here — cloud call center software is precisely what the name implies.
It is a software application that is:
Hosted in third-party servers in data centers
Accessed via the cloud (a.k.a. the internet)
Ideal for providing call (or contact) centers with a range of tech-enabled capabilities
What kind of capabilities are we talking about?
The whole shebang. Literally, everything a modern sales or service agent needs to succeed.
Think of features like:
VoIP software with outbound and/or inbound calling
SMS & messaging platforms like WhatsApp and Facebook
Analytics
Workforce management
Calling CRMs
But don't get confused — not all cloud call center software includes all these features.
It's up to individual providers to develop solutions and market them, so end-users need to carefully and meticulously check product pages to find the one best suited to their needs.
One more thing:
Cloud call center software is often compared to on-premises (or traditional) call center software.
The difference lies in the fact that on-premises software is hosted via in-house servers, where you own the hardware and take care of maintenance and updates, while cloud software outsources these tasks via, well, the cloud.
Cloud-based solutions usually have the upper hand because they cut costs and enable flexible working environments to the point that even micro companies can run virtual call centers.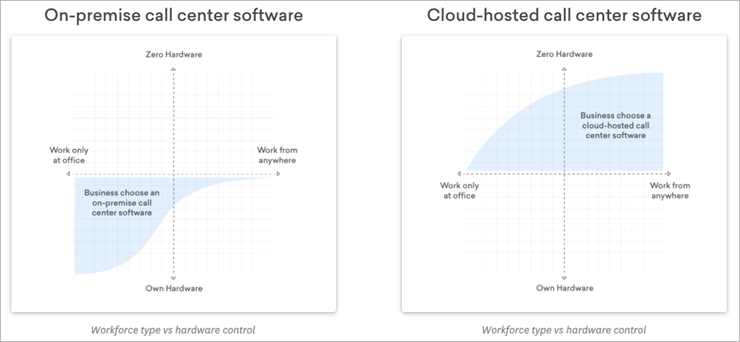 Step 2: Review the Challenges Call Center Professionals Face
Before we move on to the benefits of cloud call center software or specific solutions, it's worthwhile to spend a few minutes talking about the daily struggles you face as a salesperson.
Because you can't fix a problem if you don't acknowledge something's broken first.
So what are salespeople around the globe complaining about during (virtual) watercooler chats?
Too many IT tools
Disorganized customer data
Bog standard, scripted replies
Multi-channel communication
Tight budgets
Customer satisfaction problems
Let's explore each one in a little more detail.
1. Too Many IT Tools
This is one of our biggest pet peeves.
And we're not alone: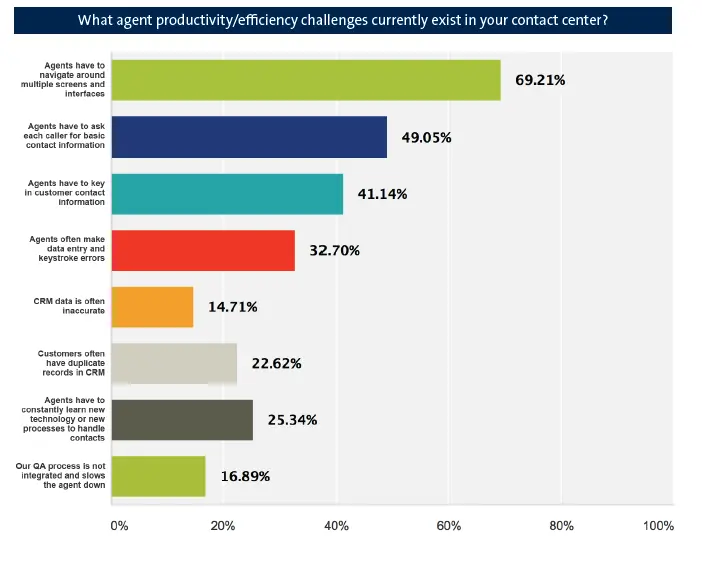 We hate having to open 101 applications to get the job done.
Shuffling between the windows and tabs is annoying enough, but it doesn't compare to the pain of having your computer freeze in the middle of an important sales call because it can't handle multi-tasking.
It's just not necessary because it:
Makes a sales agent's life harder than it has to be
Leads to extra agent stress
Results in poor customer experiences.
No bueno. Speaking of which...
2. Disorganized Customer Data
This is the equivalent of always having your computer freeze during sales calls.
It's a nightmare because you end up speaking to people without knowing anything about them or their past interactions with your company.
Did they already speak to one of your colleagues? Is this a repeat issue? Are they potentially ready to churn?
You can scramble all you want to find out, but with bad data, you know even less than Jon Snow (and he was pretty much clueless from beginning to end).
It's embarrassing at best and relationship-ending at worst.
Option two is the far more likely outcome if you consider that 32% of people leave brands they love after a single bad experience.
3. Bog Standard, Scripted Replies
We live in an era of hyper-personalization.
Just consider all the fantastic things companies like Amazon, Netflix, and Spotify are doing to dazzle consumers. From tailor-made product lists to recommendations based on past cues, the average Joe is bathing in the glory of companies treating him as an individual.
This, in turn, is having a significant effect on consumer behavior — 72% of shoppers state that they only engage with companies when they use personalized messaging.
And what's the opposite of personalization?
You guessed it. Boring scripted calls.
Customers pick up on an agent using one and get frustrated because an agent refuses to treat them as a person. Agents then get frustrated because they're forced to have uncomfortable conversations due to company policy.
That's a textbook lose-lose situation and one you should avoid at all costs.
4. Multi-Channel Communication
Buyers expect to be able to contact businesses via a selection of 13 different channels, including:
"Contact us" forms
Email
Messenger apps
Live chat
Phone
Support tickets
Social media
That in itself isn't a problem for agents until you realize that many of them have no program for consolidating all the communication in a single location.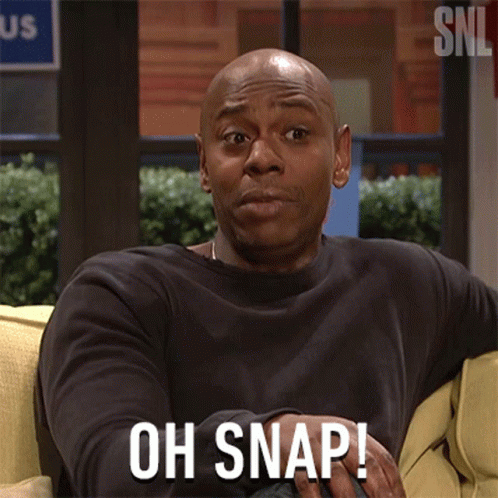 "Oh snap" is definitely right because this lack of centralization means that agents have to do the detective work manually and that costs them a whopping 10% of their days.
That's a royal waste of time and energy.
5. Tight Budgets
Tight budgets are one of the biggest problems call center agents have to face.
They're frustrating, they lead to sub-par tools being used, and there's nothing you can do about it most of the time.
You can try asking Finance for more money, but unless you have a rock-solid business plan, it'll be like talking to walls.
It's, unfortunately, just part of life.
But that doesn't mean there's no hope.
Hold on to it for a couple of minutes more, and you'll learn how cloud call center software can overcome even this seemingly impossible hurdle.
6. Customer Satisfaction Problems
This is the holy grail of call center issues.
It's partly caused by a combination of the previous five challenges we've discussed and partly because customers are becoming more demanding by the hour.
But regardless of what's causing it, you know you have a serious problem on your hands if customers are reporting they aren't satisfied with your call center's service.
After all, 96% of people say customer service is a pivotal part of loyalty, and a further 67% state that bad customer experiences are good reasons for churning.
How can you fix it?
1. Implement the seven steps on this colorful yet wise graphic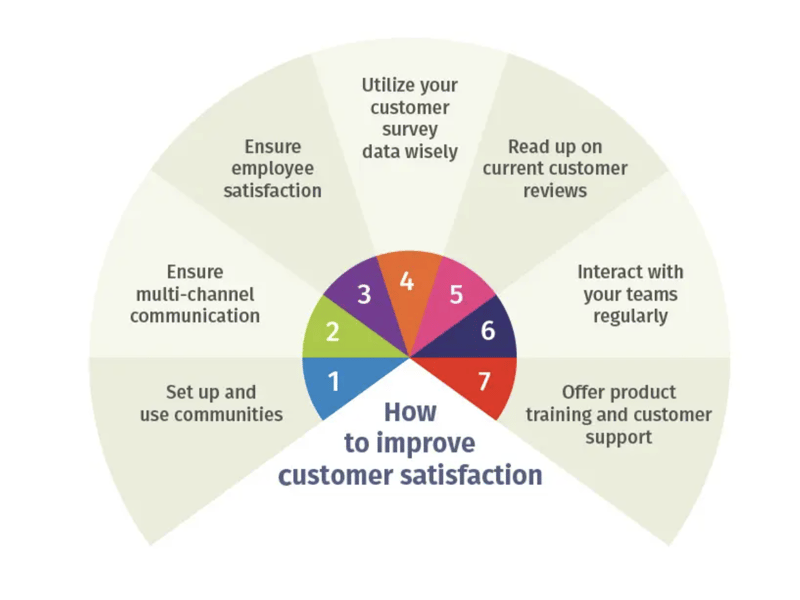 2. Invest in proven cloud call center software and get Cloudy to help
Hmm… are you sure that that second recommendation is a good idea? Won't finance just shoot it down?
YES to the first question, and no to the second one.
Let's explain by sharing cloud call center software's most significant benefits.
Step 3: Learn the Benefits of Cloud-Based Call Management Software
We know you're busy.
So rather than listing out all six advantages in the usual "listicle-style" format, we've come up with a better way to share them.
This ultra-compact table of calls management software benefits. Enjoy!
Benefit

Why it matters

Improved customer experience (CX)

A better experience leads to higher levels of satisfaction and less churn

Happier customers mean happier agents

Affordable monthly payments

All you need is an internet connection, a computer, and a headset

Finance absolutely loves it!

Cheap enough for even micro companies

Automatic call routing via IVRs or CRM integrations

Callers always speak to the right agent

Less wasted agent time and more calls

Scalable

Grow, cut, and flex without having to invest in crazy expensive hardware and software

Expands to multiple locations, aligning with your growth ambitions

Flexible

Perfect for remote working (52% of workers do so at least once a week)

Connect on the go with a mobile app

Integrates with your tech stack

Effortlessly links with your other enterprise software (no wasted time, no rage)
Pulls the correct data into your cloud call center software, so you don't have to
Convinced yet?
You're probably on the fence, so it's time to bring out the big guns: four inspirational case studies of companies that used cloud call center software to transform their businesses.
Step 4: Get Inspired by Calling Software Success Stories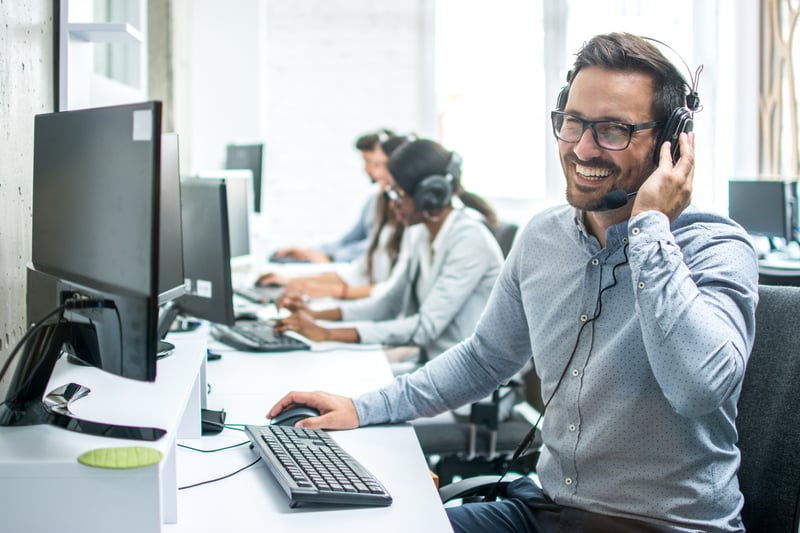 Company

How they used call management software

Results

Twiddy & Company needed to find a way to enable effective remote working, personalize their customer service, and deal with demand spikes.

A cloud contact center solution solved all three issues and was fully implemented in less than 60 days.

90% CSAT rating


90% reduction in wait time


26% fewer abandoned calls

Gempler's prides itself on its friendly customer service and outstanding customer experience.

However, massive growth and an increased volume of support and sales inquiries put these values at risk. So they turned to cloud calls management software and gave their agents the tech support they needed to impress customers at every interaction.

28% quicker speed to answer


70% fewer abandoned calls

Terés a Nail Bar was looking for a way to maximize its sales budget since large-scale advertising was out of the question.

The answer they found was implementing a call center CRM, which allowed them to deliver hyper-personalized experiences and automate appointment scheduling and reminders.

300% growth in revenue


500% growth in headcount


700 monthly memberships

Triumph is one of the USA's fastest-growing motorcycle brands, and that comes with its advantages and disadvantages.

One such issue was their legacy phone system — it couldn't cope anymore. The solution was cloud software with integrated SMS and analytics capabilities.

30% cost savings


Virtual training sessions with over 160 dealers
Pretty amazing stuff, don't you think?
But don't get jealous; the good news is you can replicate or surpass (we believe in you!) this success with your own cloud call center software implementation.
You just need to:
Learn the critical considerations of picking a high-quality call center platform
Research the best programs on the market in search of the one that fits your organization, like Cinderella's glass slipper (and not like this kitty's glass bowl)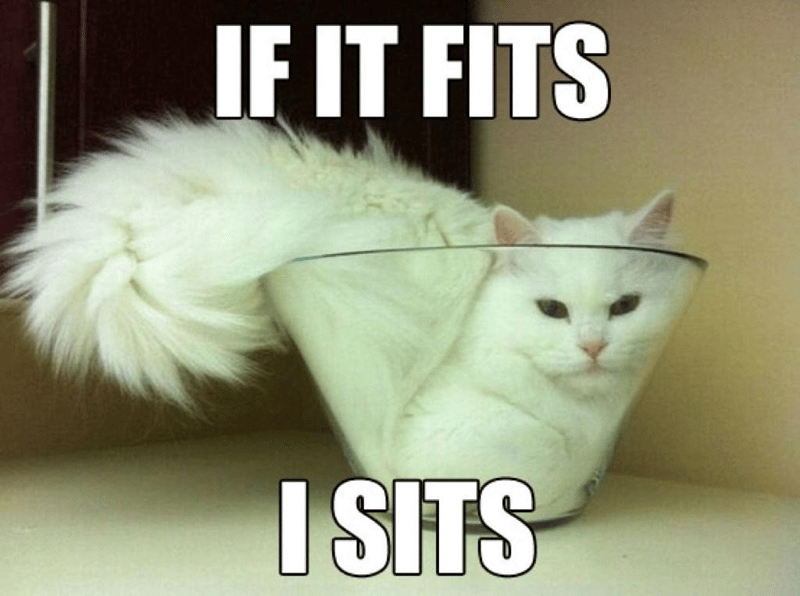 Let's help out.
Step 5: Find Out What To Look For in Calling Software
And yes, we're going to slap you with yet another table. That's just how we're feeling today.
Consideration

Why it matters to call center staff

Price

Everyone loves a good deal (especially Finance)

You want the biggest bang for the buck

You don't want to pay for features you won't use

User-friendliness

Good UX leads to more adoption

Call centers have 30-40% yearly attrition — you can't afford to be constantly training staff to use confusing call routing software

Saves staff precious time

Features

Because call center sales agents and managers need access to:

VoIP software with click-to-call and call listening
Sales and marketing automations
SMS functionality
A multi-channel and/or omnichannel view of communication
Easy integrations
A mobile app

Enables working from home and remote agents spread across time zones

Reporting

Can be used to reduce turnover and help struggling agents

Support a culture of continuous improvement
And now on to the section that you've all been waiting for:
Step 6: Discover the Top Five Cloud Call Center Software
1. Ringy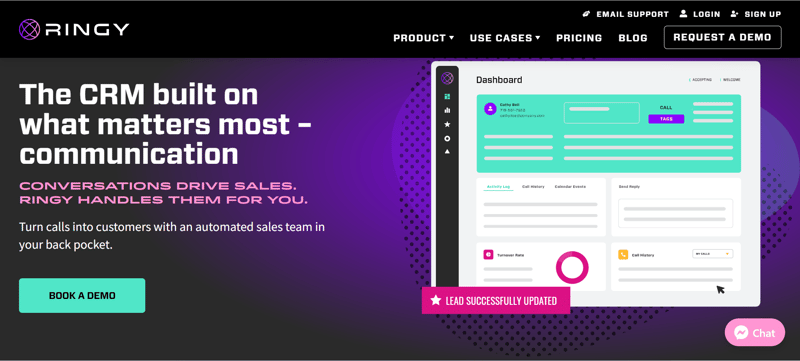 Best Call Center CRM With Built-in Dialing and SMS Functionality
Ringy is two things above all:
Our baby
The ultimate call center CRM
It's packed with an incredible amount of features, and it has a simple one-tiered pricing model: $99 a month regardless of how many users you have.
And we're not just saying so because we developed it. We're saying so because we've developed it to be that way. And cause it's true.
Put us to the test by requesting a demo. We promise you won't be disappointed.
Price:
$99 a month + cost of credit packages (as of September 2021)
Key features:
Visual sales pipeline
VOIP softphone with SMS messaging
Customizable customer profiles
Affordably priced (w/o extra costs for each new user you add)
Local ID presence dialing from all 50 US states
Cutting-edge sales and marketing automation tools, including drip campaigns
Responsive, friendly customer support
Free onboarding (worth $300-$1000)
Comes with iOS and Android mobile apps
2. CloudTalk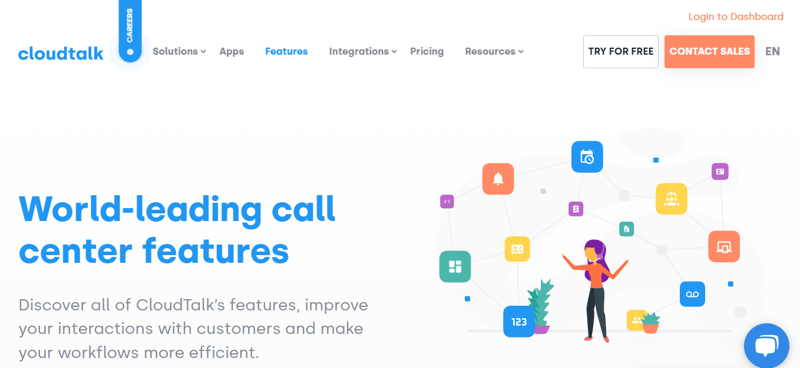 Best for International and Virtual Call Centers With a Pre-Existing CRM
CloudTalk is an innovative cloud call center software solution that powers over 2,500 call centers worldwide.
Companies trust them because their program is super quick to implement and can be mastered by non-technical users in a jiffy.
CloudTalk is also impressive because of the wealth of bells and whistles it comes with — the only thing missing is a CRM.
But they resolve that potential problem by making integration with over 50 leading CRMs as easy as pie.
Price:
From $25 to $50 a month per user (as of September 2021)
Key features:
Custom queues
Personalized voicemails
Smart IVR system
Market-leading agent dashboard
Click-to-call
Powerful mobile application
Local phone numbers from over 70 countries
3. Hubspot + Aircall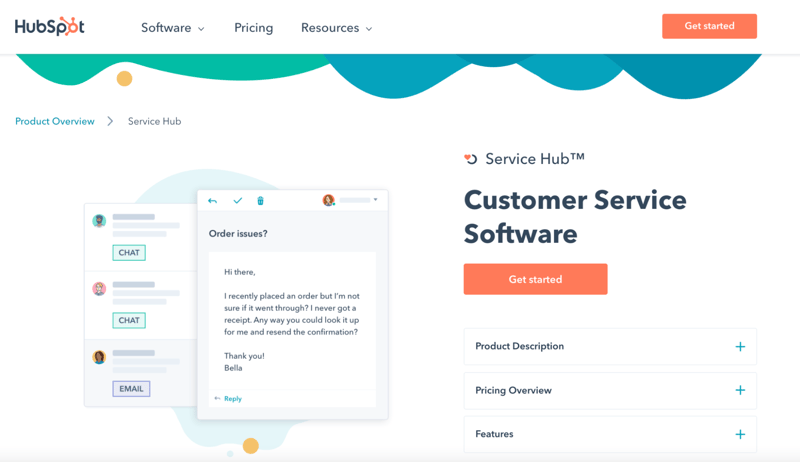 Best All-in-One Call Management Software
When people think about Hubspot, the first things to come to mind are inbound marketing tools and CRMs.
But that's not everything.
Hubspot is an (expensive) all-in-one solution thanks to the Hubspot Service Hub and its integration with Aircall (an advanced inbound and outbound calling application).
This means you can transform it into a full-blown calling CRM with features like call routing software, IVR menus, and live call monitoring.
Price:
$50 to $3,200 a month (as of September 2021)
Key features:
Connects to Hubspot CRM
Shared email inbox
Live chat software
VoIP softphone
SMS and email marketing
Phenomenal automation
Insightful reporting
A single view of customers across sales, marketing, service, and operations
4. RingCentral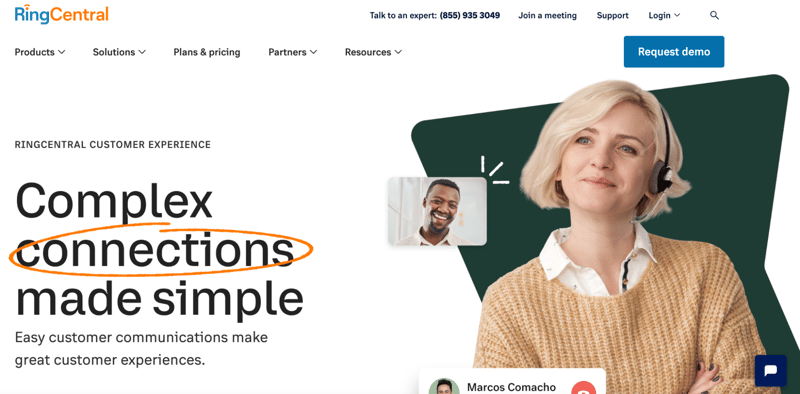 Best Calling Software (w/o a CRM) for Innovative Features and Reliability
Thanks to its three-tiered service offering, RingCentral is a flexible, scalable solution that works for businesses of all sizes.
We love the unlimited inbound and outbound calls within the USA and Canada, the voicemail-to-text features, and the effortless CRM integrations (something we obviously look for as a CRM company).
The only word of warning is that the 40+ features might be a bit overwhelming for someone that's not familiar with cloud call center software.
Price:
From $29.99 to $59.99 a month per user (as of September 2021)
Key features:
Flexible plans
Chat and social media support
Predictive, progressive, and preview dialing
Omnichannel dashboards and analytics
IVR and skills-based call routing
One-touch calling
Workforce management & optimization
Handy call delegation and answering rules
Top-notch security
5. Channels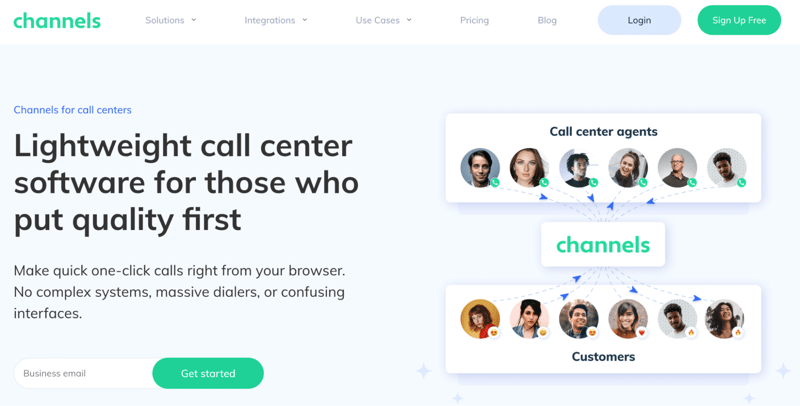 Best for Small Teams and Businesses New To Call Centers
Did that last sentence about RingCentral's 40+ features put you off a bit?
Then Channels, formerly known as CrazyCall (good rebrand, by the way), is a call center software you can't afford to overlook.
It delivers all the major features you need without going overboard on anything fancy.
However, there is one capability missing that you can't do without — a calling CRM.
If that's a dealbreaker, you're better off with a solution like Ringy or Hubspot CRM.
Price:
From $0 to $62 a month + $8/16 surcharge for extra users (as of September 2021)
Key features:
Affordable (free version also available)
Power dialer
Call monitoring and call listening
Call distribution rules
Conference calling
Local numbers from over 75 countries
Toll-free numbers
Free from expensive features that small businesses don't need
Cloud Call Center Software FAQs
1. What Is a Cloud-Based Call Center? / How Does a Cloud Call Center Work?
A cloud-based call center, also commonly referred to as a virtual call center, is a business department with remotely-hosted, third-party-owned technology that handles inbound and outbound calls with the company's customers (internal or external).
This type of setup works thanks to the internet because it allows sales agents to access cloud-based technology regardless of where they are in the world.
If we translate that into plain English, we'd say a cloud call center is simply a call center that accesses all its IT tools via the internet without ever owning them.
P.S. Call centers are sometimes called contact centers — this just refers to the fact that some centers handle non-voice communication like emails, SMS, and chat messages.
2. What is a CRM in a Call Center (a.k.a. A Call Centre CRM)?
A call center CRM, a.k.a. a calling CRM, is simply a CRM (customer relationship management) system that's been optimized to the particular needs of sales and support agents.
Its main goal is to improve the customer experience by revolutionizing how call centers record, utilize, and manage customer data.
It's usually made up of:
A sales pipeline
Customer records and contact history
A softphone
Automation features
That's enough CRM info for this post, but don't miss our deep-dive on CRMs if you'd like to explore the topic in more detail.
3. What Does IVR Mean in a Call Center?
Good question; it's an acronym that pops up everywhere.
It stands for "interactive voice response," and it's a telephony system that enables calling customers to self-direct their calls to the correct department or agent.
Still drawing a blank?
Then think back to the last time you called customer support, and instead of hearing a person, you listened to a pre-recorded greeting that gave you a bunch of options (press 1 for sales, press 2 for marketing, etc.).
That's an IVR.
But is it necessary?
Yes and no.
You can do the same, or better, with intelligent routing via a CRM integration that:
Automatically forwards the call to the right agent based on the caller's profile and past calls
Sends the call to an agent they've spoken with before
People prefer this approach because it makes them feel like you're treating them as a person rather than a pesky caller.
Conclusion: One Look Back, One Jump Forward
You heard the title.
One look back at what you've learned today about cloud call center software:
Challenges

Benefits

Key Considerations

Top Software

Too many IT tools
Disorganized customer data
Scripted replies
Multi-channel communication
Tight budgets
Customer satisfaction problems

Improved CX
Affordable
Automatic call routing
Scalable
Flexible
Integrates with your tech stack

Price
User-friendliness
Features
Mobile app
Reporting
One jump forward to your next task:
Open up all those top software links and dedicate a couple of hours to doing your own research.
We suggest you reach out to your favorite two or three solutions and request a demo from their sales teams.
That way, you'll be able to validate their claims and make an informed decision on which cloud call center solution to sign up for.
And don't worry; we won't hold any hard feelings if you decide that it isn't Ringy you're looking for. We'll still be grateful you dropped by and gave us a place in the running!