Forget antiquated spreadsheets and word documents.
Forget paying your sales reps to spend 65% of their time not selling.
The future is now.
Implementing a sales tracker app into your daily business operations is a no-brainer, since automating tasks and tracking customer data can really only result in one outcome: increased productivity.
Still have questions? That's why we wrote this guide. Let's get straight into it.
What is a Sales Tracking App?
A sales tracking app is a sales management tool that eliminates the need to manually track sales metrics with a spreadsheet or word document.
Sales tracker apps can have several functions, from showing sales activity to providing a visualization of leads in your sales pipeline.
Every aspect of your sales process is automatically managed with a sales tracker app, with the overall goal of streamlining and improving your sales and customer experience.
Most sales tracking applications, Ringy included, can integrate with software in your existing tech stack (like Hubspot or Salesforce) to bring information in from multiple sources and turn it into visual representations of your sales performance and KPIs.
In short, a sales tracking app is part of your full suite of sales automation software, which is typically built into or can be integrated into a CRM.
With a sales tracking app, you're taking the tedious manual processes that your salespeople have to deal with every single day and replacing them with more sales opportunities.
What are the Benefits of a Sales Tracker App?
Adding a sales tracker app to your existing sales tech stack is a great way to not only improve sales but to motivate and empower your salespeople. Here are just a few reasons why you should invest in a sales tracker app today.
Save you and your sales team time
Get the data you need to set realistic, attainable sales goals
See your team's biggest sales wins and where reps need coaching
Keep information from multiple sources in one place
Automatically track information like phone calls, appointments, follow-ups, and close rates
What Makes a Good Sales Tracker App?
There are a lot of sales tracker apps out there, making it overwhelming to choose the right one for your business.
The best way to choose a great sales tracker app is to think about the features and benefits that would have the most impact on your business's day-to-day sales process. When you can picture how the sales tracker app can work for you, it's easier to understand what you need to look for.
Here's a summary of each of the features we chose to evaluate the applications in our top sales tracker app list below:
Price
Price may seem pretty straightforward, but sometimes pricing isn't as transparent as you'd hope. Lots of sales tracker apps charge per user, for instance, so you have to do some calculations to determine your total price.
Ease of Use
Usability is a big consideration when it comes to any new software you implement for your business. If the software isn't easy to use, getting your employees to buy into using the software is going to be that much more difficult.
If you want your sales team to buy into using a sales tracker app, you need to involve them from the beginning to help you determine what features and benefits you should look for in the application.
For instance, you can ask your salespeople what they would like to see in a sales tracker app, such as automation, lead tracking, and sales data, and how they think these features would help them.
Lead Management
What happens to newly acquired leads? Where do they go in the sales funnel? Who gets to engage with those leads first? How did they discover your company?
These are all questions you and your salespeople should be asking when it comes to leads. If you don't have a way to track leads in every step of the sales process, it increases the likelihood of lead abandonment or not engaging leads fast enough.
A good sales tracker app should have clear and detailed records on leads so that your salespeople have the best information available to close deals.
Activity Monitoring
Having clear information about your leads is important, but it's also important to understand how your salespeople are engaging with those leads. Sales activity monitoring paints a picture of your sales activities, giving you and your salespeople a better understanding of how leads are handled in a given period.
For example, do you know when the last time a lead was contacted? What method did the salesperson use to contact that lead? Did the lead respond, and how long did it take for them to respond? Sales activity monitoring can help you answer these questions and more to close more deals and provide more effective coaching to sales reps.
Sales Reporting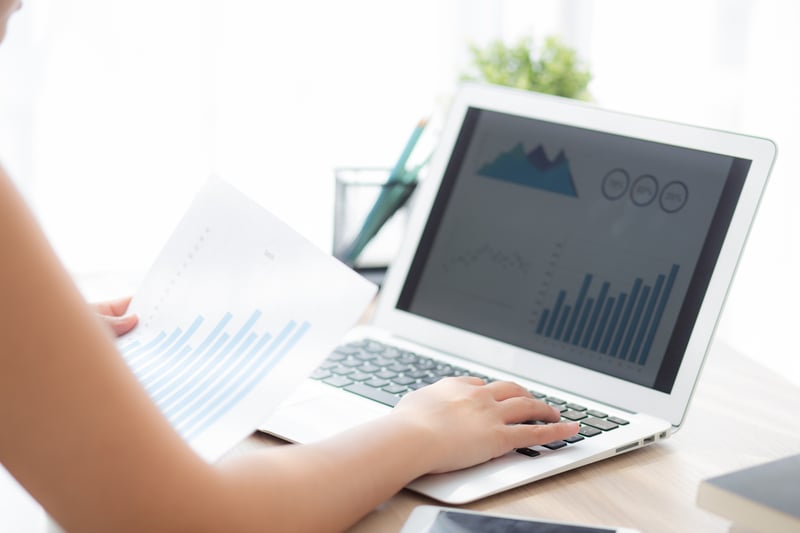 Good sales tracking apps should include some level of sales reporting so you and your sales team can evaluate sales metrics. Things like loss reports, conversion drop-off, and conversion rate are examples of metrics you may want your sales tracker app to monitor.
Sales Automation
What if you could increase sales without doing anything? Well, aside from the initial setup of automation, of course. Sounds pretty good, right? That's because automating tasks such as sending emails, SMS, and chatbot messages means that a new lead can be contacted immediately, and existing leads can be nurtured, regardless of the time of day.
Basic sales automation is a great time-saving feature to look for in a sales tracker app.
Best Salesman Tracking Apps
Now that you know what to look for in a sales tracker app, let's get right into taking a look at our top five sales tracker app picks, and how they compare to our software (Ringy).
If you just want to see the direct comparison of these sales tracker apps to Ringy, skip to the end of this section.
1. Ringy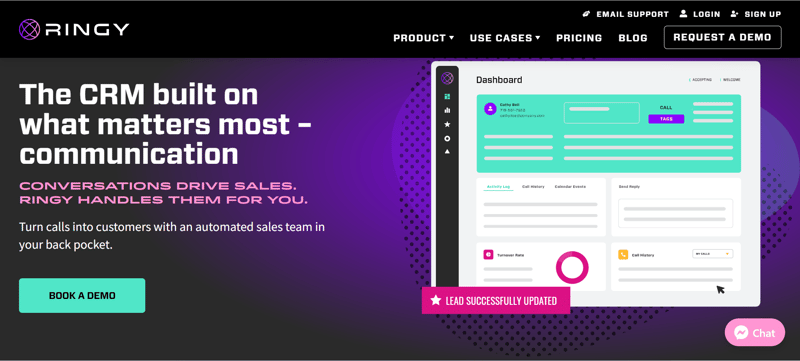 Ringy is a powerful sales tracking app that makes tracking, analyzing, and optimizing your sales performance easy. With Ringy's data-driven insights and reports, you can quickly spot trends in your business and make better decisions for future success.
Ringy is essential for any sales team, from simple task management tools to advanced analytics capabilities.
Price
With Ringy, you can get cutting-edge sales tracking for an affordable price. Our pricing plans are $99/month, making us one of the most cost-effective options on the market.
With this subscription plan, you get access to all of Ringy's features, including:
A lead distribution system
Click-to-call dialing feature
Your reports and analytics
A sales pipeline
Agent Coaching
Lead management system
These are some of the features that make Ringy stand out as one of the top sales tracking apps on the market.
The software offers additional packages such as free inbound messages and calls, free unlimited video conferencing, and more. You can even customize your plan to make sure it fits your needs.
*Pricing as of Dec. 2022
Ease of Use
Ringy is designed to be easy to use and understand. Its clean interface makes it easy for anyone to access the information they need quickly. In addition, Ringy's intuitive dashboard allows you to fast-track your progress and get insights into how your team is performing.
You can get detailed reports on customer interactions, close rates, customer lifetime value, and more with just a few clicks. This data makes it easy to track your team's performance and find areas for improvement.
Lead Management
With its built-in lead management system, you can easily assign leads to team members for efficient follow-ups.
You can also use the click-to-call feature to quickly make calls and send messages to potential customers without manually entering their contact information.
Plus, you can use Ringy's comprehensive analytics to get insights into your team's performance and make adjustments to ensure success.
Activity Monitoring
Activity monitoring with Ringy makes it easy to stay up-to-date on what your team is doing. You can easily track performance and spot trends in sales activities. With this data, you can make more informed decisions about allocating resources and optimizing campaigns for maximum results.
In addition, Ringy includes features that allow managers to assign tasks to their teams. This makes it easy to keep everyone on the same page, ensuring that tasks are completed quickly and efficiently.
Sales Reporting
Now comes the power of Ringy's data-driven insights. With its comprehensive analytics, you can quickly get detailed reports on customer interactions, close rates, lifetime value, and more. This helps you identify areas for improvement and optimize your sales activities for better results.
Sales Automation
You want to automate all aspects of your sales cycle. And that's where Ringy comes in. Its automation capabilities allow you to automate specific tasks, such as scheduling calls and follow-ups, sending reminders, and more. This helps save time, increase efficiency, and better manage customer relationships.
2. NUTSHELL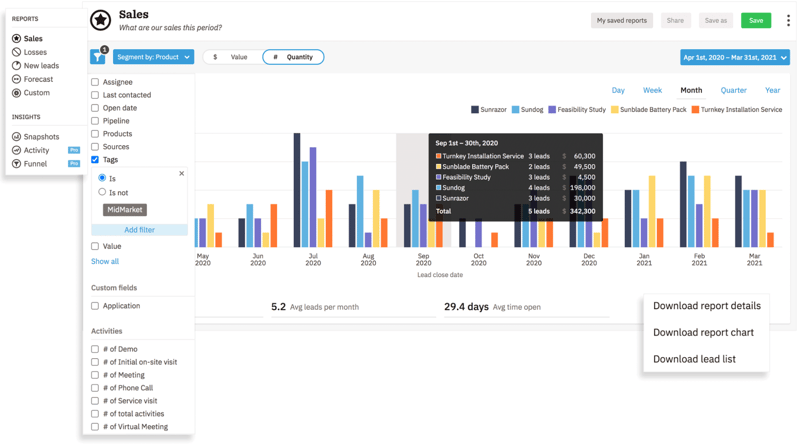 Nutshell is a simple sales tracker app that includes basic CRM and email marketing features.
Price
The price is affordable, starting at just $19* per month per user for their CRM starter package, which includes basic sales tracker app features like sales reporting and forecasting, activity reminders, email and calendar sync, and more.
If you opt for Nutshell's marketing add-on, which is priced based on the number of marketing contacts your company has, then you get access to their automated email and text marketing tools. While these tools are pretty basic, they get the job done with regard to contacting leads as quickly as possible, as well as sending out standard marketing messages to a segmented audience.
*Pricing as of Dec. 2022
Ease of use
The interface looks clean and easy to use, with colorful visualizations and clearly-defined tabs for efficient navigation.
Lead management
Nutshell offers four different views for managing leads: a list view, a map view, a chart view, and a board view. Board view is essentially a pipeline management tool where you can drag and drop leads to mark them as won, lost, or canceled. This feature helps you monitor the health of your sales pipeline and keep track of the current status of various leads.
Activity monitoring
If you opt for Nutshell's pro feature, then you get activity monitoring and sales funnel reporting. The pro feature is $35 per month per user.
The activity monitoring feature allows you to check a sales rep's performance over time, including handy activities vs. leads outcomes chart to quickly see the performance at a glance.
Sales reporting
Nutshell's sales reporting gives you a clear overview of sales against inputted quotas and even shows comparisons to previous sales periods. You can select options like lead source, product type, rep, and more to narrow down your view.
Sales automation
Nutshell lets you design and execute a sales process that tracks leads as they move through your sales funnel. Specific actions and follow-ups can be set for each stage so sales reps know what to do next.
3. CASPIO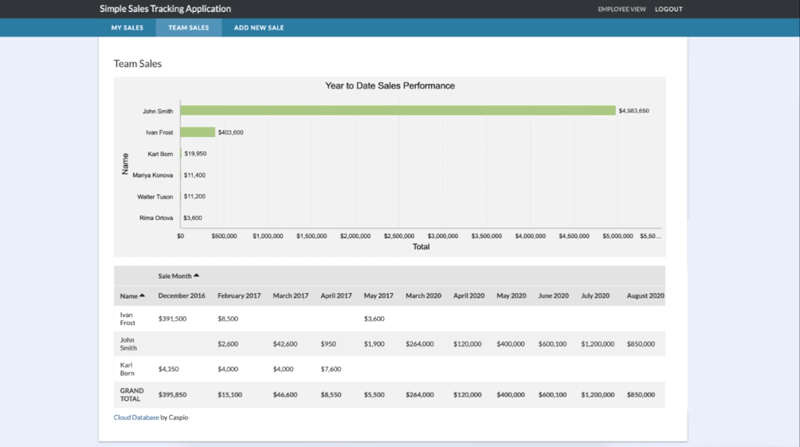 Caspio is actually a visual, low-code application builder, but it has templates to create a customized sales tracker app. If you're looking for the ultimate in customization and the ability to add features along the way as you need them, then Caspio is a great option. For the purposes of this overview, we are going to look at Caspio's sales tracker app template.
Price
The pricing for Caspio varies widely depending on what features you are looking for. The free option, for instance, offers the use of an app template, but you're unable to customize any features. The explore option, which is $200* per month, is the real introduction to the low-code platform. As you require more data and features, the price moves up in increments of $100, with a final option to contact Caspio for corporate pricing.
Ease of use
For a low-code application offering, Caspio's visual application builder provides an intuitive experience. Of course, you need to have some sort of technical skill in order to build an effective application, but you can reach out to support if needed.
Lead management
While Caspio's native sales tracker app template doesn't include lead management tools right out of the gate. It can integrate with CRMs and/or be custom coded to include lead management features.
Activity monitoring
With Caspio's base sales tracker app, you can visualize basic sales data, such as sales made over time and the number of sales made per rep. Sales reps can also track their own sales within the system, and sales managers can view their team's overall performance.
Sales reporting
Basic charts and graphs visualize the sales revenue of teams and individuals over time.
Sales automation
There are no sales automation tools available in the native sales tracker app template, but this automation can be added in as low-code customization.
*Pricing as of Dec, 2022.
4. SPOTIO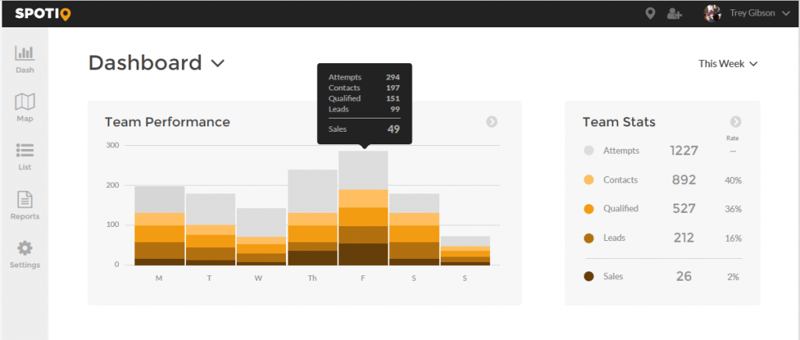 Spotio's main focus as a sales tracker app is increasing sales productivity. Many of the features you'd expect in a good sales tracker app are all here, from sales automation to sales tracking and CRM integration. In general, Spotio touts that it was specifically designed for outside sales rather than inside sales, though it could technically be used for both.
Price
Spotio's pricing* unfortunately isn't directly available on their website without filling out a lead gen form, so we got pricing information from Capterra. That being said, Spotio's pricing starts at $39.00 per user per month for their Team plan, then increases to $69 per user per month for their Business plan, then $129 per user per month for their Pro plan. For enterprise pricing, Spotio wants you to contact them.
*Pricing as of Dec. 2022
Ease of use
With simple tab navigation and a clean interface with plenty of whitespace between features, Spotio is intuitive and easy to use.
Lead management
In terms of lead management, Spotio helps salespeople only deal with qualified leads through a search and filter feature. When a lead comes in, it's filtered through 50 plus data points across commercial and residential accounts and allows sales managers to preview prospects before being assigned to sales reps.
Activity monitoring
Spotio offers sales tracking information to help sales reps and managers have a clear view of individual and team performance. For outbound teams, there's a route planner and mileage tracker for travel time.
Sales reporting
Spotio offers basic sales reporting data. For more robust sales reporting, Spotio relies on integration into a CRM or ERP.
Sales automation
For sales automation, Spotio offers notes (with a talk-to-text feature), prospect interaction logs, check-in features for outbound sales, and more. The ability to save SMS and email templates is also available.
5. SALESFLARE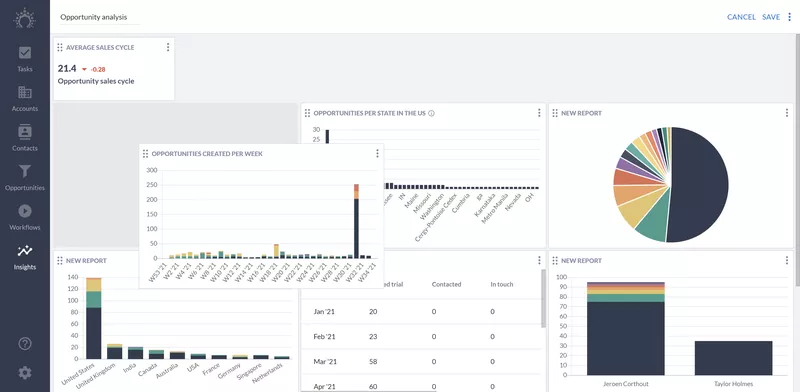 The main feature that Salesflare offers is automatic contact info gathering. The software fills in your lead list with phone numbers, email addresses, and more through data it gets by combing the internet. It also offers automatic logs of meetings and calls for later reference.
Price
Spotio offers a free trial to get you acquainted with their software. For annual pricing, Salesflare starts at $29* per month per user ($35 if you choose monthly pricing) and then moves up to Pro for $49, and Enterprise for $99. As you move up tiers, the features that you get increase as well.
*Pricing as of Dec. 2022
Ease of use
According to Salesflare, their software only takes a few minutes to set up. The interface is clean, with tabbed navigation and good use of white space.
Lead management
Salesflare offers drag-and-drop management of leads so you can keep track of where they are in the sales funnel. However, this task is manual, so sales reps have to remember to move leads around in the system as necessary. However, like activity logs, lead information is viewable on a dashboard when you click on a lead. Basic lead qualification is also available.
Activity monitoring
Calls and meetings are automatically recorded and stored, and individual sales rep data is available through reporting.
Sales reporting
Salesflare offers custom dashboards and reporting that show information such as new accounts, open opportunities, sales cycle analysis, and more.
Sales automation
Like most sales tracker apps, sales reps don't need to change how they perform basic tasks (like scheduling appointments or sending emails) as the software automatically tracks this activity. Other automations include, but are not limited to, engagement tracking, interaction tracking, and campaign management.
Sales Tracker App vs. Ringy Comparison Chart
| | | | | | | |
| --- | --- | --- | --- | --- | --- | --- |
| Sales Tracker App | Price | Ease of use score via Capterra* | Lead management | Activity monitoring | Sales reporting | Sales automation |
| Ringy | $99 per month, all features & unlimited users | 4.3/5 | Yes | Yes | Yes | Yes |
| Nutshell | Starts at $19 per month per user, extra for sales and marketing features | 4.2/5 | Yes | Yes | Yes | Yes |
| Caspio | Starts at $100 per month | 4.3/5 | Yes (requires customization) | Yes | Yes (requires customization) | Yes (requires customization) |
| Spotio | Starts at $39 per month per user | 4.5/5 | Yes | Yes | Yes | Limited |
| Salesflare | Starts at $29 per month per user | 4.7/5 | Yes | Yes | Yes | Limited |
*Ratings as of Dec. 2022
Pros and Cons of Free Sales Tracking App
Pros

Cons

You can easily track progress, monitor trends, and keep tabs on your performance all in one place.




Plus, you can access the information anytime and anywhere, making it even more convenient.

Free sales tracking apps tend to be limited in features and customization options compared to paid versions.




Depending on the app, you may not have access to specific analytics or reporting tools that can help you better understand customer behavior.

These apps allow you to stay organized and up-to-date with your sales activities.




You'll easily track leads, opportunities, and deals in progress, so you never miss out on a chance.

The user experience could be smoother on free apps, and customer support could be lacking.




If you don't have the technical know-how to troubleshoot any problems, it could be challenging to get things working properly.

Free sales tracking apps provide valuable insights into customer behavior and preferences.




With this data, you can identify trends in purchase behavior and adjust your strategy accordingly.

Free sales tracking apps may also have less security than paid versions, making them vulnerable to cyberattacks.




You should always make sure you're using an app that is up-to-date and has robust security measures in place to protect your data.
Frequently Asked Questions (FAQ)
1. What Is the Difference Between Sales Tracker Apps and Sales Call Apps?
Sales tracker apps and sales call apps are very similar, but sales call apps have some calling features built into them. Ringy, for instance, is both a sales tracker app as it tracks sales and a sales call app because it allows you to make phone calls.
2. What Is the Best Free Sales Tracking App?
The best free sales tracking app is subjective, as each app will have different features that you may or may not find useful. However, most sales tracker apps offer a free trial to get you acquainted with the software. If you're looking for a truly free sales tracker app, Caspio offers a completely free and customizable sales tracker app template.
3. Are Sales Tracker Apps Available on Mobile?
Most sales tracker apps offer a mobile version of their software available to download through the App Store or Google Play Store.
4. What Are Field Sales Tracking Apps?
Field sales tracking apps are mobile applications that allow businesses to track and manage their field sales team's activities in real-time. This can include customer visits, new leads, product demos, scheduling appointments, orders placed, and more.
The app also provides detailed reporting on the sales reps' activities so that the business can easily monitor what is working and what isn't and gain valuable insights into their field sales strategies.
Summary / Wrap-Up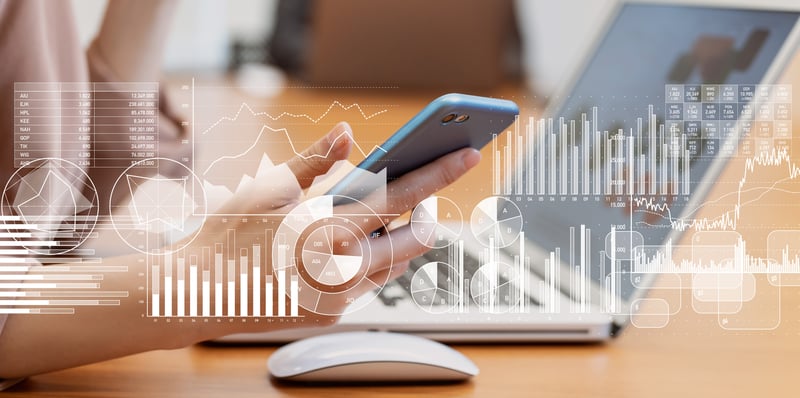 There you have it, a complete sales tracker app guide. Sales tracker apps come in many forms, from standalone software to software that's built from the ground up to be integrated into a CRM. Most sales tracker apps can be integrated into your existing software through a platform called Zapier.
Thankfully, implementing a sales tracker app into your daily business operations is usually quite easy. In most cases, salespeople don't have to change the fundamental way they do things, so they can continue to schedule meetings and email in the same way they did before. The sales tracker app simply tracks these activities and allows you to view them on a dashboard inside the software.
If you're ready to experience cutting-edge sales tracker app software, sign up for Ringy's free trial and get started!