Struggling with cold calling?
Been there, done that.
It's one of the most demanding parts of our jobs as salespeople.
And rightfully so, as it takes an average of 8 cold call attempts to even get a prospect to pick up the phone, let alone talk to us.
And we shouldn't even mention the countless voice messages that make you go: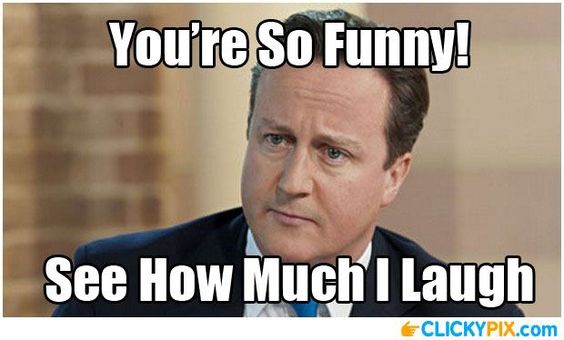 It's stuff you end up having nightmares about.
But don't give up just yet; it isn't all doom and gloom.
Nearly 70% of buyers still welcomed cold calls over the last year, and 27% of sellers confirmed it's a highly effective way to reach new prospects.
You need to keep persevering, you need to work on your cold calling techniques…
And you need to put your trust in high-quality cold calling software that enables you to operate smarter and faster.
Which one, you say?
Stick with us, and you'll find out. It's a promise.
But first, let's cover a bit of 101 (which you can skip by clicking here if you're impatient to get straight to the solutions). What is Cold Calling Software?
Cold calling software is a digital sales productivity solution that enables your sales team to scale their cold calling process and make calls way more efficiently.
Or in other words, we can say it's software designed to make life far easier for people engaging in the tough task of cold calling potential leads.
Some of its key features include:
Automated dialing (or click-to-call)
Call recording
Conference calls
Pre-recorded voicemail drop
Scheduling
CRM integration
Automation
Analytics
A mobile application
Pretty useful stuff, right?
And straightforward, too.
But here's where things can get a little confusing.
There are various types of cold calling software, and you might get thrown by all the different tools you find as you research the market.
Cold calling software can fall under the following categories:
CRMs
Sales engagement platforms
Phone systems
Standalone cold calling tools
Each solution has its own benefits, but in this article, we'll focus on CRMs with cold calling software built-in.
Why?
Because sales CRMs are the complete all-in-one tool for salespeople, and they eliminate the need for separate programs, painful integrations, and multiple invoices.
It simply makes sense to invest in a CRM that takes care of your cold calling needs without having to reach out to third-party solutions or expensive developers.

Because we're the makers of an excellent CRM for salespeople, Ringy.
Sound like a plan?
Yes — let's keep going and quickly cover the three types of cold calling CRMs in the next section.
No — we're sorry to hear that, but we can't force you down the cold calling CRM path if that isn't your thing. But we can still be helpful (because that's kind of our thing) and recommend you check out this article on standalone solutions. Good luck!
Three types of cold calling CRM
Collaborative CRM system
A collaborative CRM solution is all about communicating internally among your different teams and departments and externally with your clients and leads.
Its primary focus is to streamline comms-related workflows and processes, allowing you to offer a superior experience to whoever gets in touch.
A good cold-calling CRM will be, first and foremost, a collaborative CRM; however, if it's truly world-class, it'll also throw in a few elements of the other two types of CRMs, analytical and operational.
Analytical CRM system
An analytical CRM is mainly interested in numbers and figures.
It collects, organizes, and analyzes all the customer data it can find.
And it equips you with powerful insights — usually in the form of dashboards and easy-to-digest charts and graphs — that take the pressure of strategic decision-making off your gut.
Plus, an analytical CRM makes it a lot easier to track employee performance and spot top performers.
Operational CRM system
Guess what? Like any good operations manager, an operational CRM is concerned with efficiency and productivity.
Which, in the CRM world, means automation.
Marketing automation. Sales automation. Service automation. Automation automation.
Things like autoresponder emails, SMS drip campaigns, chatbots, and lead scoring can transform the way you do business and take an incredible amount of soul-destroying tasks off your plate.
Benefits of a Cold Calling CRM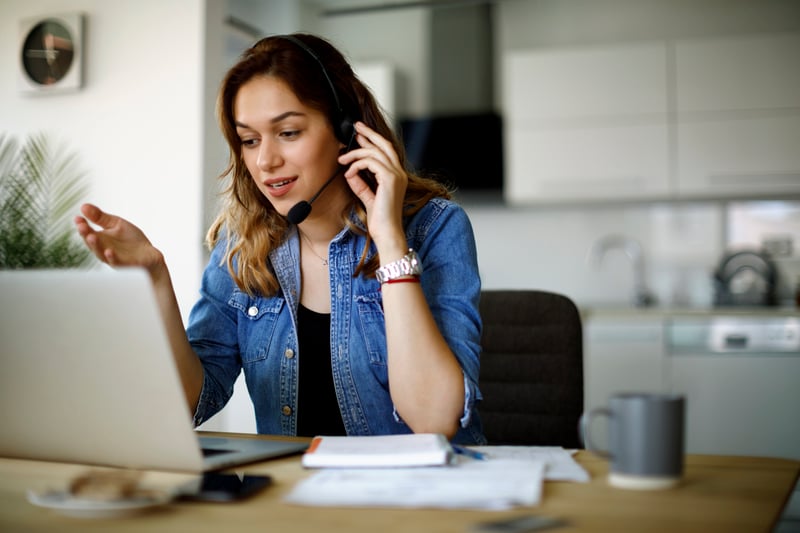 We've already mentioned one of the major benefits of cold calling CRMs in the previous section — they're all-in-one tools that simplify your tech stack.
But the benefits of a cold calling system don't stop there.
In fact, there are so many, we've had to make a table.
Benefit

Why it matters

No data left behind

Never lose your meeting notes again
Go back and listen to recorded calls whenever you need
Read through call transcripts in a breeze

Faster dialing

Cold calling is a numbers game, which means a power dialer unlocks this formula: more at-bats = more sales

Pre-recorded voicemail messages

Don't waste time reciting a voicemail script; just drop a pre-recorded message and jump straight to the next number

A single version of the truth

Don't waste hours trying to find the right information and then figure out which tool is telling the truth; trust the all-in-one CRM that consolidates everything for you

More effective coaching

Coach less experienced staff during real conversations with call shadowing
Use recordings to train reps and present them with real-life scenarios

Automation

Automatically move prospects down the pipeline, and make sure they don't slip between the cracks
Send drip campaigns to leads interested in your product straight after qualifying them on a cold call
And we could keep going on and on, but we ain't got all day, so let's cut this benefit section short and move on to the best cold calling software on the market.
The Best Cold Calling Software
We've shortlisted five cold calling CRMs that stand head and shoulders above the rest.
Curious?
Of course, you are, so why keep you waiting?
This isn't a game show, and we're not about to force you to sit through 60 seconds of suspenseful music before revealing our picks.
So here's a super-quick comparison snapshot in case you want to dine and dash:
Best CRM for cold calling

Top features

Monthly pricing

(as of Mar 2022)

All-in-one sales CRM with a complete call center built-in
Affordably priced

$99 a month for unlimited users

Cutting-edge CRM with all the cold calling capabilities you need
Excellent for remote teams

$29 to $149 a month per user

Advanced call center functionality (including IVRs)
Also includes software for HR, project management, and website creation

$0 to $199 a month for unlimited users

Sales and marketing CRM with built-in cloud telephony
AI-powered insights and reporting

$0 to $83 a month per user

Powerful free version available
Feature-rich but very expensive paid versions

$0 to $1,200 a month
Our selection criteria for the best cold calling software
You might have asked yourself why we ranked these platforms in this order as you read through our top five picks.
It's only natural.
And that's why we've decided to include a third (and final, we promise) table explaining what we looked for as we made this ranking.
Read it or skip it; it's up to you.
Criteria

Why it's important

Price

Investments need to deliver a good ROI
No one wants to get ripped off

User-friendliness

Complex solutions and steep learning curves reduce efficiency gains
Your people won't use a system that's confusing or challenging
Avoid workarounds

Communication features

Power dialers increase productivity
VoIP (or VoIP integrations) reduces costs and improves call quality
Call recording captures everything and improves coaching
Voicemail drop boosts efficiency
Use local caller ID to be local from anywhere

Other features

Automation streamlines workflows and saves time
Cloud-based solutions reduce costs and increase uptime
iOS and Android mobile applications enable on-the-go usage
Analytics gives you access to important metrics and KPIs

Customer support

Quickly resolve bugs and integration issues
Get onboarding or technical advice whenever you need it
Peace of mind
Now on to the detailed reviews:
The 5 best CRM for cold calling [ranked and reviewed]
1. Ringy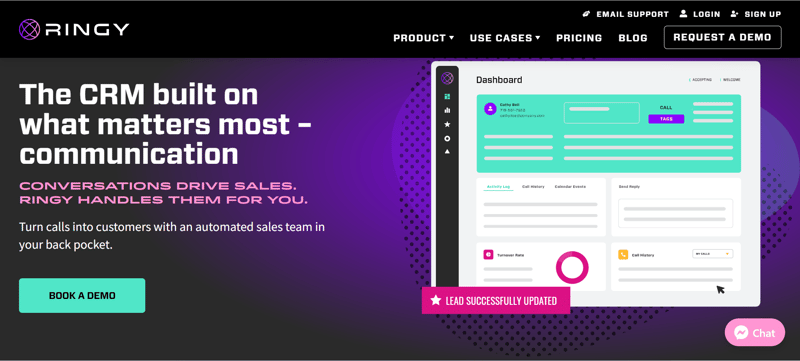 Ringy is the one.
That is if you're looking for the perfect synergy between cold calling software and an all-in-one sales CRM.
We've built it to allow you, the salesperson, to focus exclusively on selling.
Our platform will take care of everything else — from automatic call recording to power dialing to easy coaching, it's all within a click's reach.
Or a tap's reach if you decide to use our mobile application and hit up a couple of leads on the train ride home.
And the best thing is that it won't cost you an arm and a leg.
You'll get everything for just $99 a month regardless of how many people are on your team.
Top cold calling features:
Click-to-call platform
Calls automatically logged, recorded, and tracked
Automated local presence dialing in the US
Makes it easy to divert calls to colleagues
Excellent pipeline and automation capabilities
Integrated VOIP, email, and SMS messaging
User-friendly mobile app
Monthly price: $99 a month for unlimited users (as of Mar 2022)
2. Close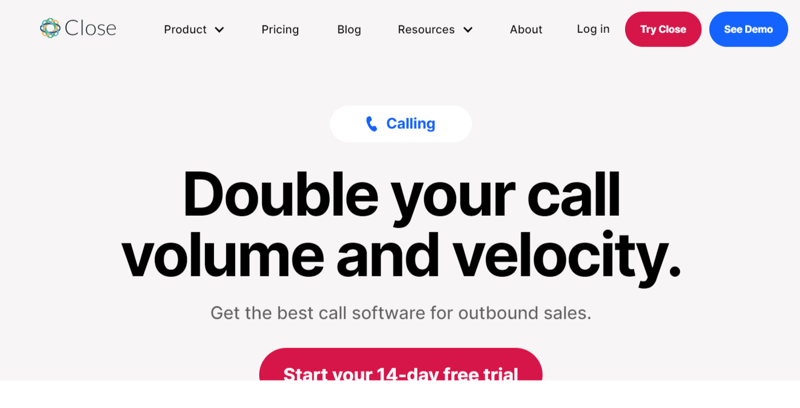 Close CRM is a close second. Pardon the pun.
But we couldn't help ourselves as we're talking about a fantastic all-in-one sales CRM that really deserves the silver medal.
It literally has all the features a salesperson could ever want.
Cold calling software ✅
SMS and email management ✅
Automation ✅
Advanced reporting ✅
Custom fields and activities ✅
Call coaching ✅
A native Zoom CRM integration ✅
However, there's one drawback:
Close CRM is pricey.
If you want all the cold calling bells and whistles, you'll need to go for the top-of-the-line business package at $149 per month/user (which really adds up if you have a large, or even large-ish, team).
Top cold calling features:
Power dialer & predictive dialer
Local phone numbers available internationally
Global calling at a single per minute fee
One-click voicemails
Automatic call logging
Strong analytics
Built-in call coaching
Monthly price: from $29 to $149 a month per user (as of Mar 2022)
3. Bitrix24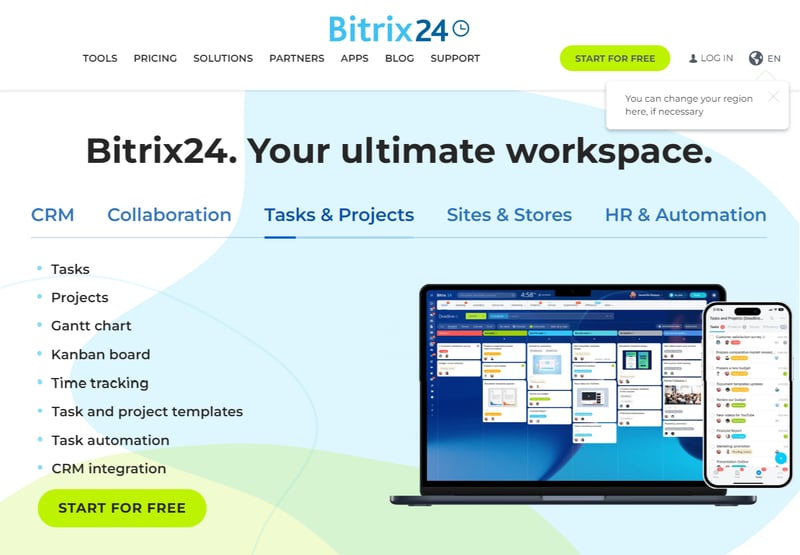 Bitrix24 brands itself as "your ultimate workspace."
And they're not lying — Bitrix24 is one of the most complete (and affordable) platforms out there.
It has modules for collaboration, traditional CRM tasks, project management, website and webshop-building, and HR tasks.
No wonder over 10 million organizations have chosen this solution.
Its built-in cold calling software is impressive because the call center module is fully integrated with the Bitrix24 CRM and the voice-based marketing automation processes.
No need to install anything else — just plug a headset into your computer, purchase as many local numbers as you need, and start auto-dialing!
Top cold calling features:
All-in-one CRM with an outstanding call center module
Call routing, call queuing, and SMS
Voice-based marketing automation
Cold call recordings are automatically logged and forwarded to relevant sales reps
Automatic dialer
Callback widget for your website
IVR (interactive voice response) for more efficient routing
A relatively-powerful free version is also available
Monthly price: from $0 to $199 a month for unlimited users (as of Mar 2022)
4. Freshsales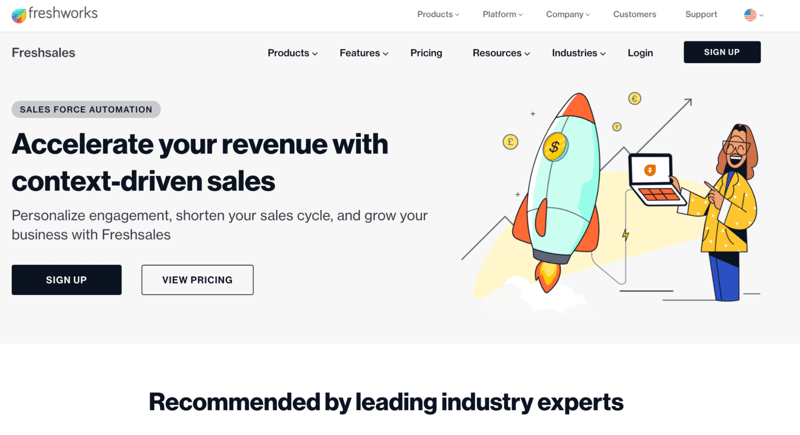 If you're looking for a CRM with built-in cloud telephony, you shouldn't overlook Freshsales (formerly known as Freshworks CRM).
It's a solid alternative for SMEs looking for simple, user-friendly, and accessibly priced cold calling software.
Freshsales combines an all-in-one sales CRM (think automation, contact management, artificial intelligence, and inventory management) with powerful communication features.
If you opt for Freshsales, you can look forward to:
Call recording
Call masking (for a personal touch)
Calling list segmentation
Easy scheduling
On-the-go dialing
Automatic logging and routing
Virtual phone numbers in 90+ countries
Just note that Freshsales also uses a per-user pricing model, so costs can easily get out of control if your sales and marketing teams grow too large.
Top cold calling features:
Built-in cloud telephony
AI-powered insights
Predictive contact scoring
Communicate across phone, email, chat, and SMS
Excellent integration opportunities
A relatively-powerful free version is also available
Monthly price: from $0 to $83 a month per user (as of Mar 2022)
5. Hubspot CRM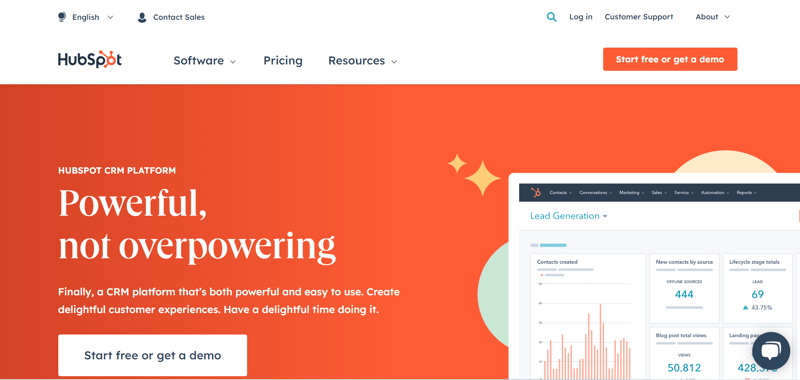 Hubspot CRM breaks into this list of the top five best CRM for cold calling for one significant reason:
It has a free version that's actually worth using if you're strapped for cash.
You can get your hands on a bucket load of nifty features (from VoIP calling with recording and logging to email marketing to live chat) for literally no money.
Then why isn't it everyone's favorite CRM? And why are some schmucks still paying for CRMs?
Well, because the free version of Hubspot is limited:
You don't get any customer service
You can easily max out your monthly email tracking
The reporting is sub-par
Sales productivity tools and customization options are restricted
And if you want to upgrade, things get expensive quickly…
The starter package is $50/month for two users (with a $23/month surcharge per additional user), and the premium enterprise package is a whopping $1200/month for 10 users (with a $120/month surcharge per additional user).
Yikes.
And this lack of scalability is the main reason why we only recommend Hubspot as an entry-level CRM — after you take flight, you're far better off switching to Ringy or Close.
Top cold calling features:
Free CRM available with a ton of features
VoIP calling with call recording and call logging
Good pipeline management
Strong automation
Compatible with mobile phones
Monthly price: from $0 to $1,200 a month (as of Mar 2022)
What About Other Free Cold Calling Software?
Good question.
Hubspot isn't the only place you can go if you want to try out free cold calling software.
You also have other options like:
But you have to be aware that there's no such thing as a free lunch in the world of cold calling software.
Sooner or later, you're going to have to either:
Upgrade to a paid version
Accept sub-par performance, or
Create a ton of workarounds for your staff
And trust us, no sane salesperson can accept poor performance, and workarounds (no matter how clever) are going to cost you a heck of a lot more than picking an affordably priced platform without per-user pricing like Ringy or Bitrix24.
However, they might be cheaper than Hubspot's enterprise package!
So the lesson is "think long-term and don't waste time and energy on solutions that'll end up costing you mucho bucks when your company takes off."
Cold Calling Software FAQs
"What is a cold calling system?"
A cold calling system is a commonly used synonym for cold calling software.
It refers to a digital solution that empowers your sales agents with a host of productivity-improving tools that increase the number of calls (and hence positive outcomes and ultimately sales) they make.
Cold calling systems are usually sold as part of a larger software package (like a CRM or a sales enablement platform), but they also exist as standalone integrations.
"Does cold calling still work?"
Yes, absolutely yes!
Cold calling is still very much alive and beating.
Don't believe the naysayers. They're only trying to stop you from cold calling prospects, so they can get their foot in the door first.
Research shows that:
Cold calling is five to ten times more effective than email marketing campaigns
Over 80% of buyers are willing to accept a meeting with a salesperson that reaches out to them first
30-50% of sales go to the vendor that acts first
All you need to succeed are:
Patience.
Telephone skills.
A good customer list.
One of the cold calling software programs discussed above.
"What percentage of cold calls are successful?"
Between 2 and 3 percent of cold calls lead to a follow-up meeting or a demo, and roughly 20% of qualified leads end up purchasing.
These aren't incredible numbers, but they prove cold calling works at least as well as email marketing.
And these are only averages. They include companies and salespeople that approach cold calling completely blind. Not a good idea, btw.
If you're smart and you arm yourself with plenty of background research, a good CRM, and cold calling software that makes dialing a cinch, you should be looking at much higher figures.
"What is the best time to make cold calls?"
There is no definitive answer to this debate, as it all boils down to who you're calling.
However, in-depth research of over 11 million sales calls uncovered the following:
10 AM and 2 PM are the two best times to cold call your list — response rates are slightly higher than other moments in the day.
Before 8 AM and weekends are the two worst times to dial a prospect.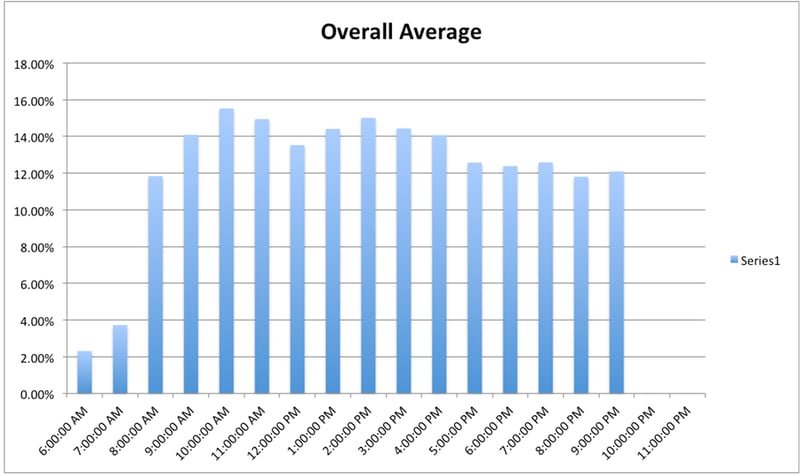 We suggest you start dialing with this information in your back pocket.
But then, as you start making a significant number of calls, remember to carefully track your own success rate in your cold calling software's analytics tab. It could be that your customers respond better at a different time or on a specific day of the week.
Conclusion: Take Cold Calling to the Next Level
It's time to stop struggling with cold calling.
You know what you need to do to transform your least favorite activity into a revenue-generating process that propels your career to new levels.
You need to:
Persevere through the rejection and the low answer rates
Work on your cold calling techniques
Invest in efficiency-boosting cold calling software
while you're working on your cold calling game, you should also:
Write yourself a few cold call scripts to make the most of the limited time and opportunities your prospects give you
Sound like a plan?
Then kickstart it today with a demo of Ringy and a 14-day free trial!