Updating your software for insurance agents can be a little like going to the dentist. You know you need to do it, but you expect it to be painful, and you might find yourself putting it off.
You're not alone: 63.3% of young insurance agents in the US believe that the industry is slow to adapt to new technology.
But sticking with an outdated CRM system can be a costly mistake, as poor-quality CRM data can lead to an estimated revenue loss of up to 20%.
Don't panic, though. Updating your software for insurance agents doesn't have to feel like pulling teeth.
We'll break down the top 7 software for insurance agents in the market right now to make your decision easier. By the time we're done, you'll be grinning from ear to ear.
Sounds good?
Introduction to Insurance Agents Software
Insurance is complicated. To a layperson, telling the difference between a GM, a GMO, and an FMO is enough to make you think "FML".
In a specialist sector, you need specialist tools. In fact, it's pretty crucial to your bottom line: having a fit-for-purpose CRM can boost sales by 29%, productivity by 34%, and forecast accuracy by 42%.
Here are the key things you need to know before you choose the best CRM software for insurance brokers.
Types of Insurance Software for Agents
There are two main kinds of software for insurance agents that companies use.
1. General-purpose CRMs that Can be Customized to the Insurance Industry
CRM, or customer relationship management software, does pretty much what it says on the tin: it manages your sales process. Most CRMs are made to be used in a wide array of industries with the option to customize them for specific ones.
The customization element is key here if you want to use a general-purpose CRM for insurance, and not all CRMs are created equal in this regard – but we'll get into this more later.
An advantage of using a customizable CRM is that, as promised in its name, it focuses on customer experience, which has benefits for engagement and retention.
The disadvantage is that it may not cater exactly to the needs of the insurance industry.
2. Insurance Agency Management Software
Unlike customizable CRM systems, insurance agency management software is built to cater to the insurance industry.
These software offerings often include the following base features:
Integration with CRM, marketing, and automation tools for streamlined workflow building and ease of lead nurturing
Detailed dashboard views for each customer
The ability to schedule appointments and meetings
Cloud-based management for storing and accessing files on the go
Automated commissions data processing
But depending on the specific industry vertical there may be additional functionality that you should look for.
Life Insurance Agent Software
Life insurance brokers often deal with a large number of customers, plus have to coordinate with different stakeholders like underwriters and policyholders, plus manage different workflows. These days, lead capture is also often done online, so the software should be flexible enough to support relationship-building with customers online and in person.
Health Insurance Agency Management Software
Similar to life insurance brokers, professionals that sell health insurance have to effectively manage client, prospect, and agent data anytime and anywhere, all in the name of enhancing and building client relationships. As well, health insurance brokers need to be able to offer their clients correct and timely advice on which policies to purchase, and provide them with the right information to help them make a decision, especially throughout the Open Enrollment Period (OEP), which typically only lasts for a few months before clients have to wait until next year's period.
Many modern offerings, such as Agencybloc, offer cloud-based organization and management of policies alongside automated workflows to help agents be more efficient, while still providing clients with needed information.
Insurance Agency Sales Tracking Software
Sales tracking apps are important in any industry, especially insurance. Many brokers work on 100% commission or earn a low hourly wage that is supplemented by the commission they receive. Without effective insurance agency sales tracking software, agents may not get paid what they are owed, and payments may be inconsistent.
Sales tracking software for the insurance industry should easily allow agents to understand target buyers, build and manage sales pipelines, and send automated communications to clients when needed. In addition, robust analytics should be available so agents can easily determine what works and what doesn't with regard to maintaining, building, and nurturing their clients.
Key Factors to Consider When Choosing an Insurance Broking Software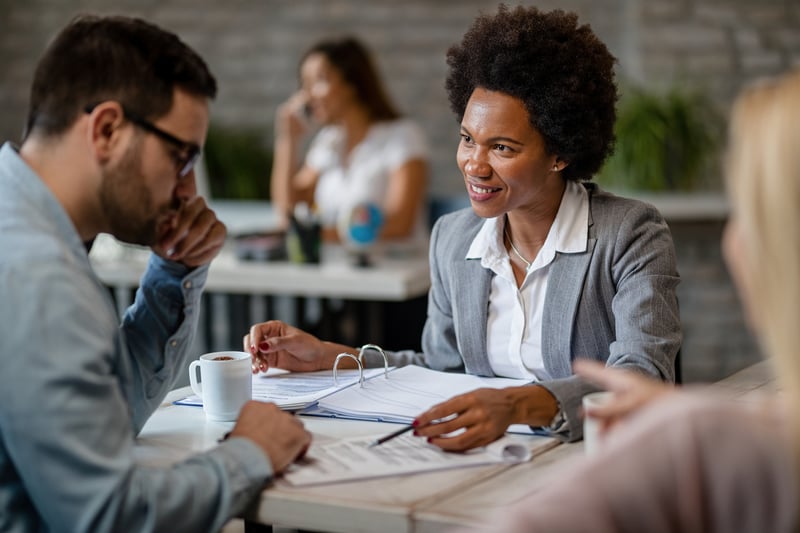 1. Features
Whether you choose to customize general-purpose software or opt for ready-built software for insurance agents' solutions, the features you should be looking for are roughly the same.
Contact management, interaction tracking, and schedule and reminder creation are all top-requested CRM software features regardless of industry, and they're highly relevant to insurance. Other features that a standard CRM might offer that would be useful to insurance brokers include:
API
Contact management
Lead management
Sales automation
Third-party integration
Analytics and reporting
VoIP
However, the features that set apart software for insurance agents from general-purpose software are things like:
Claims management
Policy information management
Automated premium reminders
Ensured compliance with rules and regulations
Integration with industry-specific apps and resources such as quote engines
Depending on your size, needs, and pain points, you should be looking for some or all of these when you choose your software solution.
2. Installation and Customer Service
From a practical perspective, it's important to know how long the process of installing your software for insurance agents will take. This includes, but may not be limited to:
Consultation and planning
Software development
Data migration
Onboarding and training
Industry standards suggest that this can take anywhere between a month and a year depending on the size of your company and the complexity of the task.
You also need to know the costs of setting it up. For instance, some out-of-the-box solutions can be up and running relatively quickly, with little need for outside help, while others require developers to step in for installation, which comes at an extra expense.
Customer service is key at every step in this process. Not only do you want someone who will listen carefully to your needs and respond proactively with solutions, but ongoing tech support post-installation is essential to making the most of your software.
3. Pricing
Look, you know and we know that money is probably going to be the biggest factor in your decision-making process. But we've left it to last on this list because we want to make sure you know what "good" looks like – so that you can distinguish it from just "cheap".
Good CRM software earns you back $8.71 for every dollar you spend on it, so you shouldn't be afraid of spending a little more if it will get you better software – especially if you're likely to generate long-term savings. As you'll see below, many software solutions offer low initial prices but scale prohibitively as you grow.
That's the basics covered. Now, let's get into the best software for insurance agents on the market right now.
7 Best Insurance Software for Brokers
1. Ringy
We won't beat around the bush: we believe our product's great. We're the experts on CRM software – that's how we know all this stuff!
Features
Ringy offers the best of both worlds between a CRM and an agency management system because it's a CRM that was designed with the insurance industry in mind.
We'll do an in-depth comparison of the features of all of the software on this list below, but for now, let's talk about our specialties.
Ringy has everything you'd expect from a good CRM, plus automation capabilities that are rare in other CRMs at this price point.
As an all-in-one software, Ringy eliminates the need to switch between multiple applications, even for different functions: as well as sales, you can also run your marketing through Ringy, launching drip marketing campaigns with the click of a button.
Mobile VoIP, allows you to make calls using your computer, cutting out time spent dialing and logging call data.
We even offer you the ability to call using area codes local to your customers, which studies show makes prospects four times more likely to pick up the phone.
All of this means:
Less time wasted on manual tasks
More time contacting your leads
More chance of actually getting through to your contacts
A smoother renewals process
Seamless marketing
A lower CPA
A higher ROI
Essentially, it's a virtual assistant in your pocket. Who doesn't want that?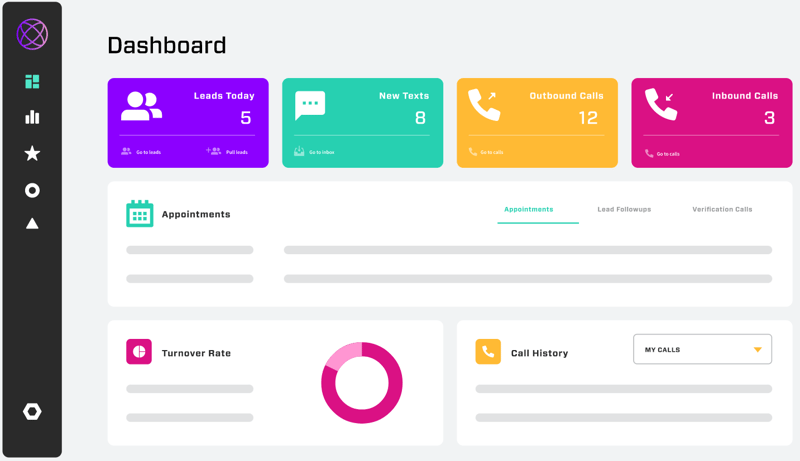 Installation
We pride ourselves on our onboarding process. Ringy is cloud-based, which makes it speedy to set up, and we offer training in person or live online.
This gives us an opportunity to help you use the service to your advantage and create efficient processes using our software.
Pricing
With Ringy, the first month is free, after which plans start at $109 per month for the CRM.
You'll also pay for credit packages depending on your usage of the messaging and calling features, charged at:
$1 per local phone number per month
$0.01 per outbound text message
$0.01 per minute of outbound calls
$0.001 per email
1000 outbound minutes and texts are included and any you don't use will roll over to the following month. Credit packages usually come to $30 or $40 depending on your usage.
This might be higher than the starter packages of some of the other brands on this list, but we're giving you more for your money, and a specialized tool to boot.
Not bad if we say so ourselves.
2. Radiusbob
Radiusbob is an agency management system built for the insurance industry.
Features
Radiusbob's differentiating features include its contact management capabilities and document storage, as well as sales automation, which includes lead distribution, ScreenShare capabilities, and integration with quote engines.
Like Ringy, Radiusbob offers access to voice calls and SMS text marketing, but it is more limited in its lowest tier, which you'll see in our pricing breakdown below.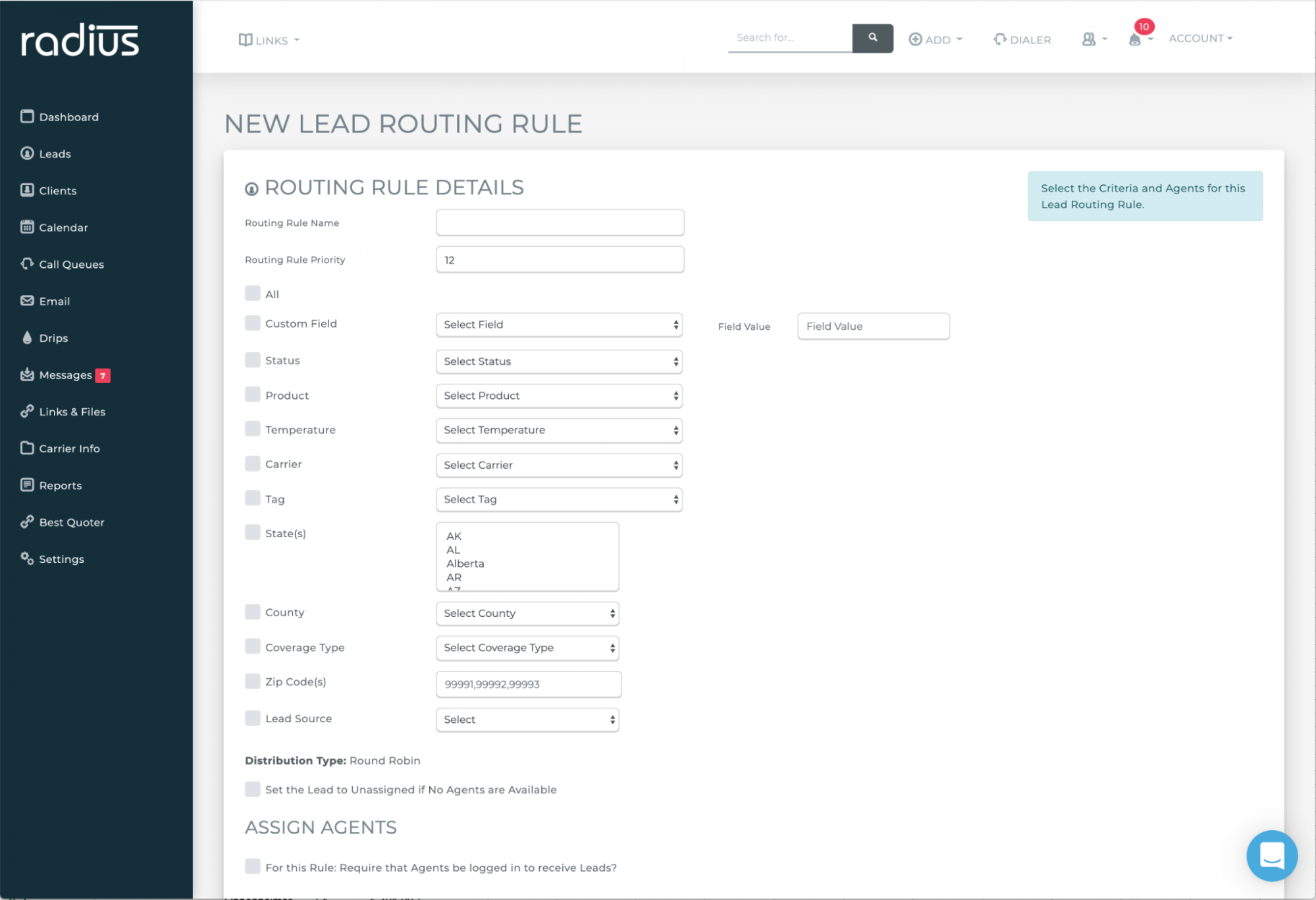 Installation
Radiusbob is cloud-based, which makes it quick to set up as you don't have to install any software locally to start using it.
However, there is no personalized onboarding program. Instead, you can watch a bank of videos or RSVP to weekly online training which focuses on generalized training concepts.
Pricing
After a 14-day free trial, your subscription will be paid monthly, starting at $34 per month for one user.
This is reasonable if you're an independent agent or have only a very small team, but the pricing scales dramatically as you grow.
Though you get some limited contact center CRM capabilities with Radiusbob's basic packages, to make full use of their VoIP services you must pay for an additional package, which is around double the cost.
| | | | |
| --- | --- | --- | --- |
| Tier | No. users | $/month standard | $/month with VoIP |
| Agent | 1 | 34 | 78 |
| CSR | 2 | 68 | 156 |
| Broker | 5 | 149 | 369 |
| Agency | 10 | 292 | 732 |
| FMO | 20 | 584 | - |
| IMO | 50 | 1460 | - |
3. AgencyBloc
AgencyBloc, like Radiusbob, is agency management software developed for insurance, though AgencyBloc is mainly used as life insurance agent software and health insurance agency software.
Features
With AgencyBloc, you get access to features like contact management, document management, and marketing automation.
Its main differentiator is its insurance policy management features. For instance, AgencyBloc offers tools for creating quotes, issuing policies, and handling renewals.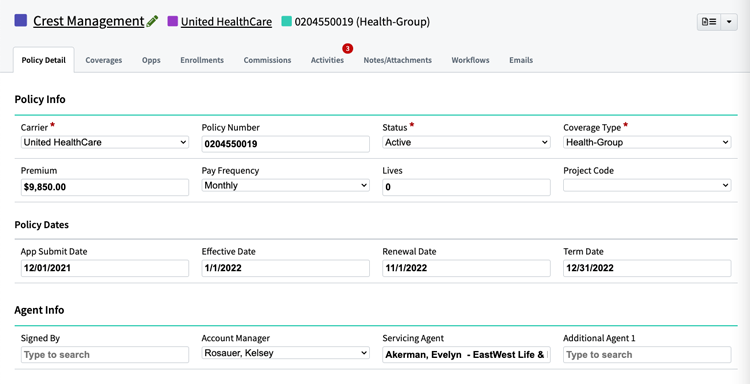 Installation
Like Radiusbob, AgencyBloc relies on online resources to deliver training, with a library of articles laying out how to use an AMS to boost productivity.
They do offer some training opportunities, but again, it is primarily available on request.
Pricing
AgencyBloc isn't super open about their pricing structure online, instead preferring for you to contact them so that they can generate a "customized quote".
However, they do say that their pricing starts at $65 a month with a 7-day free trial. This is even shorter than Radiusbob's two-week trial, so if you go for this option, you'll have to be speedy in testing out its features!
4. Zoho CRM
Zoho CRM is one of the biggest general-purpose CRMs on the market right now, but it's known for its extensive customization features, which make it a strong candidate for insurance agencies.
Features
When it comes to Zoho's use as software for insurance agents, it has the standard benefits of omnichannel communication and workflow automation that are common to top CRM systems.
However, its specific uses for insurance include its capacity to create multi-page layouts and custom forms like the one below, which allow you to set up different layouts for each of your policy offerings and push the correct data to each one.
This means that, rather than having each policy saved separately, you can view every policy that a customer is signed up for in one dashboard.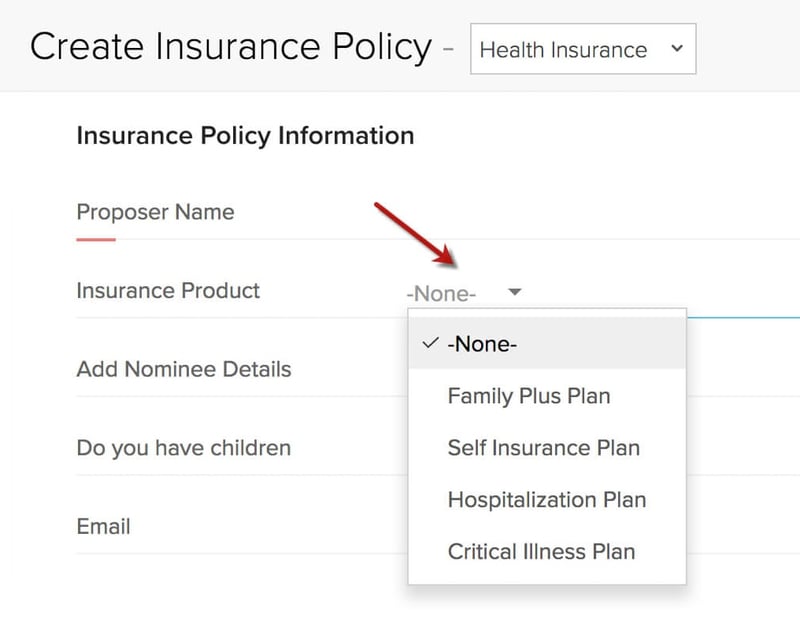 Installation
Here's the major issue with Zoho: because it's so general-purpose, it requires an intermediary development agency to fit it specifically to your needs.
This means you'll have upfront costs to deal with, both in terms of time spent onboarding and consulting with developers, and the cash it'll take to get the job done.
When the insurance industry already has so many purpose-built tools available, why should you expose yourself to the extra hassle?
Pricing
As we said, the setup costs of Zoho CRM will depend heavily on the development power you bring to the task. Full Stack Labs reckons that for a mid-market class custom software solution, you could be paying anywhere between $110 and $220 per hour for development, with the project lasting for months or even up to a year.
The raw Zoho CRM itself starts at $14 per month, billed annually, and its advantage over some of the software on this list is that it scales relatively reasonably. They also offer a flexible free trial.
5. Freshsales (formerly Freshworks CRM)
You might have heard about Freshsales if you've been researching free solutions for insurance broker software, as its free option is one of the more extensive non-paid CRM solutions.
Features
As you can tell from its name, Freshsales is all about the sales process, offering lead scoring and a visual sales pipeline, as well as automatic sales reports, event tracking, and a customer support portal.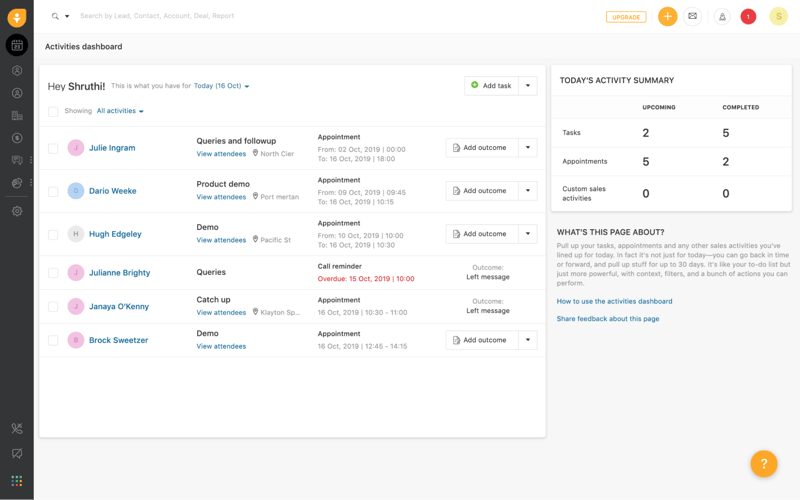 Installation
As an out-of-the-box solution, it's relatively quick and easy to set up, with some case studies on the Freshsales site reporting that they got it up and running in under four months.
Pricing
As we said above, Freshsales is best known for its free option, but premium plans start at $29 per user per month, billed annually after a 21-day free trial.
| | | | | |
| --- | --- | --- | --- | --- |
| | Free | Growth | Pro | Enterprise |
| $/user/month | 0 | 15 | 39 | 69 |
6. Insureio
Insureio is another cloud-based agency management system built specifically for insurance.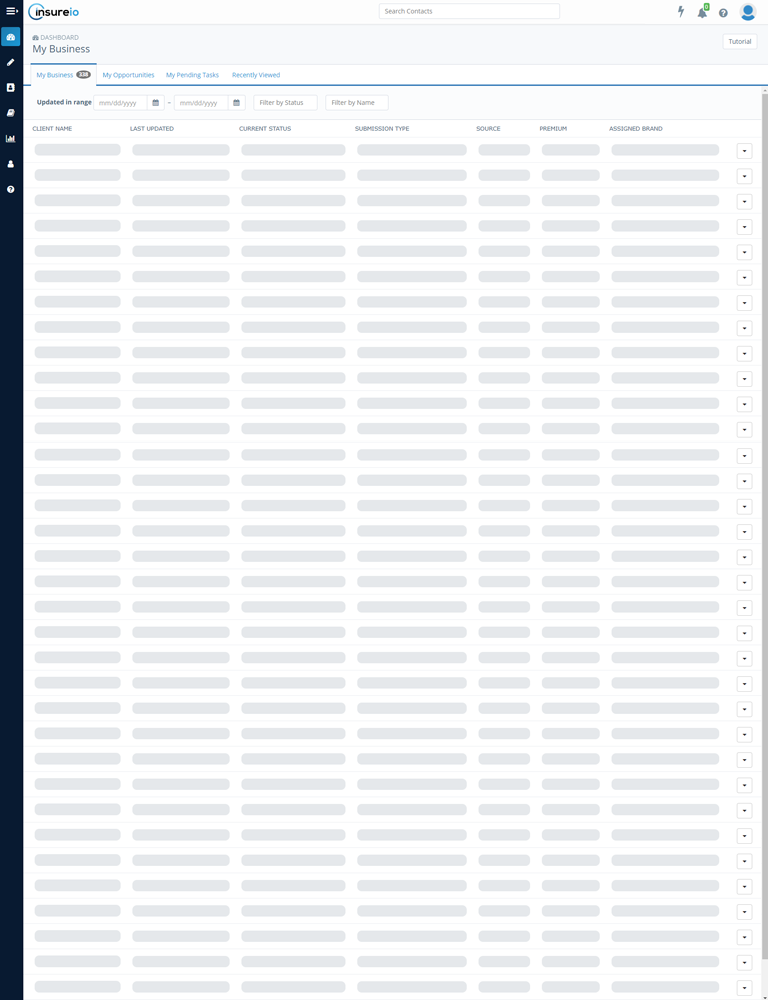 Features
Insureio puts its automation features at the forefront, focusing particularly on insurance marketing and lead management.
One of Insureio's strengths is its integration with quote engines, which lets you gather quotes from over 40 top carriers for life, disability, and annuities insurance.
It also offers specialized features like underwriting tools and e-policy delivery in addition to standard ones like lead generation and contact management.
Installation
Most of the setup support you receive with Insureio is automated or online, for instance, live online support from a representative. You can also import your data with just one click using a CSV file.
Post-setup though, you're pretty much on your own. There's a video course for basic training and you can request a one-on-one training session, but as far as ongoing support goes, Insureio is very low-key.
Pricing
Unlike other AMS systems, Insureio's pricing is tiered depending on which features you want to use.
Their Basic tier includes the main quoting and lead capture capabilities as well as analytics and is the basis for the other tiers. You can upgrade to the Marketing tier to access (you guessed it!) marketing features, and Agency Management gives you Team View and recruitment features for larger agencies.
If you're not ready to upgrade completely, some of these additional features are available through add-ons, for example, the Bulk Email and Team View features, but to experience the full-service CRM you have to upgrade significantly on the basic package.
They do, however, offer a full 30-day free trial.
| | | | | |
| --- | --- | --- | --- | --- |
| | Basic | Marketing | Agency Management | Marketing & Agency Management |
| $/month | 25 | 50 | 50 | 75 |
7. Applied Epic
Applied Epic is an on-premise and cloud-based CRM that is one of the bigger insurance agency software brands out there.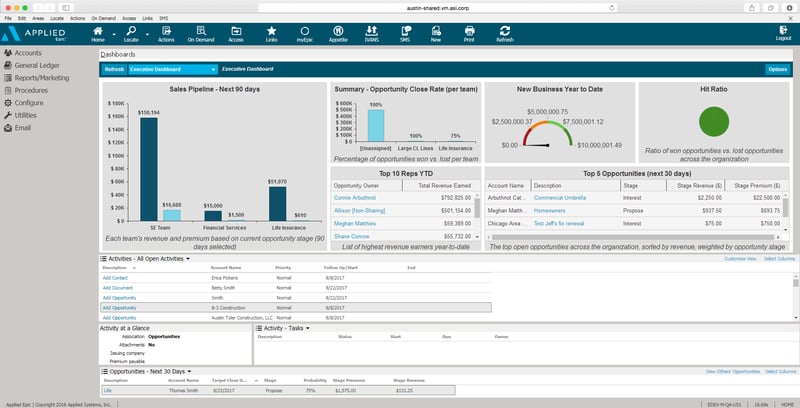 Features
Applied Epic offers lead management and business process automation features in addition to policy and claims management, which make it a great tool for managers within insurance agencies.
In fact, it even offers pre-built automated workflows based on agency best practices.
However, lead scoring is not a strong feature, and it suffers from a clunky interface. Users have complained that it's not well-suited to the needs of salespeople managing individual accounts and that once a setting is put in place early in the process, it is difficult to change later down the line.
Installation
As software for insurance agents with cloud-based components, Applied Epic is quick to set up. Training is offered live online or in-person during setup, and there is a library of online materials available to help managers configure the software.
However, ongoing personalized customer service does not appear to be part of the package.
Pricing
Uniquely among the software on this list, Applied Epic is a one-off purchase that starts at $1000 per agent, rather than a rolling subscription that scales as you grow.
Insurance Broker Software Features: A Quick Comparison
| | | | | | | | |
| --- | --- | --- | --- | --- | --- | --- | --- |
| | Ringy | Radiusbob | AgencyBloc | Zoho CRM | Freshsales | Insureio | Applied Epic |
| Personalized setup and training | ✓ | x | ✓ | Via third party | ✓ | x | ✓ |
| API | ✓ | ✓ | ✓ | ✓ | ✓ | x | x |
| Contact management | ✓ | ✓ | ✓ | ✓ | ✓ | x | ✓ |
| Lead distribution | ✓ | x | ✓ | ✓ | x | ✓ | ✓ |
| Sales automation | ✓ | ✓ | ✓ | ✓ | ✓ | ✓ | ✓ |
| Calendar management | ✓ | ✓ | x | ✓ | ✓ | x | ✓ |
| Email marketing | ✓ | ✓ | ✓ | ✓ | ✓ | ✓ | ✓ |
| Marketing automation | ✓ | ✓ | ✓ | ✓ | ✓ | ✓ | ✓ |
| Mobile app | ✓ | x | ✓ | ✓ | ✓ | x | x |
| Third-party integration | ✓ | ✓ | ✓ | ✓ | With other Freshworks products | x | ✓ |
| Text messaging | ✓ | ✓ | ✓ | ✓ | ✓ | ✓ | ✓ |
| VoIP | ✓ | ✓ | Via integration | ✓ | ✓ | Via integration | Via integration with Twilio |
| Analytics & reporting | ✓ | | ✓ | ✓ | ✓ | ✓ | ✓ |
| File storage | x | ✓ | ✓ | ✓ | ✓ | x | ✓ |
Top 7 Insurance Broker Software Pros and Cons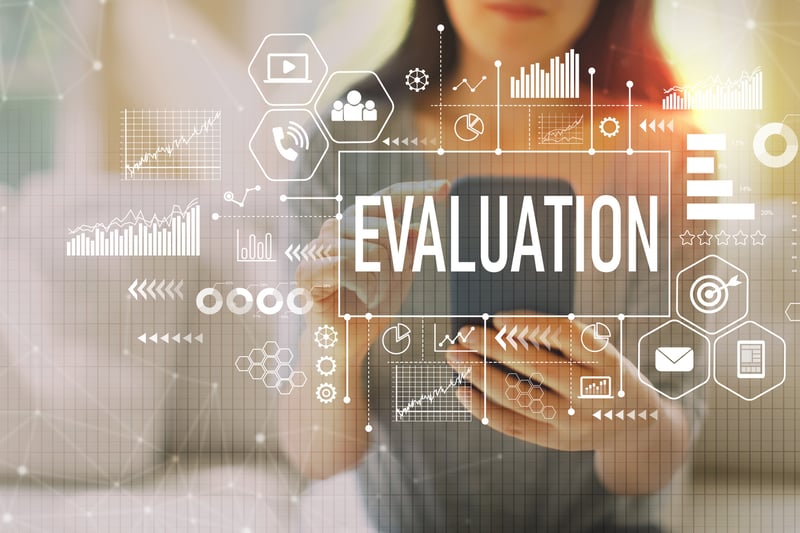 Pros

Cons

Ringy

Personalized onboarding and support
Great quality of sales and marketing automation at this price voice
VoIP and texting capabilities with local numbers
Remote access via an app
All-in-one software

File storage not available

Radiusbob

Offers sales automation
Document storage available
The flexibility of a monthly payment plan

No personalized setup
Purely cloud-based
Additional cost to access full VoIP and texting packages

AgencyBloc

Insurance-focused features including quote generation and policy management

Zoho CRM

Highly customizable so can be built to fit your business
Wide range of integrations
Allows for omnichannel communication

Generalized CRM so requires heavy customization
Big initial setup cost due to development requirements

Freshsales

Free version available, so great for smaller insurance brokers with less money to spend on tech solutions
Sales-focused, with automated sales reports

Only integrates with other Freshworks products

Insureio

Quote engines
Underwriting tools and e-policy delivery

Not easy to personalize
No app available which makes remote access difficult
Setup is not personalized

Applied Epic

Decent lead management functions and sales automation
Policy and claims management capabilities
Useful reporting

No mobile app is available
Drip campaigns and customer-facing features aren't an area of focus
Software for Insurance Brokers Reviews
Listen, we won't be offended if you don't want to take our word for all of this. That's your right as a smart consumer.
Here are some insurance agency software reviews from real customers to help you in your decision-making.
Ringy
US Advisors is a US-based insurance holding company with 500+ employees. It switched to Ringy's insurance broker software after trying a number of other CRM systems, finding that they were difficult to use and often needed manual workarounds to get them to fit its processes.
After switching to Ringy, it said that the SMS text messaging automation features and VoIP abilities had drastically improved the efficiency of its sales, and attributed 90% of the increase in its growth to our software.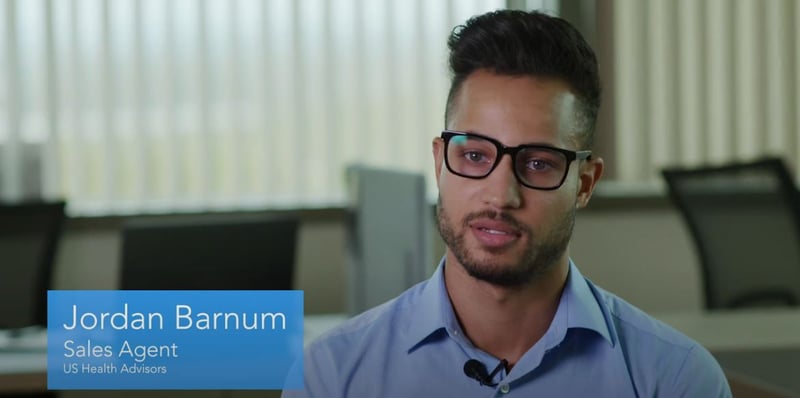 Applied Epic
CalNonprofits Insurance Services switched to Applied Epic partly because of its cloud-based software, which meant that any of its employees could access information from anywhere.
In fact, this came in handy when an employee was out sick for an extended period, as everything she had been working on was stored in the Cloud for her cover to access.
It also highlights the software's integration with IVANS, as this integration allows it to more easily find policies for its clients in its niche of nonprofit insurance.
Zoho CRM
Bernard Health switched to Zoho CRM when its rapid growth meant that Salesforce's fees per user were climbing too high.
It used Zoho CRM's "Zwitch" program – specifically designed for helping companies switch from another CRM – to migrate its processes, and saw a $100K increase in its bottom line from savings alone.
It says it took about four days to migrate its data and another week to fully transition.
FAQ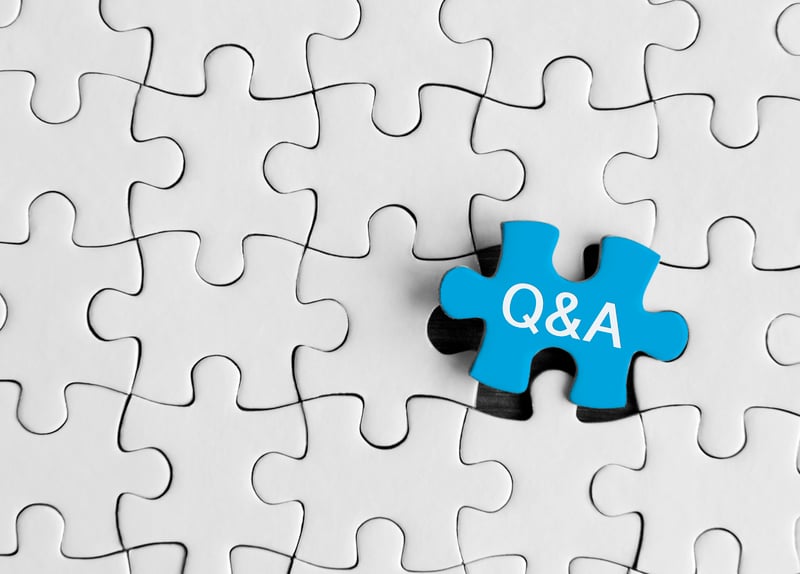 What Software do Insurance Companies Use?
Insurance companies use two main types of software: general-purpose Customer Relationship Management (CRM) systems that are customized to fit the insurance industry, and Agency Management Software (AMS) that is specifically built for insurance.
What Software do Independent Insurance Agents Use?
Independent insurance agents can use either a CRM or an AMS to manage their business, but we would recommend that whichever they choose, they make sure there are integrations available to connect them to multiple insurance carriers.
What is a CRM in Insurance?
A CRM in insurance is the software that manages your relationship with your clients. Like in any other business, it will manage your contacts and calendar centrally, but it may have additional features that are specifically designed for the insurance industry, like:
VoIP for inside sales teams
Integration with quote engines
Policy management tools
Automated workflows for policy renewal
What is Claims Management Software?
Claims management software is part of insurance broker software that is designed to automate as much of the claims process as possible, from the point of creation to the point of settlement. It will include features like:
Coverage verification
Reinsurance
Salvage
Subrogation
Monitoring of litigation
Conclusion
Finding the right insurance broker software can be a game-changer for insurance agents and brokers. Its automation capabilities can reduce your overhead by allowing your workforce to focus on high-value tasks instead of busy work, and can help improve the efficiency of the service you provide.
With our automation capabilities, omnichannel communication, and stellar customer support, we believe that Ringy is the best-value choice on the market right now, all at a scalable price point that won't burn a hole in your pocket.
Book a demo today and let's get started.