Lead generation is more of a priority for businesses than ever before.
But, without knowing how to use lead generation tools, you might find yourself resorting to desperate measures to attract people to your business.
Having the right lead generation software – and knowing how to use it – can be a game-changer. It can help you:
Attract more high-quality leads
Organize them so you never lose track
Qualify and score them
Move them safely through your sales funnel
Make more money
Ready to find out how to do it? Here's how successful businesses make the most of their lead generation software.
Introduction to Lead Generation Software
What is lead generation?
Bear with us while we run through the basics of lead generation software.
A lead is any person who has the potential to become a paying customer. Lead generation, therefore, is the process by which you manage that transformation – pretty simple, right?
It generally falls into two categories:
Outbound lead generation: This encapsulates activities like cold calls, direct emails, and outreach events.
Inbound lead generation: Anything that encourages your leads to come to you. This means SEO, landing pages for offers, social media, content marketing – even a helpful blog post…
It's generally agreed that inbound lead generation is the most effective, and it's easy to see why. When somebody arrives in your funnel of their own accord, for instance by signing up to your newsletter or completing a contact form, it usually means that they're already interested in what you do. That's one of your big jobs already done.
In fact, content marketing has been shown to be three times more effective than outbound lead generation methods, while costing 62% less.
All this makes the answer to our next question pretty obvious.
What is lead generation software?
Any software that helps you automate the process of lead generation. It's that simple.
Lead generation software might integrate with your existing customer relationship management system, or CRM (hint: we think this is your best option). Or, it might be a separate system that you use alongside your CRM.
We'll get into specific features and software types below, but generally speaking, when it comes to your outbound lead generation efforts, lead generation software helps you:
Store contact information
Generate a call list
Stay on track when moving prospects through the pipeline
Track your interactions with each lead
For your inbound lead generation, it might:
Scrape your web forms to generate a lead profile
Help you manage your email marketing to qualify leads
Schedule and monitor social posts and ads
It can make a huge difference. 80% of marketers that used automation software saw an increase in leads, with 77% also reporting an increase in conversions.
So, what sales lead generation software is out there?
Types of Lead Generation Software
First of all, there's no one "type" of lead generation software.
Every business is different and will have different needs. The type of lead generation software you'll need in an insurance agency will be different if you're trying to get leads for a car dealership, for example.
Let's have a look at a bunch of different lead generation tools.
Lead Generation CRM
This is the big one you'll have heard about if you've done even a casual Google search of sales lead generation software.
A CRM system is a software that allows you to centrally store and manage all of your lead and customer data. Standard CRM features usually include:
Contact management
Email integration
Workflow automation
Document management
Pipeline management
Obviously, all of these are useful tools to have if you're trying to generate leads. But a really great CRM will also have specialized lead generation tools, like lead distribution features, lead management, and lead scoring, as well as the other types of lead generation software listed below.
For instance, this is what Facebook lead generation management looks like in Zoho CRM.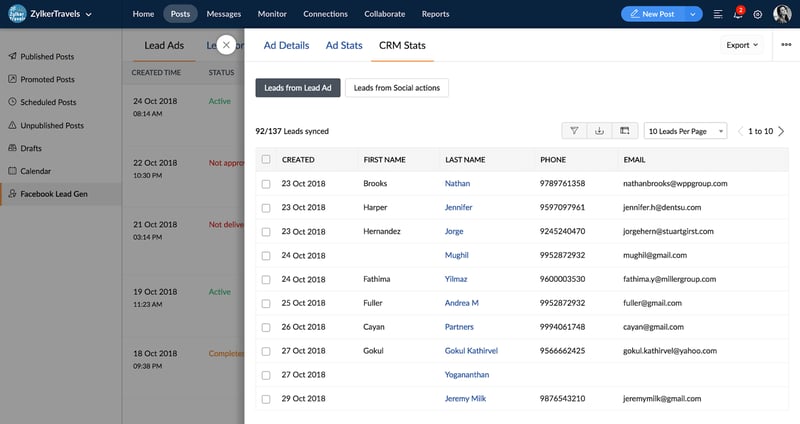 Source
In case you couldn't tell already: we think lead generation software that's integrated within your CRM is the best solution. The fewer systems you have to navigate, the more information you have about your business, and the less likely a lead is to fall in between the cracks.
Lead Nurturing Software
We know, we know. "Lead nurturing" sounds pretty touchy-feely.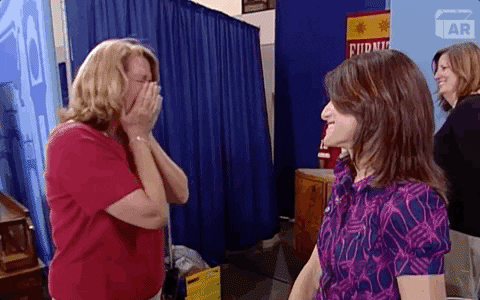 Source
But really, it's all about educating your lead about why it's worth paying for your product or service, at every stage of their relationship with your company.
A key way you'll do this is through drip campaigns. Sounds gross, but it just means feeding a little bit of information to your customers at key points – look out for more on this below.
Lead generation software will let you automate this process so that it doesn't take time out of your sales reps' day, freeing them up to use the other tools on this list to bring in even more clients to your business.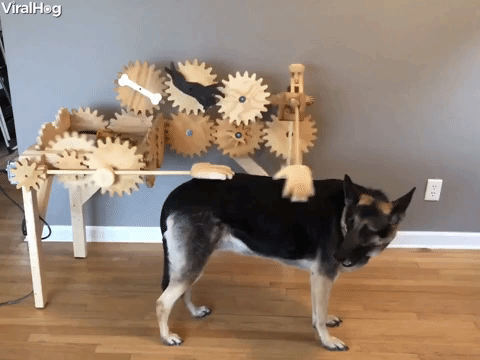 Source
B2B Lead Generation Software
One of the biggest factors in the kind of lead generation software your business will use will be whether you're selling to individual consumers or other businesses.
| | |
| --- | --- |
| B2C selling | B2B selling |
| Every individual is a potential customer with buying power | Only business decision-makers have the power to purchase |
| The average customer may not be highly informed about their purchase | The target customer is well-informed |
| Purchase is usually motivated by price perception and quality | Purchase often motivated by trust and a personal relationship with salespeople |
| Usually smaller amounts of money | Large amounts of money |
| Simple contracts | Complex contracts |
| Short sales cycle | Longer sales cycle, sometimes taking months or even years |
The most important features you'll be looking for in a B2B lead generation software solution are:
Webform optimization: Almost half of the marketers say that their web forms are their highest-converting lead generation tool, so it pays to have these up to scratch. A lead generation CRM will help you do that.
Data mining: Scraping industry directories to populate your CRM with relevant information about your contacts.
Lead distribution: Directing leads to the correct salespeople based on the information you have about them.
Contact management: Centralizing all of this data into one dashboard so that every time you interact with a lead, you have all the information you need right in front of you.
B2C Lead Generation Software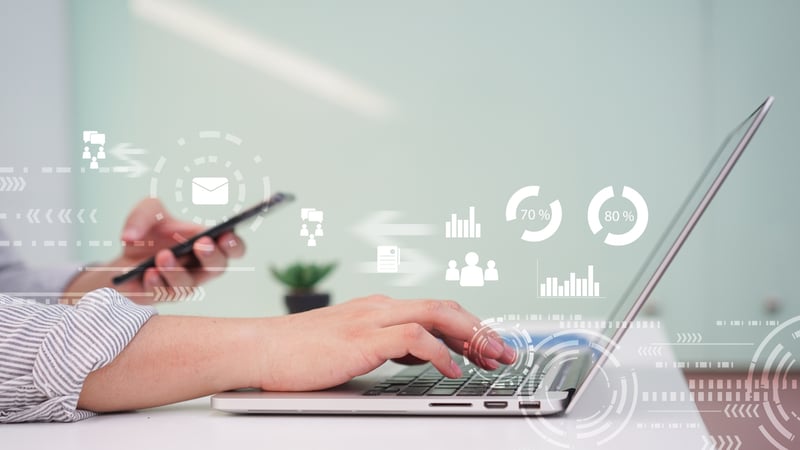 Choosing B2C lead generation software might be a little different.
You'll probably be looking for a lot of the features we've already mentioned, but you'll also want to focus more heavily on inbound and lead nurturing features, for instance:
Social media ad management
SERP ad management
Drip marketing
Landing page optimization
Automated Lead Generation Software
All of the software we're talking about here are examples of automated lead generation software. However, specific examples of tasks that your lead generation software should take off your hands include:
Email marketing
Contact center management and lead distribution
Call scheduling and call lists
Chatbots and customer queries
This sounds like a lot, but it pays to invest in automation: high-growth firms are 10% more likely to have a highly-mature automation strategy in place compared to their lower-growth counterparts.
Call Tracking Software for Lead Generation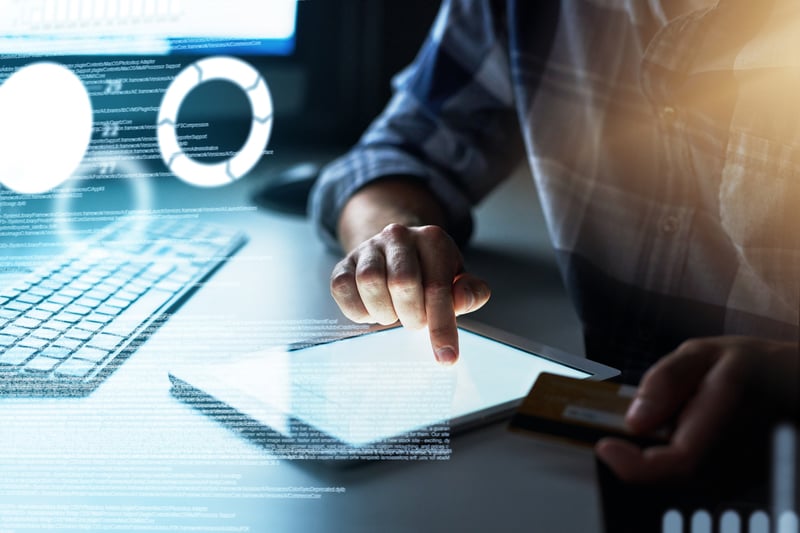 Sophisticated call tracking software for lead generation will be able to tell you which marketing source your call leads are coming from – for instance, if they're finding you on Google or from a Facebook ad.
A popular way of achieving this is through Dynamic Number Insertion (DNI), which is when your call tracking software automatically assigns a different phone number to different lead generation sources. A LinkedIn ad would show a different number to your website's homepage, and so on.
This allows you to see where your calls are coming from, but any good CRM will also offer other call features like:
Call transcription
Keyword call tracking
Call whisper, in which an automated voice tells the salesperson where the call has come from before they pick up
Call flows, which allow the caller to direct their query to the right place by dialing numbers on their keypad
Contact management
Sales Lead Generation Software
Mostly, we've dealt with how to generate leads from the information you already have. But sometimes, you're going to need to step outside your existing lists and find new potential customers.
There are many lead generation software tools out there to help you find new contacts that don't require you to buy a stack of ice-cold leads.
Here are some examples:
| | |
| --- | --- |
| Sales lead generation software | Purpose |
| Hunter.io | Finds the email address pattern for any domain you type in |
| AeroLeads | A Google Chrome extension to help you scrape sites like LinkedIn to find out who to contact |
| Discover.ly | Augments visible data from social media sites like LinkedIn with additional info, for instance, email addresses |
Email Lead Generation Software
Emails are one of the ripest areas for automation when it comes to sales.
You're probably using some form of email lead generation software already – perhaps Mailchimp to manage your regularly-scheduled newsletters and send them to tailored audiences.
If this is the case, you're already off to a good start. Marketers who segment their email lists have been shown to get 39% higher open rates and 28% lower unsubscribe rates to their emails.
Incorporating this kind of marketing savvy into your CRM system is the next step. It allows you to cut out the guesswork about where your recipients are in your sales funnel and manage your communication with them accordingly.
You can use drip marketing software within your CRM to implement automated lead nurturing campaigns or to set certain actions as triggers for email communications. For example, if a lead downloads a free resource pack from your website, you can set this to trigger a follow-up email with related offers.
Trust us, it's worth it: triggered emails result in eight times more opens and greater earnings than typical bulk emails.
Free Lead Generation Software vs. Paid Lead Generation Software
When you see that there are free lead generation software tools out there, you might wonder why anyone pays for them.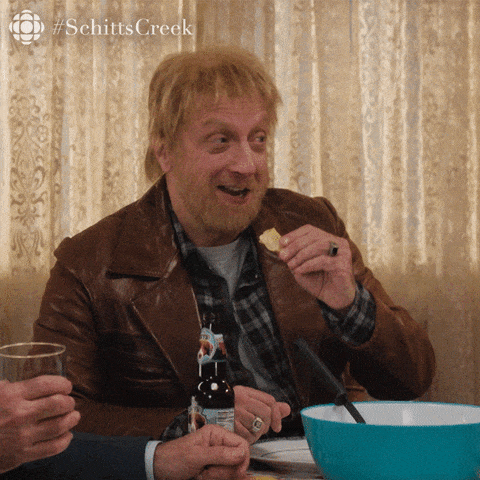 Source
But it's pretty simple actually.
Free lead generation tools almost always offer a limited version of what's available when you pay, and when you think of how much value high-quality leads bring to your business, it's a worthwhile investment.
In fact, CRM systems have been shown to pay back $8.71 for every dollar spent on them.
We'll have a look at the best lead generation software on the market in a minute, but for now, let's look at an example of lead generation software in its free version versus its paid option.
Lead Generation Software

Purpose

Free features

Exclusive paid features

No-code email capture tool that can be added to any website to increase newsletter sign-ups

Basic visitor targeting
Up to 10,000 emails per month
Up to $500 Sumo-driven revenue
Stats and analytics for the past 30 days

Advanced visitor targeting
A/B testing
Remove Sumo branding
Up to 50,000 emails per month
Unlimited revenue
Unlimited stats
It's not rocket science: you get out what you put in. But how much should you put in when it comes to investing in lead generation software?
Our honest answer is as much as you can afford. But, as a rule of thumb, most businesses allocate just over half of their marketing budget to lead generation.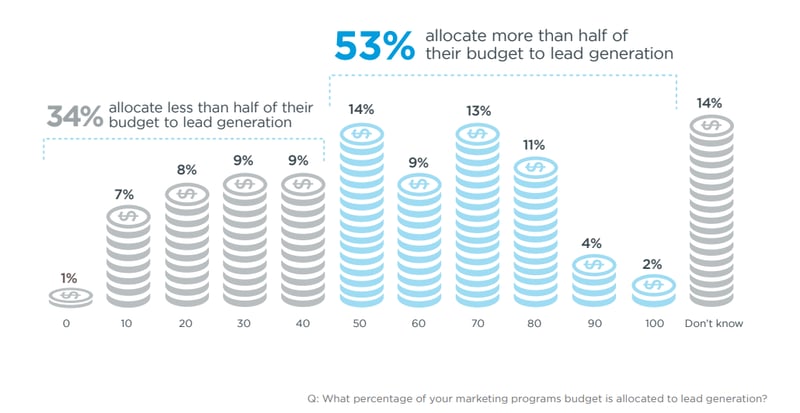 Source
Key Factors to Consider When Choosing a Lead Generation Software
We'll assume you already know the key elements of your business pretty well. That means:
What your goals are
Who your ideal customer is
Your key marketing channels
Your overall messaging
Got all that? Then now you just have to work out which software will help you meet your goals. Here are the things to look out for.
1. Is it part of an all-in-one sales solution?
As we've mentioned, we think an all-in-one sales CRM is your best option. 30% of marketers say that getting data from disparate sources stops them from getting the most from customer data, and an all-in-one CRM eliminates this problem.
2. Is it easy to use?
This one seems obvious. The easier software is to use, the quicker you can onboard your team and start making sales.
But there's more to usability than just the interface. You should also be looking for a CRM whose systems reflect the processes you already use in your business and your wider industry.
Many highly-specialized industries have CRMs tailor-made for them already, like the insurance industry, so if you're looking for an out-of-the-box solution, it's worth checking these out.
Alternatively, if you don't mind forking out for development costs, you can customize an existing CRM to fit your needs – this is what Zoho CRM is particularly known for.
3. Will it scale with you?
Many CRM systems scale dramatically when it comes to pricing as you grow. You know how it goes – you're reeled in with a free or low-cost starting solution, then find yourself hemorrhaging money the more you expand.
It's worth taking a look at your revenue goals and working out ahead of time if you'll need to switch away from your current solution after a certain point.
Just look at HubSpot's Sales CRM pricing. It's perhaps the most famous free sales CRM, but the pricing rises pretty steeply as the number of users grows.
| | | | |
| --- | --- | --- | --- |
| | Starter | Professional | Enterprise |
| Users | 2 | 5 | 10 |
| Cost/ year | $540 | $5,400 | $14,400 |
4. Does it offer comprehensive reporting and analytics?
Getting new leads is great, but unless you can work out where you're getting them from and what your conversion rate is, you'll have no grasp of your ROI, and no clue about how to improve your sales strategy.
A good CRM will offer you data visualization tools and complex analytics to dig down into your sales funnel for answers.
To give you an idea, here's what it would look like to generate a report in Zoho CRM about the average time leads are spending in each stage of the funnel.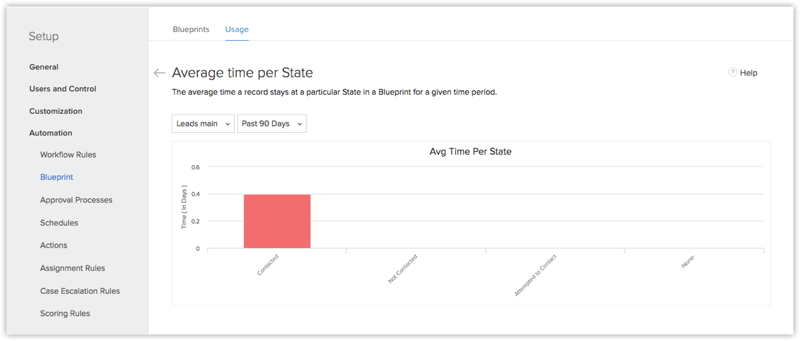 Source
4 Top Lead Generation Software
1. Ringy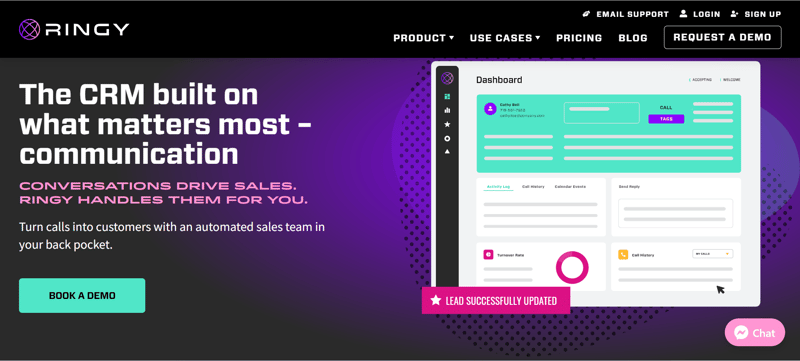 We'll spare you the false modesty: we think we're pretty great!
Ringy is an all-in-one sales solution with a user-friendly interface, proven to increase sales.
It's great value at just $99 per month after a one-month free trial, with add-ons depending on your usage of our cloud calling features. Generally, add-ons tend to come to about $40 per month.
We offer all the most important features in lead generation software:
An all-in-one CRM solution
Lead Management
Lead Distribution
Campaigns
Sales Pipeline
SMS and Email Drip Automation
Reports + Analytics
Cloud calling
Click-To-Call Dialing
Call Recording
Local Caller ID
Agent Coaching
But don't just take our word for it. Listen to what our customers had to say:
2. Zoho CRM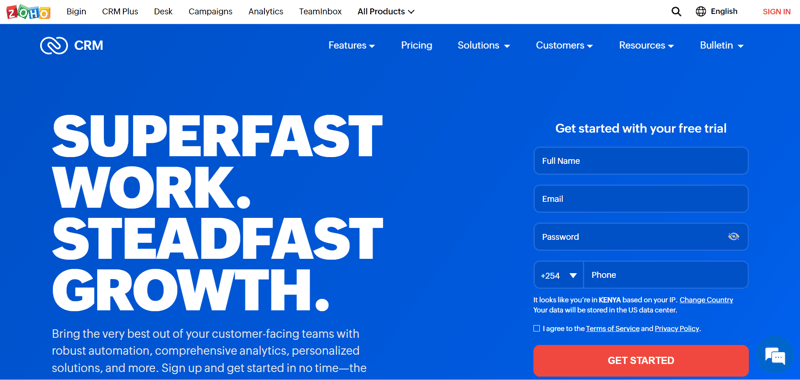 Zoho One is another giant of the lead generation CRM space.
As we've already mentioned, it's highly customizable to your industry due to the suite of Zoho One integrations, which include general-purpose apps like WhatsApp and Gmail, but also more specialized apps, such as QuoteWerks, Leadfeeder, and ActiveCampaign.
Zoho also scales more reasonably than some software when it comes to pricing:
| | |
| --- | --- |
| Pricing tiers | |
| Standard | $14/user/month |
| Professional | $23/user/month |
| Enterprise | $40/user/month |
| Ultimate | $52/user/month, |
However, it has a high setup cost as you need a Zoho partner to install it and fit it to your business requirements. CRM development projects like this can cost anywhere between $5,000 and $20,000 for the average business.
3. Salesforce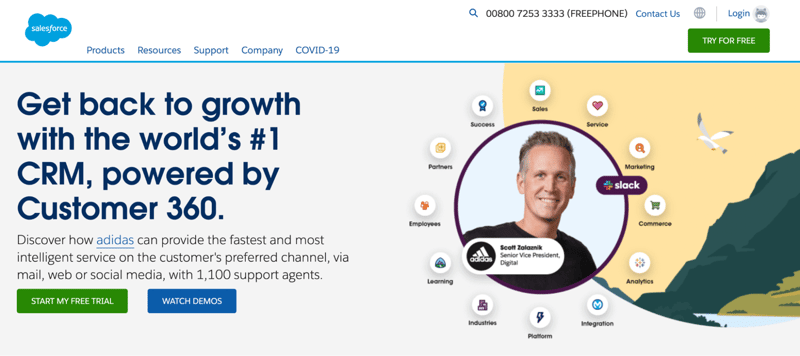 Salesforce is another popular CRM software that offers industry-specific tools and, as you'd expect from its name, focuses heavily on sales.
Salesforce offers multi-device support so that you can operate your business and sales team on the go, as well as central document storage, making file access and file sharing easy with both teams and clients.
The key attraction of Salesforce is its sales focus and its affordability: it starts at just $25 per month, making it a popular choice for small businesses.
4. HubSpot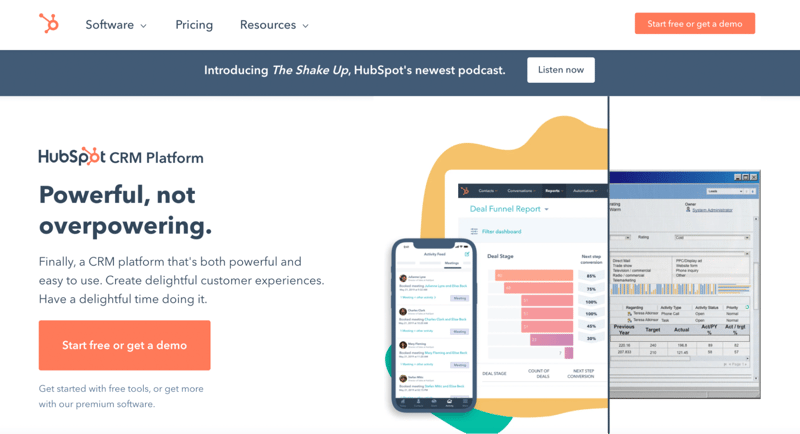 As we've already covered, HubSpot is one of the most famous lead generation software solutions on the market. They coined the term "inbound marketing", and offer a free version of their sales CRM.
However, as we've seen already, HubSpot skyrockets in price once you move up from the free version.
If you're willing to pay a premium, you can access advanced features like:
AI-powered call intelligence to automatically note key points from meetings
Document tracking to see which documents help to close deals
Email templates for high-performing emails, which can be customized with information directly from the CRM
FAQ
What is B2B lead generation software?
B2B lead generation software is any software that enables businesses selling to other businesses to convert prospects into paying customers.
It will usually have many of the same features as B2C CRM systems, such as contact management and sales automation, with the addition of more specialized features, such as:
Web scraping tools to find lead information from industry directories
LinkedIn integrations to identify decision-makers in target companies
Access to quote engines
What is the best lead generation software?
Personally, we think Ringy CRM is the best value lead generation software solution on the market. For $99 per month after a one-month free trial, you get an all-in-one lead generation CRM solution with cloud calling and sales automation features to boot.
What are the best free tools for lead generation?
Many lead generation software solutions offer free versions with limited use of the features available to paying users:
Free lead generation software type

Examples

CRM

Prospecting tools

FindThatLead
LinkedIn Sales Navigator

Email marketing automation tools
How do you generate leads automatically?
There are many ways to generate leads automatically, for example through:
Social media ads
Chatbot automation
Automated cold emailing campaigns
But the easiest way to do this is by setting up a really good sales CRM with strong lead generation software built-in. To find out how to do that, scroll back to the top of this article and start at the beginning.
Get Started Raking In Customers With Dynamic Lead Generation Software
So now you know the secret.
You don't need hypnotism or magic to entice leads. You just need a CRM with powerful lead generation features that fit your processes and deliver the features appropriate to your industry.
Isn't that a relief?
At Ringy, we not only have the tech you need, but the expertise in how to take lead generation software to the next level.
Get in touch today to request a demo and see how you can make the most of your lead generation software and achieve real growth.