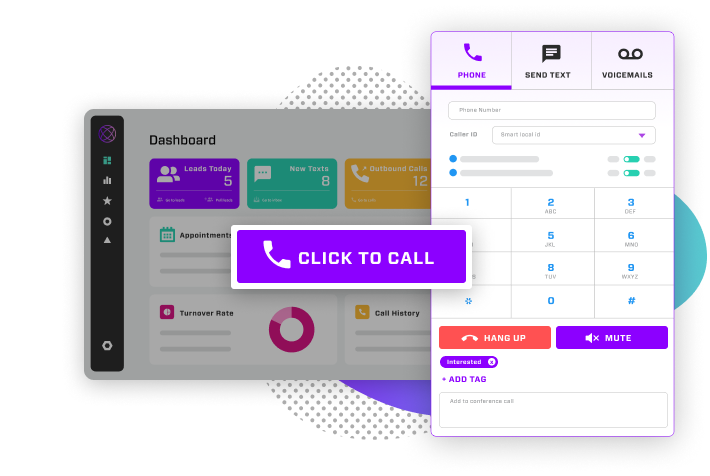 Never manually dial again
It can take up to 8 seconds to dial a phone number. Sales agents waste hours each week punching numbers into outdated systems.

Ringy's click-to-call platform eliminates manual dialing, so you can qualify leads faster and spend more time turning conversations into customers.
Stay in Touch
Whether it's calls, emails, or texts, reach your customers at any touchpoint.
Top CRM in the game
The ability to flow from text to email to calls at the click of a mouse. The ability to customize the CRM for my own business needs. The continue effort in improving customer interface. I have no complaints. One of the best marketing tools any sales organization should be using.
Ringy is a MUST to grow
Texting plays a huge role in my sales. The mobile feature is bar none to text clients on the go while my laptop is closed, also being able to see a whole page of different styles of texts I've sent and if they got reactions is incredible. Another software I use alongside is not as efficient in this sense but I like the scheduling capabilities of it so I use it for that.
Sell with confidence
Hands-free, click-to-call software enables agents to view lead history, take notes, and divert incoming calls while talking to a lead. With crucial information at your fingertips, you're always prepared to make a sale — and your team never misses a call!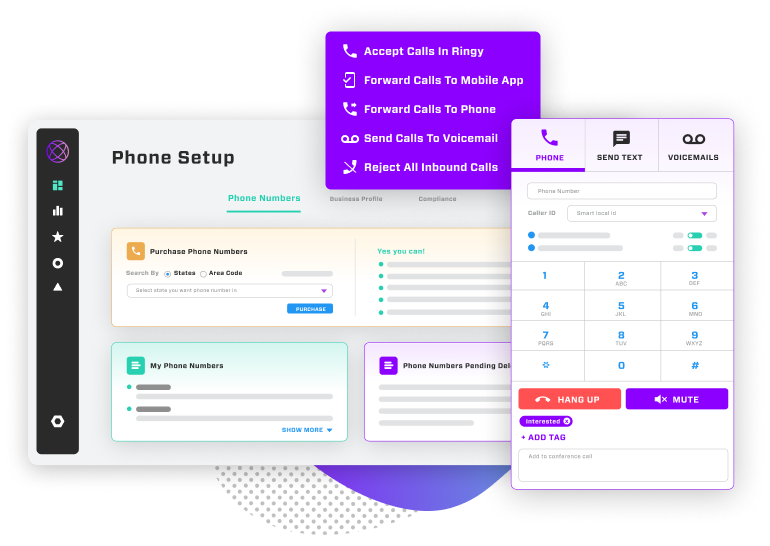 Ringy powers ambitious sales teams at
advanced features
Connect, qualify, and sell
Coach your team
With Ringy, you can discreetly join calls with your agents to help them get a sale across the line. And your leads won't notice a thing. This means you can lead your team with an inside view of their performance.
Connect with prospects faster
With click-to-call software, you can contact prospects instantly to qualify in a fraction of the time. Smash through call lists, reach more prospects, and close more deals every day.
Build faster, better, stronger sales teams
Every call is automatically logged, recorded, and tracked in Ringy CRM. Call data is crucial to monitor lead quality, know where you're at with customers, track agent performance, and train new employees.
FOCUS ON SALES
Your job is to sell, not organize
Focus on sales calls and let Ringy take care of the rest. Everything you need to delight leads and close deals is right in front of you.
Instant Alerts
See incoming calls, SMS, updates, and emails on your dashboard as you sell.
Automatic call logs
Keep pushing ahead knowing your activity is recorded and up-to-date.
Divert calls to colleagues
Work as a team and maximize sales. Focus on your pitch knowing incoming calls can be taken care of.
Call recordings
Call activity is right there in the CRM. Recordings are downloadable for training and sending to other teams within the business.
Complete contact visibility
See lead relationship history at a glance. See who they are, the calls and messages they've received from your company, and adapt your pitch accordingly.
SMS, email, and meeting integration
Monitor activity within contacts and accounts. Schedule meetings and send messages as you call. Full agility, zero limits.