When we talk about phone tracking software, we're not talking about spying on your teenager to make sure they're actually going to a friend's birthday party and not their boyfriend's house.
No, that's not it at all. When we're talking about phone tracking software, we're talking about optimizing the customer experience, making your marketing dollars go further, and, most importantly, getting your sales team more sales.
And you can do this by recording customer conversations with phone tracking software, whether it's on your computer or smartphone. Interesting, right?
Customer conversations are full of hidden gems that, if you take the time to dig them out, can provide extremely valuable insights into your customer's wants, needs, and pain points.
It can be difficult to take notes or remember specific details of a call while you're actively on the phone. Thankfully, call tracking software can take care of that problem easily.
Think of phone tracking software as your shovel—your tool—that helps you carefully extract those valuable insights from customer conversations so you can implement your findings into every aspect of your business.
Because if your customers are happy and your employees are able to work within efficient business processes, then you'll not only see increased productivity, but you'll also see your sales go through the roof.
So put on your hard hat, because we're going into the mines. But when you come out, you'll have so many gems you'll wonder why you didn't take a look in the first place.
What is Phone Tracking Software?
In business, phone tracking software and call tracking software are two terms that are often used interchangeably. Both terms refer to the software that allows you to track and record business calls so the information can be used for sales and marketing purposes.
A phone tracking application is usually built into a CRM like Ringy, and can be downloaded to your smartphone and computer to make and receive calls on the go and in the office.
Basically, a customer calls in, you record the phone call, and then refer to it later to do one or all of the following:
Find areas where reps can improve their phone skills
Determine sales opportunities
Keep track of customer conversations across departments
Improve the sales process
We'll go into more detail on each of these points throughout this post, and also give more insight into more ways that phone tracking can help your business succeed.
Benefits of Phone Call Tracking Software in Business Management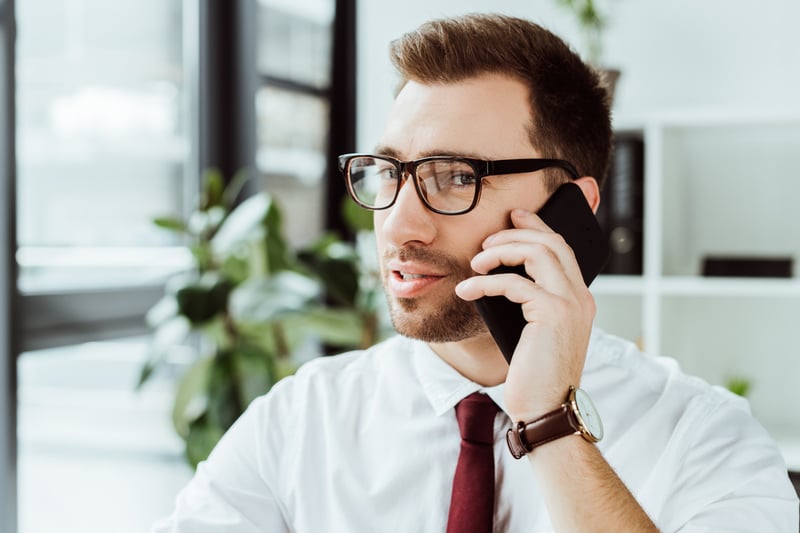 Phone call tracking software allows you to streamline your business processes by analyzing recorded calls and using that information to improve different aspects of your business operations. Many call tracking software also integrates with or is integrated into a CRM, so you can take the data that you glean from the software even further.
Track communications
Being able to have everyone who deals with a customer—from your support team to sales—on the same page when it comes to that customer's situation and needs is extremely valuable. Phone tracking software follows the entire customer journey across all departments and touchpoints, so confusion is lessened and customer satisfaction is increased.
Location-based network
Most phone tracking software, like Ringy, lets you choose a local number to call a potential lead from. One study found that people were four times more likely to answer a phone call from a local number, so it makes sense that marketers and salespeople use local numbers to contact leads whenever possible.
Improve customer service
Call tracking provides context for customer interactions, which helps keep everyone on the same page when dealing with the customer through multiple touchpoints throughout your company.
Optimize marketing efforts
Recorded customer conversations can have valuable insights that you can use to optimize your marketing efforts. For example, if most conversations reveal that customers are asking the same questions over and over, a frequently-asked question page on your website with the answers to those questions might be a good resource for your customer and also assist with your website's rankings.
That's just one example though—listening to customer conversations can have valuable insights for marketing across the board, from marketing automation to organic search to optimizing advertising dollars.
How Phone Tracking Software can Increase Sales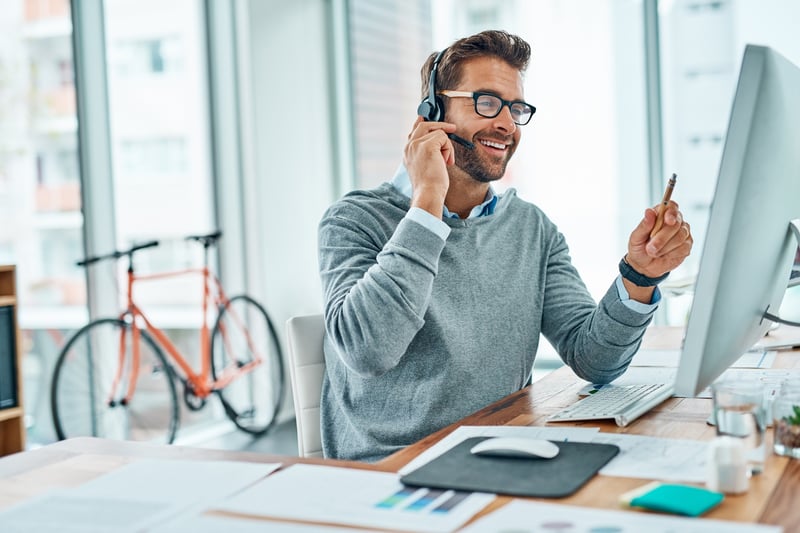 Phone tracking software can track calls made at every touchpoint in the sales process, meaning that you get a full picture of the customer's interaction with every member of your team, whether that be customer support or sales.
Picture this: a customer calls in to talk to your support team. During that conversation, the customer mentions several services that they could be interested in purchasing but instead focuses on the primary reason for the call, which is to fix an issue with their current service.
This highlights the perfect opportunity for a salesperson to listen to the call, get context for the conversation, and then contact the customer at a later time to continue the sales process.
Without phone tracking software and call tracking, valuable gems of information that could potentially lead to a sale would be gone forever.
Ringy's software provides call analytics that are useful for identifying sales opportunities and understanding gaps. These analytics include callbacks, times the customer was contacted, blocked number information, calls, texts, inbound and outbound calls, and lead closing ratio for different lead vendors.
With phone tracking, you can also identify gaps in the conversations between customer and salesperson, or that calls were not answered or returned in a timely manner. Whatever the case may be, phone tracking helps you optimize the conversations your salespeople are having with customers, leading to more conversions.
4 Real Examples of Phone Tracking Software Successes
Many businesses don't take advantage of phone tracking software, either because they've never heard of it before or because they don't see the benefits. They might think it's an unnecessary extra expense, and most businesses want to maximize their dollars to investments ratio as much as possible.
But it turns out that all industries can benefit from call tracking, whether it's a safari or a dentist's office. And sometimes, call tracking can benefit those businesses in ways that nobody could have predicted or expected.
The real-world examples below of how call tracking software led to huge successes for businesses across multiple industries are proof of the power of call tracking.
If you're still on the fence about whether to pull the plug for your own business, take a look at these real examples of phone tracking software successes.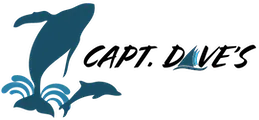 Captain Dave's Dolphin Safari is based out of California and offers dolphin and whale watching experiences on catamarans with unique features like underwater viewing. They get tons of inbound phone calls per day, and they wanted to know which source was delivering the highest number of phone calls, whether that be Facebook, Google, or otherwise.
Before they got phone tracking software in place, Captain Dave's Dolphin Safari would rely on Google Analytics to determine where calls were coming from, or ask customers how they found the business when they called in.
With phone tracking, the company had a better understanding of what sources drive the most phone calls and were able to adjust marketing efforts to match and support those sources.
They were even able to start monitoring what was said on phone calls through recording and empower their customer support to get on board through an incentive program.
Phone call tracking not only allowed Captain Dave's Dolphin Safari to laser-focus their marketing dollars towards channels that matter most to their business but also improve customer support by gaining a better understanding of support conversations and topics.
Heritage Equipment Company provides equipment for a wide variety of commercial and industrial fluid industries, including dairy and beverage.
Since Heritage Equipment Company wasn't tracking their calls initially, they were in the dark about the source of phone calls. But after they started tracking calls, Heritage Equipment Company saw a 363% increase in conversions when they compared the 6 months before implementing call tracking to the 6 months after.
In addition, they also discovered that they received 1.7 calls for every online form submitted. All this data was possible because of phone tracking software.

Serenity Dental managed to increase new patient bookings by 90% in 2 months just by using phone tracking software, which led to 50k in recaptured revenue.
Similar to the other businesses mentioned above, Serenity Dental wasn't taking advantage of phone tracking software in the past. By implementing phone tracking software, they were able to:
Improve staff scheduling and customer service by being able to see how many inquiries lead to first appointments, and provide training and coaching to staff as needed. They also learned to schedule staff during high-volume call times so that all calls are answered in a timely manner.
Get more patients by simply being able to talk to more patients at a time, and get appointments booked.
Converting more patients to comprehensive care due to more patient consultations in general and more limited-care patients coming in.

DISH Network sells TV packages and does a majority of its business over the phone. They already determined that calls convert at a higher rate than online interactions, so the marketing team prioritizes conversational analytics to obtain more high-value leads.
By using conversational analytics provided by phone tracking software to gain insight into conversations that convert to sales, DISH improved its conversion rate by 60%.
4 Sales Tips Inspired by Phone Tracking Software
This post goes through a lot of information about phone tracking software and how it can help sales. We want to highlight the best sales tips inspired by phone tracking software to make it easy for you to see the benefits call tracking can bring to your sales team:
Use conversations to create sales opportunities
Listening to customer conversations after the fact can give you valuable insights that you can use for sales opportunities. For instance, maybe the customer mentioned that they were interested in purchasing more services or products but were not entirely sure about it at the time. This is an opportunity for a salesperson to swoop in and potentially earn a sale.
Identify pain points and turn them into sales
It can be difficult to turn an unsatisfied customer into a satisfied one, but sometimes their pain points can be turned into sales opportunities. For example, let's say a customer is upset about the cost of their latest cell phone bill. When you look at the account, it turns out that they are calling internationally on a regular basis, which is the main reason their bill is so high. The opportunity here is to add an international calling package to the customer's plan, which saves them money and increases the Items Per Customers (IPC).
Listen to conversations and identify where you can improve
When you take the time to listen to conversations that you've had with customers, it can be easy to identify where you can improve. This isn't meant to be negative or point out your shortcomings, rather it's a way that you can reflect and become a better salesperson through hands-on learning.
Maybe you forgot to mention a feature or service that would have benefited that customer—there's an opportunity right there to call them back or send an automated text message and mention that feature or service.
Perhaps after listening to a customer conversation again you realized you could have explained a product or service in a better, more clear way. Now that you've listened to the call, you can make notes for yourself for next time.
Ask customers how they found your business
Asking customers how they found your business is a valuable insight for not only sales teams, but marketing teams as well. If the majority of your customers found you through Google Search, it might be a sign to focus more marketing dollars on pay-per-click advertising. If the majority of customers found you on Facebook, that's a sign to pay a bit more attention to your Facebook page.
Frequently-asked Questions (FAQ)
What are some options for free phone tracking software?
Of course, we're going to mention our software, but it isn't without good reason. Ringy offers a two-week free trial to get you started, then you can choose whether you want to opt for pay-as-you-go, which includes free inbound SMS and calls, as well as free unlimited video meetings. There is no additional monthly fee with Ringy's pay-as-you-go plan.
Hubspot's call tracking software is built into their CRM—so if you already pay for their CRM, you can add on their call tracking software for free.
Ringba has a pay-as-you-go option with no additional monthly fee. Features include local tracking, toll-free tracking, local numbers, toll-free numbers, and call recording.
What are some options for free cell phone tracking software?
We get it—you want call tracking software, but you want to be able to use it on your phone while you're on the go. Ringy does have a mobile phone tracking software application that you can download on your iPhone or Android, but not every call tracking software offering has a mobile app. Here are a few more options in addition to Ringy:
Does mobile tracking software work the same as when I'm using it on my computer?
Mobile tracking software can definitely provide a similar experience to the desktop application. In Ringy's case, the interface is similar to the desktop app but is optimized for a better experience on mobile devices.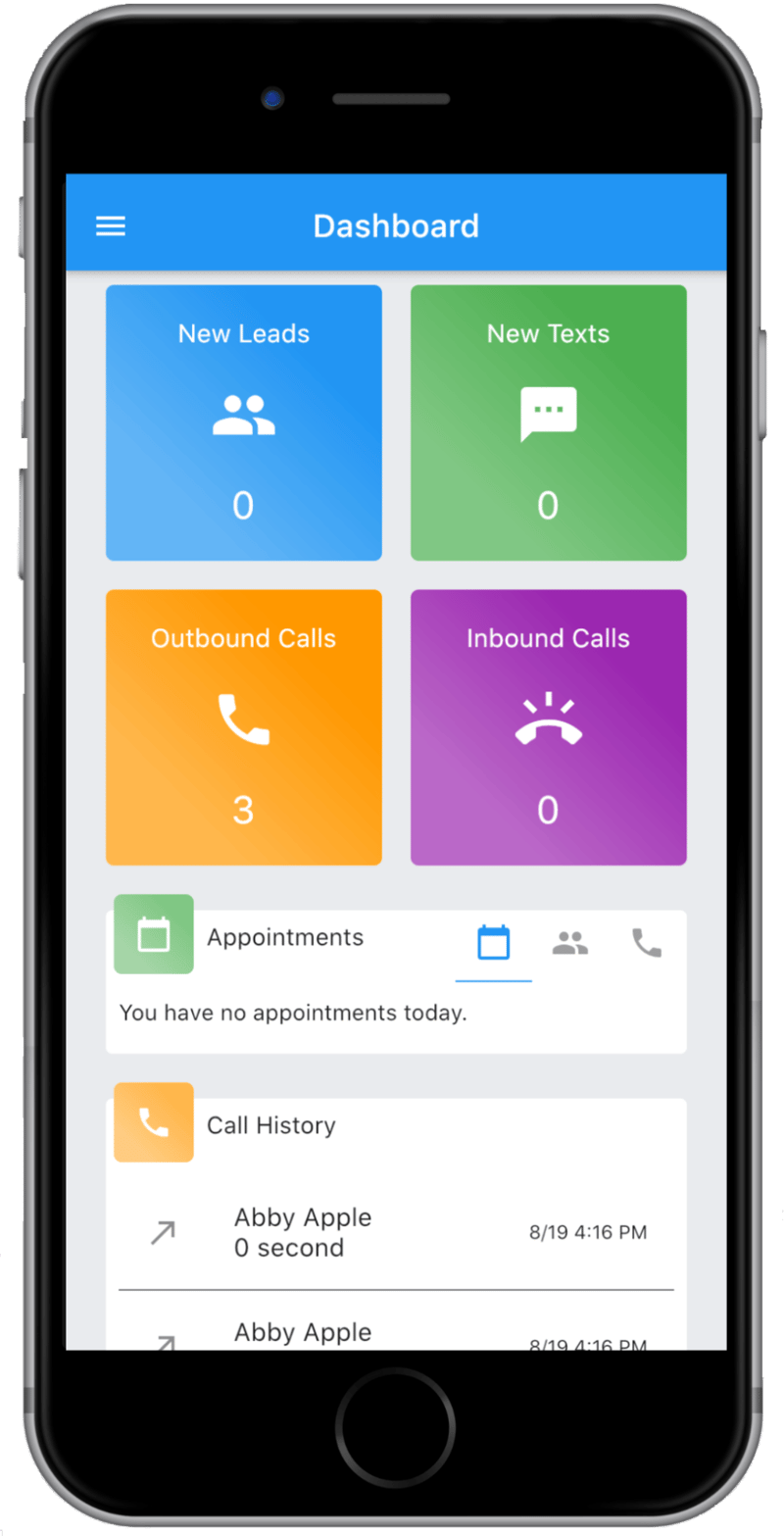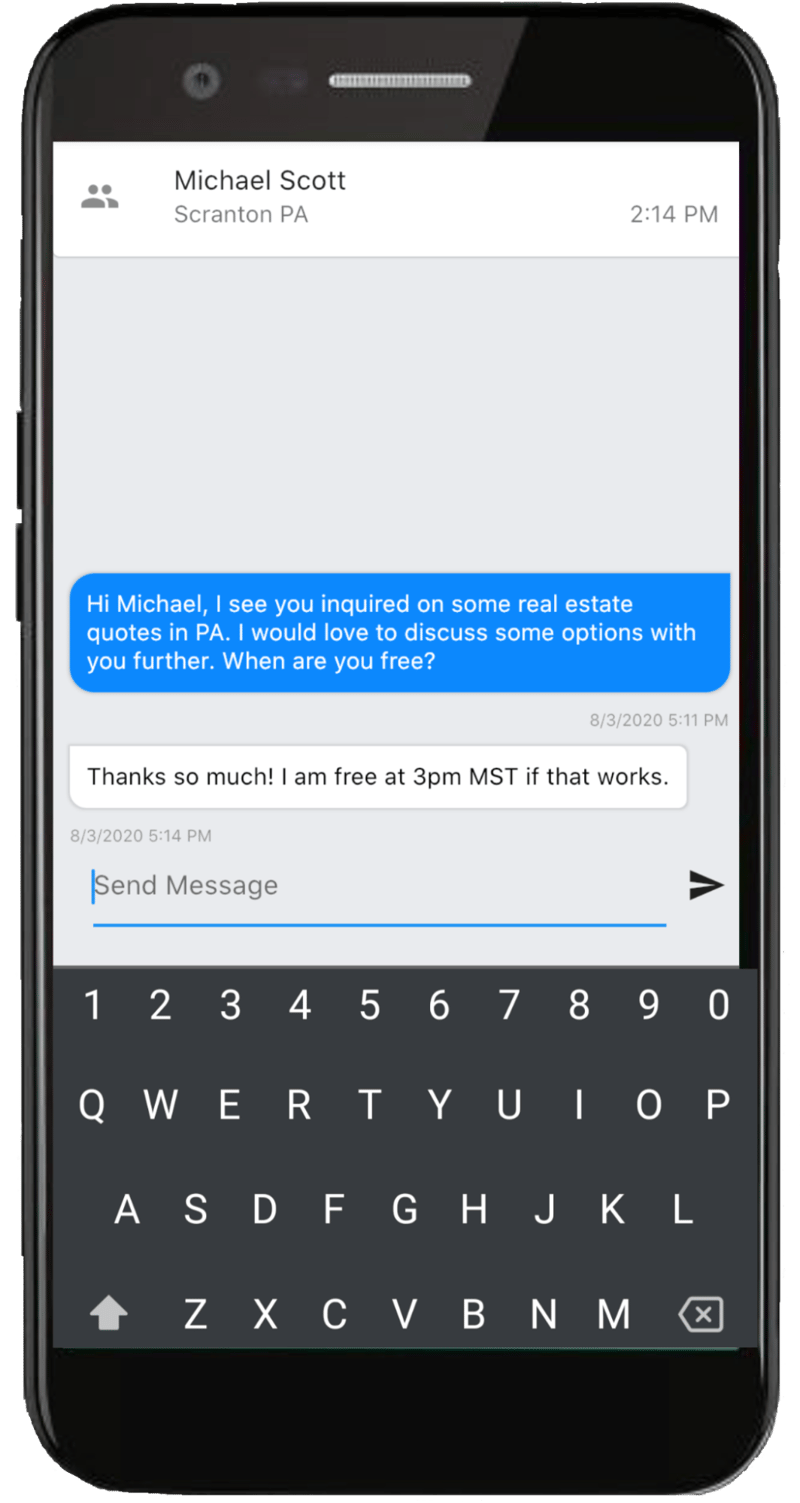 Are there mobile phone tracking software options for Apple and Android phones?
Most phone tracking software offers a mobile phone tracking app in addition to their desktop version, which you can typically download from the Google Play store or the Apple app store. Ringy offers downloadable apps for both apple and android.
What is the best android phone tracking software?
When you're choosing the best android phone tracking software for business calls, it's likely you're looking at the usability of the app, and if the features of the app are the same or similar to the desktop version.
We mentioned that Ringy has an android app, right? The good thing about Ringy's android phone tracking app is that it includes all the features of the desktop version, which means you don't have to worry about missing out on information while you're on the go.
Summary and Key Takeaways
Phone tracking software is an essential tool for all employees in your business, but especially your sales people. With call tracking software complete with mobile phone tracking software for sales people that are on the go, you can enjoy increased productivity, conversions, and more customer satisfaction.
Companies that implemented call tracking software into their everyday business operations saw extremely high improvements in all aspects of their business, from customer support to marketing to sales.
Ringy is not only a great option for call tracking software, it's a complete CRM with a softphone solution and lead management system for better management of phone calls.
If you're ready to learn more about how Ringy can help your business succeed, book a demo with us today!