Cloud contact center providers are the cornerstone of modern and remote call center agencies.
It's the era of cloud contact centers, where innovations meet customer centricity, all while exposing infinite possibilities.
This cloud contact center article aims to be your compass in navigating this exciting domain, offering many insights into cloud contact center platforms and the dynamics of API management, cloud calls, and more.
But first, let's set the stage. What exactly is a cloud contact center?
Think of it as a virtual command center for exceptional customer interactions. It's where technology meets empathy, and cutting-edge software amplifies your clients' voices.
Our mission is to equip you with the knowledge to make informed decisions. You'll discover the best SaaS contact center solutions, understand the difference between on-premise and cloud alternatives, and gain insight into remote cloud-based contact center solutions—crucial in our evolving work landscape.
Let's dive in!
What Is a Cloud Contact Center?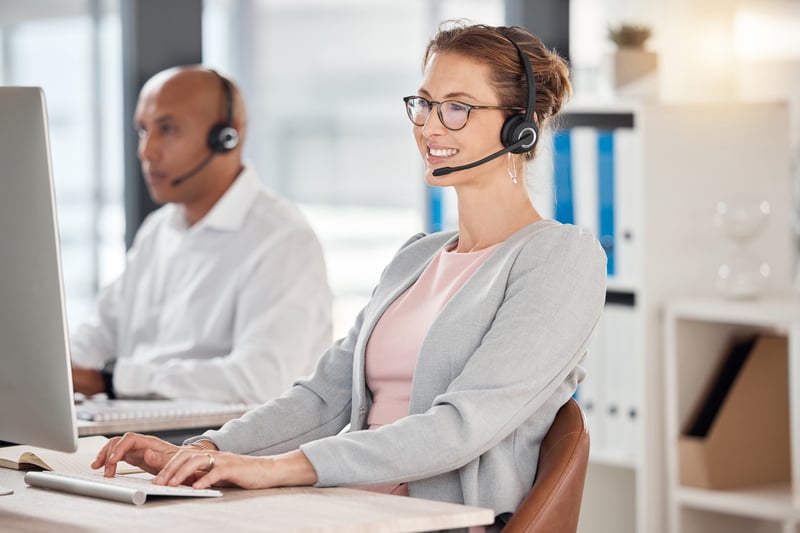 Let's begin at the heart of the matter—what is a cloud-based contact center?
At its core, a cloud contact center is a virtual hub that connects customers with agents, all powered by cloud-based software. This innovative approach offers organizations various advantages, from flexibility to scalability, and that's just the tip of the iceberg.
In contrast to traditional business VoIP systems, cloud-based call center software excels in streaming client connections across various communication channels, including:
Social media platforms
Email
SMS and text messaging
Phone calls
As organizations expand their support channels, call center cloud solutions become indispensable in addressing customer inquiries while optimizing agent productivity.
Unlike on-premise systems or hosted contact centers, a cloud-based call center phone system is not tethered to a specific server or physical location. Instead, it allows anyone on your team to access it from anywhere via the cloud, whether using a mobile phone, tablet, or computer.
Benefits of Cloud Contact Center Software
The advantages of adopting cloud contact center software extend far beyond the convenience of remote accessibility. In this segment, we'll delve into the benefits that make this technology a must-have for companies of all sizes.
From substantial cloud contact center cost reductions to empowering agents with advanced tools, we'll uncover the full benefits that await those willing to adopt this technology.
Reduced Costs
Money matters, especially in business. Cloud contact center providers are rewriting the rules regarding budget allocations.
The requirements for substantial upfront investments are eliminated as cloud contact center providers offer a cost-effective way to deliver exceptional customer service without breaking the bank. Cloud contact center providers offer a cost-effective advantage by enabling call centers to seamlessly incorporate various platforms while adopting a "pay as you go" subscription model.
Cloud call center pricing allows organizations to strategically manage their expenses and explore the solution's capabilities through a complimentary trial before committing to a full-scale implementation.
Remote Team Support
In a world where remote work is the new norm, cloud contact centers have become the lifeline for businesses looking to expand their talent pool globally.
While cloud-based contact center solutions offer a quick and hassle-free setup, they also empower agents with remarkable flexibility. Cloud contact center providers give users instant access to:
Performance reports
Data
Processing resources
This allows organizations to deploy employees virtually anywhere worldwide, ensuring the availability of round-the-clock customer support.
Hosted contact center solutions further this flexibility, enabling agents to collaborate across remote locations or multiple contact centers. This amalgamation not only amplifies brand adaptability but also maximizes operational efficiency, all within a unified framework.
Improved Agent Efficiency
Agents find greater versatility in working conditions and experience tremendous efficiency when using a cloud solution. An intuitive user interface allows them to handle customer data across various channels, leading to more precise case resolutions.
Here are a few efficiency benefits:
Agents can resolve cases with heightened precision.
Efficient call routing ensures callers are connected with the most qualified agents for an exceptional client experience.
Incorporating these efficiency-boosting elements fosters a more productive and effective work environment for contact center agents utilizing cloud solutions, ultimately improving client retention rates and loyalty.
Cloud Contact Center API Management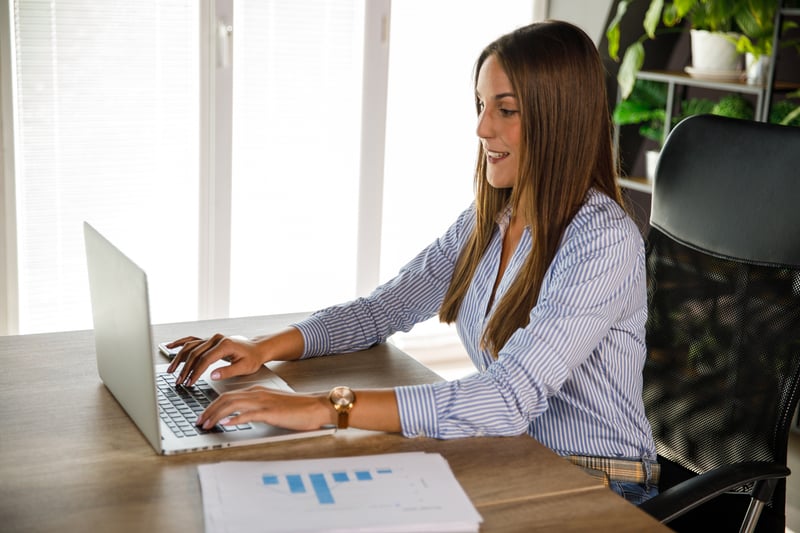 In the context of cloud contact centers, efficient cloud contact center platform API management
is paramount. This process involves developing, designing, monitoring, testing, securing, and analyzing APIs to tailor them to your business's needs.
Cloud contact center API management ensures compliance with external regulations and corporate policies surrounding data privacy. API management platforms also serve as comprehensive solutions, offering versatile processes and software to fulfill these functions.
Organizations are provided flexibility in their deployment choices because these platforms can be hosted on-premise, in the cloud, or within a hybrid environment.
Let's explore the significance of cloud contact center API management further:
| | |
| --- | --- |
| Benefit | Description |
| Data-Driven Insights | Access real-time and historical data for in-depth analysis, reporting, and informed decision-making. |
| Scalability | Adapt to changing demands by adding or removing functionalities as needed, ensuring operational flexibility. |
| Automation Efficiency | Automate processes like call routing and IVR systems, optimizing workflows and enhancing customer experiences. |
Cloud contact center API management allows companies to create highly adaptable, efficient, data-driven customer service environments. These platforms integrate with various tools and vendors so companies can deliver exceptional buyer experiences while achieving operational excellence.
What Is an API?
API, or application programming interface, is the secret sauce that allows different software applications, platforms, and systems to communicate with each other. It creates interoperability between various technologies that must work together to ensure efficiency.
Check out our article on CRM APIs to learn more about this exciting topic.
Why Are APIs Important to Cloud Contact Center Providers?
APIs aren't just tech jargon but the linchpin of cloud contact center success. APIs do everything from enabling integration with existing tech stacks to facilitating real-time data exchange and incorporating cutting-edge AI technology.
Application programming interfaces play a pivotal role in the success of cloud contact centers.
Here are three reasons why:
They allow customers to easily connect apps in their tech stack to the cloud-based contact center software. Companies can integrate their data analytics tools, ERP systems, customer relationship management software, or custom-developed applications into the cloud contact center solution's infrastructure, producing a unified, efficient customer service ecosystem.
APIs enable real-time data exchange, which is crucial in providing personalized and prompt customer support. For example, when a customer contacts the call center, the API can fetch their historical data, allowing agents to offer tailored assistance without delay.
Application programming interfaces facilitate integrations of emerging technology like chatbots and AI. Organizations can leverage AI-driven chatbots to handle routine queries, freeing human agents to concentrate on complex, high-value interactions.
APIs are the connective tissues fueling cloud contact centers' efficiency and effectiveness.
As a result, cloud contact center providers harness the power of APIs to deliver a holistic and responsive customer service experience that caters to the evolving requirements of today's business landscape.
On-Premise vs. Cloud Contact Center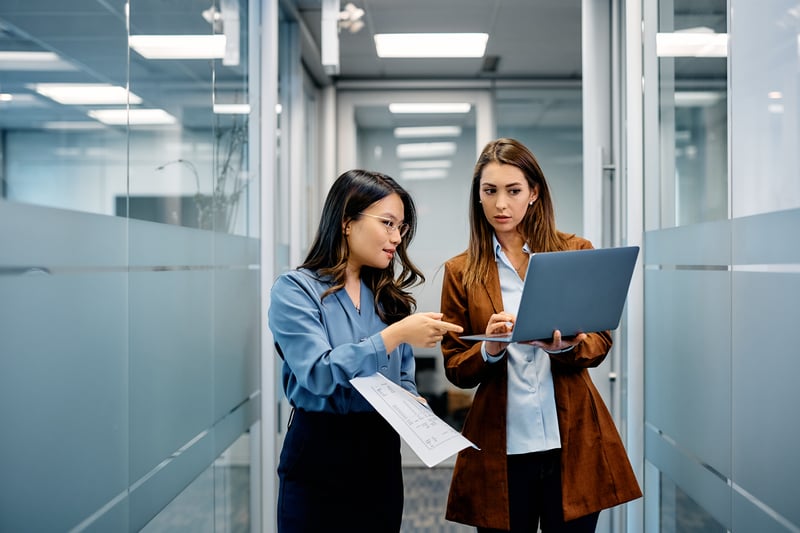 Choosing between an on-premise and a cloud contact center can significantly impact your organization's operational efficiency, flexibility, and overall customer service capabilities.
Below, we've outlined a comparative table highlighting the key differences between these two approaches.
| | | |
| --- | --- | --- |
| Aspect | On-Premise Contact Center | Cloud Contact Center |
| Upfront Infrastructure Investment | Requires substantial upfront hardware costs | Minimal to no upfront hardware expenses |
| Maintenance and Upgrades | The responsibility of the organization, support staff, or dedicated IT team. | Automatic updates and maintenance by the cloud contact center provider |
| Scalability | Limited scalability, often requiring significant effort to expand | Scalable on-demand easily adapts to the changing needs of your business |
| Remote Work | Operates from a fixed location, limiting remote work options | Supports remote work, providing flexibility for agents, managers, and business owners |
| IT Resource Requirements | May require more IT resources for management and support | Low IT resource requirements, reducing operational overheads |
| Disaster Recovery Capabilities | Limited disaster recovery capabilities | Built-in disaster recovery and data backup |
| Deployment Time | May have longer deployment times | Rapid deployment and easy onboarding |
Cloud contact center providers present compelling reasons for modern businesses to adopt them.
However, the choice ultimately depends on your unique requirements, but it's evident that cloud contact centers are charting the course toward customer service excellence in the years to come.
5 Recommendations for Best Call Center Software Solutions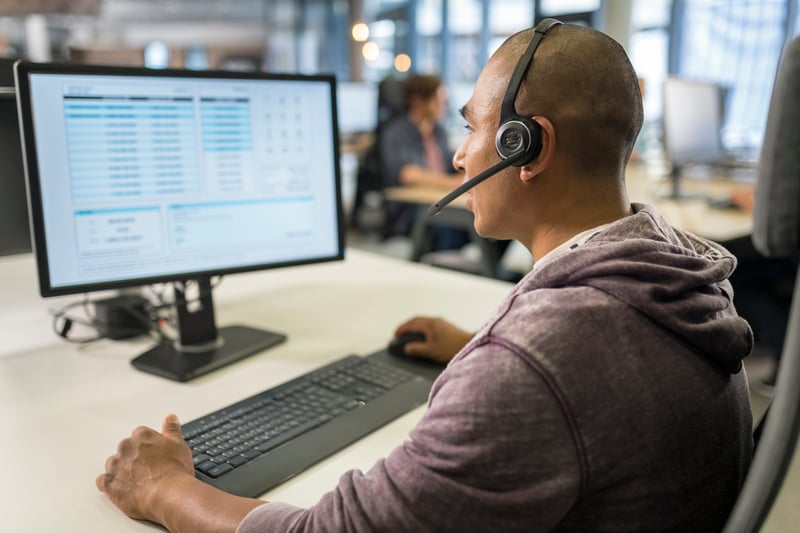 When selecting the best cloud contact center software, it's essential to consider industry leaders who have consistently proven their worth.
Here are our five top contact center solutions to help take your company to the moon!
Ringy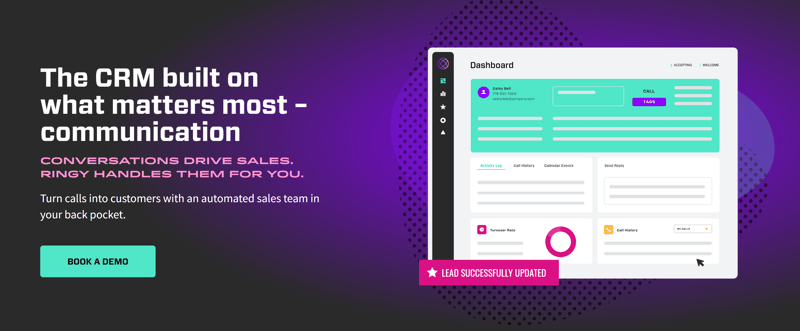 Our solution, Ringy, stands tall as a leader in the cloud-based call center solution industry. Renowned for its innovation and comprehensive features, Ringy empowers businesses to deliver exceptional customer service that sets them apart.
Here are a few key features that can help you grow your call center business:
Seamless integration with your favorite business tools
Intuitive, user-friendly interface
Unmatched scalability
Ringy's commitment to staying at the forefront of technology ensures that your call center is always ahead of the curve and ready to meet the evolving demands of your customers.
Zendesk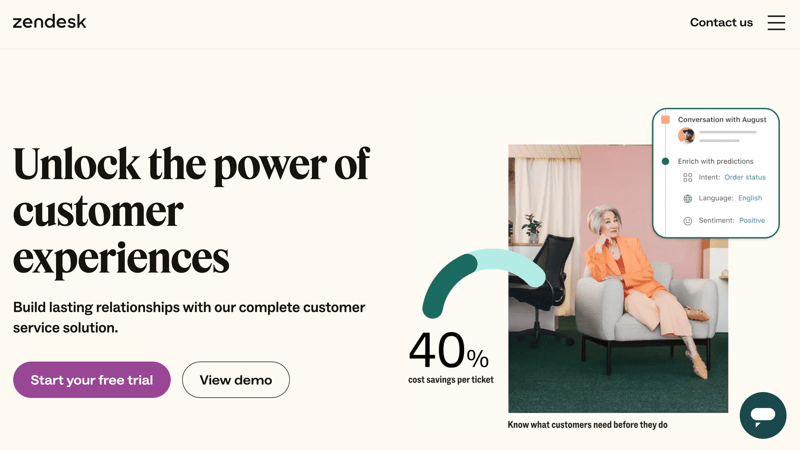 Zendesk is a strong contender in the cloud contact center providers market, with a solid reputation for reliability and a focus on providing seamless customer support experiences. While it may not offer the extensive feature set of Ringy, Zendesk shines in its simplicity and ease of use.
It's an excellent choice for businesses seeking a dependable cloud contact center provider with no overwhelming complexities.
Besides a reliable customer support team, Zendesk has multi-channel capabilities, enabling you to monitor interactions at various levels and touch points. Zendesk's dedication to delivering top-notch customer support aligns well with organizations looking for straightforward, effective call center software solutions.
Talkdesk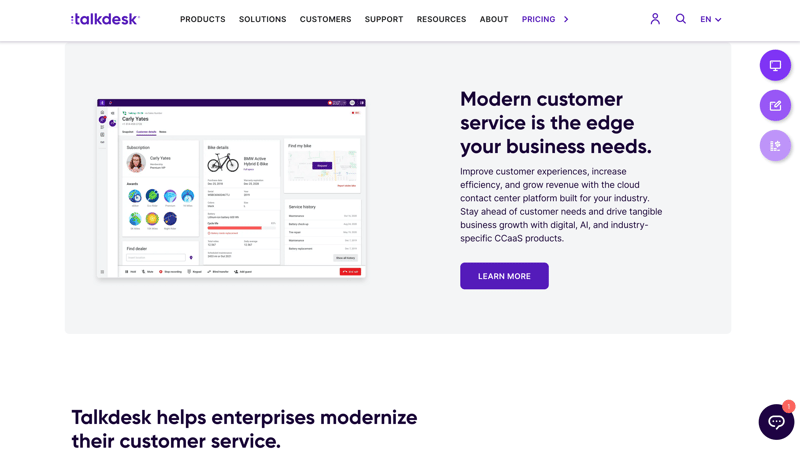 This software is known for its robust capabilities and user-centric approach. It provides a smooth experience for customers and agents, with features that every call center requires.
Talkdesk's key features include:
Integrations with popular business tools
Advanced analytics
Intelligent call routing
For companies seeking a cloud contact center provider that prioritizes customer satisfaction and agent efficiency, Talkdesk becomes a considerable choice.
Five9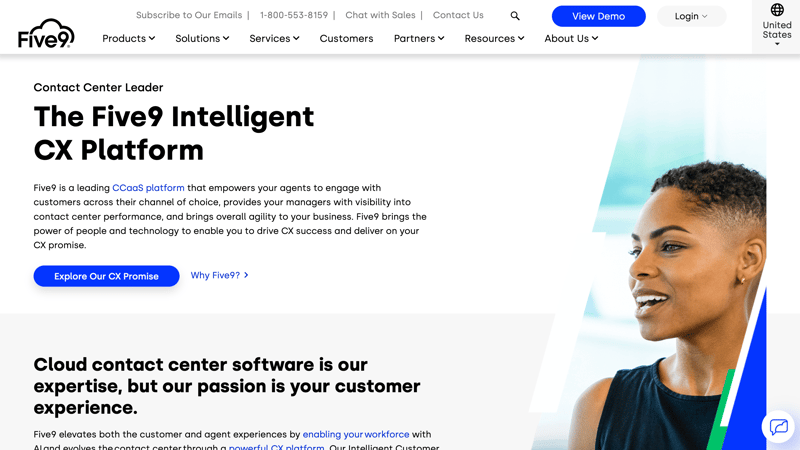 Five9 distinguishes itself with its advanced analytics and reporting capabilities. This solution is an excellent fit for data-driven organizations aiming to optimize their call center performance.
All the insights needed to make informed decisions and improve customer interactions can be found within Five9's dashboard.
The platform includes features such as:
Speech analytics
Advanced analytics and reporting
Predictive dialing
While Five's comprehensive features and emphasis on analytics sound fantastic, it may need to be more robust to compete with our in-depth reporting tools.
Another thing to consider is that Five9's pricing structure would predominantly suit larger and established companies making it an enterprise cloud call center solution.
8x8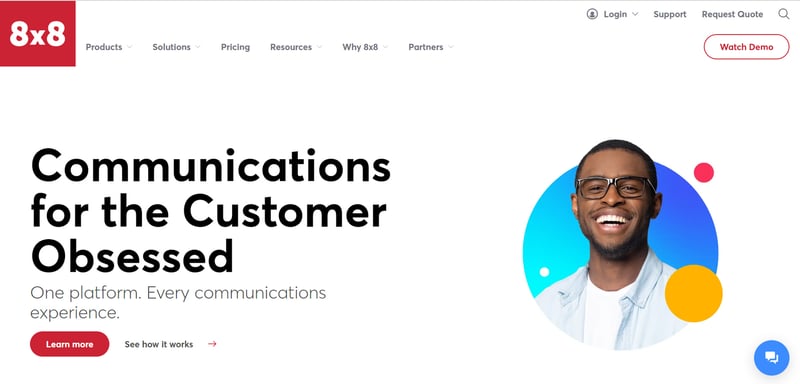 This platform offers various communications tools extending beyond call center functionality. Much like Ringy, it's an excellent choice for companies looking for an integrated solution for voice, chat, and contact center capabilities.
While less specialized than Ringy in certain aspects, 8x8's versatility makes it a strong contender for organizations seeking to consolidate their communication technologies.
Some key features of 8x8 include but are not limited to:
Automated call distribution
Call recording
Automated call attendant
For companies aiming to streamline their communication and collaboration efforts across various channels, the 8x8 cloud contact provider offers a complete solution.
Cloud Contact Center Providers - Final Thoughts
Cloud contact center providers have risen as the guiding stars for businesses, illuminating the path to fantastic customer interactions. Throughout this article, we've dove into the transformative power of the best cloud-based call center solutions and explored the benefits, versatility, and API magic.
As we draw the curtains on this journey, it's time to showcase the ultimate all-in-one solution that stands out among the stars—Ringy.
Don't let your customer service lag behind the competition.
Request a demo today and allow Ringy to be the platform that boosts your customer service to unprecedented heights.