Keeping track of your business's contacts is easier than most people make it seem.
After all, all you have to do is input their contact information on a spreadsheet and do a quick search to extract their data, right?
Nope. Not really.
Not only do you lose out on deals because you spoke to the right customer at the wrong time in their decision-making process, but you also miss out on critical information from their previous conversations with other sales team members.
And the statistics prove it – 42% of sales reps say they don't have enough information before calling a prospect.
Or in other words, you're missing out on nearly half of your closing opportunities because your sales reps had to wing it.
But don't fret; we've got you covered.
Read on to discover the best contact management software and improve your sales funnel efficiency.
What Are Contact Management Tools?
Contact management tools refer to software that enables you to store your prospects', leads', and customers' contact information in an accessible, centralized database. Accessing all your contacts in one place helps your sales team stay on top of comms (past and present) and improve the customer experience.
Customer relationship management (CRM) software has contact management features to help you save information, including your prospects':
Name
Email address
Social media handles
Communication status with your business
Sales history
It's easy to confuse CRMs and contact management tools as they often have similar features and involve storing data around interactions with sales prospects.
Here are some factors that differentiate sales contact management software and CRMs.
Contact Management Tools

CRMs

Primary feature

Manage relationships with customers

Key function

Empower you to save your contact information in a central location

Seamlessly integrate lead management and tracking communications

Solutions

Help you organize and search for contacts easily

Organize and find contacts
Create automated email campaigns, and detailed reporting of customer interactions
We can say that all CRMs are contact management tools, but not all contact management tools are CRMs.
Now here's a simple use case to help us explain how they help salespeople:
Let's say you're following up with your leads.
And as you probably heard on the grapevine, 80% of prospects don't say "yes" until the fifth sales call, yet a stunning 92% of sales reps lose the will to keep going after four "no's."
So what should you do?
Rush to hit five sales calls per prospect and watch the commission roll in?
No, mindlessly calling your leads won't guarantee a closed deal. That's not what the research is telling us.
Otherwise, we'd all keep calling to get that "yes," and unqualified leads wouldn't be a thing.
You need to follow up five times at the right times with the right message on the right channel.
And this is where CRMs and contact management tools really help you get the job done.
You'll be able to effortlessly:
Enter and record key customer data
Avoid duplicate entries
Schedule call reminders and link them to previous interactions
Record sales call for later usage
Send personalized emails
Run automated drip campaigns based on insights and interactions
In short, armed with CRMs and the best contact management software, you'll be able to build a sales process that gently nudges your prospects down the customer journey and convinces them to say, "yes! I'll take that!"
Main Benefits of Sales Contact Management Software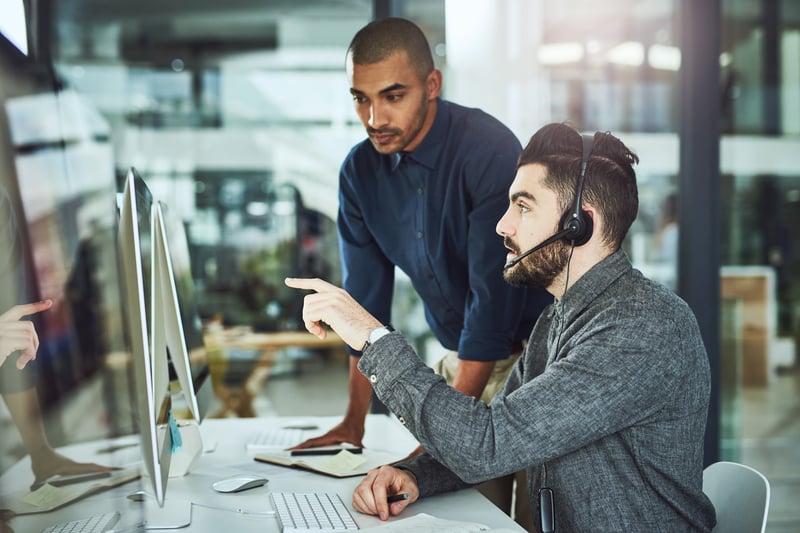 Eliminating errors from duplicate entries
Duplicate data can harm your business because it doesn't enable you to track communications with your prospects effectively.
If you have a duplicate entry, a sales team member can reach out to that prospect and set themselves up for failure because they relied on redundant information.
71% of sales reps say they spend too much time on data entry. Imagine the additional time that goes into cleaning data to ensure it is meaningful.
Yes, you have spreadsheet formulas to address duplicate data. But it takes ages, and it isn't something your average Excel user wants to spend their time on. It's just not efficient.
We haven't even considered that you can accidentally delete important information while cleaning the data manually.
And while the undo function isn't always there to save you, you can rest assured a sales contact management software will be there to stop you from tripping over errors due to duplicate or incorrect entries.
Two more things about the best contact management software:
You can look forward to more advanced segmenting features that'll empower you to fine-tune your outreach campaigns.
You can say goodbye to manual data entry – automation sequences and handy shortcuts will finally be on your side, enabling you to quickly save all the details you need.
Drive SMS campaigns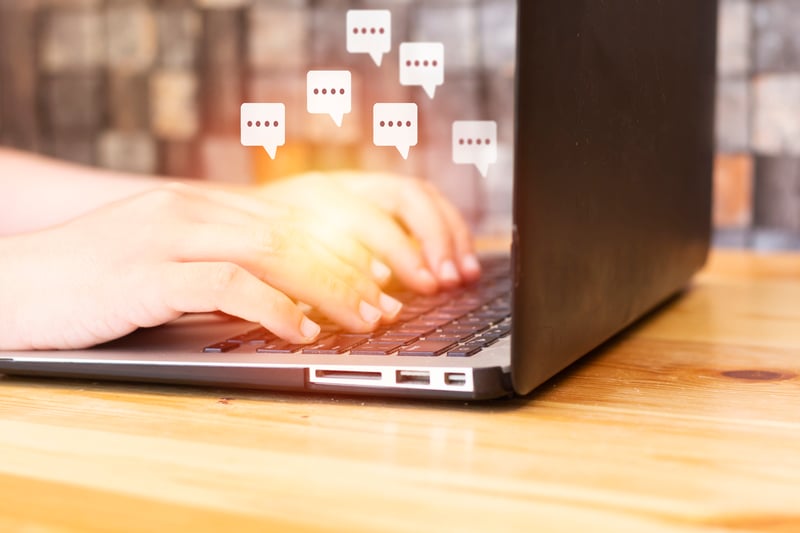 Compared to the 20% open rate of email campaigns, the average open rate for an SMS campaign can reach up to 98%.
Wow, right?
Well, wait until we tell you that SMS campaigns are also very affordable and increase customer engagement by 6 to 8 times!
But what does this have to do with contact management software?
Simple: a reliable contact management tool is one of the most important tools for maximizing the results of an SMS campaign.
Alongside the right messaging and powerful marketing automation.
A sales contact management software helps you send texts to as many prospects as possible and frees you from having to bother about errors like:
Typos
Incorrect contact details
Forgetting to send the message at the right moment
Plus, setting up your SMS campaign will only take a few clicks – talk about a win, win situation.
Pro tip: set up seasonal texts and welcome messages to help set the tone for future communications with contacts at the beginning of the sales funnel.
Access all your contacts from a central dashboard
Being able to access all of your prospects' contact information enables you to extract valuable insights that can help you fine-tune and optimize your marketing strategy.
Pretty important, right?
And that's why the best contact management software provides you with a central database where you can track and monitor contacts' data.
Just open it, perform a quick search, and you'll have the right information on your screen.
P.S. Some contact management software (like ours) also acts as an all-in-one call center – perfect for helping sales reps connect with prospects faster to make and close more deals.
Track your customer interactions across all channels
It's 2022, and you're bound to end up interacting with prospects across several channels. It's an inevitable fact of life. Be it a phone call, an SMS, a Facebook message, or an email.
So what are you going to do?
Force your prospects to only communicate on one channel?
Use multiple channels and go crazy managing the multiple platforms that don't communicate with each other?
Invest in contact management tools with omnichannel communication and data collection?
The third one.
Contact Management Software Selection Criteria
Now that you're aware of the key benefits of excellent contact management tools, let's move on to reviewing the factors we used when creating our shortlist of the five best small business contact management software.
For a quick preview, we'll be looking at:
Pricing
Features
Usability
Integration
Customer Support
Pricing
CPA and ROI rule the sales world; hence, value for your money is essential.
Several contact management tools charge different terms based on their features. Some have a pay-as-you-go plan. This plan's pricing depends on the number of contacts or users.
The most typical pricing types are per user and subscription packages, where the former's fees increase with the number of your sales reps that have access to the platform.
The subscription package is similar to your Netflix or Apple Music plan. You pay a fixed fee for a month or year for a particular bundle of benefits. Usually, you can get yearly subscriptions at discounted prices.
The best contact management software for small businesses pays for itself.
With agile solutions that enable you to track your communications and close sales faster, you get ROI and avoid the loophole of using all your profit to maintain your technology.
Features
Keep in mind that sales contact management software should help you organize your contacts' data intuitively, sync your contact information across accounts and devices, be accessible for desktop and mobile, and segment data to provide meaningful information.
With the right functionality, you can easily address your needs and generate more revenue.
While you want to avoid feature overload, you should ensure that the necessary ones are available to prevent costly mistakes, such as chasing leads with incorrect contact details and reaching out to too many prospects without proper scheduling.
That's not to say that you shouldn't splurge for more features if you have the budget and the business need.
Extra features, like an AI assistant that updates contact information in real-time, might be exactly what you need if you have a large team of agents notorious for forgetting to update your customer log.
Usability
Imagine this:

You subscribe to the contact management software of your dreams with the right pricing and perfect features, but then after unwrapping it, like the present you've been waiting all year for, you get a massive plot twist.
Using it is impossible. You have no idea where to start, and the learning center is full of articles written in pure gibberish. Oh no!
To avoid this scenario, always pick user-friendly sales contact management software.
It'll increase your sales team's productivity because you don't have to waste ages understanding the software and teaching them how to use it.
For example, having an easy-to-navigate dashboard helps you stay organized. With elements such as your contacts' names, tags, call history, and events clearly outlined, a single click is all it takes to perform essential actions like calling a prospect.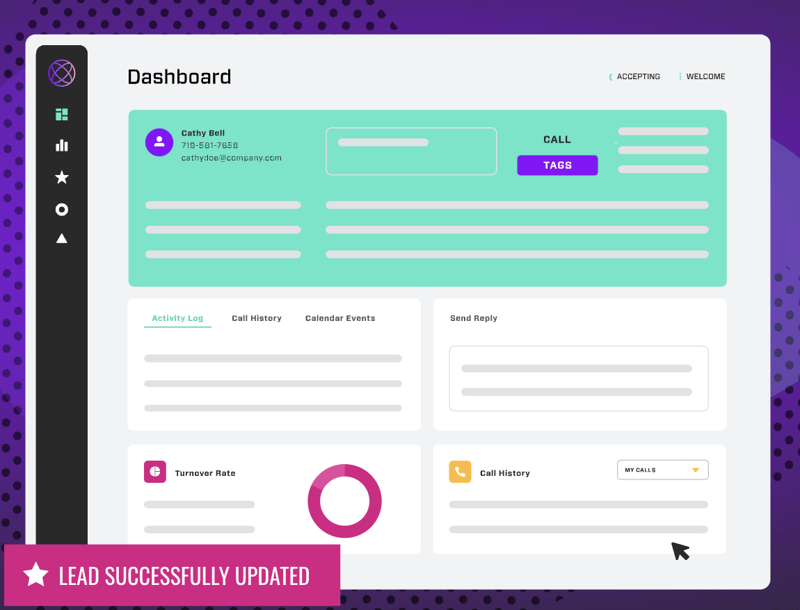 But don't confuse user-friendliness with not having to take the tutorial – all software involves a learning curve. You just have to look for the best small business contact management software that makes this learning curve as gentle and seamless as possible.
Integration
Good contact management tools have several out-of-the-box integrations, so you can plug and play without having to worry about custom development.
One of the most important is Zapier.
It allows you, as an end-user, to integrate over 5,000 apps (including Ringy) and create automated workflows across your tools.
And while you're reviewing a contact management software's integrations, make sure to take a moment and double-check that the company offers both Android and iOS mobile apps.
They allow you to access your contacts' data when you are away from your desk, a key aspect in today's flexible working environment.
Customer Support
We'll admit it – issues happen even to the best contact management software.
And sometimes, the only way to resolve this is to get in touch with a customer support representative and ask some difficult questions.
You, of course, want to speak to a friendly and reliable agent that'll dedicate the necessary time to getting your sales contact management software firing on all cylinders.
You know, so you can get back to doing what you do best — hitting your quotas.
The Best Contact Management Software: Our Top Five Picks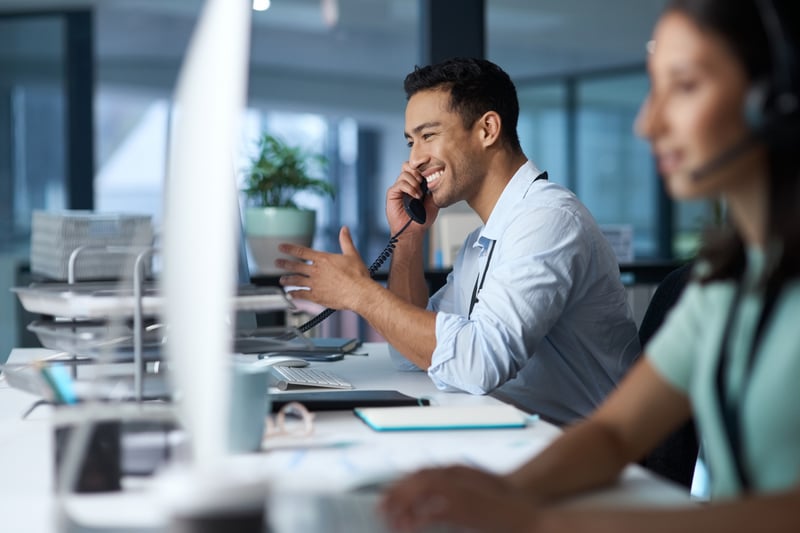 Let's take a breather here.
We've covered:
The definition of contact management tools
What you can gain from using sales contact management software
The factors to consider when choosing the best contact management software
Use the links above to jump back for a refresher, but do that now because we're about to get into the juiciest part of this article… the reviews!
Here's a short sneak-peek against our number one criteria before we get into the details:
| | |
| --- | --- |
| Sales contact management software | Monthly Pricing |
| Ringy | $99 |
| Pipedrive | $11.90 - $74.90 per user |
| Nutshell | $16 - $42 per user |
| Freshworks | Free - $15 - $69 per user |
| Contacts+ | Free - $9.99 per user per month |
Ringy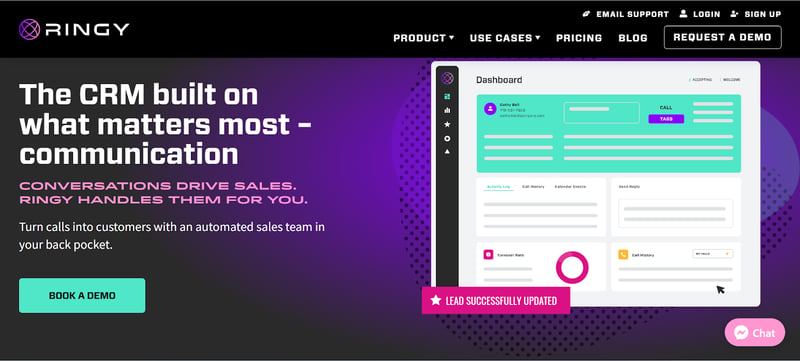 Yes, our very own solution!
Others might hesitate to promote themselves, but we don't share this problem. After all, we aren't really promoting – we're just spreading the good news about how Ringy can help salespeople succeed and smash their quotas.
So here's our one-liner:
With Ringy, you can expect top-notch features at a cheap monthly subscription without ever feeling overwhelmed or overcharged.
While we'll hold ourselves back from bragging about our unique features, let's refocus on the main topic – contact management.
Ringy enables you to access your entire contacts' database on one centralized platform without having to switch through numerous tabs, so you can efficiently find the information you need to make better sales calls.
With up-to-date information on your progress with a lead, you can know exactly where you are in your sales process and can send appropriate follow-up emails or place timely calls.
Here's a bit more of what you can expect:
Automated contact data entry for your emails and SMS, so you can spend your time on more valuable tasks like developing your sales pitch ideas
A complete picture of your leads' previous communications, responses, and notes, eliminating the chaos of frantically searching for records that can cost you sales
Understand your contacts better by grouping them into segments to facilitate a more personalized approach to communications, yielding better results
From real-time updates to complete customer visibility and intuitive lead generation that enable you to eliminate errors; we've got you covered.
Cost: $99 per user per month (as of June 2022)
Pipedrive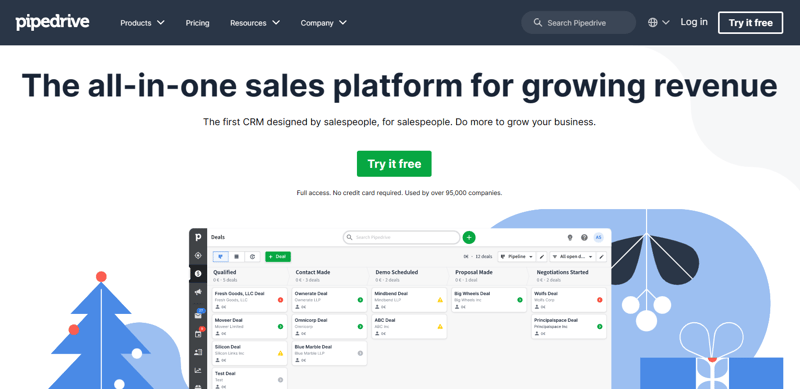 Coming in second place because of its user-friendliness is Pipedrive.
Because of just how ridiculously easy it is to use, we couldn't overlook it for our list of the best small business contact management software.
Pipedrive also has impressive email and communication tracking features that automatically link your sales conversations to your deals and contacts.
On the flip side, you need a workaround to separate leads from contacts, and its automation features could be better.
All in all, it's an excellent choice if you are new to contact management tools.
Cost: $11.90 - $74.90 per user per month (as of June 2022)
Nutshell
Few come close to Nutshell when it involves ease of importing data.
Whether you have contact data on your phone, another CRM, Google contacts, or even mundane spreadsheets, their support team offers you free assistance to import your data so you can hit the ground running from the first day.
We also like the fact that their main interface isn't cluttered, making it easy to navigate, sort, and update contacts. You can also customize your dashboard and add new fields based on the key metrics you want to track.
In three words, a solid choice.
Cost: $16 - $42 per user per month (as of June 2022)
Freshworks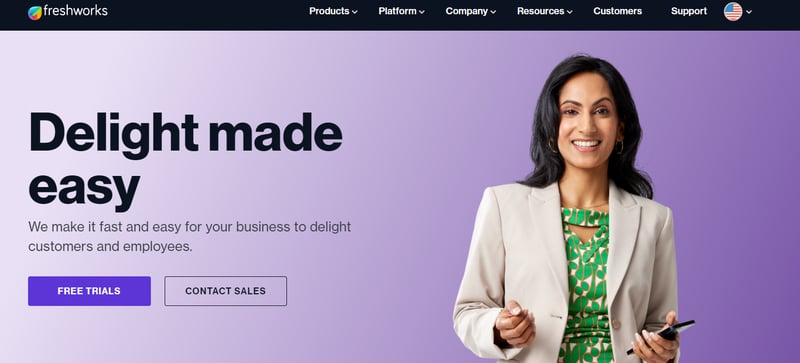 With Freshworks, you can rank and prioritize your prospects based on their profile and engagement level. You can also schedule appointments, delegate tasks, and save notes with documents to facilitate team collaboration.
But the best thing is that Freshworks lets you personalize your sales pitches with insights gained from tracking your contacts' buying information, helping you improve conversion rates and close more deals.
More of what Freshworks has to offer includes:
Converting emails to contacts for convenient follow-up
Using AI-based contact scoring to prioritize your prospects
Set up an internal alert to notify you when your leads have performed specific actions
Cost: $15 - $69 per user per month(as of June 2022)
Contacts+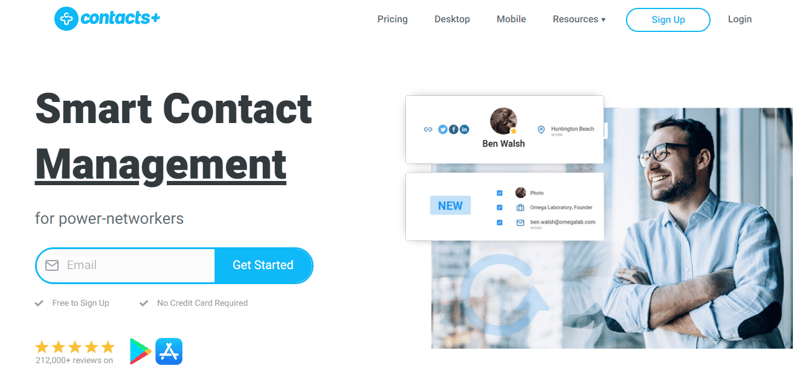 Contacts+ solely focuses on helping you manage your contacts better without offering any extra CRM features like automated data entry and detailed communication tracking.
This means Contacts+ is mainly for power networkers that want to sync their contacts in a centralized address book that they can access over multiple devices.
You can opt for the free plan, but that means missing out on premium features such as:
Managing up to 25,000 contacts
Business card AI for more straightforward introductions
Email signature extraction
Contacts+ is a good choice if you're only looking to gather and share contact details.
Cost: $9.99 per user per month (as of June 2022)
FAQs
"What is CRM contact management?"
CRM contact management combines two elements – a CRM (customer relationship management) and contact management – in a single platform. Nowadays, the majority of CRMs offer advanced contact management features and allow users to record contact details, automate data entry, and effortlessly track interactions.
This tool empowers sales agents to improve their sales numbers and offer a better experience for prospects and customers.
"What is the best CRM for a small business?"
We're going to say Ringy. And no, not only because it's our CRM… actually that has almost nothing to do with it.
We're saying Ringy because our platform offers a wealth of advanced features (just see the screenshot below) for an affordable, fixed price of $99 per month.

You'll be hard-pressed to find a better deal anywhere.
"Does Google have a CRM tool or contact management software?"
No, Google doesn't offer its own CRM contact management tool. However, aware of the fact that many salespeople use Google products on a daily basis, many top CRMs and contact management tools have developed solid integrations with Google. For example, Ringy easily connects with your Google calendar to make sure you never miss a sales call again.
Time To Turn Your Contact List Into a Goldmine
Still thinking about managing your contacts with spreadsheets?
Yeah, we thought so too.
And how could you go back to spreadsheets after seeing the wonders that contact management software can help you achieve?
The best contact management software does more than manage your contacts. It helps you hack your contacts' list, maximizing the amount of information you have at your fingertips and helping you close more sales.
Ringy is the best choice for you to enhance your contact management and drive your sales campaigns efficiently.
Book a demo today and make managing your contacts a piece of cake.