Communication is the key to success.
At least my therapist says so.
Seriously, communicating with your customers, prospects, and the team is crucial in every business and bad communication is absolutely destructive. Think missed deadlines, missed opportunities, missed meetings, and just looking and feeling unprofessional in general.
It's a nightmare. And it's all because nobody opened that email. No one picked up that call.
But hang on, bear with us, because there's a super simple solution.
Did you think VoIP was just for phone calls? We're happy to tell you that you're wrong.
VoIP text messaging is the latest and greatest method of contacting anybody your business needs to contact. And the benefits go on and on.
Communication drives every business in the market and making sure it's clear, concise, convenient, and efficient is a must as it smooths your processes and improves your sales. VoIP with SMS does all of this with its hands tied behind its back and in the end, is going to cost you less and do more for your company.
Wanna learn more? Grab a coffee, sit down, and let us tell you all about it.
What's VoIP Texting Anyway?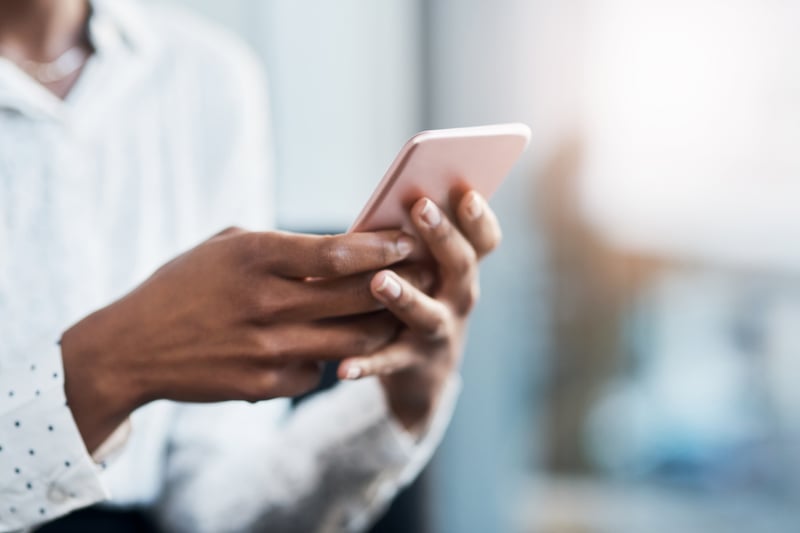 What is VoIP? You've probably heard of VoIP (Voice-over-Internet Protocol) before.
You've probably heard that it lets you make calls over the internet rather than having a phone plan. VoIP gives you virtual extensions instead of physical phone lines, service hosted in the cloud instead of bulky hardware on-site, the ability to add new users on the fly instead of having to go through the pain of adding new phone lines…
We could go on.
But a lot of people don't know that their nifty VoIP system can send texts, too.
VoIP text messaging works the same as VoIP calls: a service assigned to a user rather than a device. That user can then use their computer (or app) to send messages to cellphones over the internet.
Sure, VoIP texting still has all the same features as a traditional phone service - sending a message, sending messages to large groups, etc.
But it can do so much more than its older brother.
With VoIP texting you can:
Use existing phone numbers or create new ones
Create text-to-join keywords
Send text-blasts to your customers or employees
Have one-on-one conversations with your customers
Create automated drip campaigns
Easily integrate it with other software
That last one? Think about managing your phone system in the same place as you manage the rest of your business. A dashboard where you can see all your processes at once - calls, texts, calendars, reminders, quotas, and employee information. All tucked neatly into your CRM.
So why text? You might be thinking you can get most of your work done with calls, so why bother to text, right? Then there are emails! You always have old reliable email.
Well, we've got some news for you - texts have an open rate of 98%. You pick up calls from your own mother less often.
Here are two more insane stats for you:
61% of millennials believe that texting is the best way to get in touch with a business or brand
Texts have a response time of 90 seconds compared to email's 90 minutes
That email stat is abysmal and can you really say you don't relate? You nearly feel compelled to read and respond to each and every text within minutes.
VoIP texting is great because it gets your message seen and heard. Whether it's within your business, blasted to a huge audience, or sent to a specific, single customer, texts are read and responded to at dizzying rates.
What You Can Expect From SMS Over VoIP
Wondering what some of the benefits are of VoIP SMS in a normal work scenario?
Allow us to demonstrate how a group meeting would go with your new, integrated VoIP text messaging system:
You set up specialized automated meeting texts
Everyone in attendance gets a reminder the day before
Everyone gets another reminder thirty minutes before
Everyone actually attends
Everyone gets a follow-up message after the meeting's over, helping information retention. Because everybody forgets things, don't they?
Your meeting attendees can also shoot out an SMS right when the meeting's over to leave you with their own thoughts or some well-intentioned feedback.
VoIP SMS can streamline the entire process, increasing the efficiency and attendance rate of every meeting you hold. Plus, if someone can't make it, they can quickly send you a one-on-one message and not kill momentum for the rest of the team.
Emails used to do a lot of this, but let's face it, they just aren't as fast or engaging. People can even actively see they have an email and mentally toss it aside for later.
Let's take a moment to compare email to VoIP texting. The difference should be readily apparent:
| | | |
| --- | --- | --- |
| | Email | VoIP Texting |
| Response time: | 90 minutes | 90 seconds |
| Ease of reading: | Lengthy, formal | Personalized, engaging |
| Response rate: | 6% | |
Did you see that response rate? Personally, we would much rather have a 45% chance of a customer responding to a message than a 6% chance.
Integrating VoIP texting into your business is crucial in this day and age and one of the easiest ways to do this is to grab a CRM with text messaging. You'll get all the benefits that a CRM provides (automation, scheduling, digitizing records, etc) with the bonus of VoIP texting and calling.
Which means no phone plans for your business.
With almost no initial investment and a great monthly fee, a CRM with VoIP is an amazing way to improve your business. Better communication and better processes = better customer and employee experience = more chances for conversions and retention = more revenue.
Top 7 Reasons To Adopt VoIP Text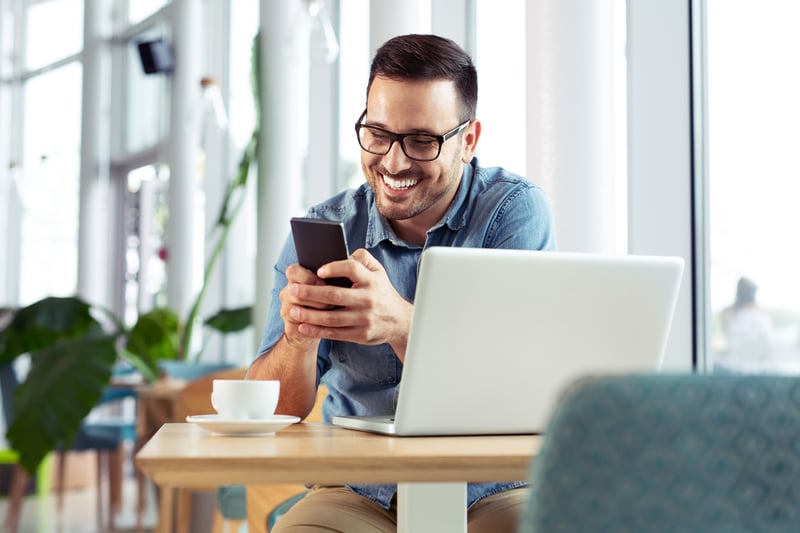 VoIP SMS is a ridiculously convenient service.
But you already know that, so let's get more specific and list some solid reasons you should try out VoIP SMS today:
Automation
Cost
Streamlined and concise
SMS is casual
Texts are a high priority
Lightning fast
Mind-blowing ROI
Yes, today. What's stopping you? It's simple, straightforward, and we even have a guide on online texting for an in-depth look at everything you need to know.
But let's get on to the list.
1. Automation
Automation may just be the single greatest weapon in your company's arsenal. When you're as busy as you are, you need processes to carry themselves along for you.
And VoIP texts are the kings of automation. Here are just a few examples of the things you can automate with VoIP SMS:
Appointment reminders
Appointment confirmations
Billing reminders
Customer service and customer communication
Drip campaigns
Easy-to-program automation is absolutely killer. Drip campaigns can be scheduled days, weeks, or even months in advance. You can even personalize your automation by demographic - certain ages, careers, and even nationalities are more likely to see a message if it's delivered at a certain time in a certain way.
So if your demographic is us, you could send out sales texts at 1:00 AM. Because we're all nocturnal goblins.
Note: We are not actually your demographic. Don't send us sales texts at 1:00 AM.
Looking for more info on automation? Check out our ultimate guide to sales automation.
2. Cost
Cost efficiency is a major factor in using VoIP.
Sure, VoIP services will have a subscription cost, but the price is usually much lower than a traditional cell phone plan. Especially once you factor in the volume of messages your company will send out. 10 messages…100 messages…how about 1000 or 2000?
Per message, VoIP SMS prices can't be beaten.
| | |
| --- | --- |
| Traditional Phone Plan | Ringy CRM with VoIP |
| $50 - $70 per month | $99 per month |
| $50 - $200 per line installed / $580 on average for each cell phone | No extra hardware or installation |
| "Unlimited" texting | 1000 texts per month included for outbound use, then $0.01 per outbound text message |
| All separate charges and bills | In-office, mobile, and data in one |
Do you see those quotations around "unlimited"? That's because a whole lot of popular phone plans put caps on how many texts you can send at once. Some companies outright block any text blast with over 100 contacts, and some restrict you to as little as 50.
Streamlined and Concise
"Hello, Liz,
How's your week been?
I'm just following up regarding the upcoming presentation to the…"
Did you just nod off? Do you sometimes wish people would just get to the point?
People are busy and texts are straight to the point. Formalities are usually tossed aside in favor of a quick "yes" or "no", which is impossible to do through emails and phone calls. It isn't at all odd or stilted to get a text that just says "meeting in 10" or "video conference until 12 - do not disturb" without greetings, pleasantries, and signatures.
This makes your processes run faster and more smoothly. You have more time for actual work and so does your team. Text marketing is the same - short and snappy. If you have a long message, save it for an email.
Plus, in 2021, it's just the way things are to be relatable, human, and semi-formal at best. This actually leads to the next point.
SMS is Casual - And Casual Is The Future
Boomers are going to have to face the facts: the future is super casual.
Increasingly, messages, articles, blog posts, and announcements are made in an informal tone. You're reading one right now! They're just more relatable and engaging.
And texting is relaxed, friendly, and unpretentious. Do you have a conversation without emoji, GIFs, stickers, and slang?
Even in a slightly more formal situation, people are starting to throw bits of casual speech in there. Like a winky face. 😉
Texting encourages this kind of communication and makes people feel comfortable. Customers and employees alike are more likely to engage with something that feels friendly. 65% of customers say they prefer a casual tone over a formal one.
It puts people at ease and makes a great impression. In many ways, being overly formal creates an invisible wall between you and the listener.
And in our experience, it's hard to talk through a wall.
Texts Are High Priority
60% of customers read texts within 1-5 minutes of receiving them. It's crazy, but texts are that high priority. Remember when we mentioned that it takes about 90 seconds for a text to be answered, but an email takes on average 90 minutes to be answered? Emails and calls are considered a lower priority by most people in this day and age.
We can't even help it - it's automatic. You see an email in your inbox and immediately schedule yourself to respond after lunch…or maybe tomorrow.
But you see a text and suddenly you're already writing a response.
It's hardwired into us to react to text messages immediately like the person is standing in front of our desk asking us a question. Because that's what it feels like; a conversation, not a correspondence.
Lightning Fast
Nothing beats how darn fast SMS is.
Whether you're outbound texting or just texting employees, no communication is faster than text. It makes dialogue between team members happen as if they were face-to-face, which speeds up your daily work incredibly.
But when it comes to getting your message to your customers or pitching a new lead - it's gold.
Especially if you have mobile VoIP. Being able to send out prospecting messages and have people get you messages everywhere is invaluable.
Check out this scenario:
Send your sales text
The recipient gets your text
They respond
You respond
You have a new lead
And this all happened as your prospect ate lunch. It's that fast.
Coupled with automation, you could have an automated drip campaign with responses programmed in so your customers are seeing your message, responding, and buying within just a few minutes.
Wow.
Mind-Blowing ROI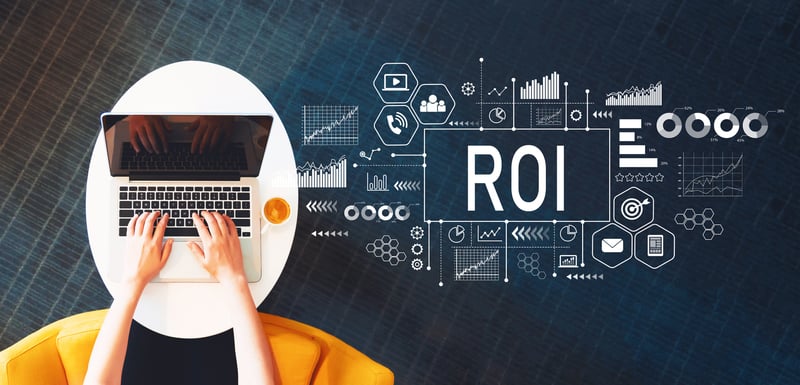 Really, no matter what SMS VoIP could cost you, you're going to have a huge ROI.
Your return will blow your mind with time saved, customer acquisition and lead conversion, integrated all-in-one software (no separate price tag for each bit of tech), low operational costs, no phone lines or PBX boxes…we could go on.
In fact, VoIP can help small businesses reduce startup costs by 90%. And the average savings a business can expect from using VoIP is 50%. Average.
Just the price of the traditional phone plan alone would cover the cost of Ringy, but then factor in your streamlined company processes from VoIP texting that get your work done two or three times as fast…
Factor in successful, fast, and efficient campaigns that acquire new customers and leads…
Factor in long-term customer retention from active, SMS engagement…
Add all that together and you get:
Okay, so maybe that's an exaggeration. Because who uses paper money anymore?
SMS VoIP Best Practices To Get You Rollin'
Here are a few of the best practices in VoIP text messaging to get you on the right track. From shortcodes to data-tracking, learn how the professionals get the most out of their VoIP.
Implement a few of these (or all of them!) and you'll feel like a VoIP SMS expert in no time.
1. Respond in Real-Time
No one wants to be left hanging.
People want a quick response or they will take their business elsewhere. Like waiting in line, if you have to wait too long you're just gonna go.
Making sure your automation is set up for prompt responses is crucial for good customer and client engagement. You want your customers to get a text back within a minute or two after contacting your business.
That's right, a minute or two, not right away. Immediate response is a red flag that people see as an unfeeling bot. But wait a few minutes and suddenly the interaction feels human.
2. Set up a Short Code
A shortcode also called a short number, is a specialized 5 - 6 digit phone number that you send your SMS from. They're easier to remember, easier to type, and, as the name implies, shorter. A typical number is 10 digits long vs. the short code's 5 to 6.
Shortcodes are often considered the quickest, most convenient way for businesses to send and receive SMS. They're great for promotions, alerts, notifications, and multi-factor authentication.
The best part is that they're optimized for marketing - they're individually approved by wireless carriers so your messages won't ever be blocked as spam.
3. Permission, Identification…Legal Stuff
This one definitely isn't optional. Always get permission to text your customers.
Try letting them come to you willingly - an online opt-in form or texting a business-relevant keyword to your shortcode are great options.
You'll also want to make sure to identify yourself clearly. And that's not just a legality thing, you really want the client to know who's contacting them.
Don't forget to provide an easy opt-out. If your services are great, you won't have to worry about anybody using the "unsubscribe" button.
If there are any question marks hanging in the air, be sure to check your local laws and CTIA recommendations before starting your campaign.
4. Be Relatable, Clever, and Personal
Even automated texts should sound human.
Tell us, are you more likely to respond to something catchy, slangy, and conversational or something that sounds like it was written by The Terminator?
You can still be a professional business and sound approachable and friendly. People really appreciate it. 74% of customers are more likely to respond to a text if they think a real person is on the other side of the phone.
Everyone wants a relatable, affable message rather than an all-caps monstrosity sent from the T-1000 telling them to "OPT-IN NOW FOR SAVINGS!"
5. Use Data-driven Strategies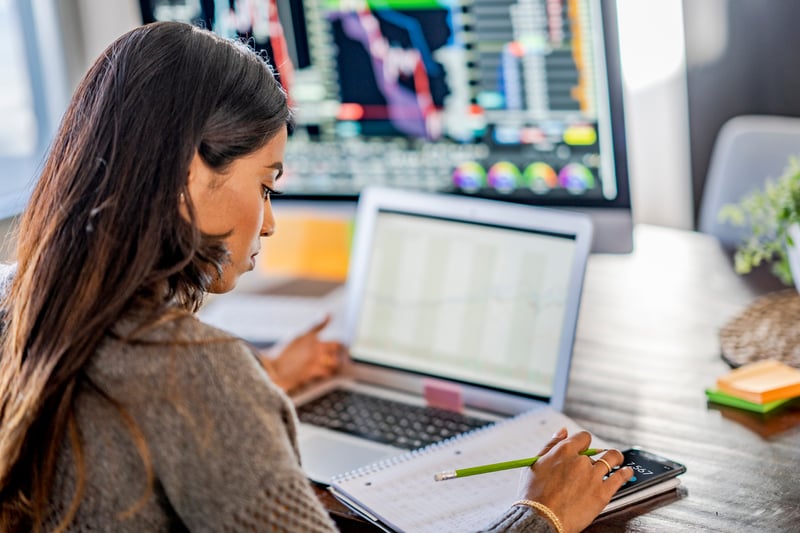 VoIP with SMS will typically have analytics and ways to track what works and what doesn't.
This data will help you determine which of your texts are getting engagement so you don't waste your time on the ones that aren't. You need to be able to monitor how a campaign is going - who's reading, who's responding, who's purchasing - in order to strategize your future processes.
Keeping track of demographics, customer satisfaction, open rates, and more is your key to success. That way you can stay ahead of the game and only send out what will get results.
Don't keep serving what's not being eaten.
VoIP Texting Works! Read all about it!
People are loving VoIP text. If you don't believe us, talk to businesses who've tried it.
Liam S, a licensed Health Coverage Provider, says his favorite feature of Ringy is the text drip campaigns. Being able to set up weeks of drips to prospective buyers helps you stand out massively - and he loves the text drip integration with Calendly to help set up appointments with leads.

Some people think of Ringy as a second personal assistant because of its ability to immediately respond to a lead with text, emails, or both the second they're entered into your system.
Jon S, Satellite Division Leader, attributes his increase in overall sales to his leads receiving immediate attention. Connecting with prospects in real-time with automated text doesn't leave anyone hanging.
They aren't the only ones saying it, either.
86% of small business owners say that texting offers a higher rate of engagement than email marketing. Reminders, scheduling, and automated responses are just a few of the ways companies are streamlining their work and increasing profits with VoIP SMS.
Keeping tabs on current clients with follow-ups is just another thing Ringy customers like about VoIP. Gotta make sure to keep in touch with an old flame and not just the new affair, right?
Frequently Asked Questions (FAQ)
What type of service is VoIP?
Voice over Internet Protocol (VoIP) is tech that lets you make phone calls and send texts over an internet connection instead of a traditional phone line. VoIP has quickly become the primary choice of forward-thinking businesses - and consumers, too.
It's easy to manage, easy to use, and all you need is an internet connection. No phone lines or additional hardware are required.
How do I send a text with a VoIP phone?
Most VoIP providers have an easy-to-use app for your smartphone or a simple computer dashboard where you can write out your messages. Then it's just as quick as typing a message out in a text field and filling in the recipients.
Recipients can range from a single person to long lists of customers, prospects, or team members.
Are there disadvantages to VoIP?
Really, the only disadvantage is that VoIP is entirely dependent on the strength of your current internet connection - meaning poor internet connection can affect your texting and call quality. Lag and latency can happen if your internet isn't up to snuff.
What should I look for in VoIP software?
Some of the top things to look for in VoIP software include:
Cost efficiency
Ease of use
Local caller ID
Auto dialers
And those are just a few of the features a good VoIP software has. An approachable interface, customizable automation, and 24/7 customer support will really get you the most for your money.
For a more in-depth answer, check out our choices for the best VoIP app.
Not in the FAQ? We have a whole guide to SMS text messaging to help answer any other questions you might have.
Summary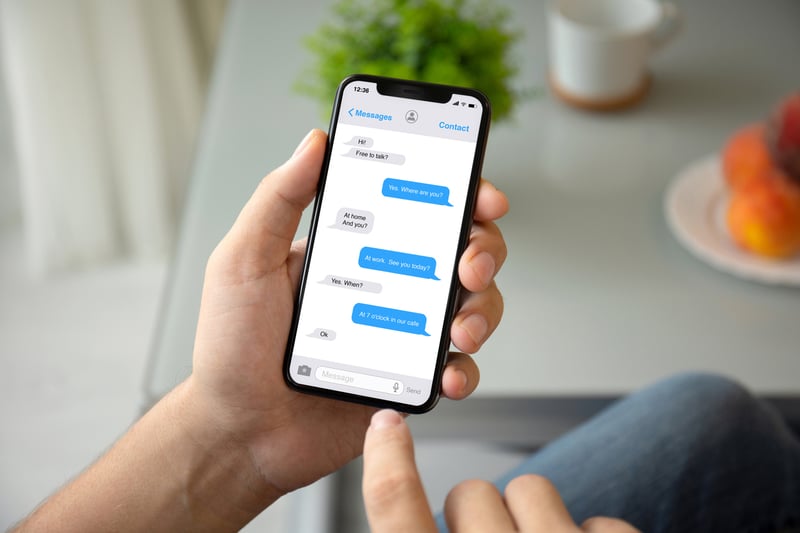 VoIP SMS is a time-saving, money-making service that so many businesses are taking advantage of. And you could be one of them.
Catching new leads with immediate, automated responses, grabbing your customer's attention with opt-ins and easy-to-remember shortcodes, and monitoring your own flock with automated meeting reminders and instant updates are just a few of the ways that VoIP texting can be a huge benefit to your business.
| | |
| --- | --- |
| VoIP Outbound Texting | VoIP Texting Inside Your Business |
| Offers, surveys, and notifications | Meeting attendance higher with reminders |
| | Information retention with automated follow-ups |
| Excellent customer service | Receive updates from employees instantly |
| | |
So try integrating VoIP text messaging into your daily work and see for yourself how amazing it is. Luckily for you, we know of a great CRM that has VoIP texting, calling, and so much more.
Request a demo with Ringy today and experience the convenience and sales power of a good VoIP text service.
Then you can get back to your busy life, but at least your texting can be simple.
One thing in your life can be simple.