You're not still manually pressing all those buttons, are you?
Dialing numbers one by one as you hope to remember your previous interaction with the client isn't exactly the best use of your precious time as a salesperson.
Manual calling is too labor intensive and prone to error. Plus, it's totally unnecessary – we have machines that can do it better than you can.
After manual dialing, using an automatic dialer phone feels like being a Disney princess with a bunch of forest animals that help you do the dirty work ten times faster.
You just have to nail those high-pitch notes.
Literally.
You get to perfect your pitch with all that time you're not inputting info or organizing paperwork.
So now that we've got your attention: what even is an automatic telephone dialer, anyway?
After you.
What Is an Automatic Dialer Phone?
An automatic dialer phone is a tool that turns your manual dialing into a streamlined, automated process. Instead of calling your leads individually, you create a queue where your auto telephone dialer goes through the list for you, often at a set pace, to ensure you maximize your work efficiency and reduce the idle time between calls.
It's an alternative to wasting precious hours sitting at your desk, dialing digit by digit.
As stimulating as that is for your agents.
With auto dialer, you can take those hours back and use them for revenue-increasing activities, like reading up on your leads and creating creative icebreakers.
What Can an Automatic Voice Dialer System Do?
Okay, so we'll give it to you straight: how does having an automatic voice dialer system benefit your business?
Increase dial rates
Go through more numbers by reducing idle time in-between calls.
You don't have to spend your time dialing, then waiting for someone to pick up, then redialing as you flip through your next contact's information.
You also don't need to rush your calls to try and get more done – in fact, please don't. It's not a winning tactic.
Do what the best salespeople do:
Ramp up the quantity by having your auto dialer do that part much better and quicker than you can via power, progressive, and predictive dialers, so you're only connected to customers or leads who pick up the phone.
Use these features when you need to break into new markets, reach new audiences, or just do what you're doing but more efficiently.
Improve efficiency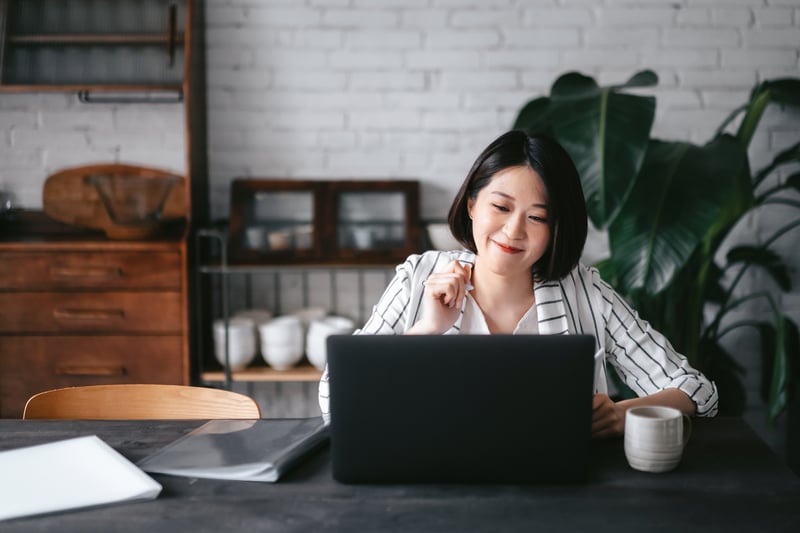 Salespeople spend only 35% of their time selling.
An auto dialer cuts down some of the low-value work time, which takes up the rest of your workday.
Taking it a step further, if your auto dialer phone is part of a CRM system, you'll save even more time you currently spend on emails, meetings, or other repetitive work – AKA the time you spend not selling.
These tedious tasks are more than just boring:
They're wasting your time when you could be on calls with clients, increasing your profit, and scaling your business
They're sucking the life out of your agents, who over time end up sounding robotic and unconvincing to leads – which means they win fewer deals
Ask yourself: are you really productive? Or just busy?
An automatic dialer phone could help you release your sales team from their shackles so they can perform at the top of their game and earn you more money.
Allow supervisor monitoring
Success is measurable with call recording.
You can get intel into what's working and what isn't and use live, in-call coaching to support your reps.
These are important insights to gather on a regular basis to help your sales agents perform at a high level – the best salespeople are 51% more likely to receive training on the clock.
You get to cheer them on, correct them, and celebrate their wins in real time, plus you keep the whole recording for the team to learn from as well.
Reduce negative call results
Just to be clear: a lead saying "no" to your proposal today isn't a negative call result.
As long as you've got their permission to keep in contact, you're doing well - they're bound to say no a couple of times before they agree to meet, engage, or book a demo.
That's just how the game works!
But, you can get more positive results by being more prepared and having the customer history on hand, but also by simply going through more leads.
And if you spend more time finding solutions to your prospects' problems, they'll be more open to hearing what you've got to say, and you'll get closer to winning deals.
Increase conversion rates
When you increase both the quantity and quality of your calls, a higher conversion rate logically follows.
Why wouldn't it?
Your clients are impressed because you're always prepared and ready for them
You call more clients, more often, to hit that famous follow-up quota that yields result
The data you gather during calls and from recordings is learning material for your agents on how to be even more productive and make more sales
You get to create highlight reels of your reps' wins to incentivize them to keep smashing it
The numbers add up.
But how can you be sure that the automatic telephone dialer you pick will give you those results?
Now you're asking the right questions.
Key Features of an Automatic Telephone Dialer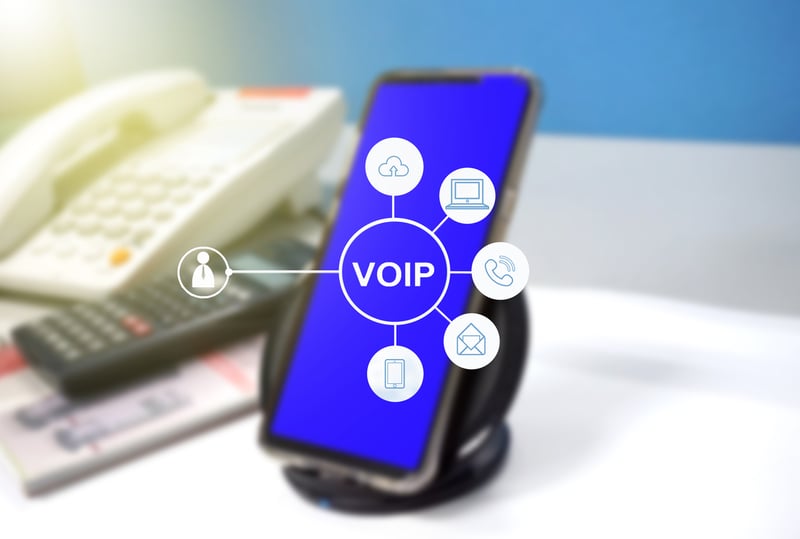 These features make automatic telephone dialers so much better than manual calling and directly boost your sales process:
| | |
| --- | --- |
| Key automatic telephone dialer features | Why you need it |
| 1. CRM software integration | It lets you access your contacts from a database unified between sales, marketing, and service with the entire contact history instead of doing double work and having incomplete information. |
| 2. Dialing modes (progressive, predictive, power dialers) | These dialers let you customize and automate repetitive work, so you can call more leads and prepare better for each conversation |
| 3. Sales coaching tools | Call whispering allows you to monitor reps' calls and coach them in real-time while talking to clients – it gives you insight into their performance and a chance to guide them in the context. |
| 4. Call recording | Ensures you keep track of each interaction with each client and allows you to revisit previous calls and learn from them – spot teachable moments for the team and celebrate their wins. |
| 5. Voicemail detection and pre-recording | Pre-recording allows you to create custom messages to send to clients in case they don't pick up the call and you go to their voicemail. |
Other things to look for include automation levels, mobile access, a contact management system, and pricing.
How about we show you some tremendous automatic dialer phone examples right here?
Top 4 Automatic Dialer Phone Software for Outbound Calling
There are a few different ways to go when it comes to auto dialer telephone software - you can get it as a standalone app or as part of a CRM.
We've included a representative of each category so you can find a tool that matches your description.
Here's a glance before we do a deeper dive:
Automatic dialer phone software

Pricing per month*

Nextiva

Essential: $30.95 per user
Professional: $35.95 per user
Enterprise: $45.95 per user

ChaseData

Small business: $89 per agent
Professional: $139 per agent
Enterprise: $169 per agent

RingCentral

Essentials: $29.99 per user
Standard: $37.99 per user
Premium: $44.99 per user
Ultimate: $59.99 per user

Ringy
*Pricing is accurate as of August 2022.
Nextiva
Nextiva gives you a VoIP package that integrates with many popular CRMs, including Zendesk, Zoho, Hubspot, and Salesforce.
That's a step up from your regular auto telephone dialer.
You can get everything you'd ever want from it, like:
Call recording, routing, and management
Auto-attendant and a greeting message
Quick calling from inside the CRM
Mobile access
Visual voicemail
Reliable service
Plus, instead of having to create and organize a separate calling list for your automatic dialer phone, Nextiva lets you use the ones you already have in your CRM for no double work between sales tools.
You can access Nextiva remotely and keep up the good work no matter where you are – you just need their Professional plan or higher to access the auto dialer features at scale.
Pricing:
Essential: $30.95 per user/month
Professional: $35.95 per user/month
Enterprise: $45.95 per user/month
* Pricing is accurate as of August 2022
ChaseData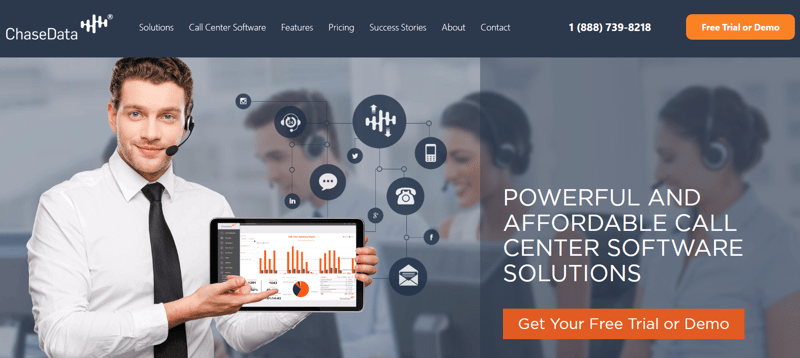 ChaseData is a contact center beast.
They're well-loved for their management and reporting features and advanced calling functionalities.
When it comes to automatic dialer phone features, you've got more than the usual three, especially on the higher price plans:
Predictive dialing
Progressive dialing
Power dialing
Agent availability dialing
Preview dialing
Injection dialing
Agentless dialing
What does it all mean? The bottom line is that you're 100% sure you'll get the system that fits the bill, regardless of your company size or various campaign requirements.
The only downsides of choosing ChaseData are the lack of mobile support and the high prices.
Pricing:
Small business: $89 per agent/month
Professional: $139 per agent/month
Enterprise: $169 per agent/month
* Pricing is accurate as of August 2022.
RingCentral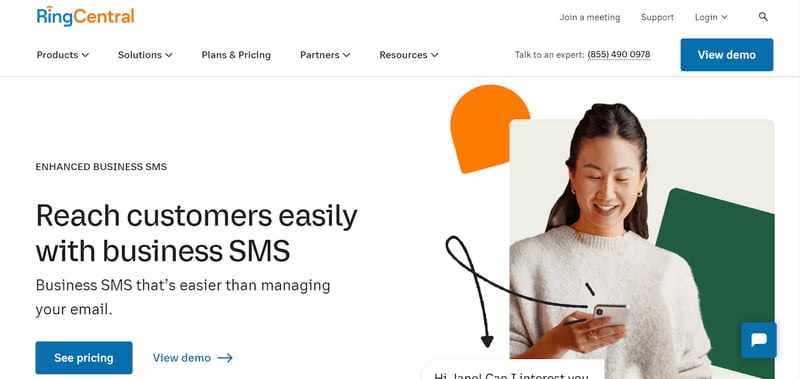 RingCentral is a well-rounded communication platform with cloud VoIP.
It's best for detailed reporting, queue management, and call efficiency monitoring.
Here are some of RingCentral's integral features that earned it a spot on our list:
Call center management
Mobile access
Integrations with Slack, Microsoft 365, Google Workspace, CRMs, and industry-specific software (on more premium plans)
Automatic call recording and coaching features like "barge and whisper"
What's not to like? Well, with a little patience as you get over the initial learning curve, you should be all set with RingCentral.
But if you'd like the advanced auto dialer phone features on a lower price tier, this isn't the tool for you.
Pricing:
Essentials: $29.99 per user/month
Standard: $37.99 per user/month
Premium: $44.99 per user/month
Ultimate: $59.99 per user/month
*Pricing is accurate as of August 2022.
Ringy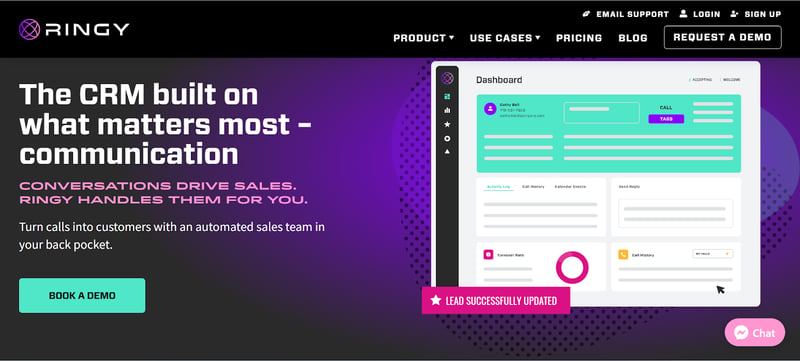 Ringy is a fully-fledged CRM system with a built-in VoIP softphone with automatic dialer phone functionality.
It has your standard power and progressive dialer options, call coaching, and recording, but then the CRM features really kick in:
Easy lead management
Automated email and SMS drip campaigns that nurture your leads
Workflow automation that leaves you more time for high-value work
Remote, mobile access
It's just so much easier when you have everything in the same place.
With Ringy, you don't have to worry about integrations – although it does integrate with Zapier, Facebook, and some popular lead vendors too.
It's the full sales toolkit for a single, affordable subscription.
Pricing: $109/month
*Pricing is accurate as of August 2022.
Work Smarter With an Automatic Voice Dialer System
An automatic dialer phone is one of the rare things on the internet that get widely marketed as "must haves" and actually are all they're cracked up to be.
It's a tool literally every salesperson needs to compete in the modern day.
Without it, you're like Snow White without her helper animals.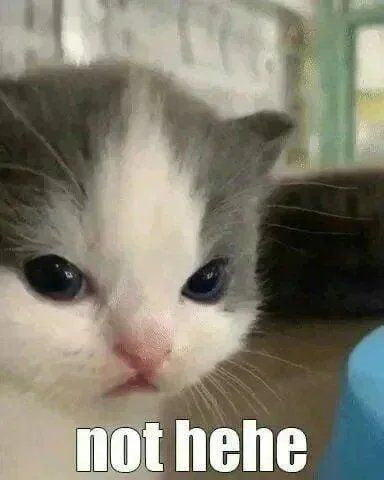 But we know: it's yet another subscription. Wouldn't it be great if you could assemble your various sales tools into one unified system?
Something like… a CRM? It would be great.
Book a demo with Ringy to see how that would work.