Have you heard about cloud VoIP on the grapevine?
Odds are that you have. And not just once.
After all, it's a $30 billion industry that's set to grow an impressive 15% per year until 2025. If we had to describe it with a single phrase, we'd say, "it's a big deal for organizations of all sizes."
But what is it? And why is it so important? And is it right for me?
Great questions. Does this graphic help?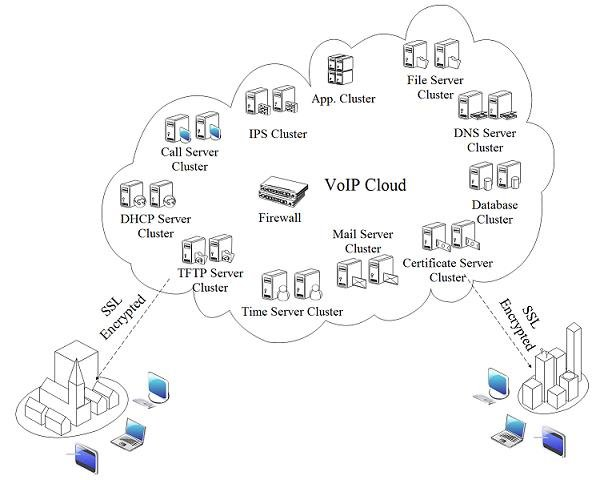 Absolutely not, right?
We thought so. Descriptions of VoIP cloud services are often overly techy and confusing, especially if you don't have any experience with these systems.
Luckily for you, you don't need to understand any of this stuff.
So in the name of simplicity and better comms, we've compiled this guide on cloud VoIP, where you'll learn everything an end-user needs to know (and nothing more).
Before we start, here's a cheeky sneak preview of today's post:
What is cloud VoIP?
Five fun facts about cloud based VoIP
The benefits of a VoIP cloud service
Five handy purchasing tips
The top five service providers
Cloud VoIP FAQs
Let's get going.
What is Cloud VoIP?
To really answer this question, we need to break the expression "cloud VoIP" into two parts.
First, what is the cloud?
Answer: The cloud has nothing to do with the fluffy things in the sky. It's simply a word that refers to software and services that are hosted via a third-party's servers instead of locally. You access these programs via the internet, usually in the form of a web browser.
Second, what is VoIP?
Answer: VoIP (Voice over Internet Protocol) is a technology that allows you to place voice calls over the internet instead of relying on traditional phone lines.
Now, if we bring it together, we can say:
Cloud VoIP (a.k.a. hosted VoIP) is a software solution that enables people to make calls over the internet without owning, hosting, and maintaining any hardware and software.
You can make calls through a VoIP softphone (a software app that lets you dial from any device connected to the internet), a VoIP hardphone (literally a VoIP-enabled phone on your desk), or a combination of the two.
They also come with a wealth of other features that go beyond simply making voice calls, including:
Voicemail
Call forwarding
SMS (including automation)
Caller ID
Video calling
Conference calling
Call analytics
Are you satisfied with our answer?
Yes — move on to the next section; it's going to be a blast.
No — spend five more minutes learning about VoIP here, but promise to rush back.
Five Fun Facts About Cloud Based VoIP
1. VoIP Technology Is a Lot Older Than You Might Think
How old do you think VoIP is?
10? 20? 30?
Guess again, it's actually 48 years old (as of 2021).
Yup, the first one-sided VoIP call was made way back in 1973, and we only had to wait an extra year for the first two-way call to take place in 1974.
Then what took it so long to break into the mainstream?
VoIP had to wait for the internet to catch up.
Those early calls relied on a super-advanced (for the times) US military research network called ARPANET, and that type of technology wasn't available to the public for decades.
VoIP took off when high-speed internet connections became commonplace in the 2000s.
Extra fun fact: the first cloud based VoIP service for businesses was founded in 1995.
2. VoIP Calls Were Once Funded by Intrusive Adverts
Believe it or not, early commercial VoIP calls played ads before, after, and during calls.
For realz, player?
You bet your bottom dollar.
In the 1990s, when commercial VoIP was just getting started, the technology was so expensive that providers needed to use adverts as an alternative source of cash flow.
It was a bit like a 90s version of YouTube. Listen to some ads, make some calls.
But fortunately for us, VoIP calls started falling, and this intrusive business model fell into the only place it deserved, oblivion.
3. There Are Two Types of Cloud Based VoIP Numbers
Did you know that there are two main types of VoIP numbers?
Well, it's true.
We can separate VoIP phone numbers into:
Fixed — linked to a physical address
Non fixed — not linked to a physical address
Non-fixed numbers are more commonly used because they're cheaper, easier to obtain, and more flexible. They used to be less secure, but tech advancements have leveled the playing field.
However, many companies still stick with fixed numbers because they're the best solution for connecting an existing PBX system to VoIP via SIP trunking.
4. You Can't Tell the Difference Between VoIP and Traditional Calls
In the past, people could quickly tell the difference between a traditional copper line and a VoIP-powered connection. VoIP calls were plagued by:
Poor audio quality
Choppy conversations with missing words
Dropped calls
Annoying adverts
But that was because of slow, unstable internet connections — luckily a thing of the past for 99% of businesses.
And that means, nowadays, it's impossible to distinguish between a cloud based VoIP service and a traditional phone line.
What's more, if you're faced with a choppy line today, the culprit is far more likely to be a copper connection as VoIP has surpassed its master in terms of call quality and reliability.
5. You Don't Actually Need a Phone To Make a VoIP Call
We've alluded to this one in our definition of the term "cloud VoIP." Remember?
You probably do because it's worth remembering.
You can make phone calls from your phone using a VoIP softphone that doesn't even remotely utilize your phone's built-in calling capabilities. Mindblowing.
It works because the VoIP softphone is simply an internet-connected app that uses the web to place the call.
This has the added benefit of allowing you to download and use the app on many other devices, including:
Physical VoIP phones
Computers
Smartphones
Tablets
Smart TVs
Smartwatches
Sooner or later, we hope to be adding smart fridges to this list.
The Five Benefits of a VoIP Cloud Service
Alrighty then, enough with the VoIP facts.
We've had our fun, but now it's time to get serious and focus on the business benefits of implementing cloud VoIP.
Let's start by skimming through this ridiculously good infographic from the friendly folks at Fastmetrics: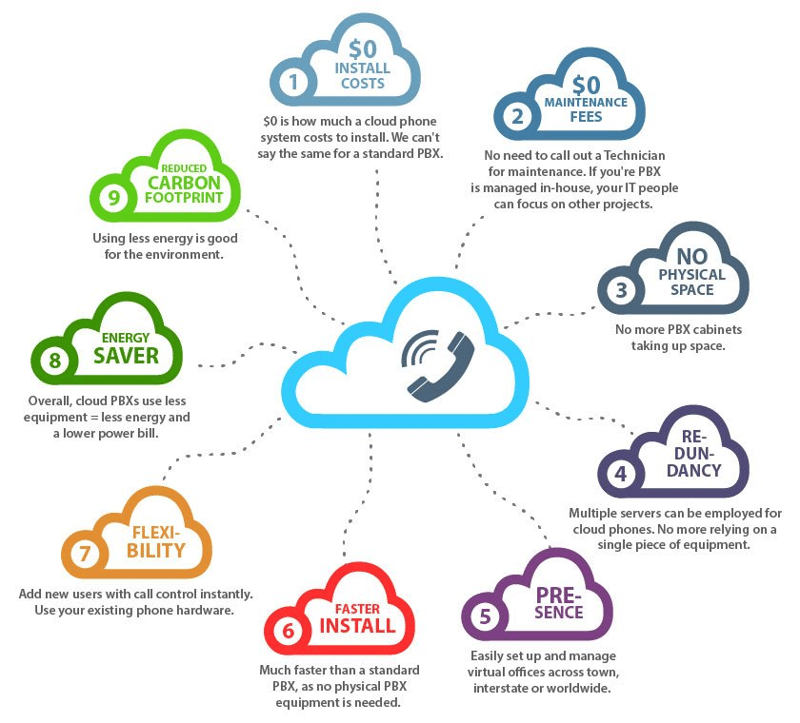 And now let's combine this graphic's key points with our extensive VoIP knowledge in this ultimate summary table of cloud based VoIP's five most important benefits:
Benefit

Why it matters to businesses

Cloud VoIP is budget-friendly

Everybody wants to save money, period.

Tech.co reports that VoIP can save companies up to:

40% on local calls
90% on international calls
90% on start-up costs

It comes with toll-free numbers and inexpensive long-distance calling

Cloud VoIP is simple

Super-fast implementation

The service providers handle maintenance and upgrades

A single platform manages all your business comms

Cloud VoIP is flexible

Be local from anywhere — something that matters to 82% of people who would pay more if it meant buying local

Integrates with your CRM and other business applications

Scaling up or down is a matter of a few clicks

Equips you with a single number for all your devices

Cloud VoIP is reliable

Remote data centers and redundancy ensure your service won't be interrupted by outside factors or natural disasters

Works on all of your devices, so you have a plan B (and C) if your local net is down

Protected by robust security protocols

Cloud VoIP is packed with extra features

VoIP isn't just a phone. It comes with tons of extra features like:

A multi-device cloud VoIP softphone application
Voicemail to email or text
"Find me/follow me" call forwarding
Smart local ID
Conference calls and video calls
SMS and messaging
Auto-attendants and IVRs
Advanced call analytics and logs
Are you convinced by cloud based VoIP yet?
We'll go out on a ledge (not a very small one, of that we're sure) and say yes.
And you know what that means — you're ready to look for cloud VoIP solutions that'll turn these benefits from words into reality.
Here's how you should go about doing it:
Five Tips for Picking the Best Cloud VoIP Service
1. Think Carefully About Pricing, Features, and All-in-One Solutions
Don't fall into this mistake:
It could cost your business much more than you'd be saving on your VoIP provider.
And while price deserves to be one of our biggest concerns, it shouldn't be the only thing swaying our decision. No matter how tight (or wide) our budgets are.
If you go for a premium product, you might overpay for features you don't need, and if you go for a budget product, you might miss out on ones that would simplify your workday.
So rather than taking a price-first approach, we advise you to focus on what really matters — your business process and the VoIP features that would best support them.
This is what we'd do if we were in your shoes:
Review our processes and speak to the end-users
Make a requirements list for the cloud based VoIP solution
Research products that fit both our budget and our requirements list
Make a shortlist of top contenders
Check customer stories
Trial a few providers
Sign up for a service
Give it a go; we promise it'll work.
Pro tip 1: Don't forget about bundles or all-in-one VoIP software that helps lower your costs and reduce billing complexity by combining several programs into one.
2. A Mobile App Is Necessary Regardless of Your Business Type
It's 2021, and people use smartphones all the time.
And no, that's not just a figure of speech.
People literally use them for an incredible 5.4 hours every single day.
And guess what? Like it or not, they'll use them for work and dialing their customers, so you need to get with the times and give your staff a VoIP application they can use on any device.
This will allow them to use VoIP whenever and wherever they desire, saving you on expensive mobile phone bills and making their lives easier.
Pro tip 2: take advantage of "find me/follow me" call forwarding to receive incoming phone calls across all your VoIP-enabled devices.
3. Check (and Upgrade) Your Bandwidth Before Switching to VoIP
VoIP needs high-quality bandwidth, so if you don't have enough, your VoIP system's performance will suffer.
There's no amount of complaining to your service provider that'll fix it.
It's as simple as that.
But what can you do to ensure that'll never be you?
Check for the following things before you sign up for cloud VoIP service:
Your connection is free from too much jitter and latency.
You have two internet circuits, one for VoIP-only traffic and one for everything else.
You have an internet provider that delivers enough upstream bandwidth — a minimum of 180Kbps for voice-only and 1.8Mbps for voice and video together.
Your firewall is not inadvertently slowing you down as it scans for threats.
When you've sorted all four points, you'll be ready for a problem-free VoIP calling experience.
4. Pick a Provider That Offers More Than Just VoIP Calling
Remember all the nifty features we listed a few hundred words back in the VoIP benefits table?
You know, things like:
SMS texting
Automation
Video conferencing
Voicemail
Caller ID
Local numbers
Toll-free numbers
Integrations with other business software
Well, make sure they aren't just theoretical benefits by picking a VoIP provider that empowers your team with all these and more in their package.
But be careful not to overpay for things you don't need — but we're not worried; we've been over this already.
5. Consider Whether or Not You Need Calling Groups
Whether or not I need what?
Calling groups (a.k.a. call groups or ring groups).
It's a call center concept where you route inbound calls into a group of agents that share the same skill, department, or experience to improve customer experience.
For example, you could place all your CRM sales staff in the "CRM sales" group.
Your cloud based VoIP provider would then route any sales calls about CRMs into this predefined calling group to reduce waiting times and the need to transfer them manually.
It looks like this: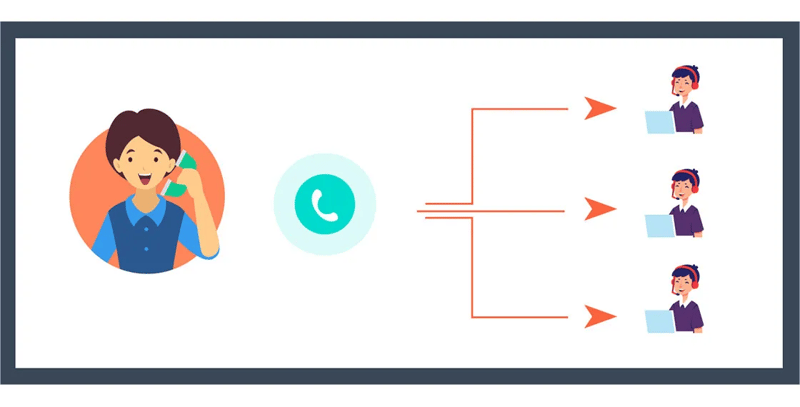 Just look at how happy that customer is!
And that smile is the reason many business call centers utilize this strategy to:
Reduce transfer and resolution times (two of the most significant areas of customer dissatisfaction according to Zendesk)
Maximize agent productivity
Manage call overflow more effectively
It's pretty helpful stuff, but it's not for everyone — double-check you need it before forking over any extra $$ for it!
The Top Five VoIP Cloud Service Providers
Drumroll, please.
🥁🥁🥁🥁🥁🥁🥁🥁🥁🥁🥁🥁🥁🥁🥁🥁🥁🥁🥁🥁🥁🥁🥁🥁🥁🥁🥁🥁🥁🥁🥁🥁
Thank you.
It's time to put the five tips you've just learned to good use and have a look at the best of the best when it comes to cloud VoIP.
VoIP Provider

Monthly Price

(Sep 2021)

Key Features

In one sentence

1. Ringy

(that's us!)

$99

All-in-one software offering the loudest bang for the buck on the market
Reliable and secure VoIP softphone with:

Click-to-dial
Power dialing
SMS functionality
Local ID presence dialing

Built-in sales CRM
Marketing automation, including drip campaigns
Android and iOS mobile applications
Free onboarding (worth $300-$1000)

The best all-in-one cloud VoIP provider for less than $100 a month

2. RingCentral

$29.99 to $59.99 per user

Best suited for larger business
99.999% uptime
Unlimited inbound and outbound calls
Automatic call recording
IVR and skills-based call routing
Predictive, progressive, and preview dialing
Integrated messaging
Unlimited videoconferencing

The leading VoIP solution for medium and large enterprises

3. Nextiva

$25.95 to $65.95 per user

Unlimited calling, text messaging, and faxing
Video, SMS, mobile app, and web collaboration
User-friendly admin panel
Affordably priced
Excellent customer service
Auto-attendant feature
Integrates with leading business software

A user-friendly VoIP platform that cuts costs without cutting features

4. 8x8

$12 to $57 per month

Cheapest service on this list
Comes with a one-month free trial
Unlimited domestic calling, video conferencing, instant messaging with your team, and SMS in the US and Canada
Easy setup
Omnichannel routing
Many integrations with third-party business apps

A powerful, low-cost cloud based VoIP for small businesses and companies with tight budgets

5. Grasshopper

$29 to $89 per month

Inexpensive
Scales without added costs thanks to unlimited extensions on their largest plan
Fast and easy to set up
All the basic features included, like SMS, call forwarding, extensions, transfers, and voicemail
Standalone software with limited integrations
No analytics

A simple cloud based VoIP for small businesses, solo entrepreneurs, and start-ups
We suggest you pop these links open and take a 5-minute look around these five providers' websites while all this handy information is still fresh in your mind.
Five Cloud VoIP FAQs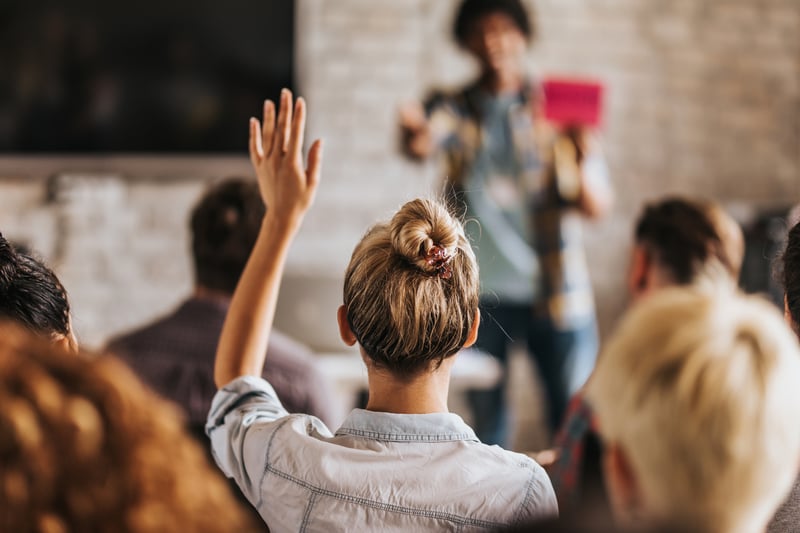 1. Is VoIP a Good Idea?
It's a slam dunk.
Cloud VoIP is a reliable technology that saves you money, improves call quality, and gives your employees the freedom to take calls from anywhere in the world.
What's not to like?
2. What Are the Disadvantages of VoIP?
You got us there with your fast thinking — great way to turn our rhetorical question around.
So let's be fully impartial and share the three things we don't like about VoIP:
No internet = no VoIP (but who doesn't have a decent connection these days?)
Potential security breaches (a risk if you use a poor provider without high-level encryption)
Emergency services can't always pinpoint 911 calls to a location
They don't sound too bad, right?
That's because they're not, and the advantages of VoIP outweigh them a thousand to one.
P.S. Click here to scroll back up to our discussion of the benefits of a cloud based VoIP service if Google has somehow linked you straight to this question.
3. Is Cloud PBX a Type of VoIP?
Yes.
Cloud PBX, or hosted PBX or cloud VoIP, is a type of internet-based phone system, which relies on a third-party service provider to host the PBX (Private Branch Exchange) offsite.
It is the opposite of using an on-premises PBX and connecting to the internet via SIP trunking.
Jump to the next FAQ to find out how it works.
4. How Does Cloud-Based VoIP Work?
We need to get a tiny bit technical to answer this one, but we'll do our best to keep it simple.
Cloud VoIP works by breaking your voice down into data packets, compressing them, and transmitting them via the internet to your VoIP service provider. Here, the packets pass through your provider's cloud-based PBX and get routed to your recipient.
This illustration of a cloud-based VoIP system (remember that cloud = hosted for the intents and purposes of an end-user) should help cement the concept: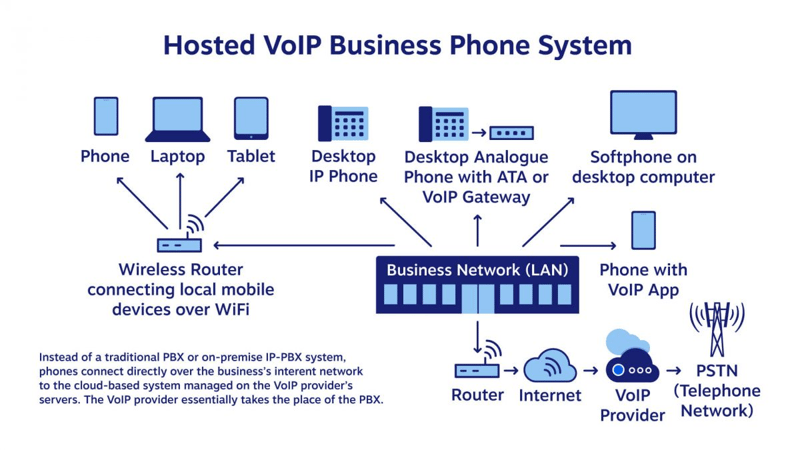 5. Is Cloud VoIP a SaaS?
Yes, absolutely.
Service providers use the SaaS (Software as a Service) model to make it as easy as possible for you to go from signing up to making VoIP calls.
They also handle the software's infrastructure and platform, so you don't need to worry about maintenance and updates.
It's a perfect model for VoIP-enabling small and medium-sized businesses. Still, large companies are also joining the cloud VoIP train to reduce costs and free up their IT teams from having to constantly maintain their on-premises PBXs.
Final Thoughts on Cloud VoIP
To sum everything up in one short sentence, we can say that:
Cloud VoIP is the 21st-century solution for flawless business communication.
We could end our post here.
But since we feel you'd benefit from one last run through the main points we raised about cloud VoIP, we've made this little table as an ultra-fast way to refresh your memory:
The Five Facts

VoIP is nearly 50 years old
Intrusive adverts once funded VoIP calls
Two types of VoIP numbers exist: fixed and non-fixed
You can't tell the difference between VoIP and traditional calls
You don't actually need a phone to make a VoIP call

The Five Benefits

Cloud VoIP is:

Budget-friendly
Simple
Flexible
Reliable
Packed with extra features

The Five Tips

Think carefully about pricing, features, and all-in-one solutions
A mobile app is necessary
Check (and upgrade) your bandwidth before switching to VoIP
Pick a provider that offers more than just VoIP calling
Consider whether or not you need calling groups

The Best Providers

Ringy
RingCentral
Nextiva
8x8
Grasshopper
Now we're good. We can end this article with an inspirational call-to-action:
Go out there and source your team a cloud VoIP system that'll transform every single call you make into a crystal-clear conversation that costs pennies (or even less).
P.S. When you're researching potential candidates, don't forget to check out Ringy's extra features because our solution is much more than just a cloud VoIP softphone. Our bundle approach might end up saving you quite a few bucks at year-end!