Ring, ring! It's your client calling.
Oh, you're away from your desk? I guess they'll just have to leave a message, and you'll get back to them later, right?
Wrong!
I mean, it's 2022, you really didn't think that was the only solution, right? Thanks to The Power of the Internet™ (just kidding, it's not trademarked), you can answer calls, texts, video calls, and more from anywhere, using any internet-connected device like your smartphone or laptop. Pretty awesome, huh? (Ok, maybe not so awesome when you're on vacation).
Seriously, technologies like business VoIP and full communication offerings from companies like Ringy (that's us!) are revolutionizing the way businesses, whether they are small or large, communicate with their customers.
We've got the rundown on (pretty much) everything you need to know about business VoIP and these communications services in the following guide, plus top picks and FAQ. Let's get started!
Introduction to Business VoIP
VoIP (Voice over Internet Protocol), also known as IP telephony, internet telephony, or broadband telephony, is a technology that has been around for a long time (for about 20+ years, if you're curious) and is increasingly being adopted by businesses in the United States, as well as around the world.
In fact, Global Market Insights states that VoIP was an industry worth $30 billion USD in 2020, and is expected to grow at a rate of 15% CAGR (Compound Annual Growth Rate) by 2027.
It's easy to find out why VoIP has become such a popular choice for business communications. it's typically much cheaper than landline service, offers way more flexibility, and doesn't need any fancy hardware to work (well, other than the fancy MacBook that you got for "work"). In short, instead of relying on a phone company and paying for service through them, your calls get pushed through using your internet connection instead.
It's also speculated that one of the reasons for people adopting business VoIP more and more is due to the COVID-19 pandemic forcing people away from the office to work from home, and then companies realizing that offering employees the option to work remotely was more cost-effective and actually increased productivity in most cases. At any rate, companies big and small needed to pivot quickly to ensure that all communications, regardless of where they were coming from, were seamless and that business VoIP provided an easy solution.
Types of VoIP
There are several different types of standard VoIP systems, and there are sure to be more as the technology continues to evolve. While at the end of the day, they all allow you to make internet-based calls. There are a few key differences between the most common systems.
Hosted IP PBX and Managed IP PBX
A PBX (PBX Private Branch eXchange), or business telephone system, is a cloud-based system accessible through an IP network. Both hosted and managed IP PBX are basically a step up from a traditional analog PBX system in that they both use digital VoIP technology instead of a typical phone line. They are very imilar systems, but a Hosted IP PBX is the typical choice as you don't need onsite hardware, minimal training, and maintenance is handled off-site. With a managed PBX system, the hardware is on-site, so you have to make sure you have the appropriate infrastructure to handle it and can either opt for your provider to have their IT come onsite for maintenance or handle it all yourself. However, in theory, since the hardware is onsite, a managed PBX does give you more control over your systems since the hardware is onsite.
Like other IP-based calling systems, internal calls with a PBX system (from one office phone to another) are typically free. If a business finds they want more features with their PBX, they can request them through the provider. Typically, a PBX provider gives your business an easy-to-use control panel system so you can manage the details of your phone system.
Integrated Access
An Integrated Access device is an internet-connected device that lives on your business's premises, with the ability to group information to transfer to a VoIP service provider. It's the closest thing to a traditional phone line and lets your company keep your existing desk phones and numbers while giving you access to advanced telecommunications features and eliminating the need for you to invest in new VoIP equipment.
SIP Trunk Along with VoIP
SIP (Session Initiation Protocol), when used in conjunction with VoIP, can be integrated with other internal systems (like a CRM) to give you access to all sorts of next-generation communication features, such as unified messaging. A SIP trunk is the base technology that connects your business's PBX system with a service provider to provide inbound and outbound calling.
Basically, SIP allows you to move your legacy phone system to the cloud, which gives you the option to incorporate other features into your phone system, like softphone software and analytics data.
Here's a quick pros and cons chart that we made to help you see the differences between these different types of VoIP business systems.
Common Types of Business VoIP Systems - Pros and Cons
Pros

Cons

Hosted IP PBX

Doesn't take long to implement
Hardware is offsite and maintained by the PBX provider
Easy-to-use control panel
Minimal training required

You might need to inform your customers of a temporary number change during the number porting process
Initial setup of rules organizing and routing your calls needs to be done
Initial billing might be confusing with activation, setup, and features fees (depending on provider)

Integrated Access

Let's you keep your legacy phone number and equipment while gaining advanced telecommunication features

There can be issues with call quality and bandwidth since data and voice are on the same line (unless you get two networks)

Managed IP PBX




*The major difference between a hosted IP PBX and a Managed IP PBX is that the hardware for a managed IP PBX is onsite. It does, in theory, offer more control for you, but you also have to have the infrastructure in place to support it. Whether that's a pro or con is up to you.

Same pros as a Hosted IP PBX

Same cons as a Hosted IP PBX

SIP Trunk along with VoIP

Allows you to take advantage of features such as softphone software
Flexibility to increase call capacity without the need for extra hardware
Most providers offer full maintenance so you can focus on your business
Lightweight and cost-effective with minimal hardware needed

There may be a cost to add new "lines" to your SIP trunk if call capacity increases
Messages and calls can put pressure on your bandwidth
If your internet connection is lost, you lose all communications
How is Business VoIP Commonly Used?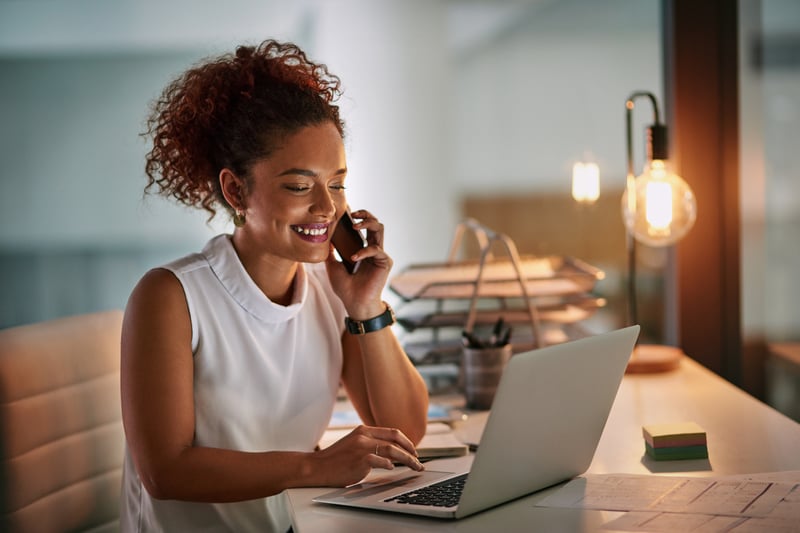 From customer service to sales calls, VoIP can be used for businesses large and small to handle all their communications needs. There's a reason why businesses choose this technology - it tends to be much cheaper than standard phone service, and it gives you many more options for handling phone calls, from seamless integration with CRM systems to increased accessibility in that you can answer calls from any internet-connected device.
The COVID-19 pandemic, as we discussed earlier, acted as sort of a catalyst for businesses of all sizes adopt a WFH model. Business VoIP is the perfect technology to support this, as employees need limited hardware and the software side can all be handled remotely through the cloud.
Understand VoIP Business Phone System
Regardless of what type of device you are using to make VoIP calls, your voice gets turned from analog into a digital signal. This digital signal is then routed over the internet in "packets'' to get to the intended recipient. In other words, your calls get pushed through the internet instead of a traditional landline.
Benefits of Business VoIP Services
The main benefits of a VoIP system for businesses are that they provide:
Enhanced Customer Service and Efficiency
Since you can answer calls on any internet-connected device, customer service and sales calls can be answered faster and easier, making your teams more productive and efficient.
Accessibility
VoIP systems tend to be accessible to those with disabilities with software features such as speech-to-text, touchless call answering, and high-contrast dial pads.
The Ability to Be Touchless
In environments where cleanliness and preventing the spread of germs are paramount, features such as touchless call answering can make a significant difference in maintaining sterility.
Access to Analytics
Viewing analytics such as response rate, incoming call volume, and length of calls can be incredibly useful for getting a good understanding of how your business handles calls.
How to Choose VoIP Business Services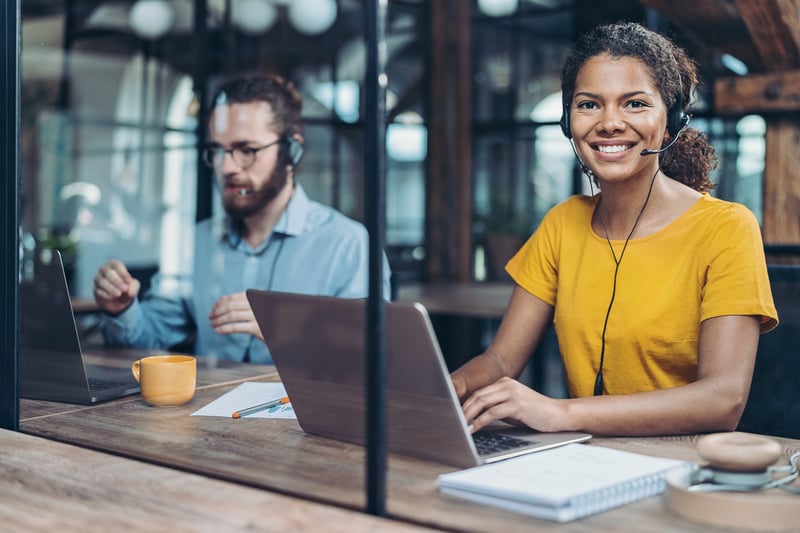 Most VoIP business phone systems are relatively similar, and ultimately provide the same end result, which is allowing your business to make phone calls, video calls, texts, and more using the power of the internet.
Before you make a decision on what type of VoIP system to use, and what provider to go with, it's important to consider the following:
Cost
What type of budget do you have for a VoIP system? There are some free options, but most are subscription based, meaning you will need to pay a set fee per month/year. On top of this, it's essential to factor in the cost of any hardware and other associated fees.
The best VoIP for small businesses typically depends on the size of your business. If you've got a large team, you may want to consider something that offers more capacity and reliability. On the other hand, if you're just getting started, a basic VoIP system will likely be sufficient for your needs.
Upgrading Your Existing Software
If you already have a VoIP business service, reviewing the features and ensuring that the system is up-to-date and can support all your needs is essential. Ensure your existing software has the same features as newer versions of VoIP services.
This includes access to multiple lines, call forwarding, automated attendants, audio conference capabilities, and advanced reporting. If these features are lacking or not supported by your existing system, it's time to look for an upgrade.
The Features
What types of features do you need? Do you need something that offers conference calling capabilities?
The best VoIP for small businesses or any other business should offer a wide range of essential features for efficient communication. Look for a VoIP provider that provides call forwarding, voicemail to email, conference calls, video conferencing, and other service features that best match your needs.
The VoIP package should include features like instant messaging, extension dialing, call transfers, audio conferencing, and more. These features make communication between your staff and clients easier while allowing you to stay connected with remote teams or customers.
The best VoIP service should also be secure and reliable so that you can make sure that all calls are private and safe. Look for a VoIP provider with encryption and other security measures, such as two-factor authentication.
Integration with Third-Party Systems
It's also essential to look for a VoIP provider that can integrate with your existing business systems, such as your CRM system. This will allow you to track and manage communications more efficiently.
Merging VoIP with other business applications like CRM software can improve customer service and help you better manage communications with clients and prospects.
Complete Solution
Do you need a VoIP that can serve as a complete business solution? If so, look for one that offers all the features you need in one package.
Consider finding VoIP systems that integrate with other software or systems, such as CRM, automation, analytics, and messaging.
Full-Featured Mobile Application
Finally, finding a VoIP system with a full-featured mobile application is essential. This can be especially important for businesses with many remote employees or clients who need to access the VoIP service from multiple locations. Look for features such as HD audio, video conferencing, and call forwarding on the go.
By keeping these tips in mind when selecting a VoIP business service, you can make the best decision possible for your company.
5 Best VoIP for Small Business
It can seem overwhelming to choose a VoIP system that works for your business when there are so many options out there. We compiled a comparison list of our top picks for business VoIP systems, with a special focus on the best VoIP systems for small businesses, to help you out.
Ringy (Best Overall)
The number one focus for Ringy really is our clients. For small businesses especially, any additional cost is a serious consideration, and Ringy is the most competitively priced system available in its space. In addition to an included robust CRM, Ringy offers a feature-rich service as an all-in-one package in their subscription model rather than needing customers to scale up their plan.
If customers prefer, they can also choose a Pay as you Go option, which includes FREE unlimited inbound SMS and calls and FREE unlimited video calls. Onboarding is also offered to the customer at no extra cost, which is a huge cost saving for small businesses as onboarding services can easily go for $300-$1000 with other providers.
Pricing: $99 USD per month after a free trial, or choose our Pay as you Go option.*
*Pricing as of November 2022
Integrations: Facebook, Google Maps, Google Calendar, and Zapier. Many applications like video calling are available natively within Ringy's system.
SMS availability: Yes
API documentation availability: Yes, to a point. Ringy has an integration process that allows you to integrate with lead vendors.
On-premise PBX option: Not currently available, but can be made if needed.
Dialpad (great for Small Businesses)
Dialpad is unique in that it uses the Google Cloud Platform to store and manage customer information. Dialpad also claims that the cloud communications it uses are ultra-secure with multiple redundancies in place. This isn't to say that other systems are more or less secure than Dialpad - it's just a feature they give a lot of attention to in their offering. They also are the only one on our list to offer an on-site PBX option if that's your thing. Dialpad caters to small businesses with its scalable offerings.
Their entry-level plan offers Office 365 and Google Suite integrations right out of the gate, which can be valuable for some businesses. Their entry-level plan also offers unlimited SMS in Canada, and the US, as well as unlimited inbound and outbound calls in your country, Canada and the US (which we assume means whichever country you are in, in addition to Canada and the US, but that would have to be confirmed with Dialpad).
Pricing: $15 USD per month and per user with a subscription after a 14-day free trial, or $20 USD per month if you want to go month-to-month.*
*Pricing as of November 2022
Integrations: Google Suite, Office 365
SMS availability: Yes
API documentation availability: Yes
On-premise PBX option: Yes
8x8 (Super Cheap at First but Scalable)
8x8 is the least expensive business VoIP system option on this list, with a complete small business phone at only $15 USD per month per user. There are no contracts, no hardware required (well, you do need a computer and/or smartphone, but no actual desk phones are needed) and you get unlimited domestic calling (so calls in your own country are free) as well as unlimited video conferencing, instant messaging with your team, and unlimited SMS (but only in the US and Canada).
If you need to scale your business further at some point, 8x8 boasts their all-in-one "Experience Communications" platform, which, you guessed it, provides everything you need for a larger business in one place.
Pricing: $15 USD per user per month, after a 30-day free trial.*
*Pricing as of November 2022
Integrations: Hubspot, Salesforce, Slack, Zoho, Microsoft Teams, Google, etc., but integrations are only available on the $24 USD per user per month plan (they do mention you can save 25% if you choose annual billing with this plan and the next one up)
SMS availability: Yes
API documentation availability: Yes
On-premise PBX option: No
Grasshopper (Offers Simple Call and Text)
Grasshopper is a great option if you are a solo entrepreneur or a small business looking for a straightforward VoIP solution at a low cost. The idea with Grasshopper is to use it on your smartphone and/or computer as a way to separate your business and personal life, complete with all the standard features you'd expect like SMS, call forwarding, and voicemail.
However, it's important to note that Grasshopper doesn't integrate with email or video conferencing, nor does it integrate with a CRM or include one of its own.
Pricing: $26 USD per month subscription after a 7-day free trial, or $29 USD per month if billed annually*
*Pricing as of November 2022
Integrations: None
SMS availability: Yes
API documentation availability: N/A
On-premise PBX option: No
RingCentral (works for small, medium, and large businesses)
RingCentral is a scalable solution for both small and large businesses, with a lot of features in its entry-level plan such as unlimited inbound and outbound calls within Canada and the US, Unlimited inbound and outbound SMS within Canada and the US, voicemail-to-text, document sharing, and more.
While RingCentral seems to have more red tape than the other offerings we mentioned here (we see a lot of asterisks and information bubbles on their pricing site besides each of the features), we can't ignore that the service does offer features that may be more attractive to larger businesses.
Pricing: $19.99 USD per user per month (if billed annually) after a 15-day free trial (the trial has some important fine print to read), or $32.99 USD per user per month if billed monthly.*
*Pricing as of November 2022
Integrations: an entire page of integrations along with their API documentation so you can integrate with your own applications if needed.
SMS availability: Yes
API documentation availability: Yes
On-premise PBX option: No
Business VoIP Success Stories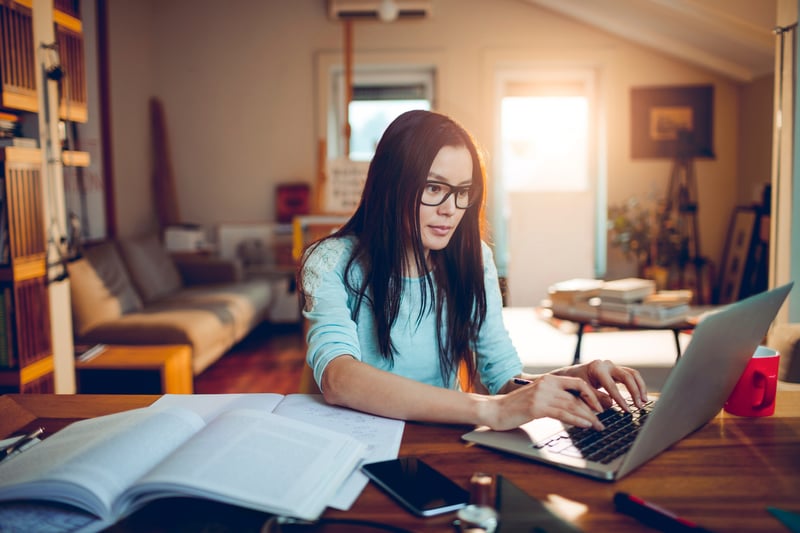 Chances are if you've read this far in this guide, you know the ins and outs of business VoIP and how it can integrate with various software applications pretty well. But it helps to look at real-world examples of how businesses have used this technology to help them realize success, whatever that looks like for them. Check out just a few examples of VoIP small business success stories below.
Greenfield Commonwealth Virtual School (GCVS)'s VoIP Success Story
GCVS had a PBX-based system in place to handle all their business calls, but they quickly realized that the poor call quality, clunky interface, and lack of mobility with that system were holding them back. What VoIP through RingCentral gave GCVS is a complete mobile solution where teachers and staff can get calls and texts through a personalized RingCentral number (so they don't have to give out their personal number to students) as well as improved call quality and integrations that give them flexibility, like the ability to work from home.
The Oasis Firm VoIP Success Story
The Oasis Firm was founded in 2017, and the CEO knew that one of the first things he needed to do was set up a business line and a vanity number that matched his business's name. VoIP through Grasshopper provided that solution, and he was able to professionally represent his business online and through social media to prospective clients.
Dandelion Chocolate VoIP Success Story
Once Dandelion Chocolate, based out of San Francisco, grew from one store to multiple locations as well as a head office and a warehouse, it became clear that desk phones didn't cut it anymore for the team of 80+ employees. They said goodbye to desk phones and hello to a fully integrated club-based VoIP system, allowing them to meet customer demand, build those important relationships with customers, and connect with their team using any internet-connected device.
Frequently Asked Questions about Business VoIP Systems
What Do I Need to Set up a VoIP System for My Business?
Do you have a high-speed internet connection for your business, including a standard router and modem? Then you already have the equipment you need to make calls using VoIP.
However, you don't have to get rid of your desk phones if you don't want to. A business VoIP system can be used in conjunction with softphone software, which means you can have a desk phone in addition to a software-based phone on your android or apple-based smartphone as well as your computer, and the softphone software ensures all these devices will work seamlessly with each other.
For instance, if you're at your desk, you can set it so that only your desk phone rings when a call comes through. You can also set all your devices to notify you without ringing (like through a pop-up or notification sound), or have everything ring at the same time. It's completely up to you and how you decide to customize the software.
How Do I Set Up VoIP for My Small Business?
Choose a business VoIP provider
Port your existing phone number or choose a new one through your provider
Download the VoIP to your computer and/or smartphone
Set call rules, notifications, and other settings through the VoIP application interface
What Do I Need for VoIP to Work?
In order for your business VoIP service to work correctly, you'll need a reliable internet connection. DSL, Cable, or Fiber internet connections are some good examples. Your internet or VoIP provider might suggest a higher bandwidth internet connection based on the features you select with your service.
Can VoIP Calls Be Monitored?
Since VoIP calls work by transferring the data where it needs to go through digital "packets," calls, text, and video can be monitored. Ringy has a call recording feature included in our subscription package that you can use to monitor calls.
Why Would Someone Use a VoIP Number?
There are several reasons why someone would want to use a VoIP number, namely to avoid long-distance charges, separate their personal life from their business, and maintain privacy when giving out their phone number.
Can I Get a Local VoIP Number?
Most business VoIP providers offer the ability to get a local VoIP number. A local number can help build trust with your customers, especially if you are a small local business.
Summary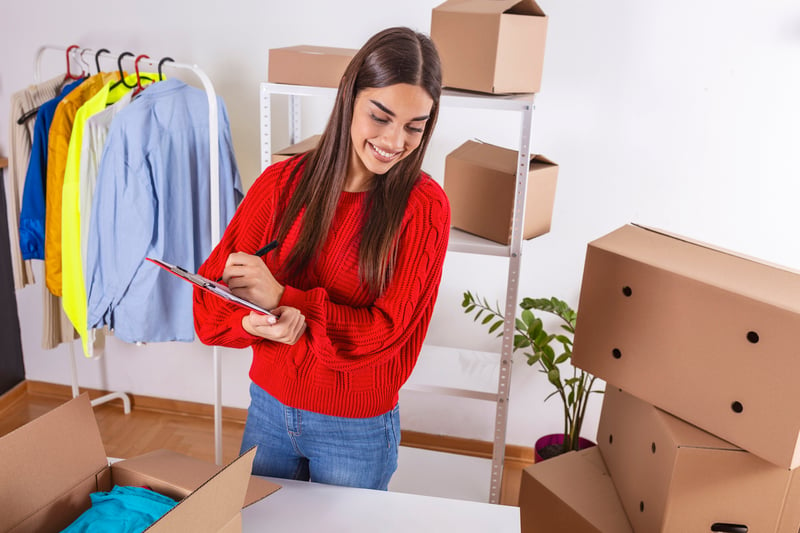 So what did we learn?
VoIP technology has been evolving over the last decade or longer to become the quintessential voice, text, and video call technology for businesses of all sizes. With the ability to stay connected through pretty much any internet-connected device, it's a no-brainer why this tech has won out as the go-to for business communications.
VoIP technology works by transferring your voice, text, or video through digital signals or packets to where it needs to go.
Before you choose a VoIP provider for your business, you'll need to determine what features you need, what cost, and what hardware (if any) is required.
Our top picks for VoIP providers are Ringy, Dialpad, 8x8, Grasshopper, and RingCentral.
there you have it: a way to have all your communications in one place without having to keep yourself tied to a desk.
If you're ready to get started with business VoIP and all the integrations that Ringy has to offer, jump on over to our pricing page to read about all the features and benefits of a subscription or Pay as you Go option.
If you'd prefer to get a demo first, you can schedule one here.
More questions? Contact us and we'll be happy to show you what we can offer and how we can help your business.