Contact centers are hectic places.
Rows and rows of agents, all sitting at their desks, answering call after call and solving complaints from occasionally less-than-kind customers.
Managing this kind of organization requires some firm processes and a commitment to rep training, but even the best teams fall down without one crucial piece of technology:
Contact center management software.
In this article, we're going to show you exactly how contact center management software can boost efficiency and drive customer satisfaction.
Plus, we'll help you choose the best call center CRM toolkit.
The 3 Types of Call Center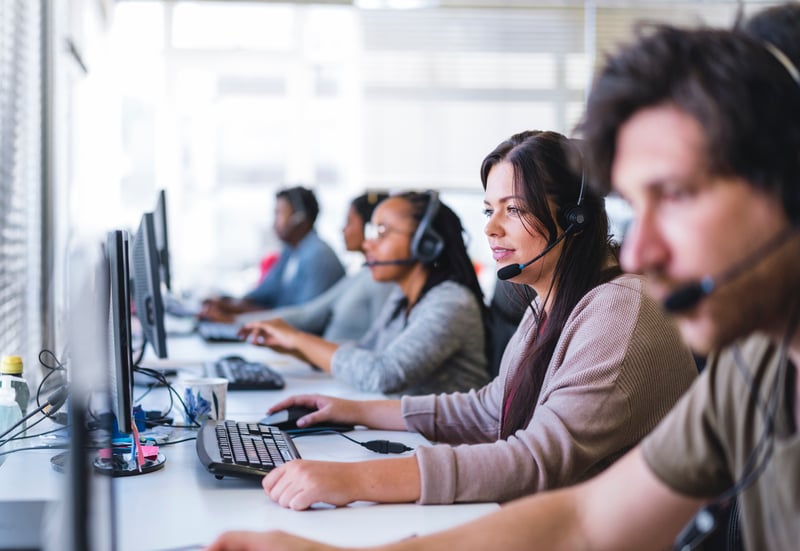 Call centers are broadly divided into inbound, outbound, and a mix 'n match type called blended. More than likely, you're gonna land in one of the following three groups.
1. Inbound Call Center
Simply put, in an inbound call center, agents receive calls from customers.
Often, these types of calls focus on trouble-shooting, product or service queries, and complaints.
For example, if your broadband internet connection is painfully slow, you can call the inbound customer service center of the internet service provider, and they'll hopefully get it fixed.
Besides on-call support, inbound contact center agents may provide chat, text or email support. They may also be trained in upselling techniques.
2. Outbound Call Center
The agents do the calling here. Contact center management, in this case, includes sales calls, custom surveys, promotions, fundraising, etc.
Sales teams run outbound centers for making cold calls to potential customers. Businesses may also run outbound call centers for surveying shoppers and collecting market research.
Agents working in an outbound call center are likely to play an important role in lead generation.
Some agents also make 'welcome calls' on behalf of businesses, where they provide information on a product or service to a new client.
3. Blended Call Centers
Blended call centers include both inbound and outbound calling processes, with agents switching between the two depending on the demand and strategy. These call centers have a dedicated dialer and use call center tools such as automatic call distribution, predictive dialer, and CRM integration to blend calls and then assign them to the available agents.
Most call centers take some kind of blended approach, for example, scheduling outbound calls to follow up with customers after an issue has been resolved.
Inbound

Outbound

Blended

Agents receive calls from customers.

Agents call potential or existing customers.

Agents both take incoming calls and make outgoing calls.

The call center usually provides assistance to customers who need to solve problems or need instructions.

Typically used for sales, promotions, and customer surveys.

There are aspects of both inbound and outbound processes.

Examples:

Answering service
Order processing
Chat support
Email responses
Tech support
Loyalty programs

Examples:

Appointment setting
Customer surveys
Welcome calls to customers
Market research
Telesales

Examples:

Sales and service
Phones and email
Multiple channels like Live Chat, SMS and phone
Office/Retail counter
What Is Contact Center Management Software?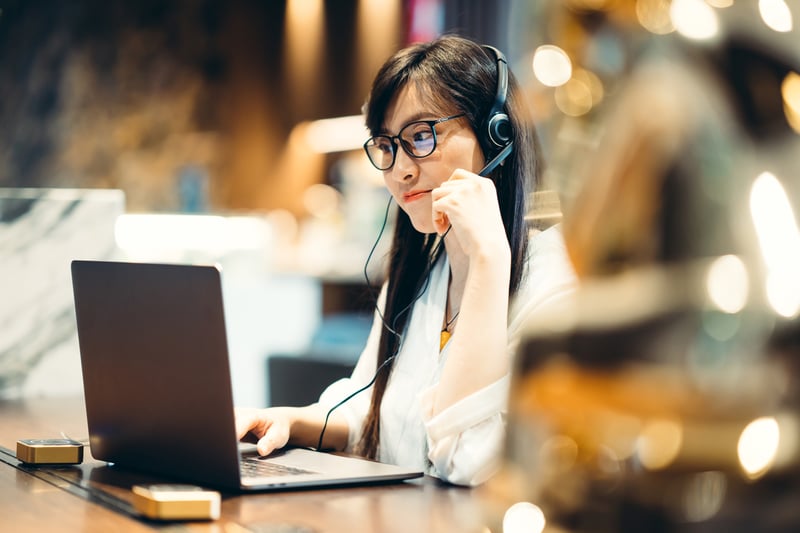 Contact center management software may be defined as a collection of applications that automates key call center processes and enables communication channels like:
Phone
Chat
Instant messaging
Email
It may be hosted on-site (on-premises) or in the cloud through Software as a Service (SaaS).
Advantages of Contact Center Management Software
1. Lower Costs
Call center tools allow you to hire fewer customer agents just to handle the incoming calls.
All the time saved can be used by your team to push for more lead conversions and generate more revenue for your business.
Cloud contact center tools offer even larger benefits. Compared to their on-premises counterparts, cloud contact centers are 27% cheaper, and experience 35% less downtime.
2. Higher Productivity
In a globalized world, customers need support 24 hours a day. The contact center management software enhances each sales agent's productivity by efficiently managing every customer query, ticket support, sales, and technical issue.
For outbound call centers, the average sales rep makes 45 cold calls per day, and the number of daily quality conversations stands at 5.1.
While the exact number will differ from industry to industry, you want your team to be at the top of its game. The best-hosted call center solutions like Ringy are indispensable for this.
3. Enhanced Security
Customer data is a treasure trove for any business. It gives you very useful information like shopping history and product preference, which is important for both short-term sales goals and long-term strategizing.
But the loss of data is a huge setback and can undo the advantage of hundreds of potential leads you've assiduously built over the years.
A good contact center management software has features like instant cloud backup so that whenever your team members receive or make customer calls, the system automatically secures the information. That's one big worry less for you.
4. Operational Flexibility
Today's state-of-the-art contact center management systems are not just designed to manage calls and gather information but also easy to use even by new agents and adaptable to various types of call center operations.
Many platforms integrate with the software tools you're already using, such as your sales CRM, allowing support reps to pull information from sales conversations (for example, how they're using the product) that may prove useful in resolving customer complaints.
5. Improved Customer Relationships
About 80% of companies claim they deliver "superior" customer service but, alas, only 8% of customers concur. A contact center management software provides you with the tools to bridge that gap.
A potential or existing customer who is not satisfied with customer service can easily switch sides, and your talented team agents' efforts will come to naught. No wonder 95.7% of contact center agents see customer satisfaction as the most important call center metric.
Your contact center management software helps keep customer satisfaction at the focus of their efforts.
Types of Hosted Call Center Tools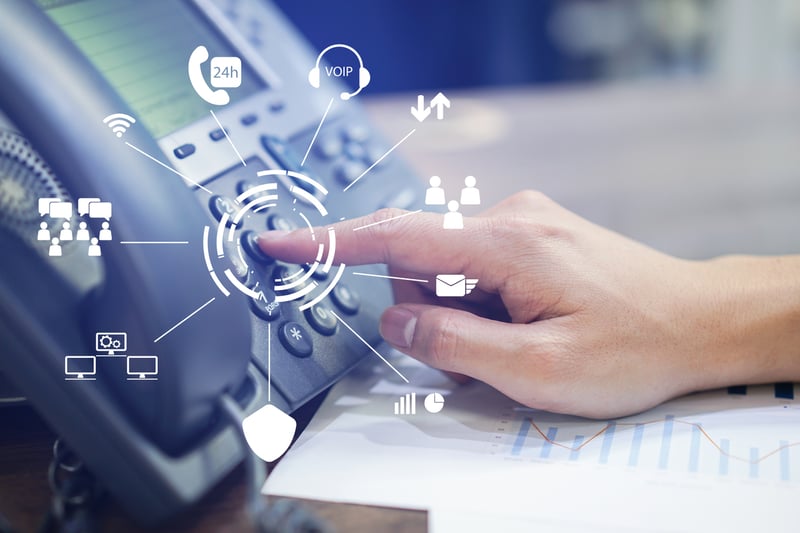 Getting adequate contact center management software that suits your team's needs is key to a successful call center operation.
But an immediate question arises: What are the hosted call center tools and features that you should be looking out for to get the best value for money?
Let's take a closer look at some of the key hosted call center solutions.
| | |
| --- | --- |
| Type of Hosted Call Center Software | Primary Beneift |
| Help Desk Software | Allows customers to access self-service support. |
| CRM Software | Provides a centralized data location. |
| Interactive Voice Response (IVR) | Speeds up the support process. |
| Automatic Call Distribution (ACD) | Improves call routing. |
| Call Recording | Provides opportunities for support rep training. |
| Metrics and Analytics | Allows leaders to track and monitor KPIs. |
| Real-Time Reporting | Provides up to date metrics on team performance. |
| Predictive Dialers | Makes outbound calling faster. |
Help Desk Software
Customers often prefer a self-service approach instead of picking up the phone and calling a call center agent. In fact, 63% of consumers depend on email, 43% prefer live chat, 25% use social media, and 22% use SMS for support answers.
Even if your call center is primarily tasked with outbound sales, you'll want potential leads to easily access information about your products or services through multiple means. Help desk software provides this omnichannel customer support.
CRM Software
Sales and customer support are increasingly becoming integrated. Even if the teams at your call center work in silos, it's best to future-proof yourself by integrating your contact center management software with your CRM platform.
Ideally, you would want your contact center management software to sync data perfectly with each tool to get a comprehensive view of customer interactions.
You might think that the process of shifting a call from one team to another is seamless, but the customer is not aware of your internal processes and might get frustrated by all the moving around. That's why the syncing of your CRM and call process is important.
Interactive Voice Response (IVR)
In an Interactive Voice Response (IVR) system, callers are presented with prerecorded instructions or voice menus and asked to choose from a series of options. They do so by tapping a key on their dial pad or speaking into their phone. The IVR then routes the call to a submenu or a support agent.
IVR allows customers to serve themselves, which reduces the workload of call center agents. An IVR is familiar to most people, but it can vary in sophistication.
A well-designed IVR system not only directs the customer to the relevant agent quickly but also records basic customer information and pulls up the customer's profile even before the call reaches the agent.
Automatic Call Distribution (ACD)
An Automatic Call Distribution (ACD) system, as the name suggests, automatically routes callers to relevant agents, thus saving time and resources. Calls are distributed by using criteria such as sending the call to an idle phone or sending calls about trouble-shooting to the tech support department.
For instance, an ACD will recognize that an incoming call is from a number of an existing customer and directly divert it to the relevant team.
Call Recording
Using call recording, you can monitor call scripts and analyze outcomes and quality of service. Depending on the type of contact center management software you're using, inbound and outbound calls are recorded and stored for several months and are easily accessible. Call recording ensures quality assurance, which is vital to the long-term success of your operation.
Replaying calls is a simple but effective method to train your agents so that they're the best in the industry.
Another advantage of the call recording is that if there's a customer complaint, it can be quickly resolved even if the agent on the line is different from the one who had taken the initial call.
Metrics and Analytics
Wouldn't it be cool to have an easy-to-follow dashboard with all the data you need to measure each agent's Key Performance Indicator (KPI) and the overall KPI of your call center?
The best contact center management software does exactly that by gathering all the important data and presenting it in an easily digestible form.
You may also provide each agent with their own KPI dashboards so they know exactly how they're progressing.
Metrics and analytics help in monitoring productivity, customer interactions, and average call wait time and provide you with the tools to constantly increase customer satisfaction.
Real-Time Reporting
Real-time reporting takes metric and analytics one step further by providing you with real-time insights and updated dashboards so that you have a minute-by-minute and hour-by-hour picture of your team's performance and the ongoing operation. This is especially useful when you have to track a large number of closed service tickets or big call volumes.
By spotting these trends early on, you can quickly relocate team resources and avoid problems like long queues and overworked agents.
Predictive Dialers
A predictive dialer gives your business an edge over the competition by speeding up the whole process. By using artificial intelligence to predict the phone number a call center agent may call, the predictive dialer populates the rest of the number even before the agent has typed it. This shaves off crucial seconds from each call.
Predictive dialing is the kind of automation you should keep an eye out for if you're looking to buy or upgrade your contact center management software.
4 Most Efficient Contact Center Management Software Platforms
1. Zendesk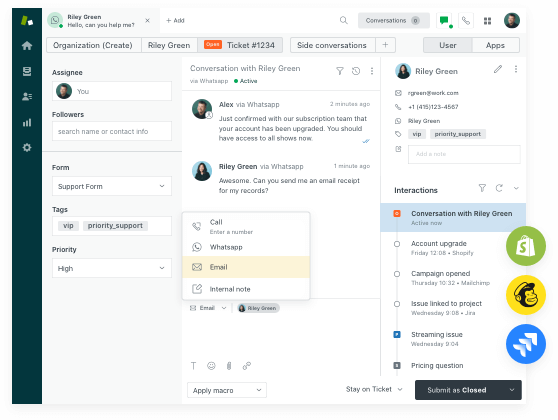 Zendesk's virtual contact center management software is designed for a seamless customer experience.
No matter what your service channels are, Zendesk has a plan that meets your specific needs.
The packages are assembled with the aim of providing you with hosted call center solutions and capabilities to help teams of any size resolve issues—and fast at that.
It's all about the agents
Zendesk firmly believes that the agent experience is intimately linked to customer experience. So it provides agents with the capability to handle voice support in the same workspace as other channels and full access to the customer context.
This means no desperate clicking through multiple tabs to take notes or log conversations. For outbound sales, this translates into a better focus on converting leads to customers and best-hosted call center solutions.
Integrate, integrate, integrate
Zendesk has the ability to integrate with over 90 telephony providers. So your hosted call center solutions are just a plug-in away. You may also choose to use Zendesk as a standalone telephony provider. Whatever your choice, you can easily add tools and services like redaction and advanced call transcription to build on voice capabilities.
Measure, improve, repeat
Zendesk has useful tracking tools such as queue volume metrics, call recording, and real-time reporting that enable you to swiftly and seamlessly collect the important information linked to the agent-customer conversations. This will provide you with a perfect and real-time snapshot of what you need to do to boost your team's performance.
2. HubSpot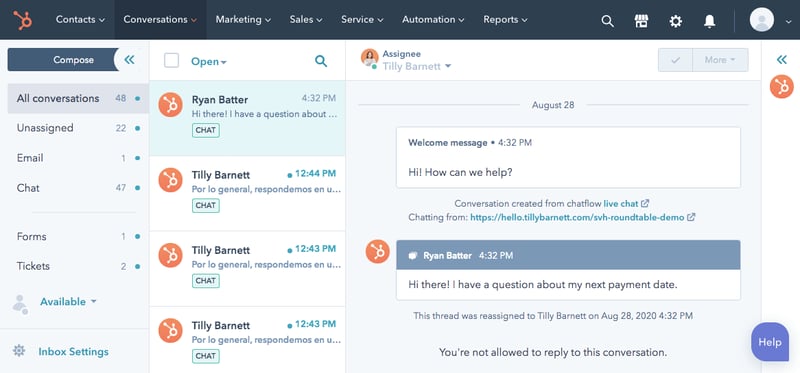 HubSpot's help desk software and Service Hub has the dual advantage of being easy to use and packed with features that make them powerful and tuned to your business needs.
Integrated sales, marketing, and help desk
HubSpot's help desk software are integrated with Aircall and seamlessly connected to its sales and marketing software via CRM. As a result, agents have all the information they need to resolve an issue, no matter who the original point of contact was.
Since all the information is placed in an integrated view, the customer experience is superior.
Automation tools
HubSpot's contact center management software includes advanced automation tools to enable your team to improve customer service on a consistent basis. The shared email inbox, self-service tools, and live chat software integrate smoothly with the Aircall cloud-based phone system.
This facilitates a positive end-to-end customer experience across channels.
Organize your tickets
As your business grows and you focus more on contact center management, customer issues can get lost in the workload. HubSpot's ticketing system has a single dashboard to help you record, organize and track all customer issues, and all your agents have access to it.
The contact center management software keeps track of important support metrics like ticket volume and agent response time so you can successfully manage customer demand and effectively train your team to optimize the sales cycle.
HubSpot's hosted call center solutions also allow you to prioritize requests so your team can solve the most critical problems first.
3. Pipedrive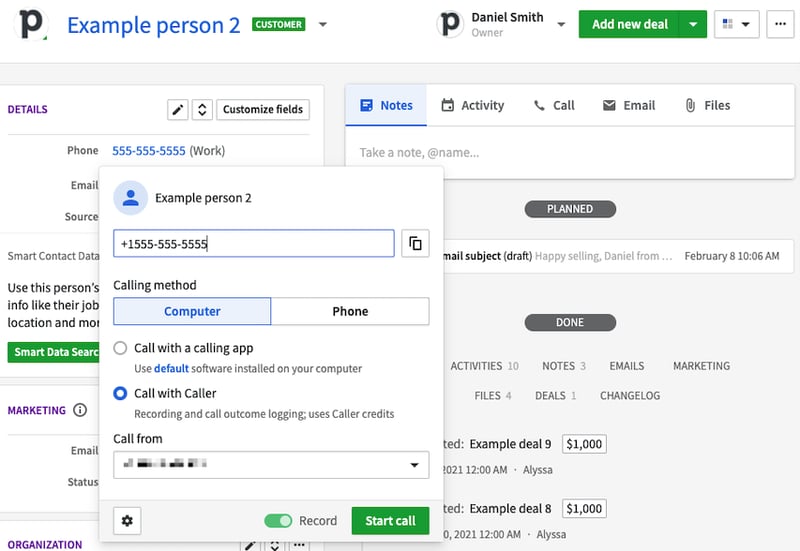 Pipedrive offers cutting-edge customer experience in a high-pressure environment by providing your team with the intuitive contact center management tools it needs to succeed.
Its call center CRM software acts like a centralized hub that streamlines your workflow and empowers your organization.
Workflow automation
Pipedrive's workflow automation streamlines call management and connect your team, with automatic call routing delivering the right call to the right agent.
It just takes one click to make and receive calls instantly, and calendar tools syncing helps automate internal meeting scheduling and appointment booking.
Storing information
Details like phone numbers and company names can be easily collected for every caller.
Everything from customer data to call history and account activity is easily accessible to make the process smoother and enable your team members to deliver personalized customer care and make meaningful sales pitches.
Pipedrive's contact center management CRM automatically logs incoming and outgoing calls, so your call agents don't need to worry about updating records and can focus on sales while talking to customers.
Insights drive performance
Pipedrive's contact center management software helps you to improve customer service with the help of detailed analytics about your team's performance.
Actionable information on call center benchmarks, including average call durations, dials to closure ratios, and the number of calls per client, puts you in charge of the situation.
Moreover, the report dashboards are customizable, interactive, easy to grasp, and shareable. Real-time information is provided as well.
4. Ringy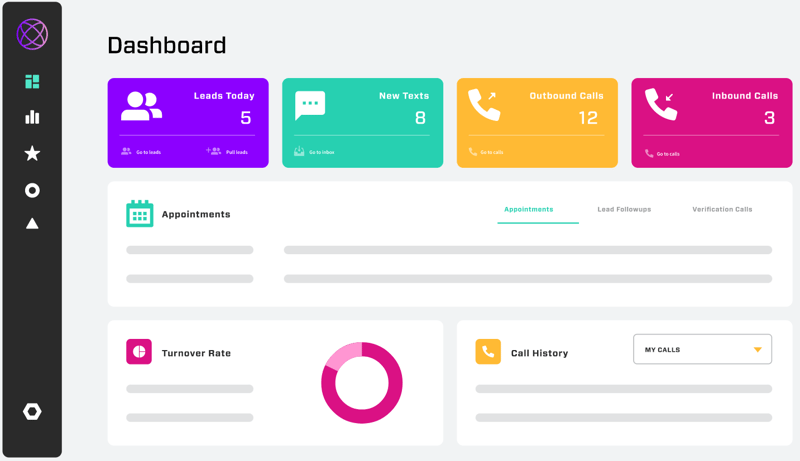 Ringy might be a newer kid on the block, but if it's sales that you're primarily concerned with, Ringy's contact center management software is designed with exactly your team in mind.
No wonder it's creating such a huge buzz in the contact center management software
market.
No more manual dialing. Ever.
Every second your agent tries dialing a phone number is a precious second wasted. Now imagine the number of seconds— and minutes, and hours—wasted if you add up all the seconds squandered by your entire team punching numbers into outdated systems.
Enter Ringy's click-to-call platform and say goodbye to manual dialing. This will not only help your sales agents qualify leads faster but also give them more time to turn leads into sales.
A team raring to go
With Ringy's hands-free, click-to-call software, sales reps can simultaneously view lead history, jot down notes, and divert incoming calls, all the while talking to a lead. And without getting hassled. This is because all the key information is at their fingertips.
'R' for Ringy. 'A' for Adaptability
Recordings are downloadable and may be used for training and sent to other teams within your organization. You can also discreetly join calls with your team members to help close a sale without the leads noticing a thing. So it gives you the leverage to make a real-time difference during a sales call.
FAQs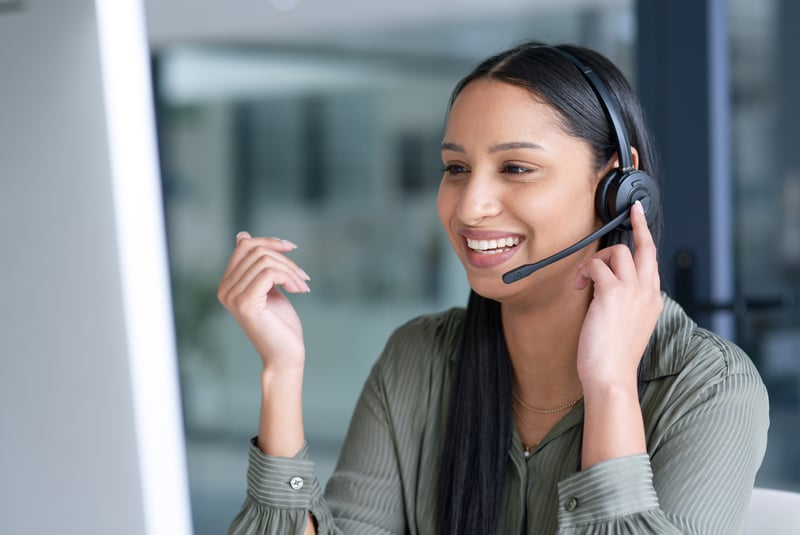 "What Is Contact Center Management?"
Contact center management refers to the way a company manages the daily operations of its contact center using contact center management software and other tools to deliver consistently good customer experiences across channels.
"What Is The Difference Between A Call Center And A Contact Center?"
A contact center is a hub for managing customer service across multiple channels such as phone, live chat, email, messaging, and social media. In a traditional call center, on the other hand, customer conversations, including inbound and outbound calls, occur only through the phone. However, the two terms are often used interchangeably.
"What Is CRM In Call Center?"
Call center customer relationship management (CRM) is a software tool used by call center agents to enhance customer experience and increase productivity. These CRM systems store customer details like contact history and account information.
"What Is A Hosted Call Center?"
A hosted call center is a type of call center where inbound, outbound, and self-service customer interactions are handled via a back-office system of a service provider. This lowers the cost of ownership for the organization.
"What is Cloud Solution For Call Centers?"
A cloud-based call center refers to a network-based service in which a provider owns and operates contact center technology and offers its services remotely to businesses using a subscription model.
Conclusion
Great, so now you know the different types of call center software, the features of a good contact center management software, and what you need to take your contact center management operations to the next level.
Yay!
Enable your brilliant outbound sales team to drive up sales and reduce the sales cycle for each quarter. You can't go wrong with Ringy's contact center management software + CRM.
Call Ringy today and give your sales agents the high-quality call center tools they deserve to succeed!