Getting a startup off the ground isn't easy.
No surprises then that only 1 in 12 grow up and become successful businesses.
Sales – who would have guessed? – play a massive role in determining whether you're part of the 8% that bask in the glory of success or the 92% that go back to focusing on their day job.
The basic formula goes:
Too few sales = fail to stay afloat or fail to attract investors and level up.
But it isn't all doom and gloom, and you aren't destined for failure.
So give your company a fighting chance and equip your sales team with the right startup sales strategies.
And before you ask, "Which ones?" keep reading as we're about to break down seven proven strategies you can implement today.
Off we go.
But first…
What Is a Startup Sales Strategy?
Your startup sales strategy is none other than the plan your startup relies on to win new business. It comprises various methods and tactics that help your team better communicate with leads, prospects, and existing customers. Its goal is to improve your conversion rate and boost overall revenue. A solid sales strategy for startups includes:
Who you're going to sell to
What you're selling
A pitch and value proposition
Sales channels
Communication guidelines
A sales funnel and a sales pipeline
Sales goals
No surprises here.
But how is it different from a traditional sales strategy?
Startup sales teams need to be far more flexible. Nothing is fixed in a startup's reality.
Resources are limited. Teams are growing or shrinking at a moment's notice. You're selling a product/service that's constantly being developed.
It's mayhem, and your sales strategy needs to be agile.
Plus, you not only need to secure your first customers, but you also need to ensure they sign up for the journey and not a flawless end product.
Here's how to do precisely that.
The 7 Most Effective Sales Strategies for Startups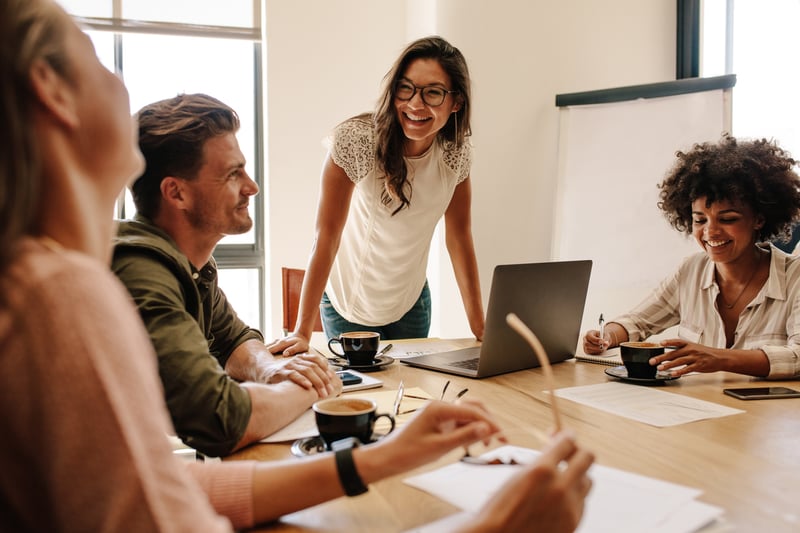 First, a quick overview:
Strategy

Why it works

Target niche markets

It's less competitive than larger markets
And more profitable than offering generalist products/services

Research the competition

Enables you to pinpoint proven strategies in your niche
Shows you how to position your product/service

Create buyer personas

You need to know who you're targeting in order to build a connection and make a sale

Build a sales funnel

Helps you focus on your ideal customers' needs
Empowers your sales team to act at exactly the right time

Leverage sales tech

You can't do it alone – SaaS tech gives you the power of 100 people at a fraction of the cost

Provide personalized demos

You have to prove you're willing to invest in the relationship before a prospect does the same

Ask for referrals

Happy customers bring happy prospects
Referral-related loyalty benefits help reduce churn
And now all the details:
1. Identify and target specific niche markets
Your startup will struggle if you decide to go toe-to-toe with larger, more established competitors.
Imagine you're just getting started, and you try to sell generic life insurance to Liberty Mutual customers.
They have the brand recognition, the staff, and the budget to blow you out of the water.
So find a small niche that's either not being addressed or being addressed poorly by small to medium companies.
Plus, dominating a niche market is often more profitable than becoming a generalist – customers are more likely to pay top dollar when you're renowned as a specialist, i.e., life insurance for scuba divers.
2. Research the competition
Niche market or not, you're going to have competitors (even if they aren't selling the same solution).
You need to find out:
What they're doing
How they're communicating with leads and prospects
Where they're successful
Where they're failing
How you can do better
For example, you might discover that inbound sales is the strategy that works in your niche. But you also uncover that your key competitors' content marketing efforts are subpar.
You have the perfect chance to step in with the best content around and pull those leads straight to your agents.
By the way, don't forget to research your competitors' products – a strong awareness of the market helps you figure out how to position your solution.
Another example:
With Ringy (our sales CRM), we decided to focus on our built-in VoIP softphone and our affordable, fixed pricing plan because both are unique selling propositions that make us stand out in a crowded field.
3. Create buyer personas
Without a clear ideal client profile, you'll be shooting in the dark.
And that's not something startups can afford.
So save yourself the embarrassment of going after the wrong prospects and use thorough research to build buyer personas for your sales team.
Include information like:
Pain points
Needs and desires
What information they're looking for before making a decision
Demographics
Psychographics and behaviors
Geographic location
Business information (if you're selling B2B) – known as firmographics
How your startup can help them
When you're done, your personas should look something like this: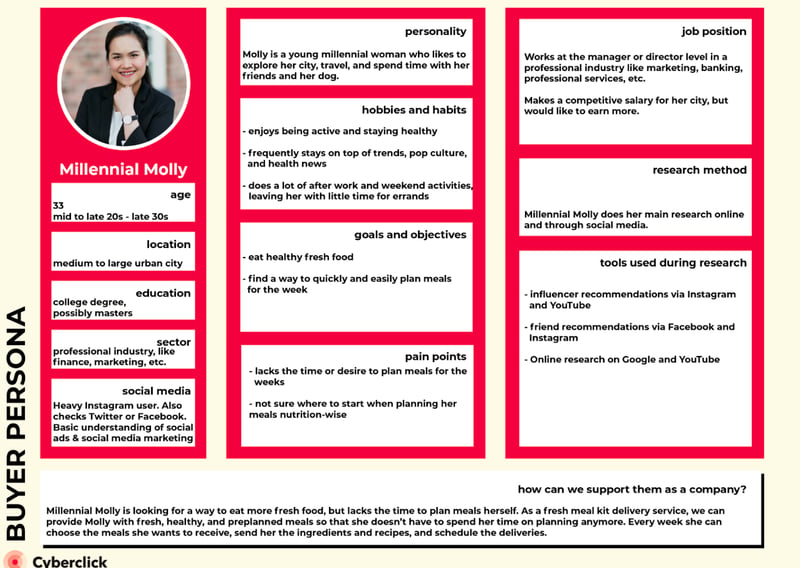 Pro tip 1: coach your salespeople to use the power of storytelling to better connect with your target audience.
4. Build a sales funnel
A sales funnel is the visual representation of your audience's journey as they progress from lead to loyal customer.
You could leave this journey up to chance and let each customer do their own thing, but guess what?
That's not a good idea.
Instead, you should create a well-defined sales funnel that lays out an exact path to follow - think of it as a step-by-step guide to becoming a customer.
Find out how to build a sales funnel here and how to optimize one here.
This strategy helps you zero in on your ideal customers and provide exactly what they need at exactly the right time.
It works even better if you align your sales funnel with your sales pipeline in your CRM.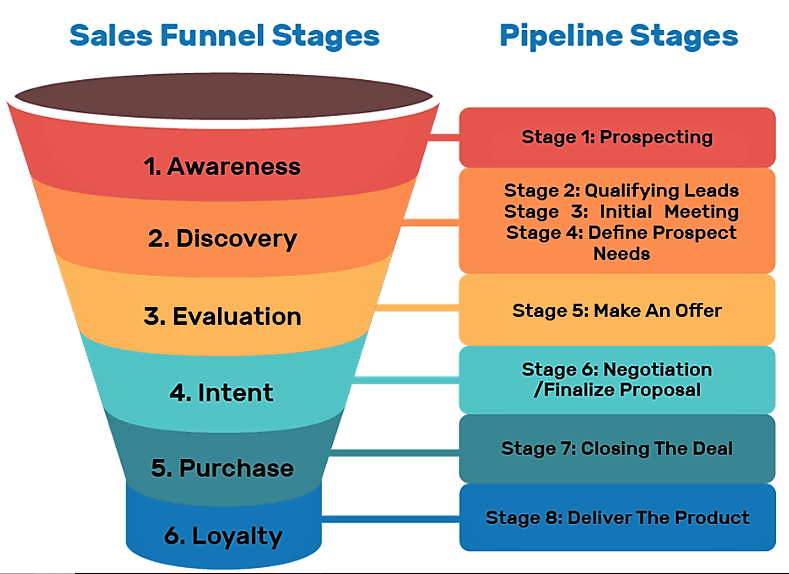 5. Leverage sales technology
You're a startup.
You don't have much. Budgets are tight, and team members are scarce.
But there's one startup sales strategy you can always count on to optimize your operations:
Yes, we mean technology, and more specifically, SaaS.
Two must-have solutions are:
Lead scoring
Automation
Lead scoring
You can't possibly contact all the leads in your database (because if you can, you need to go back to the lead gen drawing board).
Even reaching out to half of them is a challenge for startups.
So instead of overworking your SDRs (or SDR), you need to work smart.
And smart means using a lead scoring system to expose the cream of the crop – the leads most closely resembling the personas you've identified in our previous tip.
Automation
Alright, so now you have a reasonable amount of leads to contact. What should you do next? Open up Gmail and start typing? Or pick up the phone and start punching numbers?
Fat chance!
You should turn to sales automation and let the robots do the heavy lifting (e.g., with an automated drip campaign or a power dialer) so you can focus on building a connection and turning leads into prospects, prospects into customers, and customers into raving fans.
6. Provide personalized demos
It's going to take some convincing to get prospects to sign up for an unknown product/service.
A simple description on your website or in a nurturing email won't do.
You need to go a step further, especially when you're relying on remote selling.
The best way to do so is by running personalized virtual demos (even though pre-recorded videos and 3D viewers also work when selling physical products you can't demo online).
By committing to a commitment-free session (get it?), you're showing your prospects that you care about your clients from day 0.
And that's pivotal when, in return, you're asking them to trust your startup and version 1.0 of your solution.
7. Ask for referrals
There's no warmer lead than a personal recommendation.
So don't waste your chance to leverage your growing network and ask for referrals after closing a deal and dazzling your customers (and never before).
Your customers will be happy to set you up.
Especially if you reward them for referring a new client with something like 10% off their annual subscription.
Which, as an added benefit, also contributes to making them a "stickier" client and reducing churn.
Get Selling and Grow Your Startup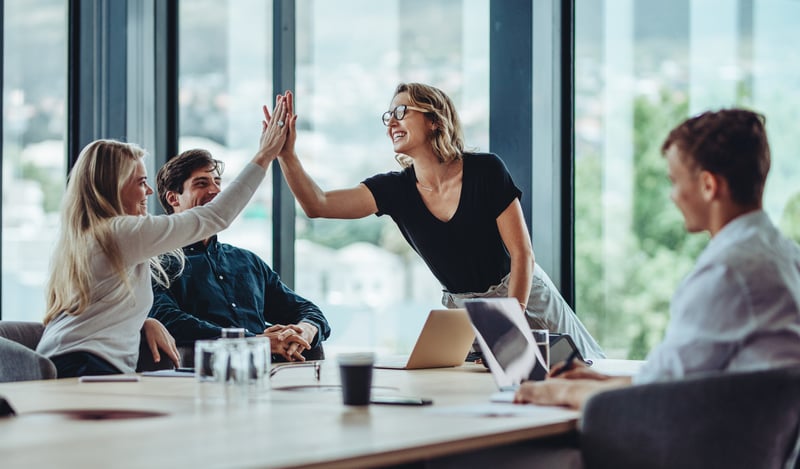 We've just covered seven of the best sales strategies for startups – and know what's even better?
There's no need to cherry-pick a single startup sales strategy. You can implement all seven and use them to grow your business's sales.
So get started and get selling!
P.S. Did you know that a scalable sales CRM is one of the best tools you can invest in at this stage? It can take your team's productivity to the next level thanks to:
Better contact management
A visual sales pipeline
Centralized communication features (VoIP, SMS, and email)
The many benefits of automation (you know the ones we mentioned earlier).
But enough about Ringy, just contact us for a personalized demo if you'd like to know more!