The life of an insurance agent isn't exactly all sunshine and rainbows. Over 90% of new life insurance agents quit within their first year. When you extend this stat to five years, that rate increases to 95%.
The high turnover rate is a result of the industry being extremely competitive. While it's easy to get into (depending on the jurisdiction, it can take as little as a few days to a few weeks to get the certification to sell certain types of insurance—and there are a lot of advancement opportunities), it's difficult to sustain unless you're able to make sales quickly.
So you may be wondering, "How do insurance agents get leads?"
If you're an insurance agent, you know it's important to develop great relationships with your existing customers, but your bread and butter is new leads.
Knowing how to find those new leads is the tricky part.
Back in the day, lead generation was primarily focused on pounding the pavement and picking up the phone. Even though those might still apply in some capacity today (especially phone calls), the internet has given insurance agents even more ways to capture leads.
You'd think that because we have more ways to communicate with people, it would be easier to generate life insurance leads, right?
Nope!
Even though it's arguably easier to communicate with potential leads, finding top-quality ones that are ready to be converted into customers is easier said than done.
There are a ton of articles online that are written by SaaS companies that will tell you that all you need to do is download their software, and it will solve all your lead-generating woes.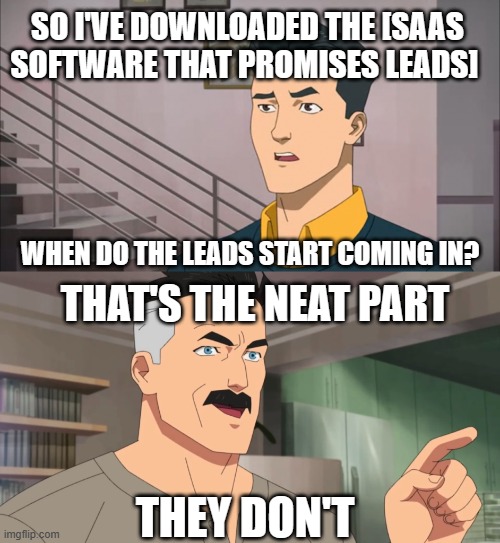 Technology is great, and we're definitely not saying that it can't help you make the process of generating leads easier and more streamlined, but here's the truth:
Leads for insurance agents won't generate themselves.
You need to know that technology can help you make your lead-generation efforts easier, but no piece of software, application, or program will create leads for you out of thin air.
To generate life insurance leads, you'll have to put in the time and effort in finding them. This definitely means putting effort into sales motivation and coming up with new and creative ways to turn prospects into customers—while following essential, well-established tips on how to generate leads, of course.
In this article, we explore the ins and outs of generating leads for insurance agents, including tips and tricks that you can use to help get a steady stream of leads rolling in. Of course, we'll also cover how you can use tech (an insurance CRM to be exact) to help you streamline your lead generation process and help you ensure that you're taking advantage of every lead opportunity that's presented to you.
Online Lead Generation for Insurance Agents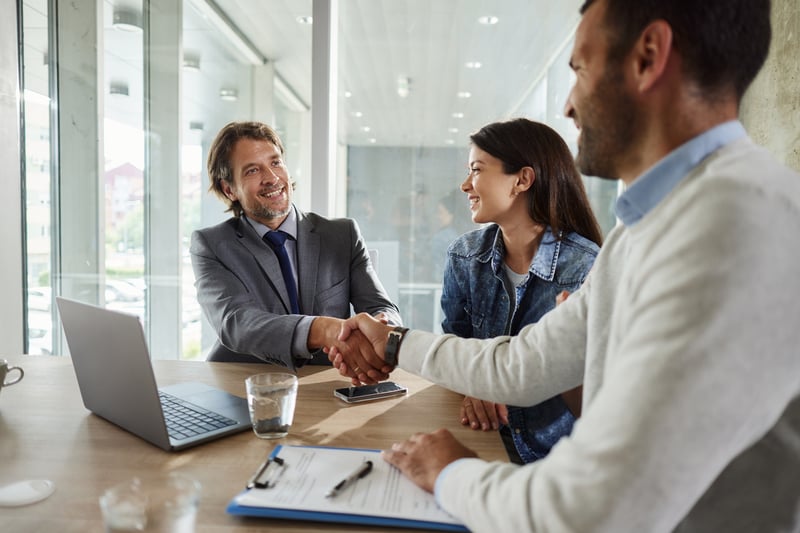 Different lead generation techniques will work for different agents. Factors like the agent's local market, their own personality, sales acumen, specialty (e.g. life insurance or auto insurance), competition, and product knowledge all affect how successful they will be in making sales.
But considering that the average person spends just under 7 hours online every single day, there's a ton of opportunity in generating life insurance leads over the internet.
First, let's take a look at different online platforms that you can use:
Online Lead Generation Platform for Insurance Agents

Reasons to Use

LinkedIn

Has over 930 million members in 230 countries and territories worldwide
Includes tools such as the Sales Navigator to help you narrow down prospects and develop relationships
Allows you to showcase your knowledge, experience, and abilities via your LinkedIn profile
Easy to connect and network with other agents and individuals in the insurance industry

Facebook and Facebook advertising

Has a ton of granular options for targeting the right audience with your ads
Ads can be images or video, giving you the option to be creative and experiment with your content
You can utilize Facebook Groups to develop relationships with your clients and connect with local communities (many communities have local Facebook groups)

Your own website

You can create blogs, videos, and other content that speaks to your target audience directly and addresses their burning questions or pain points
By using a combination of SEO (search engine optimization) and PPC (pay per click) advertising, you can attract prospects to your website so they can call you or fill in a web form for you to contact them
Acts as a centralized point online where your customers can find your contact information and more about you as a professional
From here, let's go through some specific tips on how you can capture leads and nurture existing relationships online:
1. Customer Referrals
Don't be afraid to ask your existing customers that are happy with your products or services for referrals. Referral marketing is where you ask your customers to recommend your products or services to people in their circle, whether that be coworkers, family, or friends. Many different types of businesses use referral marketing with success, from B2B SaaS websites to insurance and beyond. A typical strategy is offering an exclusive discount or other benefit to the referrer and the referee so that it's a win-win situation for both parties.
The benefits of a customer referral program are too awesome to ignore:
It either costs nothing or very little to implement—customer referrals don't take a ton of money to get going, and in a lot of cases don't cost anything. All you really need is some creative marketing ideas for how you're going to offer it to your customers.
Referred customers have higher retention rates—customers referred by your existing customers are much more likely to stay with your company. This is because when one of your existing customers refers someone they know, the referred person is likely to match your ideal customer, and therefore stay with your business longer.
Higher likelihood of conversion—people trust the recommendations from their family, friends, and coworkers, so if they are referred to your business, the chances of converting skyrocket. Data from McKinsey points out that 63% of Gen Z consumers consider their friends to be the most trustworthy source of information about products and brands.
2. Purchase Lead Lists
Curated lead lists are a great way to engage with potential customers that have already shown an interest in purchasing the insurance services that you offer. Once you have the leads in your hot little hands, you can start coming up with creative ways to reach out to them.
Typically, this will involve a well-done cold call script that you can use with VoIP calling systems (learn more about what is VoIP) or engaging cold email. Of course, you'll need to incorporate a complete strategy, including follow-ups, to win these customers over.
Ringy makes it easy to incorporate your lead lists into the CRM via a .CSV file, through your lead vendor, or manually so you can start engaging with them right away.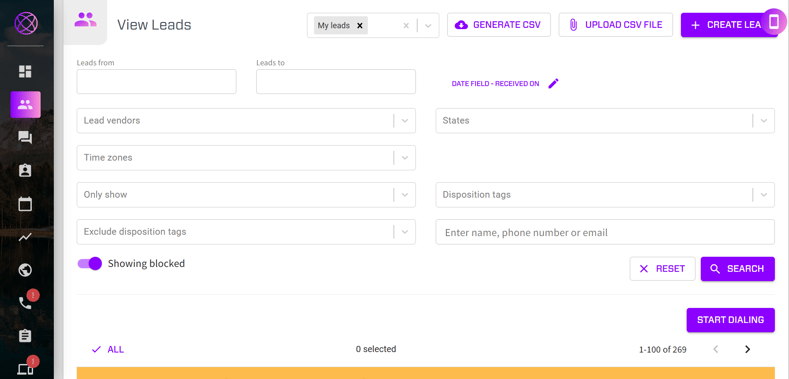 3. Build Online Communities
Creating a website and putting content on it on a regular basis is great, but successful insurance sales are also about directly engaging with your customers. Platforms like Facebook and Reddit are great for building online communities. Creating a Facebook business page (or using your personal one) and joining local Facebook groups and talking directly to your customers is one effective way to insert yourself into the local community. Don't just promote your services, but take the time to answer questions and otherwise present yourself to your customers as a real person rather than just someone who sells insurance.
4. Get listed on Reputable Review Websites
Before anyone buys anything, especially online, they are going to look at reviews. For an important purchase like insurance, you can pretty much be guaranteed that your customers are looking at reviews of you online before they contact you.
Popular review sites that your potential customers are likely to be looking at include:
Facebook
Google
LinkedIn
Better Business Bureau
Consumer Affairs
Yelp
Depending on your customers, they may prefer to use one review website over another. Pay attention to where the majority of your customers are leaving reviews, and start with that site as your target for responding to and directing customers to leave reviews. Google is often a good starting point because your review will show in search results when someone searches for your name or business name.
5. Host Webinars or Podcasts
A great way to showcase your knowledge and build credibility for yourself and your business is by hosting or participating in webinars or podcasts with other professionals. These insightful audio and video pieces can be broadcasted live so that your audience can ask questions or offer their insight directly, and/or provided after the fact through a link on your website and social media channels.
Generating Life Insurance Leads Working for a Company vs On Your Own
A common question for new insurance agents is whether it's more beneficial to work for a company or go out on your own.
On one hand, working for a company is beneficial because they already have the resources and budget in place to generate leads for you. Plus, the company's reputation and existing customers make it easier for you, especially if you are a new agent, to take advantage of to make more sales.
On the other hand, working for yourself means you don't have to share your profits with anyone else, and you can control every aspect of your work, from which customers you choose to do business with to how many hours you work per day.
The table below compares the pros and cons of working for a company for how to generate life insurance leads versus going for it on your own:
Pros & Cons

Working at a company

Freelance insurance sales

Pros

Finding leads is easy as they are typically assigned or able to be chosen from a pool of leads
You can use the company's existing reputation and credibility to your advantage
You don't have to compare lead providers and lead cost fees because leads are provided
Your employer is spending money on generating and attracting leads, not you
A company will typically offer training and assistance with sales
Better for new insurance salespeople to hone their skills

Set your own work hours
Choose which customers and leads you engage with
Build your own reputation and credibility based on your own ethics
You get 100% of the profits from sales
If you're a seasoned insurance agent with a reputation and a solid customer base, freelance insurance sales is a great option

Cons

You get a commission based on the sale rather than the entire sale amount
Company-provided leads are often pre-worked, meaning they've already been contacted multiple times and may be tired of hearing from the company, making your sales job harder
If you're a seasoned insurance salesperson, working for a company can but into your potential profits

Not a great option for newbies that don't have a reputation
Need to contend with finding and paying for leads from providers
Need to budget for marketing to find new leads, build a website, manage social media presence, etc.
Competition is fierce; you have to compete with other freelance insurance agents and big companies
Essentially, the best course of action is to work for a company to start with so that you can earn a living and build a reputation and establish credibility with your customers. Once you have a solid customer base and a few years of successful sales under your belt, it may be time to consider moving to freelance insurance sales.
6 Tips on Getting Leads for Insurance Agents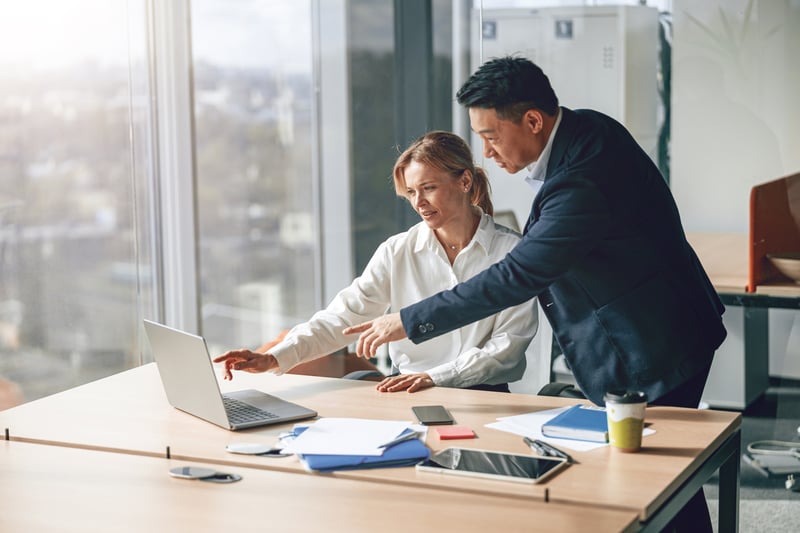 Whether you're working for a company or working for yourself, there are a variety of ways that you can generate life insurance leads or leads for another type of insurance:
1. Understand Your Target Customer(s)
Depending on the type of insurance you sell, you'll want to attract different types of customers. Take a look at your existing customers, or do some research on the types of customers that typically buy the insurance products you are offering.
For example, the ideal customer for a life insurance policy is likely to be younger professionals rather than older generations, especially for online sales. Young couples and families are good candidates for life insurance and should be on your list for the demographic of customers that you target.
2. Create a Website and Use Contact Forms
Taking advantage of the power of your own website, complete with search-engine-optimized content and lead generation forms, is essential for insurance agents. With your own website, customers will have a central point where they can easily find the information they need about the insurance products you sell, as well as your contact information.
3. Network with Other Professionals
The professional contacts that you gain throughout your career are important sources of friendship and potential leads. It's important to network with others in the insurance industry, especially with people that sell different types of insurance than what you do, so that you can refer customers to them and they can refer customers to you.
4. Maintain a Social Media Presence
Being active online is important for generating leads for insurance agents for a couple of reasons:
When potential customers are researching you, they will look at your website, online reviews, and your social media pages to learn more about you. If you don't have a lot of content and information on these sources, then the prospect will likely move on to someone who does.
Being active on social media helps build your credibility and reputation as an insurance sales professional. It also gives you the chance to interact directly with your existing customers and prospects.
Essentially, social media acts as a hub for communicating with your audience. By maintaining a consistent social media presence, you'll be better able to gain new customers and nurture existing ones.
5. Be Prepared to Handle Objections
A natural part of sales is objection handling. It can be difficult to get objections, especially when you're starting out, but just because a customer has a concern doesn't necessarily mean the sale is lost.
Here are some tips for handling sales objections:
Practice active listening. Your customer wants to be heard, so make sure that you're allowing them to speak before you interject. More importantly, take in what they are saying to ensure you understand their point of view.
Repeat what you hear. Repeating your prospect's objections back to them in your own words does several things: it clarifies that you understood what they were saying, it demonstrates that you were listening to them, and it helps them feel heard and valued. These are all important for building trust as you work through their objections.
Validate their concerns. Let your prospect know that you hear them and understand where they are coming from with their concerns. Consider their specific concern and how you can give them some peace of mind that it will be ok. For example, if your prospect is concerned about cost, perhaps you can offer them monthly payment options rather than having to pay all at once. Understanding your prospects' concerns and then offering them a solution is paramount.
Ask follow-up questions. You want to keep the conversation with your prospect going while obtaining more information. Oftentimes, objections come from a lack of information. If you can continue to ask your prospect open-ended questions, you're likely to uncover information that you can use to turn the objection around.
6. Engage and Follow-Up Using Marketing Automation
Did you know that the longer it takes to respond to a lead, the more likely you are to lose it? An often-cited statistic from Harvard Business Review states that the optimal lead response time for following up on phone calls is five minutes or less, but that was years ago—today, the expected response time is likely much less, considering we have instant communication methods.
If a lead comes in during the middle of the night or while you're helping another customer, it's impossible for you to respond within five minutes, let alone immediately. However, using marketing automation, you can respond to leads immediately through email or SMS with static messages. These are important for engaging with your lead as soon as possible, even if it's just a message that you'll contact them within a certain time frame.
Why Using a Sales CRM Helps with Leads for Insurance Agents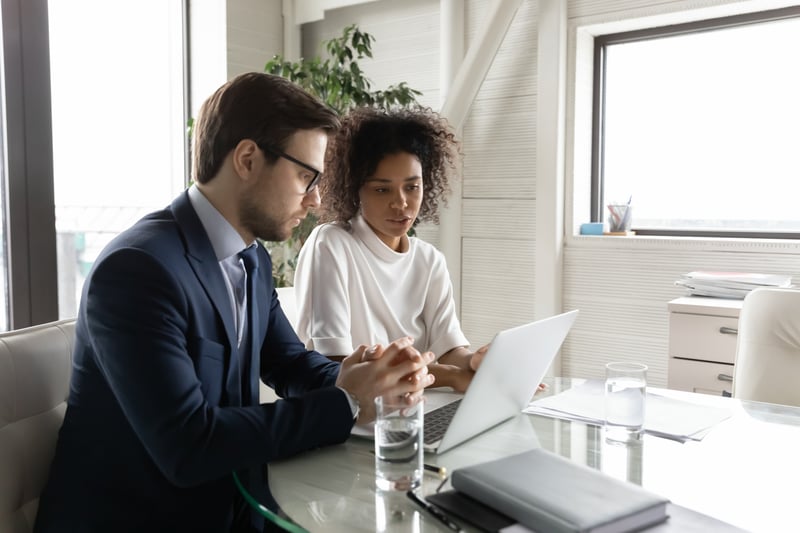 If you're not using tools like a sales CRM to help you capture and organize your incoming leads, you're missing out on massive productivity savings. Here are the main reasons why you should be using a CRM for your lead management efforts:
Allows Organization of Incoming Leads
Organizing leads by priority and stage in the sales process is essential for keeping everything on track. If you simply have a big long list of leads with no organization or structure, it's hard to know whether you've contacted them or not or where they sit in the sales process.
A CRM like Ringy allows you to easily organize incoming leads into priority buckets or categories via the sales pipeline. This lets you easily see which leads you must follow up with first.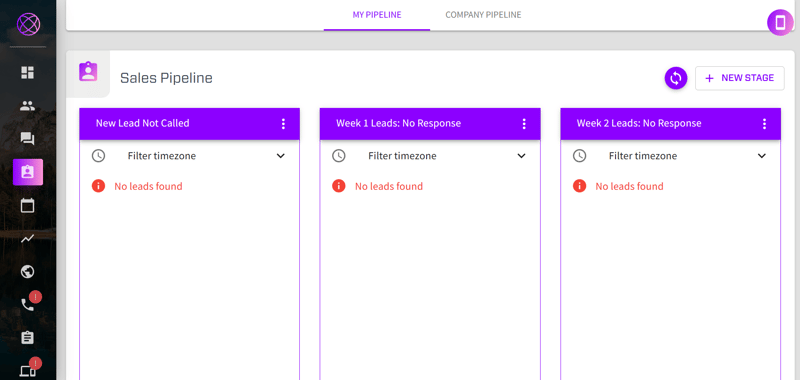 Provides Automation Tools
Automating certain aspects of your lead management is a no-brainer. A CRM like Ringy provides several automation tools to help you keep in touch with your customers.
For example, the email drip campaign feature allows you to automatically send an email to a lead when a certain event happens like they fill in a contact form on your website or sign up for your newsletter.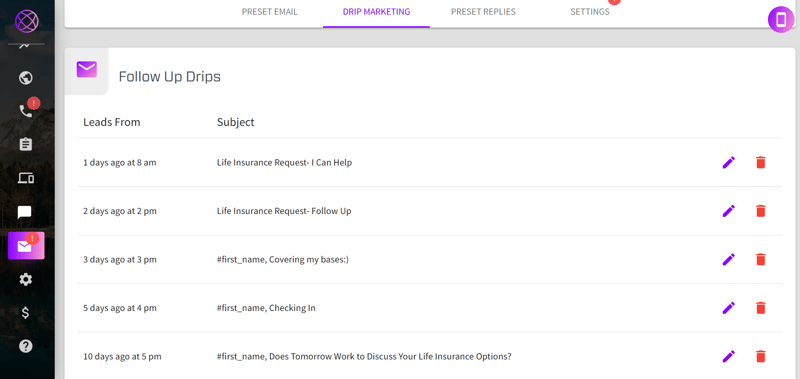 Meetings and Appointments Can Be Scheduled in the CRM
Instead of having to switch between different applications to schedule and keep track of appointments and meeting for individual leads, a CRM like Ringy allows you to schedule them within the CRM. By integrating with Google Calendar, any updates or changes to appointments or meetings will also be automatically updated in the CRM.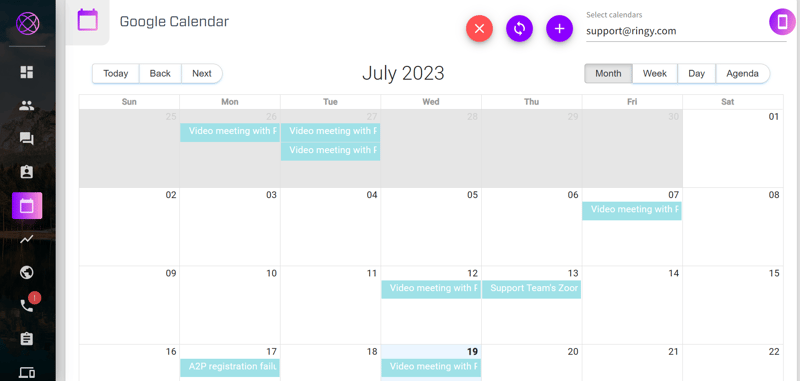 Aside from viewing all of your appointments in the Google Calendar view, you can also view any appointments you have with a lead via their individual dashboard.
Conclusion
Generating leads for insurance agents can be difficult, but by following essential tips and tricks, the process of getting leads can be easier and more efficient.
A CRM helps you effectively manage the leads you do capture, allowing you to prioritize when you contact them and their individual stages in your sales process.
Ringy is an affordable, fully-featured CRM with robust lead management functionality.
Book a Demo with Ringy today to discover how the CRM can benefit your business.