Being a salesperson is no walk in the park.
Your average day probably looks a little like this:
Gather new leads, organize them, reach out to them (manually or, if you're lucky, through a complex system), log your progress, discard poor-quality leads, move high-quality ones through your sales pipeline, manage your phone numbers, keep in touch with hot prospects, do some admin, and finally close a few deals and make some hard-earned money.
And that probably only got you to lunchtime...
Geez, even reading that is exhausting!
And what if we told you that you could do the job of 10 salespeople without working longer hours?
You'd probably think we're crazy…
But the thing is, we're not, and you most definitely can!
You can lower your CPAs, increase your ROI, and ultimately make more sales for your company and commissions for yourself.
How?
Add a virtual assistant to your pocket - a robust lead management sales CRM (customer relationship management) system.
Which one?
Hold your horses; we're getting to that!
Just keep on reading, and you'll discover the seven best SaaS CRMs for small business.
But first, let's define a key concept that'll accompany us along our entire journey:
What Are CRM Systems for Small Businesses?
CRM systems are software that help you record and manage all of your organization's interactions with your customers and leads.
The main goal of CRMs is to help you build better business relationships, improve customer satisfaction, and make more sales.
This type of client management software for small businesses gives you the ability to do far more with your precious time than you ever thought possible. Its combination of streamlined processes, better data management, and automation is mind-boggling.
And it's no secret - CRMs recently became the largest enterprise application software category globally!
Are you ready to join the revolution, sign up for a quality CRM, and transform the way you do business?
Of course, you are; you're a salesperson. So keep going!
Types of CRM System for Small Business
On that note or those notes, this section will help you understand the CRM system best suited for small businesses. Let's take a look at some of the CRM options available in the market that small business owners can consider:
Client Management Software for Small Business
Looking for a way to streamline the customer management process of your small business? Look no further than client management software!
This CRM for small business provides you with all the necessary tools to segment and engage customers while giving vital insights into their behavior through reporting.
With this software, you can monitor customer activities and preferences to gain awareness of their needs and construct customized experiences that meet those desires.
Additionally, you can use client management software for the following purposes:
Tracking sales performance,
Setting goals and creating campaigns,
Managing leads and contacts, and
Generating reports.
Boasting an extremely user-friendly interface, this software allows small business owners to manage their clientele from acquisition through retention easily.
Customer Database Software for Small Business
As the name implies, customer database software allows you to create and store data about your customers in a digital format.
This type of CRM for small business enables you to access key details about your customers, such as contact information, purchase history, preferences, and more. It also lets you keep track of customer interactions and manage those relationships effectively.
You can use the customer database to build and maintain customer loyalty, generate personalized marketing campaigns, create customer profiles and segments, and gain in-depth insights into customer behavior.
There's more to this small business CRM feature because it allows users to track key performance metrics such as customer churn rate and lifetime value (CLV). With the data gleaned from these effective tools, you can make informed decisions that will help improve your bottom line.
Sales Software for Small Business
Sales software is crucial for any small business looking to grow its revenue quickly and efficiently. This type of CRM system helps companies to manage sales processes such as creating quotes, tracking deals, setting reminders, organizing task lists, analyzing competitor data, and more.
Sales software also assists companies with forecasting future sales trends by generating detailed reports about past performances and measuring success rates across different channels.
Moreover, this kind of software allows users to identify opportunities for improvement so that they can take the appropriate actions to boost sales efficiency over time.
Sales Tracking Software for Small Business
Let's say you've set goals, personalized your targeting, and even started implementing different strategies. But how do you measure your progress?
Sales tracking software will come in handy here! It can provide you with real-time data about your sales activities and performance so that you can make informed decisions as soon as possible.
This CRM for small business allows you to track leads and customer interactions, monitor KPIs (key performance indicators) like conversion rates, and gain insights into the effectiveness of your sales efforts.
With this kind of insight into what makes customers tick on an individual level, thanks to features like A/B testing capabilities embedded within many sales tracking solutions - maximizing revenues becomes easier than ever!
So there you have it – all the best CRM for small business systems to help manage customer relationships and maximize sales. Whether you are looking for CRM software to track customers, measure sales performance, create campaigns, or generate reports – you have the right CRM features to do that!
A Snapshot of the 7 Best CRM Solutions for Small Business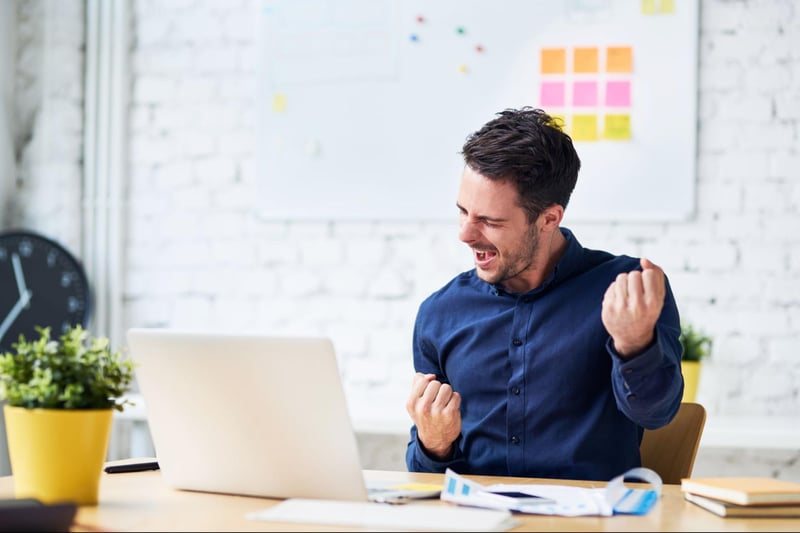 Here's a lightning-fast overview of the seven products we'll review below.
| | | |
| --- | --- | --- |
| Rank | Small Business CRM | Ongoing Costs |
| 1 | | |
| 2 | | $25 - $300 per user per month |
| 3 | | $18 - $83 per user per month |
| 4 | | $11.90 - $74.90 per user per month |
| 5 | | $18 - $55 per user per month |
| 6 | | $169 - $249 per user per month ($29 each for additional users) |
| 7 | | $49 - $779 per month |
*Pricing as of January 2023
Feel free to click on a couple of links and do some background reading on the best small business CRM systems known to sales-mankind!
Just do us a big favor:
Don't sign up for any software yet!
Why?
Because you're not 100% sure yet about which CRM tool for small businesses is the right one for your specific needs and requirements.
But if you sit tight and blast through this post, you'll learn how to make the perfect call.
So without any further ado, let's zoom through our evaluation criteria and get to the in-depth reviews!
Small Business CRM Evaluation Criteria
As excited as you are to get to the CRM reviews, you surely want to know how we pulled together our final ranking…
After all, how can you compare anything without knowing what to look for!
But since we know you're busy people, we'll give you two options for checking out our evaluation criteria: a quick one and a detailed one.
Here is a quick review of what we considered:
Price
User-friendliness
Lead generation and management capabilities
Sales automation
Other features & tools
Mobile integration
Customization
Customer support
And here is the detailed version, or a deep-dive on each of these factors - read it if you want to understand what guided us during our hunt for the best CRM system for small businesses Like yours.
1. Price
In a world dominated by CPA and ROI, our first consideration always had to be price.
Especially in the case of small businesses, it's fundamental to find low-cost CRM solutions that pay for themselves by helping you become more productive and close more sales.
There's no point in investing in enterprise-level solutions if every new sale you make just goes to paying for your tech.
It's that simple.
2. User-Friendliness
Our perspective is really straightforward:
There's no point in having the best functionality if it's nearly impossible to use.
Salespeople want software that's easy to manage and not software that ends up managing you and eating up too much of your time with complex manuals and guides.
And this is true for wherever you are in your career, regardless if you're a seasoned vet or a total newbie. There's always something more important to do than titillating with your CRM, and our reviews will show you that we help everywhere we can.
3. Lead Generation and Management Capabilities
Turning leads into sales is your bread and butter.
And your CRM should be the best butter knife for your kind of butter in the world.
A CRM for small business with excellent lead management capabilities will help you:
Organize and stay on top of your leads (whenever and wherever)
Manage your entire sales pipeline
Create efficiencies and productivity gains with automation
Stay in constant communication with top prospects using phone, SMS, or email
View past activity and notes
Schedule your actions via an easy calendar integration
When it comes to leads, your CRM will become your BFF.
4. Sales Automation
A good CRM is much, much more than a simple bit of customer database software.
Organizing your leads and customers is only one part of the equation.
Automation is another.
And the more automation, the better, as it permits you to have the right dialogue with your prospects at precisely the right time.
No more getting bogged down in repetitive tasks, and most importantly, no more leads slipping away because you couldn't get around to them in time.
5. Other Features & Tools
There are various other bits and bobs of functionality you definitely want your CRM to have.
One of the most important is always picking a cloud-based CRM software for small business needs.
The benefits of using the cloud include:
Superfast deployment
Universal access to your CRM data
Automatic updates
Lower costs
Company-wide collaboration.
It just makes sense.
But being cloud-based isn't enough on its own.
You need a lot more help to get the job done right. And we love it when all these extra features are rolled into a single all-in-one platform: one login, all the power.
This table covers the other stuff you should look for:
Feature

Importance

Texting

Permits you to contact your leads at the click of a button
Offers a non-invasive way to follow up with leads and send reminders

Calling

Saves you tons of time (i.e., automatic dialing)
Organizes all your phone numbers in one place
Gives you the ability to train your agents or have conference calls with clients

Emailing

Sends email drips to your leads at the perfect moment
Eliminates the need for a separate emailing platform

Appointment setting

Gives you total control over your schedule
Syncs with a major calendar provider, like Google or Apple

Analytics

Shows the information you need to fine-tune your tactics
6. Mobile Integration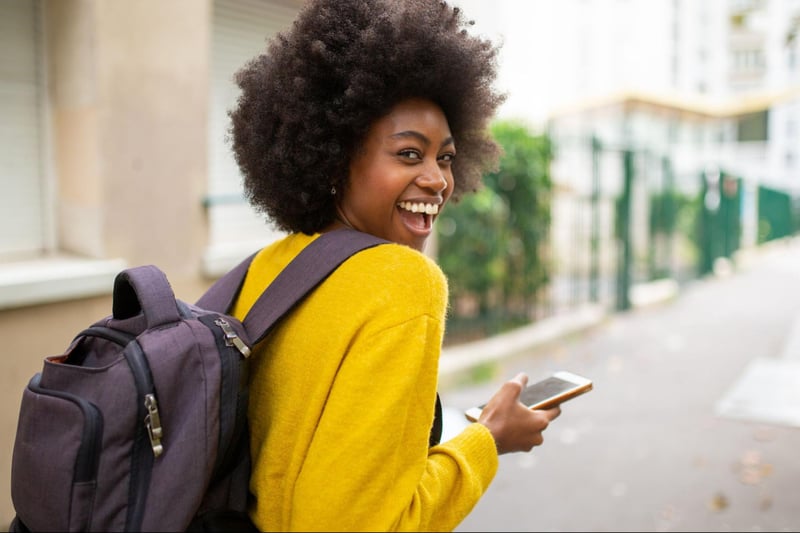 After all, what's an "online CRM for small business" good for if you can't access the system from your mobile phone?
Not much.
Especially if you're out and about as much as we are.
A mobile app to manage all of your contacts and leads is as good as gold.
Because sometimes your leads won't wait for you to get back in front of your computer.
7. Customization
Every company's sales pipeline is slightly different.
A good CRM provider knows this truth and offers a minimum of flexibility in their processes and systems to accommodate their clients' different ways of doing business.
However, this flexibility shouldn't end up overcomplicating the user's life with never-ending amounts of customization options.
There has to be a balance between a fluid, simple user experience and customization.
8. Customer Support
Last but not least (especially when a bug is giving you a headache) is customer service.
Even the most basic CRM software is bound to act up every once in a while…
It's just part of life when it comes to development and technology.
But the knowledge that a friendly customer support agent is waiting for you across the line (or the world wide web) is what makes or breaks your relationship with your SaaS provider.
They'll help you sort your issue and get back to work in no time because time is money for businesses of all sizes.
Now, drum roll, please…
It's time for the reviews of our seven favorite CRM systems!
Best CRM for Small Business
1. Ringy | Work Smarter, Not Harder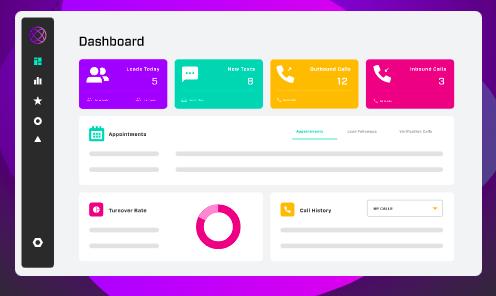 Hold up, isn't that your product?
Yes, it is - Ringy is our baby!
We won't lie to you.
We know that starting this list with our own product might feel a little bit like self-promotion…
And that's because it is…
But self-promotion isn't the reason we penned this article and ranked ourselves first.
We did it because we're salespeople that genuinely want to help other salespeople make the most of their days and sell, sell, sell.
And with the level of competition in the CRM world, there's no place for modesty. 😉
So:
Why is Ringy CRM so good?
It's because we've built an affordable CRM software for small businesses with great capabilities and an inexpensive monthly subscription.
All the tools you get access to are cutting-edge and specifically developed with salespeople's needs being first and foremost in our minds.
(Just have a look at some of our reviews.)
After a short (and free) onboarding process, you'll be ready to get rolling.
You can look forward to:
Spending WAY less time with repetitive, manual tasks (i.e., dialing, texting, spreadsheets)
Communicating more often with your hot leads.
Serious automation (i.e., sending your prospect list automated SMS messages whenever you desire)
An excellent mobile application that can manage and report everything you need.
Automatic local presence dialing from any US state - because customers are four times as likely to pick up a call from a local number!
Lower CPA and better ROI
And all of this without having to work weekends or 12-hour shifts.
Sound too good?
Well, if you don't believe us, then just check our testimonials and reviews, or drop our friendly staff a note to put us to the test.
If you're happy with what you see, take advantage of our two-week free trial and unleash the power of Ringy on your business.
Monthly cost: $109 + $40/70 credit packages (as of Jan 2023).
2. Salesforce Sales Cloud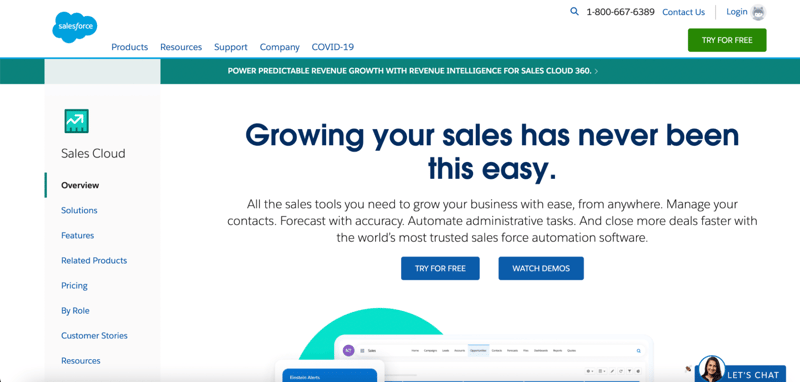 Who else but Salesforce could take home the silver?
Salesforce is one of the pioneers of our industry. It is quite honestly the gold standard most of us compare ourselves against when designing our own CRM platform.
So why is its client relationship management software only in second place?
It's expensive and time-consuming to master and customize.
The majority of small businesses will struggle with its steep learning curve and its monthly costs, which usually set you back about $150 per user per month.
The entry-level $25 plan is just too basic to be worth it. So don't waste your energy on it.
However, if you're planning for growth and have financial backing, the more complete versions of Salesforce Sales Cloud are an excellent choice. You'll get access to a wealth of innovative features, partner integrations, and outstanding workflows.
Our favorite thing about Salesforce is its Einstein Analytics - an add-on AI integration that increases sales productivity and effectiveness. It automates time-consuming tasks, scores leads, takes care of social listening, and creates forecasts that you can rely on.
Pretty impressive for a guy that's 142 years old. 👴
Monthly cost: $25 -$300 per user month (as of Jan 2023).
3. Freshworks CRM (formerly Freshsales)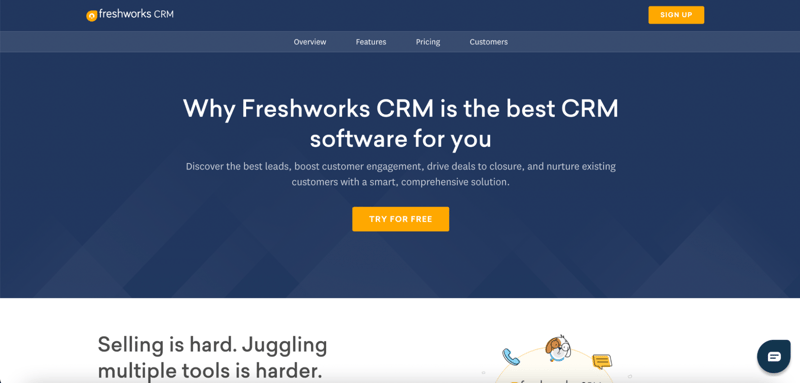 Freshworks CRM rounds up the podium with its excellent all-in-one software for sales teams.
It's a lightweight, simple solution that gets you up and running very quickly.
You surely won't need to worry about spending ages learning how to use complex tools like you would with Salesforce…
And on top of that, its pricing tiers are more accessible than the market-leading solution.
It's a solid CRM for small business used by over 40,000 companies worldwide.
What type of functionality would you unlock if you decided to give Freshworks a shot?
A visual sales pipeline
Lead scoring with customizable criteria
Integrated VoIP and emails
Visual reports and dashboards
An iOS and Android app for managing your leads on the go
Workflow automation via an AI assistant called Freddy
Your sales team will love having all this extra power at their fingertips.
Monthly cost: $18 -$83 per user (as of Jan 2023).
4. Pipedrive

If you're looking for another simple CRM software for a small business, you can't afford to overlook Pipedrive.
It's ridiculously easy to use.
It literally takes minutes to set up.
Just:
Sign up for a plan.
Create your sales pipelines.
Effortlessly migrate data from your current system or import it from Excel.
Use the intuitive drag-and-drop interface to track your leads and nudge them along toward a sale.
Check the analytics dashboard to optimize your processes.
But Pipedrive isn't only user-friendly; it's also well-priced, powerful, and supported by an impressive 24/7 customer service team.
However, you should keep two things in mind before subscribing.
One:
You can't separate leads from contacts without using a workaround.
Two:
It doesn't have the same level of automation, partner integration, and database management features as our top three CRMs.
Not big issues, but if you're after an all-in-one CRM, Pipeline isn't the tool for you.
Otherwise, it's a fine choice.
Monthly cost: $11.90 -$74.90 per user (as of Jan 2023).
5. Zoho CRM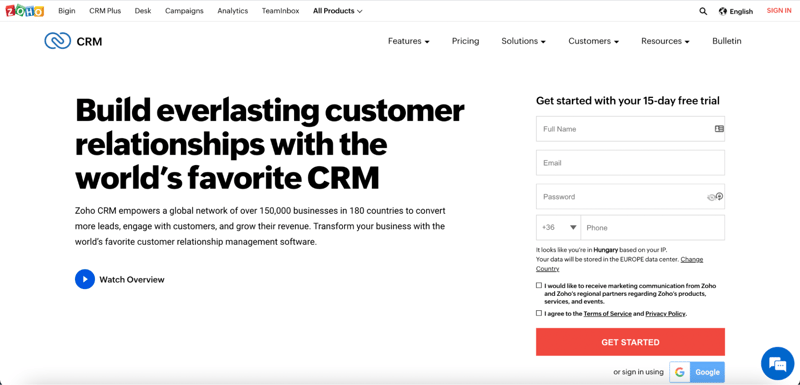 Next up is Zoho CRM, one of the world's favorite and most used customer relationship management systems.
And it's simple to see why 150,000 businesses from over 180 countries are using it.
Zoho CRM is a solid, fairly-priced alternative for small businesses. It has a simple user interface, excellent automation, good levels of customizability, and a gargantuan amount of sales features and integrations with other Zoho products.
It even has a free version for up to three users if you want to start nice and slow.
But what truly stood out for us is that you can gamify your sales process to help motivate your salespeople to work harder and beat their targets. When bragging rights and virtual trophies are at stake, people shine!
There's a drawback, though.
Zoho isn't the best at customer support, and from time to time, they'll fall short with slow response times and unhelpful responses.
Monthly cost: $18 -$55 per user (as of Jan 2023).
6. Keap (formerly Infusionsoft)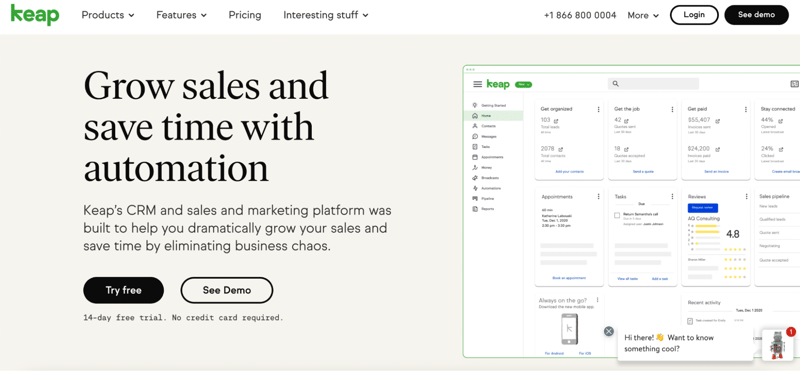 Are you working in a small business where the sales and marketing functions blur together into a unified process?
Well, if you've answered yes, then Keap is an option you have to consider.
It was specifically designed for the needs of small businesses. Owners, managers, and employees (like you) need a do-it-all system that combines the benefits of a CRM system with those of a marketing automation platform.
It's a one-stop-shop for pipeline management, advanced marketing automation (via email and SMS), task management, and database management.
Sounds great, but why is it just in sixth place?
Because, unfortunately, it doesn't come cheap.
You might end up paying $499 per month per user to access the most advanced version of Keap. That is if you have large databases of leads and/or customers...
So carefully consider if it's worth the investment before signing up - you might find a better deal elsewhere by combining separate pieces of software!
Monthly cost: $169 -$249 per user plus $29 each for additional users (as of Jan 2023).
7. BenchmarkONE (formerly Hatchbuck)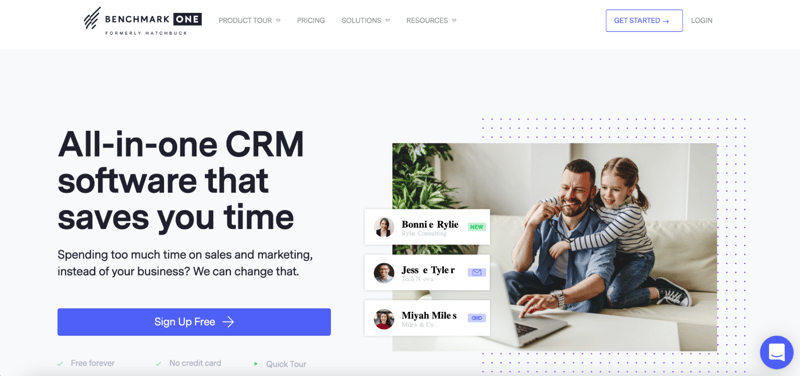 The last entry in our list of the best sales tracking software for small businesses is BenchmarkONE.
It's an all-in-one solution that succeeds in making sales and marketing software a breeze to use.
It'll help you focus on what matters (your leads and your customers) and cut through the unnecessary complexity of tools not made explicitly for SMEs.
We particularly like how the guys and gals at BenchmarkONE combined a functional yet straightforward CRM with cutting-edge email marketing automation.
You won't miss a sale thanks to hot lead alerts, and your drip campaigns will look amazing.
However, the platform itself is missing built-in VoIP, SMS marketing, and advanced lead management functionality.
But if you can overlook these drawbacks, you'll put your hands on a CRM for small business that won't disappoint!
P.S.
Overall, BenchmarkONE is a very similar platform to Keap - be sure to closely compare and contrast these two CRMs if either seems like the right tool for your business.
Monthly cost: $49 -$779 (as of Jan 2023).
FAQ
What is the Easiest CRM to Use?
The easiest small business CRM to use is a system tailored specifically to your business's needs. A CRM system should be intuitive and user-friendly while providing the features you need to manage customer relationships and maximize sales effectively.
Ringy, HubSpot CRM, Salesforce CRM, Nimble CRM, and Zoho CRM are some of the most popular CRM for small business ventures.
What is the Best Low Cost CRM?
The best low-cost CRM for small business is typically a system that offers basic CRM features without compromising quality. Zoho CRM and Salesforce CRM are two of the most popular CRMs when it comes to budget-friendly options.
Both offer excellent customer relationship management tools, such as contact management, lead tracking, customer segmentation, task management, and CRM automation. They also come with various integrations to help you extend their functionality and meet your unique business needs.
Summary: The Best Sales Software for Small Business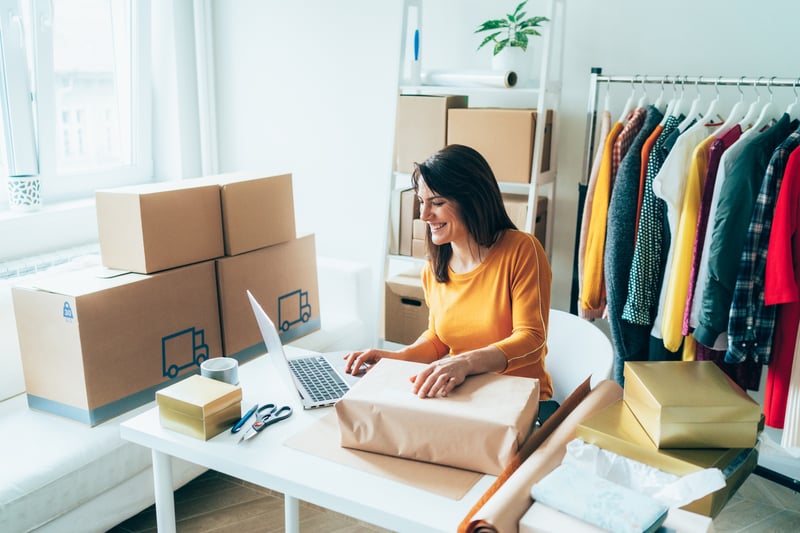 You've just learned a lot about CRMs.
Don't let all that knowledge go to waste.
Who knows how many leads are slipping away as you put off upgrading your CRM system?
Let's not even go there!
Our advice is simple:
Invest in yourself and pick one of the seven tools we've covered today!
In one single blow, you'll upgrade your firm's approach to customer relationship management and skyrocket your sales numbers like never imagined!
We'd pick Ringy CRM if we were you… 😊
But since you're all grown up and can make up your own mind, we'll leave the call to you!
Just remember that you can try us out risk-free with our two-week free trial…
No strings attached.
And if you happen to have any questions, please drop our friendly team a note, and we'll be happy to answer.
No matter how silly you might think it is.
That's it for now, so thanks for reading, drop a line if you want to learn more, and get back to selling! 😬