Manufacturing sales teams need to do more than just manage the supply chain. You need to manage people, too.
You've not only got your own sales team and factory floor crew to think about but add on retailers to ship to, distributors to work with, and suppliers to keep happy… and that's before we've even considered your customers.
So, how do you manage all of these relationships? How do you keep track of all those crucial conversations and keep your assembly line moving?
You could rely on instinct and memory and let consistency and accuracy fall by the wayside. Or, you could:
Maintain close relationships with people in the chain
Slim down your sales funnel to maximize ROI
Keep all of your conversations in one easy-to-access place
You can have all of this with a sleek, superfast manufacturer CRM, tailored to your needs.
Let's explore how.
What Is a CRM for Manufacturers?
A customer relationship management platform - a CRM for manufacturers - is a central hub that keeps track of all your customer-related conversations, campaigns, data, forecasts, and analytics. It also provides instant access to all this information - you can think of your CRM as the past, present, and future of your manufacturing sales and marketing processes.
Manufacturing firms' success relies heavily on building and maintaining relationships. Much of that responsibility falls to sales and marketing teams, who need to find and qualify leads, nurture them carefully over a complex sales cycle, and ultimately close sales.
CRMs empower sales and marketing teams by enabling them to:
Quickly create customer records,
Track each lead and where they are in the sales funnel
Check past interactions and communication
Learn from previous sales strategies and campaigns
So rather than relying on multiple platforms that often give conflicting updates, more and more manufacturers are now using a CRM program, like Ringy, to manage their customer journey and provide a better end-to-end experience to leads, prospects, and clients.
4 Reasons Why You Should Adopt a CRM in Manufacturing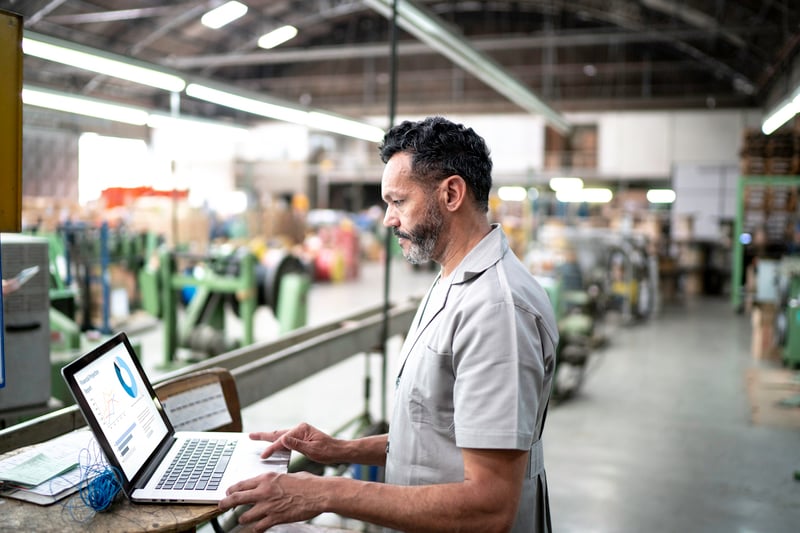 | | |
| --- | --- |
| The reason | The effect of a manufacturing CRM |
| Extra forecasting power | CRMs enable you to make better plans for the future, so you'll be able to see when you'll need to adjust your tactics, hire and onboard new sales reps, and adjust quarterly targets. |
| More sales opportunities | Sales CRMs help your sales team work faster thanks to automation and streamlined workflows - this means you can contact more leads, nurture them more efficiently, and give yourself the opportunity to make more sales. |
| Cloud connectivity | Sales teams can access their CRM and be productive from any device - on the go, from a home office, or wherever they are. |
| Simpler workflows | CRMs help you visualize all your contacts, communications, call lists, and processes together in a single platform. |
Need a bit more convincing than that?
Then keep reading for a detailed look at these four reasons - if not, skip to the next section with this link.
1. Extra Forecasting Power
Without accurate forecasting, manufacturers are working in the dark.
Unfortunately, without clean, accurate data to work from, your predictions might be way off, and you might not even know it.
A manufacturing CRM can help solve this dilemma by:
Tracking all your sales activity
Creating accessible reports
Giving you actionable sales insights thanks to predictive forecasting
The more accurate your sales campaign data is, the better your chance of accurately planning ahead and the better your chance of success.
So rely on a quality manufacturer CRM for your sales forecasting.
2. More Sales Opportunities
With a streamlined CRM for manufacturers, your sales team can work faster, make more confident connections with leads and prospects, and spend more time nurturing these vital relationships.
"How?" you ask.
By leveraging two powerful CRM capabilities:
Automation - your agents can automate workflows and customer communication like email campaigns and SMS messages (either as one-offs or as drip campaigns) and nurture on autopilot
Data capture - your CRM captures absolutely everything about your leads, making sure no vital information is lost or forgotten and avoiding awkward conversations
3. Cloud Connectivity
A cloud-based CRM gives you a few key advantages:
You can scale your communications strategy up and down whenever necessary
You can connect with leads and customers through a wide variety of channels - important when you consider that customers reach out on 13 different channels
Your sales and marketing teams can access customer data and be productive from any device and any location - from the office, on the go, WFH, or wherever they are
And one other thing:
A cloud-based CRM automatically updates and ensures there is a single version of the truth. All sales reps need to do is log in, and they can find real-time information about:
Previous call logs
Sales funnel status
Customer value
Qualification status
4. Simpler Workflows
A manufacturing CRM can help you simplify your processes and workflows.
This is fundamental in an industry where most sales are B2B and complex in nature due to multiple stakeholders, long decision-making periods, and expensive contracts.
By adopting a CRM in manufacturing sales processes, you'll be able to pinpoint inefficient processes and understand where you're wasting too much valuable time.
For example, you might notice that your sales team spends over a week pulling together quotes for your prospects. You could then deep dive into this workflow and cut down the number of days it takes to send a quotation out.
Essential CRM Manufacturing Software Features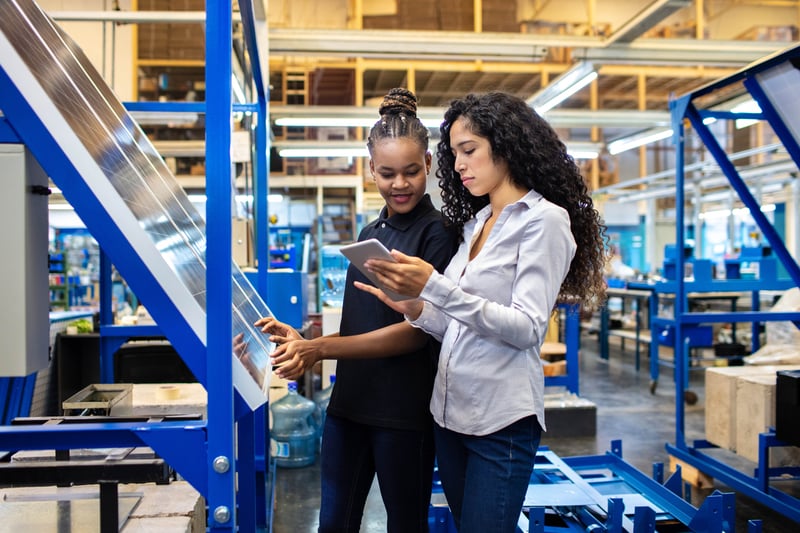 By this point of the post, you're probably convinced that a manufacturing CRM can help your company optimize its sales and marketing departments.
And you're right; investing in a CRM platform is a fantastic idea.
But before you start thinking about specific platforms, you need to understand what features make or break a manufacturing-focused CRM.

Let's take a look at the three most important ones.
1. Accurate Real-Time Reporting
The ideal manufacturer CRM dashboard should give you the latest buzz on how your sales campaigns are performing and how your conversion rate is shaping up.
For example, Ringy keeps things deceptively simple.
From a colorful, central dashboard, you can:
Check out how many leads you've generated
Track inbound and outbound metrics
See which agent has control of which campaign
Review which clients are bringing you the most revenue
Inspect how well your outreach campaigns are performing
Having all of this data on one page means you can start making more confident, efficient decisions with regard to supply, lead outreach, and staffing.
You'll also get to see which agents are hitting the mark and who needs some extra help.
2. Dynamic Sales Pipelines
Good manufacturer CRMs let you simplify every aspect of your sales pipelines and:
Import customers directly into your CRM
Add custom labels and trackers to customers
Schedule the next point of contact
Assign agents
Set the next stepping stone in place.
Beyond all of this, you can use a CRM in manufacturing to scale your pipelines and processes up and down whenever you need to.
Is something not connecting with your customers? Cut it out. Want to automate an extra call or email to ensure a sale's on track? Add it in.
3. API Integrations
A fantastic CRM takes a lot of the stress out of sales administration by offering you more functionality through integrated apps and services.
Ringy, for example, lets you import lead vendors with ease, meaning you don't have to worry about manually adding each new database of leads you receive.
Let's not stop there - as you can use our Zapier integration to connect your manufacturer CRM to one of the 4,000+ apps that support this popular product.
Best CRM Manufacturing Software on the Market
Now that you know what features to look for in a manufacturing CRM, here's a clutch of four brilliant out-of-the-box platforms.
Consider each of them carefully before making your final decision.
| | |
| --- | --- |
| CRM Software | Why should you pick it |
| Ringy | Ringy is crammed with amazing automation tools, communication functionality, and simple yet detailed reports. |
| Salesforce Manufacturing Cloud | Salesforce is a flexible CRM that provides a wealth of preset templates specifically made for manufacturing businesses |
| SugarCRM | SugarCRM has an impressive collection of marketing tools you can use to generate more leads. |
| SAP Sales Cloud | SAP is one of the best CRMs for managing customer data, financial information, and inventory. |
Ringy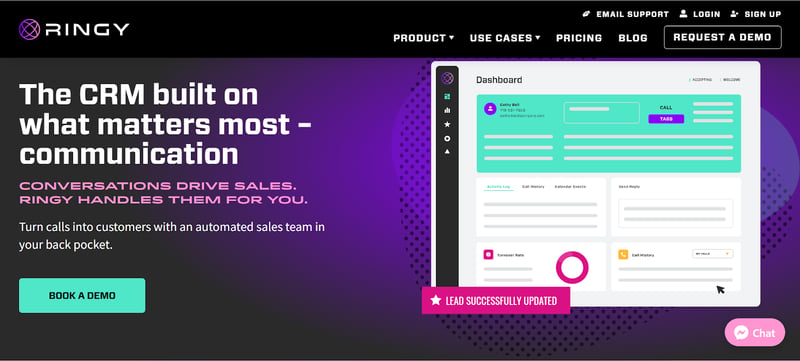 Well… where do we start?
Ringy is a disruptive name in the manufacturing CRM space as it offers businesses the benefits of bigger platforms without the high price tag.
Not only that, but we've fine-tuned our automation features, developed a mobile application and simplified our dashboard in line with customer feedback.
Ringy is one of the easiest CRMs to get started with out of the box - you can quickly import your data and easily set up automation and communication workflows to help you hit the ground running.
Salesforce Manufacturing Cloud (SMC)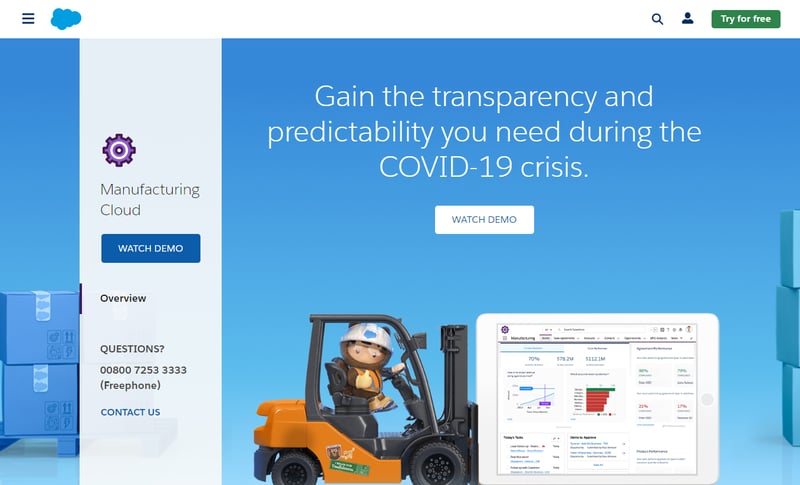 Salesforce is one of the market leaders in CRM software for manufacturing industry users, largely thanks to its incredible depth and series of user controls.
SMC provides manufacturing users with market-leading forecasting, planning, and sales capabilities.
Salesforce's AppExchange also provides its users with a variety of different tools and integrations for making the manufacturing sales process go a little bit smoother.
For example, you can directly import quote vendors and cloud data management tools into your dashboard. There's an immense amount of data at your fingertips, and for manufacturers, that makes for more valuable conversations with prospects and clients.
SugarCRM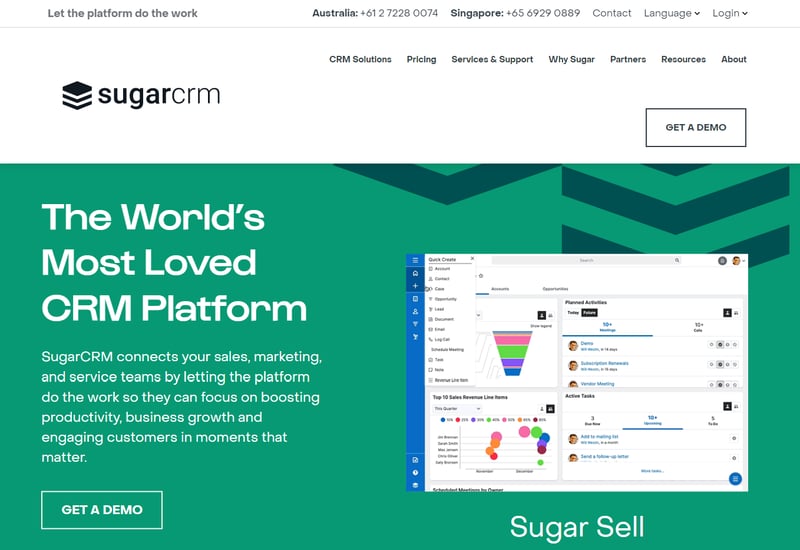 SugarCRM is a three-pronged platform that breaks its experience down into Market, Sell and Serve. It has a particularly large library of marketing tools and templates, and its scale of personalization and customization is hard to match.
Other advantages include:
A simple and user-friendly interface
Advanced customer journey mapping software
Accurate predictive forecasting
SAP Sales Cloud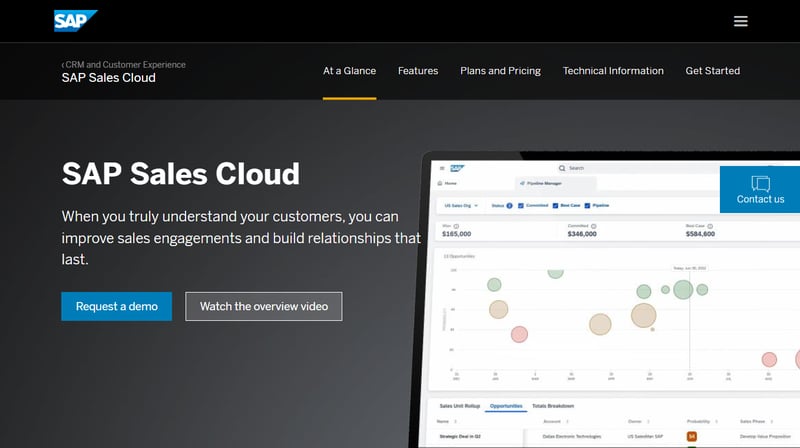 SAP Sales Cloud strives to slim down your sales process and reduce the amount of time you spend on low-value-adding tasks. For manufacturers, it's particularly useful for viewing inventory and demand at a glance, and it's an asset to salespeople looking to manage complex B2B accounts, each with many stakeholders and long sales cycles.
Sales Cloud is also immensely transparent - there's negligible digging for data necessary, and it's easy to automate who has access to which areas of your business.
Manufacturers also enjoy Sales Cloud because of its one-platform approach to collaboration, its unified view of every customer, and its many reports and intelligent recommendations.
How to Use CRM Software for Manufacturing Firms
Each CRM's operating process is, naturally, going to differ a little - but the best CRMs keep your first few clicks nice and simple.
Here's a very high-level overview of what you need to do to get started:
Import customer records, marketing drips, and lead data into your CRM
Connect any lead vendors or third-party software you'd like to manage and use
Build your sales pipeline(s)
Brainstorm automated sales workflows and add them to pipeline(s)
Set up reports to keep track of the information that matters most to you
Onboard your sales and marketing teams
Sit back and watch your sales team's productivity skyrocket
The key is to keep things super simple and take a good, hard look at your sales funnel.
Need a bigger hand?
Then request a demo from our team, and we'll be happy to sit down and show you how to use our CRM to boost your sales numbers.
Conclusion: Try a Manufacturer CRM Out and Improve Your Customer Relationships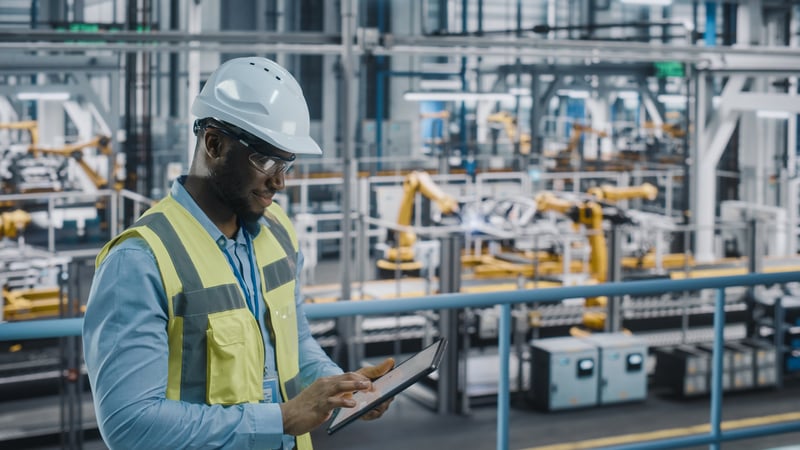 There we have it - a CRM for manufacturing really can help you make sense of all those confusing accounts and slow sales cycles.
With the right manufacturer CRM, you can:
Cut down lead qualification times
Keep track of all your customer data in one place
Plan for future demand and know how to scale your sales team
Manage all of your conversations from one page
If your manufacturing relationships are fracturing, and it's due to a lack of unified data and poor communication it's time to take Ringy for a spin.