Struggling to:
Find new ways to interact with your leads and customers,
Stand apart from your competition, and
Generate more sales?
But wipe away the long face; you're on the right path. You just don't know it yet.
Speaking of...
Have you ever thought about leveraging a CRM with text messaging to solve these issues?
Of course, you have - you Googled the phrase (or something along these lines).
Smart move.
*High Five!*
And not only because it brought you to one of the best places to learn how to dazzle customers and leads with an SMS CRM system, but also because you've already realized that texting is still one of the consumers' preferred communication methods, even in 2021.
That just goes to show that you can't beat the power of simplicity.
So let's take a page from business texting's book, skip the small talk, and get straight to the point of today's article.
What Are CRM Text Solutions?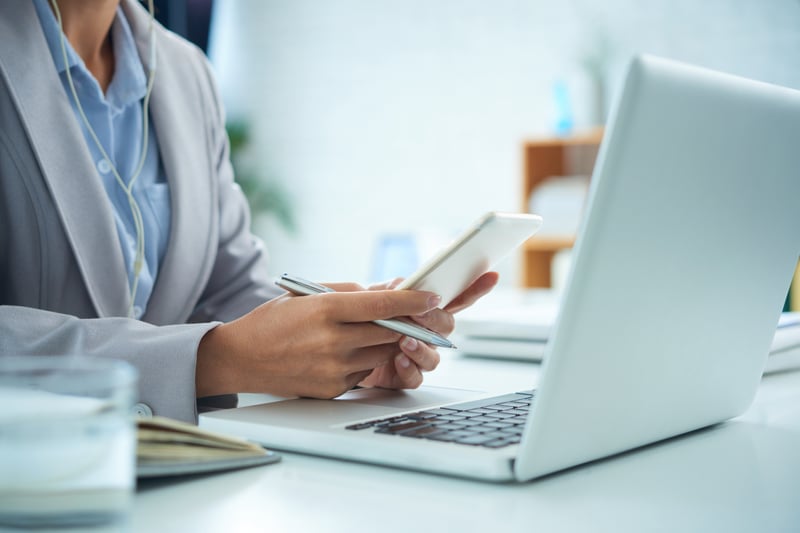 A CRM with text messaging is precisely what it sounds like:
A CRM platform with SMS functionality for keeping in touch and having two-way dialogues with customers.
And before you ask, a CRM system is customer relationship management software that helps companies digitize their customer records and interactions with the end goals of providing a superior customer experience, selling more, and retaining customers for longer.
The two capabilities were completely separate in the past - companies used a local, on-premises software program for their CRM needs and sent SMS messages through a telecom provider.
However, with the arrival of SaaS CRMs and the spread of online texting software, some intelligent developers started thinking of ways to provide a better service.
The answer was obvious.
They decided to add a wealth of extra features to basic CRMs (like SMS messaging, automation, email marketing, and scheduling) and create all-in-one programs that combined several software elements into one easy package.
Short side note:
Not all cloud CRMs offer everything out-of-the-box; many use integrations and third-party developers to deliver specific capabilities. It's a choice.
Now back to the story of the SMS CRM integration:
The idea to turn CRMs into far more than glorified excel sheets was a resounding success.
91% of organizations with over 11 employees use CRM software, and the CRM industry is expanding at a compound annual growth rate (CAGR) of 10.6% from 2021 to 2028.
Impressive, right?
You bet your bottom dollar.
And now let's look at the reasons why companies all over the world are switching to cloud-based (or SaaS, same thing) all-in-one CRMs faster than you can say, Jack Robinson.
Why Is SMS CRM Integration Important?
Simple.
Because a CRM SMS solution delivers an unbelievable quantity of benefits to businesses for a very reasonable monthly fee and next-to-no initial investment.
Like what?
Here are the most significant advantages of business text messaging:
Have more quality conversations with customers and leads
Contact customers at exactly the right time on the channel with the best cut-through (98% open rates and 40% to 57% read rates)
Create a better customer experience across the board (from online to in-store)
Empower salespeople, marketers, and customer service agents to be more productive
Improve customer service
Enable data-driven decisions
Make each customer feel like they're your absolute favorite one
How Can CRM With Text Messaging Capabilities Help Improve Sales?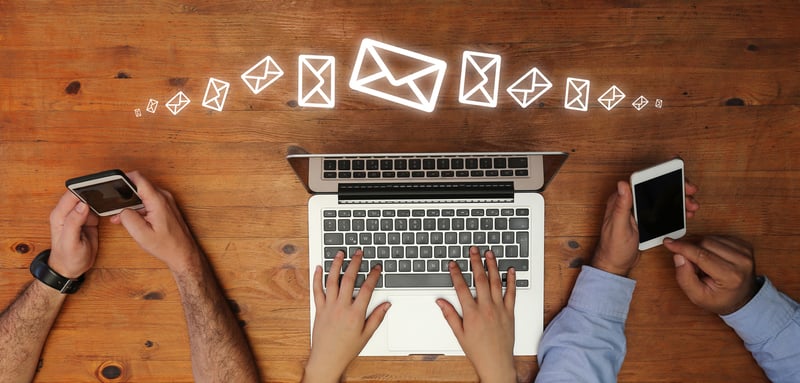 Good question and good thinking.
What do you say if we answer this one with a couple of real-life case studies?
It's going to be a lot more interesting than another list.
Trust us.
Or if you don't, we'll prove it.
Here's the list of ways a CRM SMS integration can improve performance:
Increase Sale Numbers
As explained above, SMS open rates are nearly 100%. Therefore, organizations have a better chance to increase their sales by using CRM text messaging to reach out to customers. CRM systems with SMS capabilities allow them to automate customer outreach through targeted campaigns and messages.
And because of their high opening rate, customers are more likely to act on your messages. This can lead to an increased conversion rate for your products or services.
Collect Valuable Feedback Via SMS Surveys
Feedback from your customers is essential for product or service improvement. With a CRM SMS integration, you can create surveys and polls to collect customer feedback quickly and conveniently through text messages.
Using SMS surveys, your brand can ask customers for their opinions on products or services. This data is invaluable in helping you understand what you need to do to improve customer experience.
And since text messages are sent directly to customers' phones, they can quickly provide feedback.
Deliver Faster and More Precise Customer Service
With an SMS CRM system, organizations can better manage customer service inquiries. They can send automated messages to customers who have submitted a support ticket. This allows them to keep track of all open access and deliver faster customer service.
Moreover, if customers need more help, the CRM text messaging feature makes it easier for agents to assist. Agents can deliver precise answers to customer queries through text messages, allowing for a better customer service experience.
Grow Your Marketing Databases
Having a CRM system with SMS capabilities allows organizations to store and manage customer data, which is essential for marketing purposes. This is especially useful for businesses that rely heavily on email marketing.
With an SMS CRM system, they can quickly and easily collect customer contact information such as phone numbers.
For example, when customers opt-in to receive SMS messages, businesses can add their information to their marketing databases. This allows them to reach out to potential or existing customers with promotional campaigns and other offers.
This data can then help create targeted campaigns and messages. It can also be used to track customer engagement and loyalty. As a result, organizations that understand their target audience can provide more effective marketing campaigns.
Increase Engagement and Customer Loyalty
Finally, organizations that use CRM with SMS integration can increase customer engagement and loyalty. By sending out automated messages or discounts to customers, organizations can keep them engaged with their products and services.
Moreover, text-based messages are more likely to be read by customers, which offers a more significant opportunity for customer engagement. Additionally, organizations can use CRM text messaging to send customers timely updates about their orders or any upcoming deals and promotions.
By personalizing targeted campaigns toward their customers, organizations can create a deeper connection that leads to loyalty and offers customer retention. This helps establish the worth of each customer and strengthens the relationship for future interactions.
And here are four case studies about companies using a text message CRM:
Organization

How they used CRM text messaging

Results

Seattle Sun Tan wanted to build an SMS marketing database of opted-in contacts, so they ran an initial sign-up campaign offering $20 coupon codes as a reward.

4,774 subscribers over one month




Delta Sonic needed to drive traffic into their locations during slower periods, like rainy days.




After dabbling with email, they created a "text message club" using SMS marketing to communicate offers and real-time updates.

50,000 subscribers over two years




Drove over 1,000 customers to get their interiors cleaned on a single rainy day

Game of Thrones (yes, the official GOT we all love or love to hate) needed a way to create a more immersive viewing experience.




What better choice than personalized texts from the Three-Eyed Raven himself?

70,000 subscribers over two months




18.6 Million Viewers Per Episode

Pizza Hut decided to find a better way for individual stores to communicate with their local customers.




They picked SMS text messaging and ran an initial "FREEPIZZA" code campaign to collect opt-ins.

100,000 codes used within 12 hours




160,000 opt-ins over one week
Which was better?
Undoubtedly the examples with Game of Thrones in it. No questions there.
Types of SMS CRM Systems
Before we move on to discussing our next two topics (CRM SMS strategies and the best CRM with text messaging platforms), we need to double back and explain a quick concept.
The difference between integration-based CRMs and all-in-one CRMs - we know we mentioned it earlier on, but it's worth spending one more minute on the topic.
This table reveals all:
Integration-based SMS CRM

All-in-one SMS CRM

SMS functionality delivered via:

A third-party solution

Straight-out-of-the-box

Text messaging features:

Usually slightly more advanced

Usually slightly more basic

Is extra configuration work necessary?

Yes

No

Monthly bills:

Two

One (and no hidden costs)
Great, now onto the strategies and best practices:
5 CRM Text Messaging Strategies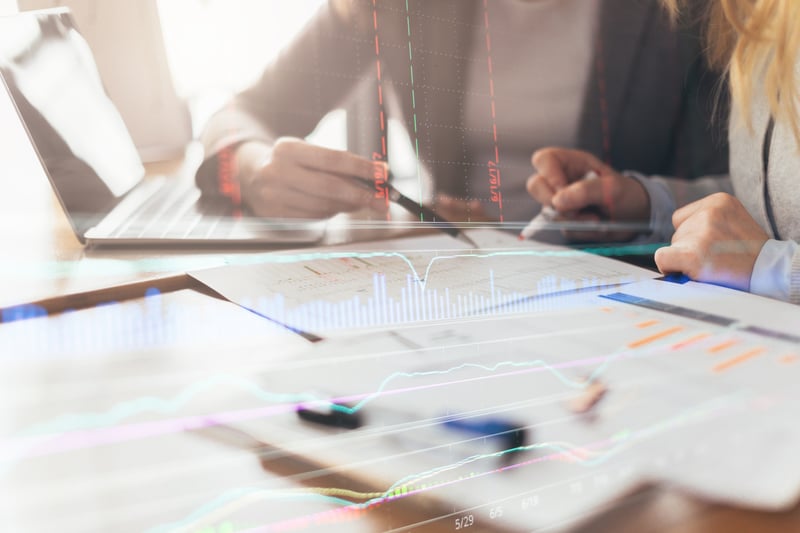 A text CRM puts an incredible amount of power at your fingertips.
How are you going to use it?
We highly suggest these five proven tips we can vouch for, day and night:
Make leads feel special with a proper welcome message
Send automated reminders for anything that's been scheduled
Share links to valuable content with SMS text messages
Personalize the SMS experience
Grow brand loyalty via SMS-based campaigns
1. Make Leads Feel Special With a Proper Welcome Message
Even in the world of CRM text solutions, there's nothing more important than a strong first impression.
It lays the foundation of a good relationship, and it gives you a once-in-a-lifetime chance to set the tone for future communication.
So strike while the iron is hot, and reach out immediately after your lead has joined your mailing list. And make sure you get the following points across:
A personalized welcome (show you care about the customer)
A reason to feel special
Your brand voice (regardless of whether it is funny or professional)
What to expect from your SMS messages
Not sure what to write?
Here's an example we whipped up to give you some inspiration:
Ringy: Hi John! Thanks for subscribing. We'll be writing once a week with tailored CRM offers and news. As a little welcome bonus, you'll also get 50% off this month's subscription fee - why not put the savings aside for team drinks? 🙂
Text STOP to unsubscribe.
2. Send Automated Reminders for Anything That's Been Scheduled
People forget about things all the time.
It happens even to the most organized and reliable of us.
But you know who never forgets about anything?
Your SMS CRM system.
Its handy marketing automation capabilities can help you cut down on missed meetings, wasted resources, and wasted time.
Simply program it to send reminders to anyone you have scheduled for an upcoming meeting, demo, or webinar, and you'll reduce no-shows by 38 percent.
Go for a brief, personalized message, like this one: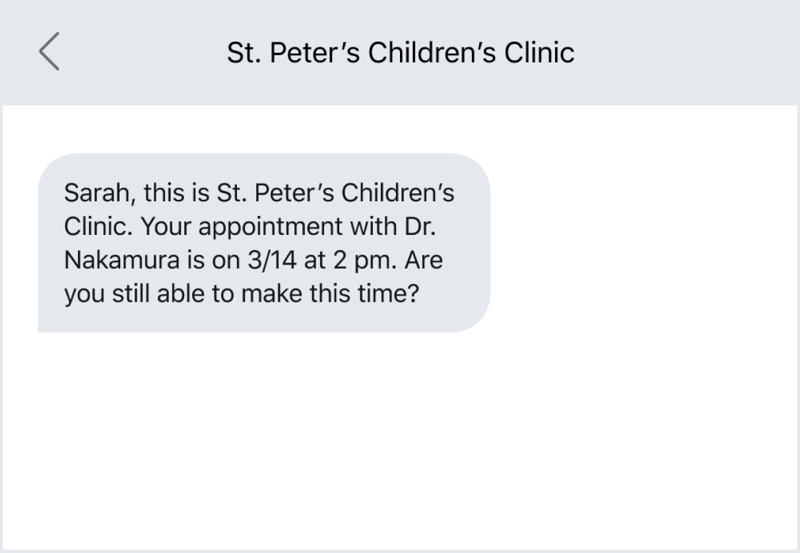 P.S. This process is easy-peasy with Ringy - it will literally take you four to five minutes.
3. Share Links to Valuable Content With SMS Text Messages
Don't make this common mistake:
Our SMS marketing is solely focused on sharing promotions, offers, and timely event information. That way, we minimize the number of times we contact our database.
It sounds like a solid principle, but in reality, it's flawed.
If you follow it, sooner or later, your recipients will start to develop "offer blindness" and ignore your messages because they'll get bored of the same-old, same-old.
You need to do something more.
You need to make a lasting connection with your SMS messages and establish your company as a trusted advisor in your niche.
And what better way than by dripping a series of valuable content to your subscribers (with a drip campaign)?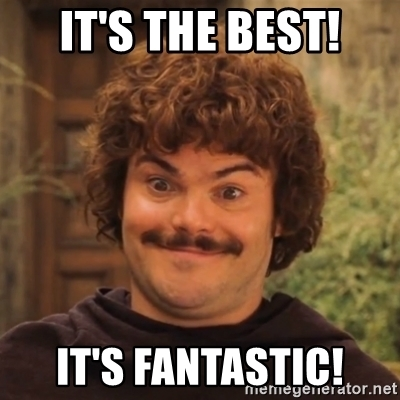 Check out an example of this strategy in action to help you get your brain juices flowing: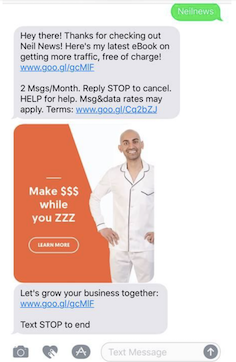 4. Personalize the SMS Experience
You surely picked up on us mentioning personalization several times in this blog post.
It wasn't a coincidence.
Personalization is one of the most critical parts of successful business text messaging.
This is what we recommend for all companies sending out texts:
Communicate on a one-to-one level - a customer's SMS inbox is a very personal place where there's no space for generic messages, bragging companies, or pushy notifications with lame discounts.
Only talk about things that matter to that particular customer - use segmentation to ensure you only speak about things that matter to your customers. Tread carefully because if you slip up, they'll unsubscribe or block you.
Send messages at the right time and reply quickly - you can email construction workers at 7 AM. They'll be starting work and happy to hear from you, but avoid doing the same with freelancers, or you'll wake them up and lose a subscriber.
Always sound like a human (even if it's an automated message) - people hate speaking to poorly designed robots. It's imperative you sense-test your automated campaigns and deliver a "human" experience that delights customers with its mixture of lightning-fast speed and helpful content.
Ask for feedback after a call or meeting - SMS surveys are a pain-free way to collect thoughts and improve your process. Plus, they make your customers feel like their opinion matters. Win-win.
Does that sound like too many things to do when sending out a simple text?
Don't sweat it.
If you pick a leading sales CRM with text messaging (like Ringy), you'll get access to a host of cutting-edge features that make each point a cinch.
Automation ✔️
Easy segmentation ✔️
Access across all your devices ✔️
Local ID phone numbers ✔️
Quick personalization ✔️
Advanced analytics ✔️
A complete log of past communication ✔️
5. Grow Brand Loyalty via SMS-based Campaigns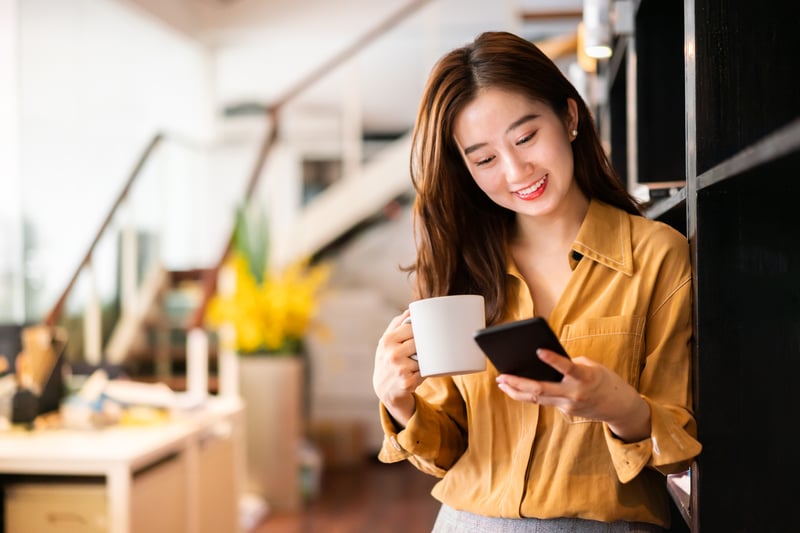 We live in an age of declining brand loyalty and retention.
Just think that 78% of millennials agree with the statement that today's brands have to work much harder to win their loyalty than they did in their parents' generation.
Ouch.
And that's an issue when you remember that a loyal customer spends an average of 67% more than a new customer.
But is it an impossible task?
No one said that - it's just harder, and you need to work smarter.
Luckily, a CRM with text messaging can help your company out by enabling you to grow customer engagement and build brand loyalty through a series of tactics, including:
Send text-to-vote surveys to ask your client base or prospect list about what new products or services they'd like to see from you.
Start a text-an-expert hotline where you help leads and customers with their most pressing issues.
Set up a special list of VIP customers (highly loyal individuals) and reward them for their loyalty with exclusive deals and teasers.
Run SMS competitions to fuel action by giving something away for free.
And as with reminders and personalization, don't worry about spending ages on these tasks.
Sales CRMs are here to simplify your workload through their powerful automation and conversation-logging features.
But which sales CRM with text messaging capabilities does it best?
Let's find out.
The Best CRM with SMS Functionality
How much time do you have left on your hands?
Five minutes? 10 minutes? 30 minutes? The rest of the day?
Since we can't hear your answer through the commotion of the internet, we'll give you two options for discovering the best CRM with text messaging functionality.
One super quick snapshot:
CRM SMS software

Monthly price

(Dec 2022)

In one sentence

(that's us!)

$99 + cost of credit packages

The best all-in-one sales CRM with text messaging functionality

From $29 to $149 per user

A premium all-in-one solution for businesses looking for multi-channel outreach (including SMS messages)

From $8.99 to $79.99 per user

An affordable all-in-one CRM with advanced features, including SMS automations and gamification

From $15 to $83 per user + the cost of an SMS provider

An excellent all-in-one sales CRM with integration-based SMS text messaging

$9 to $65 a month per user + $29 to $58 for SMS features

A budget-friendly CRM with an incredible amount of native add-on integrations
And all the juicy details:
1. Ringy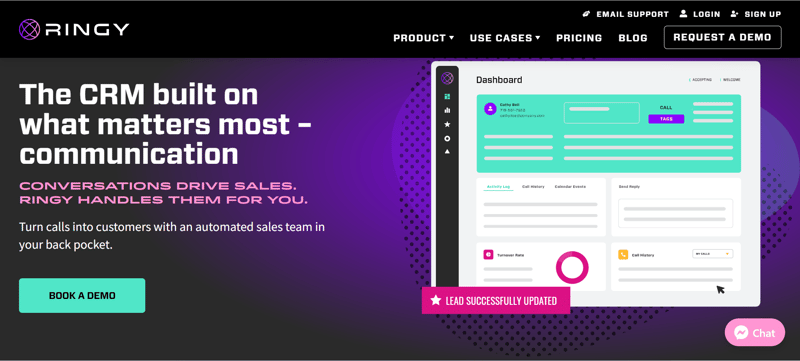 We won't hide it - Ringy is our very own CRM system.
But don't think that we've placed ourselves in the number one slot solely because of self-promotion.
That's not our style.
We've awarded Ringy the prize of the best CRM with SMS and email functionality because we've spent the good part of our lives (and a ton of blood, sweat, and tears) to make this statement as objectively true as possible.
Need some social proof?
Legit question.
So here are some examples of what our customers are saying about us:
Price:
$99 a month + cost of credit packages (as of November 2022)
Key features:
One of the most affordable options (no user surcharges)
Powerful automation
SMS drip campaigns
Integrated VoIP softphone with power dialing and local ID numbers
Unlimited video meetings
Free onboarding (worth up to $1000)
Easy-to-use mobile apps for texting on the go
2. Close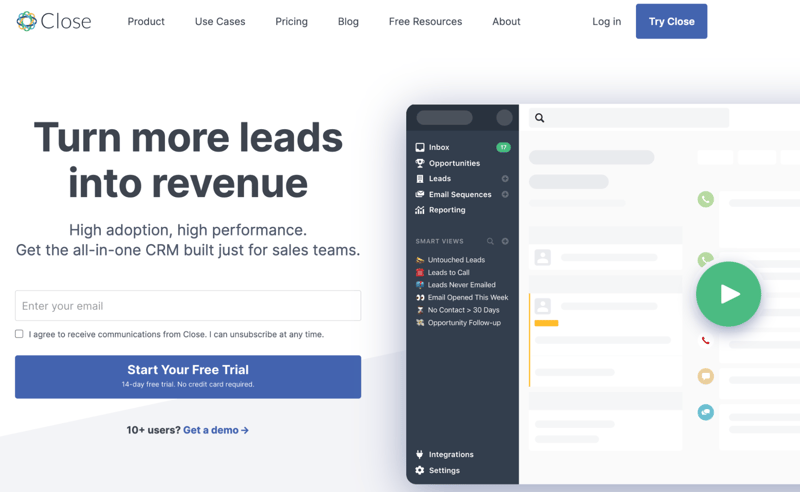 Close takes home the silver medal in this ranking table.
It's truly an all-in-one sales CRM that lets you hit the ground running from the first moment you sign up.
You get built-in access to:
One-click SMS functionality
A visual and intuitive sales pipeline
A VoIP softphone
Video calls
Advanced analytics
It's a joy to use, but Close comes at a significant cost.
You should expect to fork out $99 or $149 a month per user on the more premium packages if you want access to the same features Ringy offers.
Price:
From $29 to $149 a month per user
*Pricing as of November 2022.
Key features:
Cutting-edge CRM with SMS and email functionality
Multi-channel outreach
Streamlined workflows
Central sales hub with automatic logging and syncing
Set up or migrate in less than 10 minutes
3. Agile CRM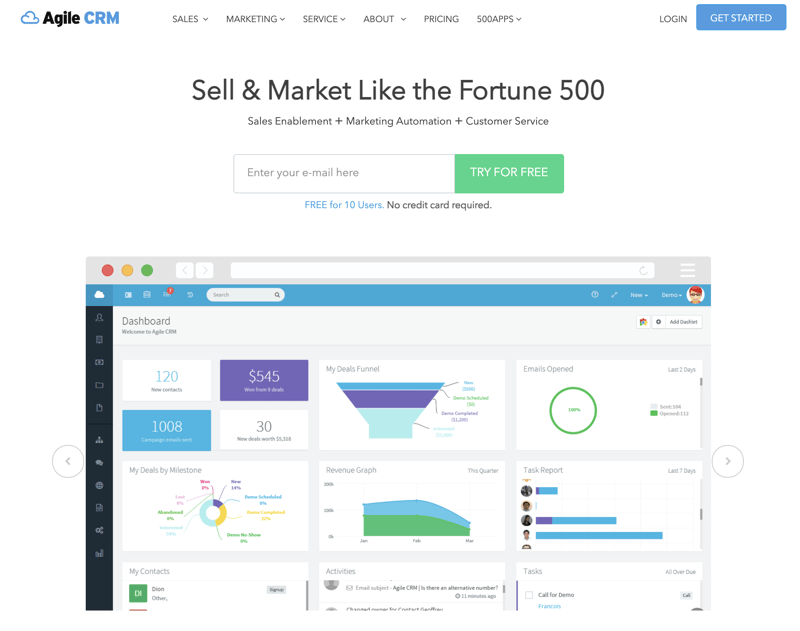 Agile CRM is a solid choice if you're looking for an inexpensive CRM with text messaging and many other features usually only found on more pricey platforms.
Our two favorite things about this SMS CRM are:
Its ultra-helpful dashboard (one look tells you everything you need to know)
Its industry-leading sales gamification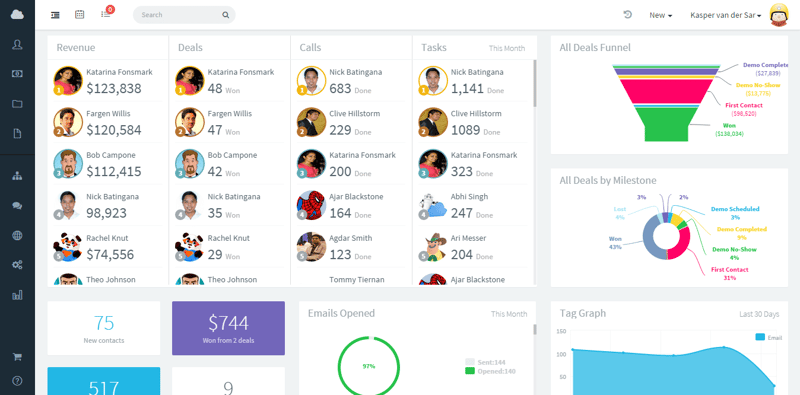 You can use it to really tap into your agents' competitive sides and drive more sales than ever before.
Price:
From $8.99 to $47.99 a month per user
*Pricing as of November 2022.
Key features:
State-of-the-art SMS functionality
Lead scoring and custom deal milestones
Also great for email marketing
Web engagement (pop-ups and forms)
Drag-and-drop interface
Sales gamification
4. Freshsales (Formerly Freshworks CRM)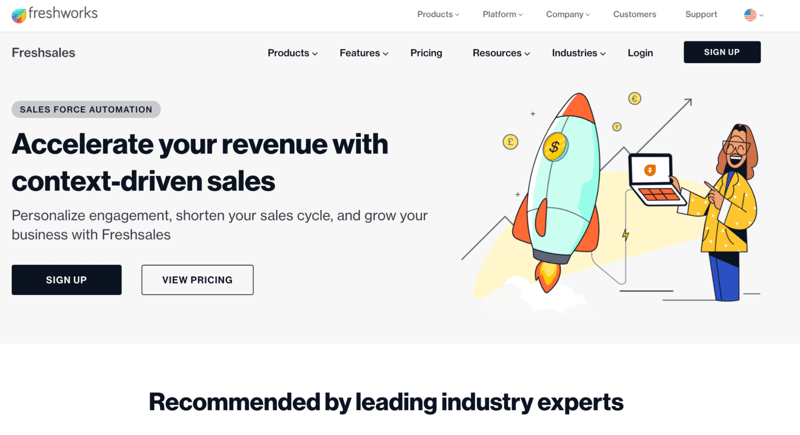 Freshsales is one of the world's leading CRM systems.
It's an excellent all-in-one solution that's accessibly priced, easy to use, and phenomenally quick to set up.
However, there's one drawback:
It's an integration-based SMS CRM, which means you need to pick a text messaging provider of your choice and integrate it into Zoho. It's not hard, but it's an extra task and an extra cost.
Price:
From $15 to $83 a month per user + the cost of an SMS provider (as of November 2022)
Key features:
Advanced CRM text solutions (if combined with a CRM SMS integration)
Trusted by over 40,000 companies
Chatbots and website-to-CRM lead gen forms
Built-in cloud telephony
Artificial intelligence delivers tailored predictions and recommendations
Excellent CRM mobile app
5. Zoho CRM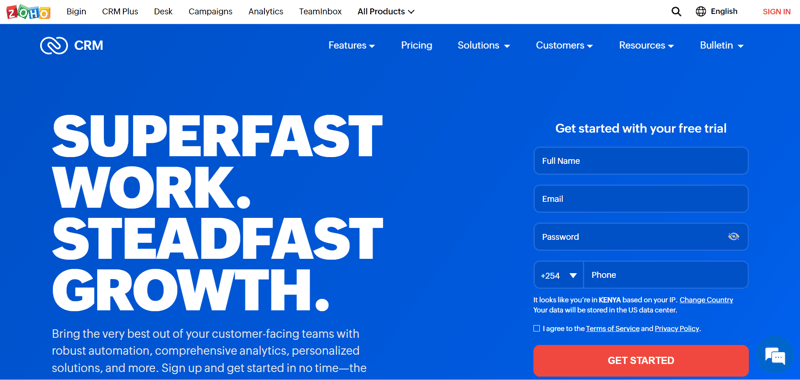 Last up on our list is Zoho CRM.
A fabulous CRM that over 250,000 businesses in 180 countries trust to power their sales, marketing, and service functions.
However, just like Freshsales, you require a Zoho CRM text message integration to get full-blown SMS functionality.
Be sure to carefully consider if this is a problem before you commit.
P.S. Zoho's handy free version (up to three users) can help you decide whether or not that's the case.
Price:
$25 to $81 a month per user (as of November 2022)
Key features:
Requires a Zoho CRM text message integration
Affordably priced
Great user experience
Sophisticated AI (with lead scoring and automation)
Gamification features
Compatible with hundreds and hundreds of Zoho apps
Robust email marketing
CRM With Text Messaging FAQs
What Is CRM Texting?
CRM texting is the act of sending SMS messages from a CRM platform that has text messaging capabilities.
It's that simple.
There are various types of CRM texts, including:
Trigger-based messages (i.e., an abandoned cart)
Automation sequences
Offers and promotions
Lead nurturing
Reminders
Surveys and contents
Can I Send SMS Messages for Free?
Yes, you can.
There are various methods to send free SMS messages:
Free trials of paid SMS software
Free texting via a carrier's email address (requires knowledge of the number and the number's carrier)
Free online SMS websites (like Text 'Em)
However, we only advise you to use them as short-term solutions while finding the right CRM with text messaging capabilities.
They just don't have enough features to guarantee a customer experience worthy of a reputable company.
Is Bulk Text Messaging Legal?
No.
SMS marketing is not illegal, but it's heavily regulated in most countries.
This infographic gives the lowdown on the regulations in the US (the TCPA):

How Do I Collect SMS Consent?
The world's your oyster when it comes to collecting consent.
You can be as traditional or as creative as your company's brand identity allows for.
To get your mind running, check out these tried-and-tested methods:
Sign-up forms (or pop-ups)
Consent at checkout
Asking your email newsletter subscribers
Click-to-text forms
Instagram (if you have over 10,000 followers)
Advertising banners with shortcodes
Wrapping up Our Discussion of CRM Text Messaging Solutions
You've made it to the end of our blog post.
Congratulations!
You've displayed some real tenacity and dedication, two features that will serve you well on the next part of your adventure.
Signing up for a CRM with text messaging and putting our five strategies into action.
Are you pumped up?
We bet you are, but before you go, we have a little something for you.
One last repetition of the strategies for the road:
Make leads feel special with a proper welcome message
Send automated reminders for anything that's been scheduled
Share links to valuable content with SMS text messages
Personalize the SMS experience
Grow brand loyalty via SMS-based campaigns
And a bit of advice:
Take advantage of our two-week free trial - it's a 100% risk-free way to trial a leading text CRM and get a taste of what you can achieve with technology on your side.
Good luck, and don't hesitate to contact us if you have any questions at all!