For most businesses, email is a huge crutch.
Companies send emails for everything. For product updates, order confirmations, and appointment reminders.
But here's the thing:
Customers are a massive 134% more likely to respond to a text message than they are to the same message sent via email.
So the reality is this:
If you're not taking advantage of mobile messaging apps as a business, then you're simply not maximizing potential engagement with your customers.
This article will help you solve that problem. We'll provide a brief 101 on mobile messaging and mobile messaging apps, and provide a variety of tips, tricks, dos and don'ts for sending SMS messages.
How Does Mobile Messaging Work?
To understand what mobile messaging is all about, it's helpful to put yourself in the customer's shoes.
Let's say you've just bought a new pair of shoes online (so we're going real literal here, huh?)
You receive an SMS message from the store the next day, letting you know your order has just shipped. A few days later, you get another message saying your package is out for delivery.
The shoes arrive, you're stoked with them, and a few days later while you're wearing them (naturally), you receive another text message.
This time, the company wants to know how you found your online shopping experience and wants to put you in the draw to win a $500 voucher just for giving a bit of feedback.
Score!
You fill out the feedback form and decide to opt-in for future SMS messages.
A month after that, you receive a new text from the store with a special promotion: 25% off that other pair you were gonna buy, but simply couldn't justify it.
This is how mobile messaging looks for the customer. It's interactive, it's personalized, and it's instant.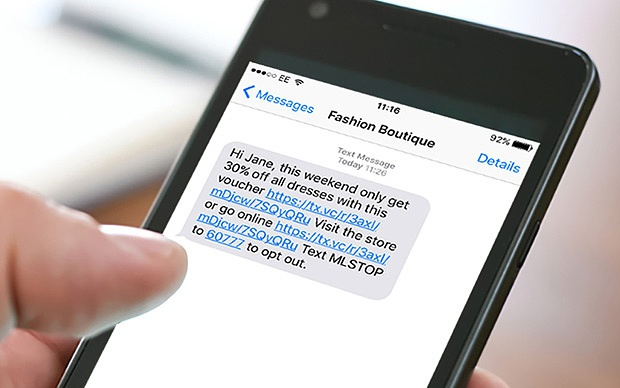 (Source)
But hang on.
Doesn't sending all of those text messages get a bit exhausting? Who's got thumbs that fast?
That's where mobile messaging apps come in.
What are Mobile Messaging Apps?
Mobile messaging apps allow businesses to send mass SMS communications, rather than having to type or copy/paste individual messages on an actual phone.
These apps are typically cloud-based, so you access them via your computer browser, and they integrate with your other tools (such as your sales CRM) to hook up with your customer data.
Take Upland Mobile Messaging, for example.
Their SMS marketing platform can drive complete marketing campaigns (like pushing out a promotion to a large list of numbers), and empower individual customer communications such as booking confirmations.
Full-scale mobile messaging apps such as this offer a number of advanced features, including:
The ability to send multiple media formats like GIFs
Location-based messaging
A/B split testing
SMS delivery of dynamic wallet passes
Text-to-call and text-to-donate
Live text chat
Alternatively, many sales and service CRMs include some form of mobile messaging capabilities.
Ringy (that's us!), for example, allows sales agents to send individual SMS messages, automate communication, and schedule drip campaigns for lead nurturing.
Learn more about mobile messaging apps here: Why You Should Get Business SMS Software - Key Considerations.
What Industries Can Benefit From Mobile Messaging?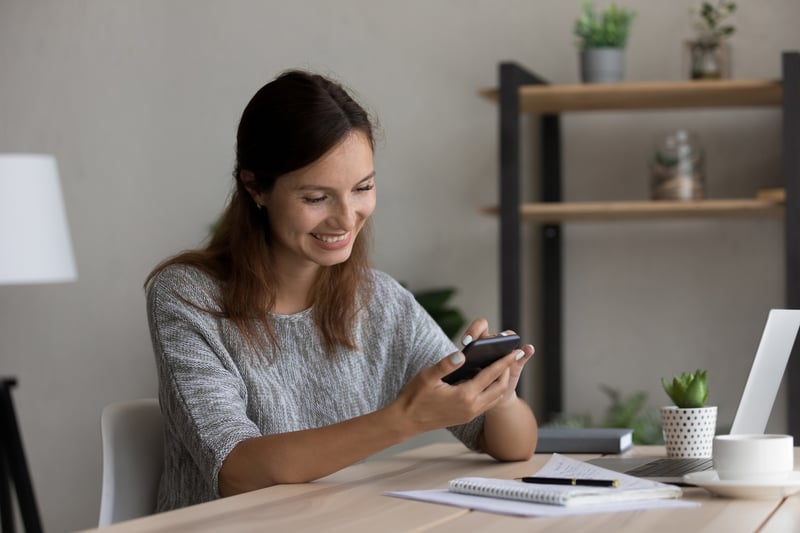 The beauty of mobile messaging is that virtually any industry can take advantage of its benefits.
From hospitality through to financial services, as long as you have customers with mobile devices, then you can benefit from SMS messaging.
The table below demonstrates common uses for mobile messaging in various industries.
| | |
| --- | --- |
| Industry | Example application for mobile messaging |
| Health & Beauty | Appointment reminders |
| Restaurants | Table booking confirmations |
| Hospitality | Happy hour promotions |
| Medical Practices | Link to review blood test results |
| Ecommerce | Order shipped confirmation |
| B2B Companies | Lead nurturing |
| Retail | Customer survey |
| Automotive | Appointment reminders |
| Schools & Universities | Reminders for key dates |
| Real Estate | Expressions of interest |
| Travel | Current promotions |
| Shipping and Logistics | Order arrived confirmations |
| Gyms | New referral deals |
| Insurance Providers | Policy renewal reminders |
| Non-Profit Organizations | Donation campaigns |
| Financial Services | New credit card offers |
| Parking and Valet | Text to collect messages |
When is Mobile Messaging Used Most Effectively?
It's safe to say that when it comes to mobile messaging, there is a right way and a wrong way to do things.
We're going to discuss some dos and don'ts shortly, but first, let's look at some common scenarios for using mobile messaging.
1. Converting from a free trial
Software companies that operate on a freemium model can make effective use of mobile messaging platforms.
Here's how it would work:
Customer signs up for the free trial and opts in for SMS communications
Over the course of the trial period, helpful resources are distributed via SMS
At the end of the drip campaign, the customer is asked to submit a brief survey
Based on the result of the survey (that demonstrate interest or disinterest), either
A sales representative seeks to book a demo appointment
The lead is put into a long-term nurture campaign
2. Contextual messages
One of the best uses for SMS messaging in the business arena is to send texts triggered by specific customer actions.
Examples of contextual messages that can be automated include:
Order confirmation
Booking confirmation
Membership renewal
3. Customer retention
Customer retention is an area where too many businesses perform poorly. While your chances of selling to a new customer are around 5-20%, your shot at selling to an existing customer can be as high as 70%.
It follows then that focusing on customer retention efforts is a simple way to boost your revenue year on year, and mobile messaging can play a part here.
Some ideas for using mobile marketing platforms for customer retention include:
Distributing useful and relevant content
Personalized remarketing based on user preferences
Rewards for customer surveys
Messages designed to inspire live one-to-one conversations with customers
Post-purchase thank-you messages to loyal customers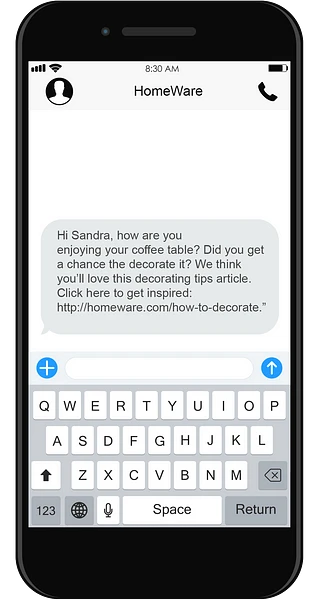 (Source)
4. New user onboarding
Mobile messaging is an important channel for customer onboarding programs.
An initial welcome message can be a good start, but you should leverage your mobile messaging app to create a fully automated onboarding experience that guides users through the process of becoming a customer over several days.
For example, let's say you're a new social networking platform.
One of your first messages should be a link that guides the user around your platform and shows them where to find various features.
From there, you could provide some form of gamification ("Your profile is 60% complete") to inspire engagement, and perhaps include a reward for completion of certain activities.
5. Promoting a sale or new product
A popular use for mobile messages is to promote new products or to let customers know you're having sales.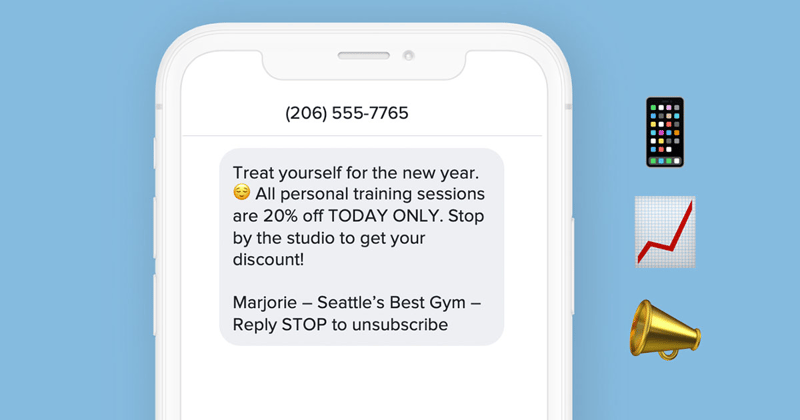 (Source)
The key here to is to make these offers exclusive to your SMS network, so that only text subscribers can access those deals.
6. Obtaining feedback
SMS messaging is a powerful platform for capturing customer feedback.
Be sure to keep questions simple to improve your engagement metrics. For example, ask questions that allow customers to answer with a yes or no response, or with a number on a scale from 1 to 10.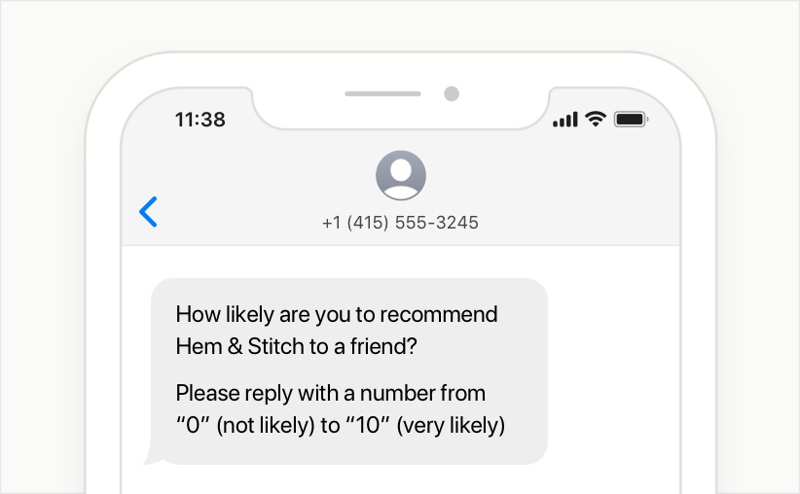 (Source)
In the above example, you could automate a second message to ask why they would (or wouldn't) recommend your company, based on the response they gave.
7. Shipping updates
Mobile messaging apps can often integrate with your shipping provider's data to send automated updates to your customers on their order status.
For example, you could schedule SMS messages to be sent when:
The order is shipped from the warehouse
The order is out for delivery
The order has been delivered
8. In support of dunning
Dunning (the handling of failed payments) is a major challenge for businesses with recurring revenue models.
When a customer's credit card declines and the subscription is unable to be renewed, reactivating their subscription can provide a challenge.
Mobile messaging apps can allow being used to send notifications when cards are declined, which can be a more effective method for dunning than email communication.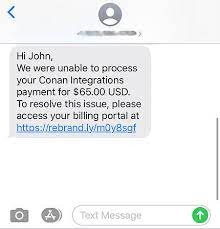 (Source)
14 Mobile Messaging Tips for Online Businesses
1. Obtain permission
Though legislation varies from country to country, most regions require some form of opt-in for SMS communication.
That means that before you send any SMS messages, you need to obtain explicit permission from the receiving party.
Note that a customer providing their number is not the same as giving permission to send SMS messages.
If you plan on sending regular marketing messages via SMS, then you should implement a double opt-in protocol.
Here, customers check an opt-in box on your online form (where they hand over their mobile number), and must confirm via a confirmation message sent to their phone number directly after.
2. Integrate your mobile messaging app with your e-commerce platform
When choosing a mobile messaging platform, be sure to pick one that integrates with your e-commerce platform, be it Shopify, WooCommerce, or another platform.
Integrating these two systems ensures you can automate contextual messages, and use customer data to personalize your texts (more on automation and personalization soon).
3. Use SMS to capture feedback post-delivery
Mobile messaging should be used regularly to capture customer feedback, but it's best to make sure this is contextual.
So, rather than scheduling mass SMS sends to ask for feedback, consider creating trigger-based survey messages.
For example, you can set up your mobile messaging app to send a "How did we do?" message three days after delivery has been confirmed.
4. Segment your audience
As your company continues to grow, so to will your database of customer numbers.
As you pass a certain threshold, the messages you send out are naturally going to be relevant only to a portion of your audience.
To improve your success rates (and ROI on SMS marketing spend), segment your audience as much as possible.
For example, you may be able to separate numbers between buyers and non-buyers, customers of one product and customers of another, or by demographic details such as age, location, and gender.
5. Ensure you're adding value
The average person today sees around 10,000 ad messages every day.
To have a shot at standing out (and making an actual impact), your SMS messages should be deeply valuable.
Promotional sends and contextual messages like order confirmations are typically quite valuable in and of themselves, but where it gets tricky is content aimed at customer retention.
Take this message as an example: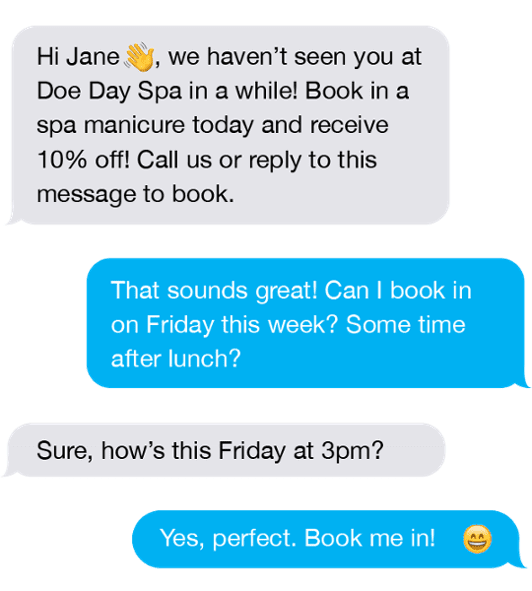 (Source)
The message could simply have been a reminder that Doe Day Spa exists, but the inclusion of special offer ups the value from the customer's standpoint.
6. Use mobile messaging to send abandoned cart messages
Ecommerce websites know the pain of cart abandonment all too well, with up to 70% of online shopping carts not going through with checkout.
By implementing an automated SMS reminder message like the one below, online retailers can reduce cart abandonment rates by as much as 40%.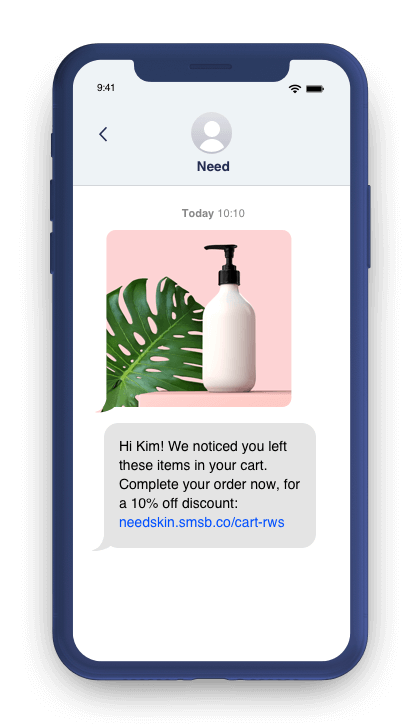 (Source)
7. Include an unsubscribe link
In many regions, it's a legal requirement for opted-in numbers to be able to unsubscribe for your SMS sends at their will.
To stay safe (and deliver a smooth customer experience), consider adding an unsubscribe option at the end of your text messages.
This can be done by providing a link where customers can opt-out, or by providing a "text STOP to unsubscribe" disclaimer.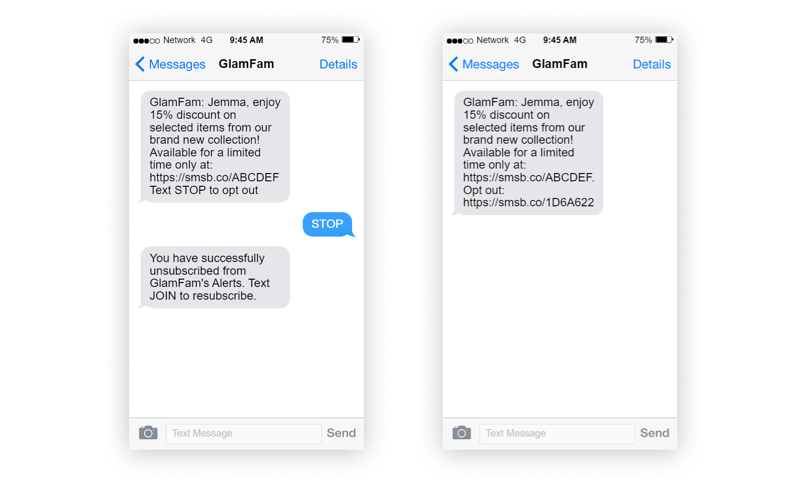 (Source)
8. Keep it short and sweet
Though SMS messages can technically be as long as 160 characters, that doesn't necessarily mean that bigger is better.
In fact, shorter, more pertinent messages tend to perform better, so save the weekly newsletter blasts for your email recipients.
9. Personalize where possible
Personalization is incredibly important in all aspects of marketing, with 72% of consumers saying they only interact with brands that personalize their messaging.
Unfortunately, most brands' idea of personalization is using the recipients' name, and they leave it at that.
In truth, there are a bunch of powerful ways to personalize your mobile messages, such as:
Sending discount vouchers and special offers on a customers' birthday
Remarketing and promoting products they've already viewed
Location-based messages (if you have physical stores)
Messages related to local events and holidays
10. Track link click-throughs to understand performance
The majority of your mobile messages will (or at least, should) have some form of the link included.
It might be a link to your promotion page, to confirm their booking, or to update their credit card.
In any case, you should be tracking click-through rates on each and every message you send. This data can provide a number of valuable insights.
For example, you might split your audience and perform an A/B test, and find that one type of messaging performs much better than the other in terms of inspiring people to click on the included link.
That style of messaging can then be applied across the board in future messaging.
11. Build automation rules
You should seek to use your mobile messaging app's automation functionalities wherever possible, to reduce your cost of operation and time spent on managing customer communications.
Good candidates for automated messages include new account creation, order confirmation, and feedback requests once orders have been delivered.
12. Leverage urgency
Whenever you send a promotional message via SMS, it's important to create a sense of urgency to inspire action.
For example, a message containing a 20% discount code should include a disclaimer: "Expires Friday!"
13. Use URL shorteners
In pursuit of keeping your text messages short and sweet, you should consider using a URL shortener to chop the length of your links down to an appealing size.

(Source)
Shorter links have been shown to increase click-through rates in SMS campaigns.
14. Build exclusivity into your text community
Remember that building your list of SMS subscribers is not just about adding new numbers, it's about keeping, so you need to give a good reason for subscribers to stay.
One of the ways you can achieve this kind of retention is by building exclusivity into your SMS messages.
For example, promotions sent out to text subscribers should be exclusive to text subscribers, and not also sent out via email.
Mobile Messaging: the Do's and the Don'ts
Before we sign off for the day, let's quickly run through some do's and don'ts of mobile messaging.
| | |
| --- | --- |
| Do | Don't |
| Send on Wednesday and Friday | Send on Monday |
| Send during coffee breaks | Send during rush hour |
| Send based on your customers | Send too early or too late |
| Send regularly enough to keep top of mind | Send too many messages |
| Segment your audience | Blast everyone, every time |
Think of them as your 10 business SMS commandments, if you will.
Don't send it on Monday
Though data varies based on industry and geography, Monday is commonly found to be the least successful day for engagement with business SMS messages.
Do send on Wednesday and Friday
Using Instagram engagement as a proxy, we can see that Wednesday and Friday are the best days for sending texts.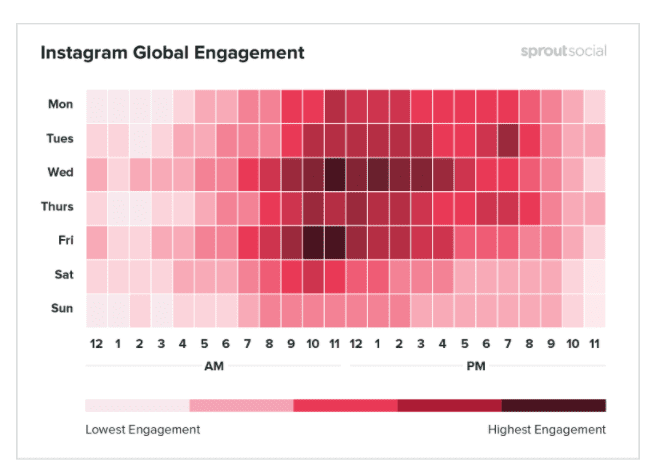 (Source)
Remember, though, that your mileage will almost certainly vary, so it's best to conduct your own tests to understand the best days and times for your audience.
Don't send during rush hour
Business SMS messages sent during rush hour (5-7pm) show low rates of engagement.
To capture the after-work crowd, send just before 5 pm (they'll check their phone as they get out of work) or after 7 pm.
Do send during coffee breaks
The idea here is to schedule SMS sends for a time when your customer is likely to already be on their phone.
Popular times for coffee breaks include 10 am and 3 pm, so these can be great times to try. 12 noon also shows high rates of click-through for a similar reason (people are clocked out for lunch).
Don't send too early or too late
Most customers will consider your message rude and interruptive if you send it before 8 am (try 9 am to be safe) and after 9 pm (8 pm to be safe).
Do send based on your customer profiles
Of course, the advice mentioned above can be ignored depending on your audience.
If you sell a product for night-owls, then obviously late evening texts might be a good fit.
Don't send too many messages
Bombarding your customers with SMS messages is going to leave a bad impression, and is likely to result and a fairly high unsubscribe rate.
Data on the ideal frequency of SMS messages varies.
Some providers recommend 2-4 messages a month, others cite upper limits of one message per day.
We'd say it depends on the context and type of message you're sending.
Trigger-based messages (such as order status updates) can go out as needed, but promotional texts are probably going to get old pretty quickly.
Do send regularly enough to keep top of mind
On the other hand, you do want to make sure you're taking good advantage of the SMS database you've worked so hard to collate.
Aside from contextual messages, we'd recommend scheduling retention-focused messages at least once a month, and a regularly as once a week.
Don't blast everyone, every time
Not every text message should go to everyone on your list.
This much is obvious for messages like shipping updates, but the same goes for retention-focused and promotional messages.
Instead…
Do segment your audience
The best way to go about audience segmentation is to keep your CRM up to date with as much customer information as possible.
For example, capturing information such as customer age, gender, occupation, and marital status can allow you to segment messages based on this data further down the track.
Conclusion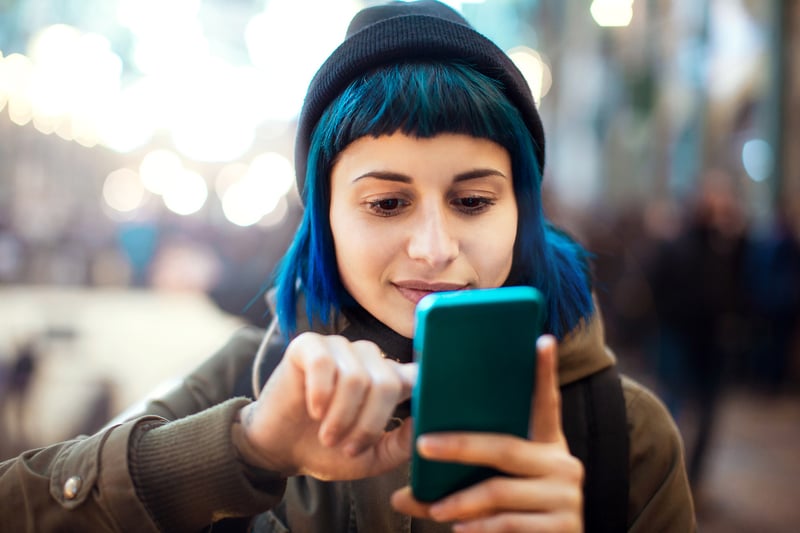 Mobile messaging can be a powerful tool for businesses when leveraged correctly.
However, mobile messaging is not a practice that should exist in isolation.
At the very least, you'll need a powerful CRM solution to store all of that customer data, provide segmentation opportunities, and store a record of customer communications.
Need one? Book a demo with one of the Ringy team today, and see how we can get your mobile messaging happening today.