A CRM isn't just a sales tool that helps you organize leads, schedule calls, and automate reminders.
Your CRM can take your online marketing to the next level and can be the backbone of your most successful campaigns.
By utilizing digital CRM text automation, purchase data, customer analytics, and much more, you can prioritize, optimize, and personalize your digital marketing strategy.
We know. Thank you.
Though we can't guarantee you'll pick up our gift with words, we intend to give you an all-in-one handbook to buff your CRM digital marketing skills to a shine.
Interested? Grab a coffee and read on.
Step into Digital Marketing CRM
What's digital marketing in the first place, we hear you ask?
Digital marketing, also known as online marketing, is anytime a brand connects with its customers and potential customers using the internet or any other form of digital media.
If your company is communicating with its customer base online, it's digital marketing. This can include interaction through:
Social media
Email
Mobile apps
Websites
Search engines
Digital marketing is a no-brainer now that everyone works online, everyone gets their entertainment online, everything is digital, and everyone has a smartphone in their pocket.
So when it comes to digital marketing stats, it isn't exactly surprising that:
78% of internet users conduct product research online
Companies that blog get 55% more web traffic (hey…that's us!)
57% of businesses have acquired customers through their blog posts
91% made a purchase after seeing a relevant ad online
"Alright, that's pretty impressive. But what does this have to do with CRM?" we hear you ask.
CRM, or customer relationship management, is a term on its own but commonly refers to CRM software. A system that helps businesses with lead management, customer relationships, automation, and analytics.
So how can it help your digital marketing?
We just listed four ways in that last paragraph.
Let's dive deeper.
The Importance of Having a Digital CRM Strategy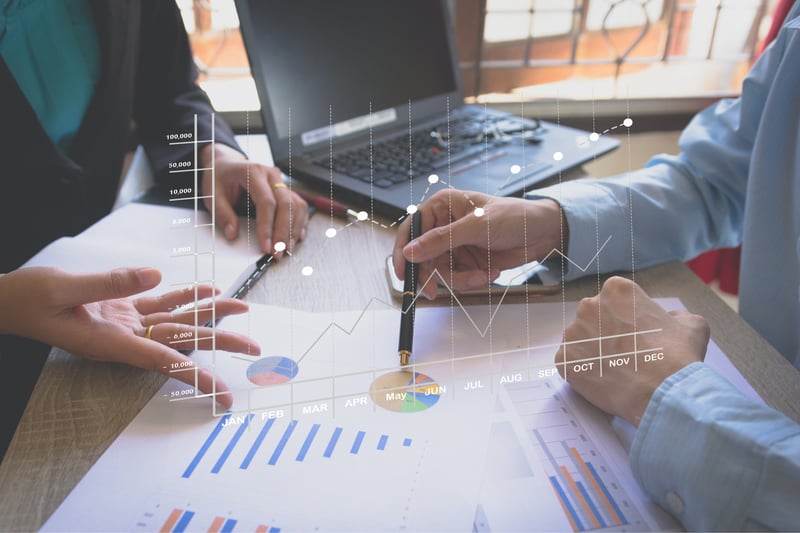 You can buy the fanciest CRM on the market. But if you don't have a plan on how to implement it…
You're just that rich guy who buys a Lamborghini and then lets it collect dust because he doesn't know how to drive.
Sorry. Harsh but true.
Having a company-wide plan on how to handle revenue, enhance customer relationships, reduce costs, and manage marketing campaigns is critical. The CRM won't do it for you. They're good but they aren't that good.
A solid, customized strategy can do a lot of things. It improves customer relevance by tailoring campaigns to your target audience, which snowballs into purchases and loyalty, boosts overall revenue, and increases ROI.
You not only sell more, but you don't waste money on what you don't need.
A data-driven digital CRM strategy is not only simple with great software like Ringy but also effective. Managing analytics to provide the right experience to the right customer at the right time will make for one killer marketing campaign.
You can build an awesome strategy through customer information…and it's free! Data that's just sitting there, waiting to be used.
CRM analytics can:
Measure what gets customer engagement
Measure unopened text campaigns
Evaluate lead profitability by examining touchpoints and sales funnel progress
Use predictive analysis to create trend predictions
Offer customer demographics
This will allow you to shape a campaign around a target audience and demographic, making a successful, efficient, and personalized customer experience.
Did you know that 80% of CEOs believe they provide a great customer experience? But only 8% of their customers agree.
Don't be that guy.
Personalizing is essential. You don't want nonspecific, generalized content.
See what we mean?
7 Ways CRM Can Contribute to Your Digital Marketing Efforts
Customers are the heart of CRM (it's right there in the acronym!) and customers are also the heart of marketing.
It goes to figure that CRM software would contain a multitude of features to make online marketing easier and more effective.
Features like…
1. Automation
Automation is a broad topic. Especially with a CRM. Everything can be automated to ease processes, streamline communication, and takes hours of tedium off your plate.
CRM automation can benefit your marketing with:
Text and email drip campaigns
Customer service and communication
Prospect nurturing
Scheduling demos
Lead routing
Not to mention the little things…if meeting reminders, workflow, and reporting are automated your business can focus on your campaign and your customers.
If you want a deeper look, check out this blog on why task automation can really be a lifesaver.
2. Analytics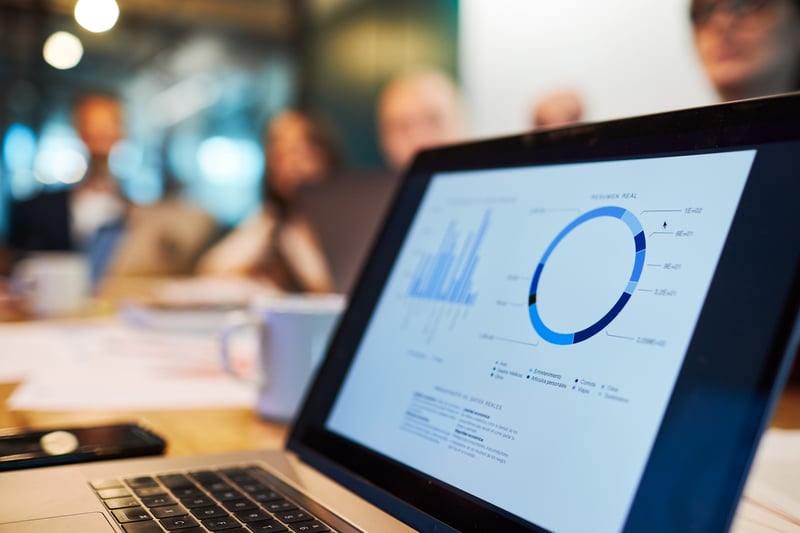 Possibly one of the most important tools at your disposal. Analytics will tell you what your customers are spending on, what they aren't spending on, and who they are.
Knowing your customer is knowing their pain points, wants, and needs.
Here's a little table on analytic data and how it benefits your company:
| | |
| --- | --- |
| Data collected | What it tells you |
| Pages viewed, contact forms touched | Customer interest |
| Purchases made | Personal customer preferences, popular products, and services, successful campaigns |
| Age, gender, location | Target demographic |
| Texts opened | Engaging, successful campaign |
| Texts unopened | Unengaging campaign |
| Time texts are opened | Optimal send time |
So you'll be able to make the perfect CRM digital marketing campaign by digesting all this info and putting it to work.
You'll know that your last campaign flopped because it was launched at 9 AM with an emphasis on dress shoes…when all your customers engage at noon and love running shoes.
3. Automatic contact creation
Most CRMs can capture customer data from online forms and automatically create and update contact profiles. This takes away the chore of your team having to manually create and edit contact information.
This not only ensures that no prospect slips by but also encourages your salespeople to respond faster to prospects and increase conversion rates. The process might look like this:
New contact made automatically by the system
Sales rep sees notification of new contact
Responds to request in real-time
The response is personalized and prompt
Prospect is pleased
When a process is automated and served upright to you, it's much easier to justify the time and effort to go get 'er done.
And every customer likes prompt service.
4. Logged customer service and phone tracking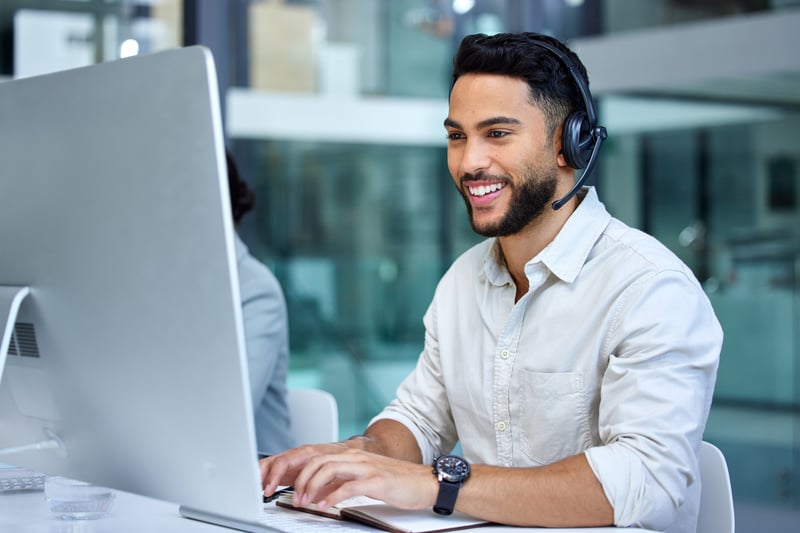 Another way to measure campaign success is through logged calls. It's basically another form of analytics.
Being able to attribute calls to different marketing initiatives boosts your ROI by comparing which campaigns are the most successful. Are your calls coming in through PPC campaigns? Social media advertising? Organic search visitors?
Phone tracking also helps monitor the quality of your customer service.
And improved campaign effectiveness and customer service both lead to a boost in conversion rates.
We go on and on about why you should track phone calls in this blog…seriously, we could talk about it all day.
5. Lead management
Ah, one of CRM software's most popular tools. Its most featured feature if you will.
The importance of lead management can never be overstated, but it's outstanding in CRM digital marketing for:
Scoring and qualifying leads
Nurturing leads as they progress through your sales funnel
Retaining previous customer relationships
Updating customer files
This can lead to a one-to-one virtual connection with a prospect, approaching them with a personal digital campaign. You can use their preferences to reach out via social media or email with a product or service that appeals to them.
You know, like: "If you enjoyed Sexy Lace Panties then you might enjoy…"
*ahem*
Anyway - check out this blog post to find out how a lead information system can help you crush your sales goals.
6. Tracking company performance and goals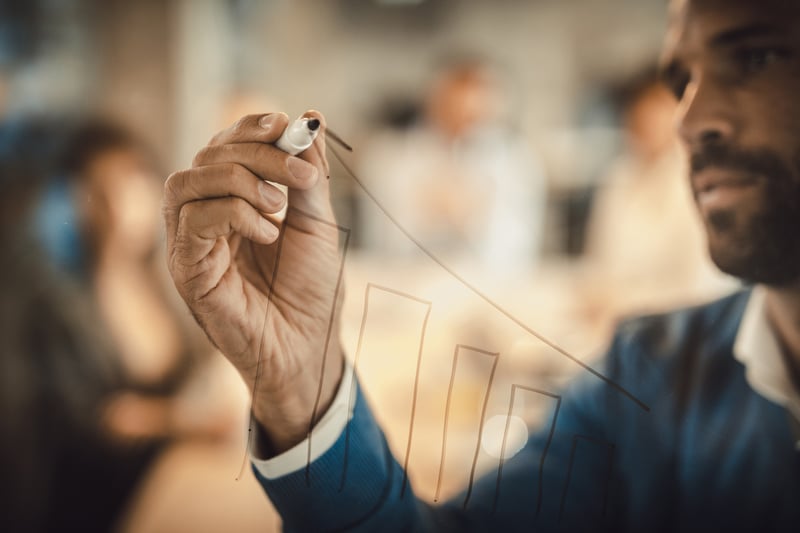 Tracking your company's performance metrics and monitoring goals are top priorities when it comes to marketing and sales. Marketing companies lose approximately 550 hours and $32,000 per sales rep from using bad tracking data.
Do you even know how much that is?
That's 32,000 cheap hamburgers.
In all seriousness, tracking your company's business performance metrics will help you monitor your pipeline, sales performance, sales cycle, percentage of marketing-oriented customers, and a whole lot more. These metrics measure your company's performance and your campaign's progress, ensuring they align with your goals.
7. Reminders and notifications squash missed opportunities
You know that little "ding" from your phone that helps remind you to buy eggs on the way home? It can help your CRM digital marketing and boost your ROI.
Don't believe us?
Missed opportunities are one of the biggest errors a company can make and reminders and notifications totally destroy missed opportunities.
Here are a few ways reminders help you out:
Did you contact the customer who inquired via email?
Did you follow up on the lead from last month?
Did you follow up on the lead from last July who said they'd be ready to talk in a few months?
That last one is absolutely critical. Without reminders, would you ever remember something that long ago when you're so damn busy? And 95% of converted leads are reached on the sixth attempt.
Your mother ever tells you no one likes a quitter? Mama was right.
7 Creative Ways of Using Digital Marketing CRM
You've got an idea of how a digital CRM strategy can be implemented into your marketing, but let's go a little more in-depth. Let's give you a couple of creative ways to put this digital marketing CRM into effect.
We're a wealth of knowledge.
1. Automated drip campaigns via email and VoIP
A solid CRM like Ringy makes automated drip campaigns a cinch. Whether it's through email or VoIP texting, we've got you covered.
What's that? You aren't using SMS in your digital marketing?
I think these statistics speak for themselves, frankly.
| | |
| --- | --- |
| SMS Facts | Statistics |
| Businesses that have implemented SMS over VoIP | |
| Consumers that make a purchase after receiving a branded SMS | |
| Average SMS marketing campaign conversion rate | 45% |
| Text message open rate | |
| Number of texts opened within 3 seconds | 90% |
| Conversion rate of texting a lead after initial contact | |
We mentioned email, too, didn't we? Don't worry - we've got your back. You can check out these drip email campaign examples for some premium content.
2. Social CRM
Social CRM is the practice of businesses reaching out to customers via social media, like Twitter or Facebook. It can also include things like email and chat, but social media is the main focus.
Your CRM will give detailed info about each customer, making discussions effective and relevant. Social CRM has been shown to improve customer conversion, customer retention, and be beneficial to customer support, too.
Answering customer questions and complaints boosts relationships and your audiences' overall opinion of the company.
Do we need to tell you that's good for business?
3. Utilize mobile CRM to always have digital marketing at your fingertips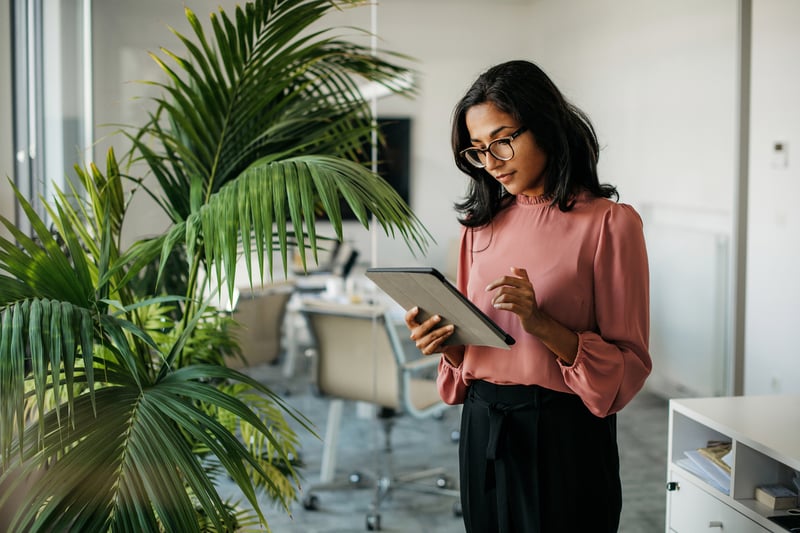 What about all the benefits we've already mentioned - analytics, reminders, customer service, etc. - but in your hand? Everywhere you go?
Mobile digital marketing CRM ensures that you have access to customer data, messaging, and deals no matter where you are. The ability to manage leads, launch sales promotions, and schedule campaigns is nestled right in your slacks pocket.
Or jeans pocket. Maybe it's casual Friday.
Online marketing can be just as quick and convenient as online shopping with a CRM mobile app, so you can monitor analytics and marketing data even during lunch.
The benefits are nigh-on endless - we could write a whole blog post on mobile CRM!
Oh wait…we did.
4. Make 'em feel special: personalized pitches, ads, and more
From using someone's name in a text to offering them a discount on their birthday, personalizing is one of the surefire ways to increase engagement and campaign success.
Everything feels better when you aren't reading: "Dear RECIPIENT, it has come to our attention that…"
No one wants to do business with a robot.
British Airways has been personalizing experiences using CRM since 2002.

Customers being able to save preferences, make profiles and earn special coupons not only makes their experience easier but personalizes it. And 80% of consumers are more likely to make a purchase from a brand that provides personalized experiences.
5. Re-engagement campaigns for existing customers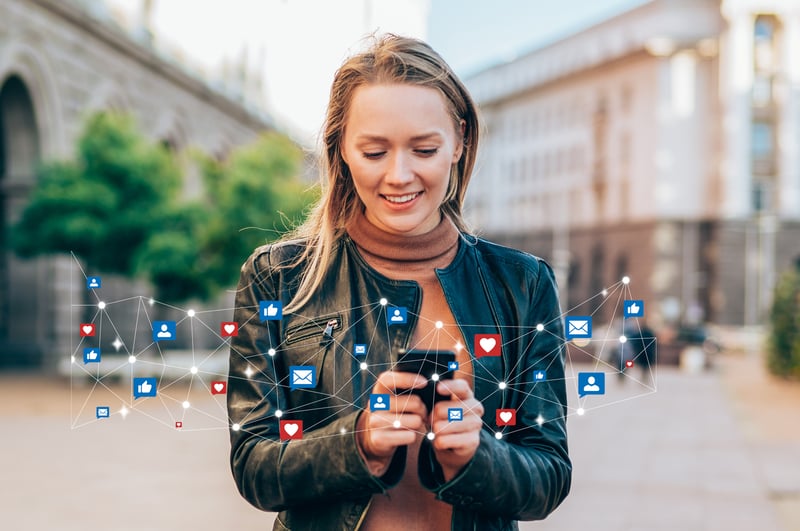 Okay, so they've bought the product. End of story. Happy ending. Break out the champagne!
Not quite.
You don't only want customer conversion, but customer retention. High churn rates are detrimental to your revenue – repeat customers are your biggest moneymakers.
A meager little 5% increase in customer retention can increase a company's profitability by 75%. And 5 to 75 is a ratio we like.
Using a digital CRM to launch special re-engagement campaigns just for existing customers will improve relationships, increase satisfaction, and open possible cross-sell opportunities for existing customers.
So pamper those customers and keep 'em smiling. A whopping 89% of customers begin business with a competitor following a poor customer experience.
Ouch.
6. Predictive analysis is like fortune-telling
I realize that sounds a little silly. But predictive analysis is pretty much like a deck of tarot cards or a crystal ball. It can basically tell the future.
Your CRM's predictive analysis can:
Determine customer responses
Determine customer purchases
Boost cross-sell opportunities
Forecast inventory and manage resources
Identify and prioritize leads
Predictive analysis boosts the likelihood of success and reduces the overall risk of each and every business process.
Don't put work into something that won't be successful. Don't put money into something that won't pay.
7. Track key performance indicators (KPI) to ensure top-quality campaigns
Digital CRM key performance indicators are metrics that help ensure you're on track and you're accomplishing your marketing goals.
Tracking metrics like actions per engagement, sales by device, conversion rates, and funnel drop-off rates will keep your campaign on point.
Even using your KPIs in the broadest sense is a major benefit, like measuring bottom-line sales and profits. 95% of leading marketers agree that the best key performance indicator metrics are related to broad business goals like revenue.
Here's an idea: combining KPIs with predictive analysis will have your marketing risks lower than ever.
Top 6 Best CRM for Creative Agencies
Okay so, CRM digital marketing will pretty much be impossible without a CRM, so you're probably waiting in anticipation for a comprehensive list of solid CRMs.
Let's get to the juicy part.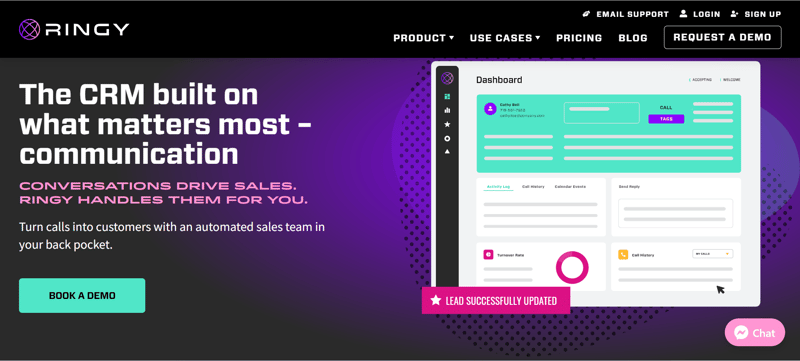 Okay, so, yeah…
*shuffles feet*
Ringy's #1. But there's a damn good reason for that.
Ringy's an all-in-one, VoIP-enabled CRM with killer lead management, easy task automation, highly customizable drip campaigns, and amazing progress-tracking metrics.
And you can do all this performance-scaling, contact-managing, and relationship-building via your mobile, because Ringy has a digital CRM mobile app, too. Not to mention the integration with Zapier, Boomi, and Integrately so you can seamlessly go about your work without switching between programs (isn't that a headache?).
It would be worth working with Ringy for the AI-powered insights and reports alone. With one click you can monitor:
ROI and CPA
Revenue
Open rate
Conversion rates
Company performance
Plus a whole lot more. And Ringy's cost-effective at only $99 / month.
You really can't beat that.

Drag's the first digital workspace done entirely through Gmail. A nice little bonus to be able to manage tasks and support customers through a platform you're most likely already using.
It's free to start but prices go up if you want extra features (that's always how it goes) like Zapier integration or customer support.
Folks mainly like it for being contained within Gmail (its main feature). Though a lot of users say it's pretty tricky to get the hang of and that it isn't easy to use on mobile.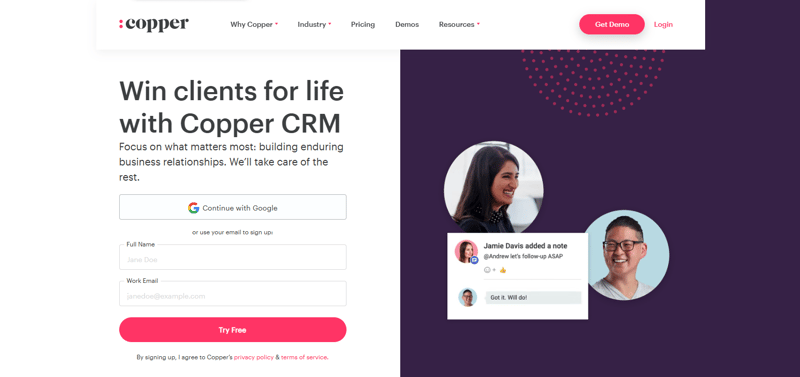 Copper's a CRM for small businesses and agencies with Google Workspace integration and decent workflow automation. Featuring reporting, sales forecasting, and reminders, it's a solid little program.
The most popular pricing option is $69/user/month, but it goes to $129/user/month if you want drip campaigns, lead scoring, personalized onboarding, and premium customer support.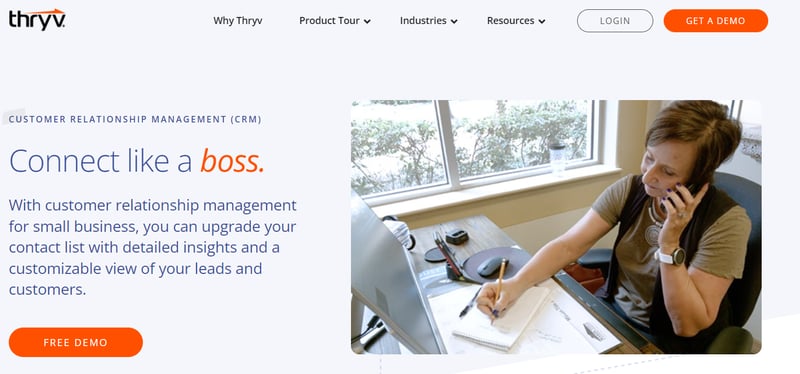 Thryv is a customer-minded CRM made for small businesses with a focus on customer engagement and task automation. Key features include marketing automation, scheduling, and document storage.
A little disappointing that they keep their pricing behind a wall and don't disclose it without contact. Though it's worth noting that it's only the top tiers that contain unlimited campaigning, customized campaigns, and expanded document storage.

A low-to-no code CRM, Creatio is touted as a process management system for beginners. It offers lead management, opportunity management, and automated marketing with a large degree of freedom.
Its most popular pricing option is $60/user/month, but it has a tier higher that offers "end-to-end processes". Though they don't disclose the price (or what "end-to-end processes" entails).
People mainly go for it because of being low code/no code so beginners can edit the workflow easily. Though people aren't hot on its integration accessibility and the fact that the "low code" claim doesn't apply to everything.

Nimble is a Google Workspace and Office 365 integrated CRM designed to deliver a streamlined experience for users and help teams sell more, faster. Nimble's pretty good for nurturing business prospects across email and has decent calendar integration.
Nimble has just one pricing option at $19/user/month. Which is its big drawing point. Customers like the low prices, with other pros being its automatic reminders and social media integration.
Though some users describe its features as being dated and cumbersome. Going so far as to say that Nimble is "stuck in time" and hasn't changed much in ten years.
Frequently Asked Questions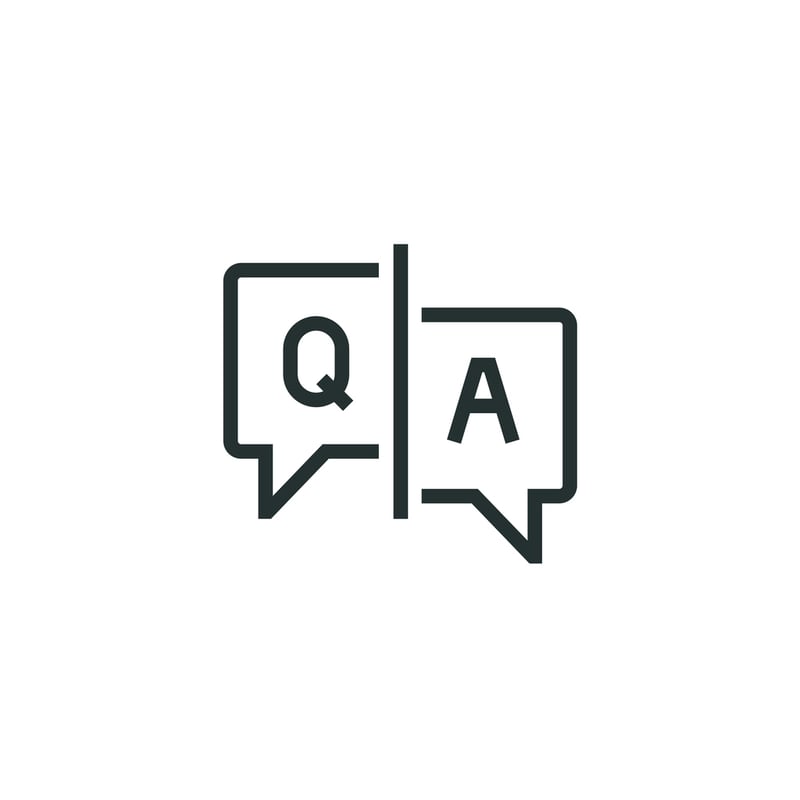 What are CRM and CX in digital marketing?
In short, one focuses on customer relationships and one on customer experience (customer eXperience…get it?). CRMs build relationships and loyalty and CXs improve the overall experience via data and analytics.
But really, the core features of a CX are present in Ringy, a CRM. They can often collide.
What CRMs do marketing agencies use?
Since "customer relationship management" is literally the name of the game, most CRMs will cover the basics, but it pays to research the right CRM for your agency.
We recommended browsing the list above.
*hint* Ringy. *hint*
Why is a CRM strategy important?
Good CRMs are AI-powered and automated, but that doesn't mean we're quite at the point in the future where it can do the work for you.
Having a digital CRM strategy and clear business goals will get you the right customers, zero in on your target audience, and ensure you don't use bad tactics.
And all of those won't only save you money…but make you money.
Conclusion
By now you're probably chomping at the bit to get into CRM digital marketing.
You know how digital CRM can give you automation, analytics, company performance metrics, and lead management – and how all those can benefit your online marketing.
| | |
| --- | --- |
| Digital CRM Features | Details |
| Automation | Drip campaigns via email and VoIP |
| Analytics | Measuring customer engagement and purchases made |
| Company performance metrics | Conversion rates, revenue, sales by device |
| Lead management | Scoring and qualifying prospects, nurturing prospects, retaining old customers, |
And that's just a quick recap!
If you want to fully immerse yourself in the benefits, go request a demo with Ringy today so you can start discovering all a CRM can offer your digital marketing.
If your higher-ups say they can't afford a CRM, tell them that with all the money you'll save, all the money you'll make, and the outstanding ROI –
You can't afford not to.