Do you feel like a captain lost at sea when managing customer relationships? Or find yourself swimming in a sea of spreadsheets and sticky notes. Fear not, for there is a lifesaver that can keep you afloat: small business CRM systems!
Think of a CRM system as a compass that helps you navigate the choppy waters of customer interactions. It's no wonder that by 2029, the global CRM software market is expected to reach a whopping $145.79 billion at a CAGR of 12.5%.
But with a sea of options, choosing the right small business CRM system can be overwhelming.
That's why we've created this guide to help you choose the best CRM system for your business. We'll cover everything from the benefits of CRM systems to the features you should look for and the top options on the market.
So sit back, relax, and let's chart a course to smooth sailing with your customer relationships!
What Is a Business CRM?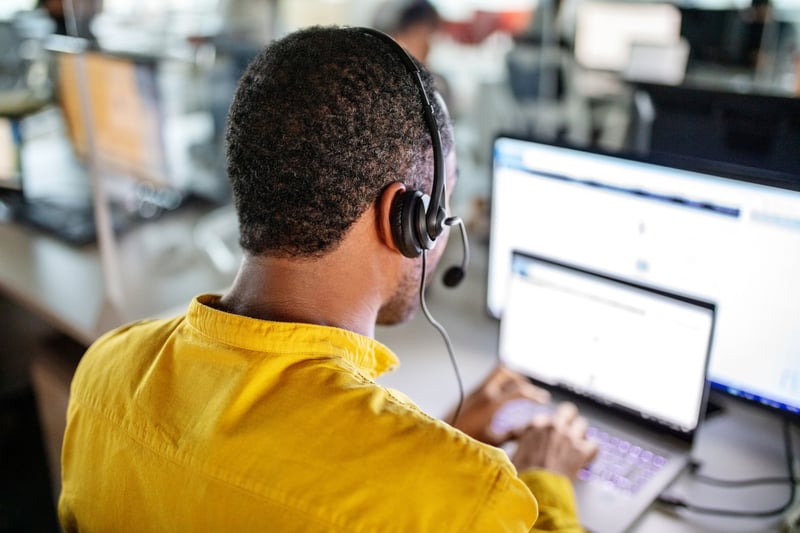 A business CRM is a tool that helps small businesses manage and improve their interactions with customers, leads, and prospects. It is a software system that provides a unified platform for:
Collecting,
Analyzing, and
Utilizing customer data to enhance customer relationships, streamline sales and marketing processes, and increase revenue.
In simpler terms, a business CRM system allows small businesses to keep track of their customers' preferences, purchase history, and communication with the company. With this data, businesses can tailor their marketing efforts to specific customer needs and preferences, increasing customer satisfaction and loyalty.
According to a study by Nucleus Research, implementing a CRM system can yield an average return of $8.71 for every dollar spent. That's an impressive ROI, considering that the benefits of small business CRM systems go far beyond just monetary value. By using a CRM system, small businesses can:
Streamline sales processes by automating tasks such as lead generation and pipeline management
Enhance customer service by providing a comprehensive view of customer interactions and preferences
Improve marketing effectiveness by targeting specific customer segments with personalized messaging
Increase customer retention by identifying and addressing potential issues before they become major problems.
Importance of CRM for Business
CRM systems are essential for small businesses seeking a competitive edge in today's digital landscape. It offers increased customer retention, improved sales process efficiency, better marketing effectiveness, and lower operational costs.
That said, the following are some of the main reasons why small businesses should consider investing in a CRM solution:
1. Comprehensive Understanding of Your Clients
Understanding your clients is essential to running a successful business. A CRM system helps you achieve this by understanding your clients' behaviors and preferences in-depth. With a CRM, you can store and manage client interactions, including purchases, support tickets, and communication history.
You can use this info to create personalized marketing campaigns and to identify opportunities for cross-selling and upselling.
For example, a small business selling handmade soaps could use a CRM to track which scents are popular with which customers. This data can be useful in creating a personalized email campaign promoting those scents to those customers.
With a CRM, businesses can also identify which customers are likely to churn, allowing them to intervene before they lose that customer.
2. Aligned Communication
Aligning communication across all departments is crucial to ensuring everyone is on the same page. A CRM system helps achieve this by providing a centralized location for all client communication. All departments, including sales, marketing, and customer support, can access the same information and collaborate more effectively.
For example, a small business selling clothing could use a CRM to ensure the sales team knows when a customer has contacted customer support with a complaint. This information can help the sales team to provide a personalized experience and to address the customer's concerns.
According to Forrester's study, companies that have a strong alignment between their sales and marketing teams experience revenue growth that is 19% faster and profitability that is 15% higher. A CRM system helps to foster this alignment by providing a platform for cross-departmental collaboration and communication.
3. Automation Capabilities
Automation capabilities are a crucial feature of a CRM system, as they can reduce manual work, freeing up time for employees to focus on other tasks. This automation can include lead capture, lead nurturing, and automated email campaigns.
A small business that sells bicycles could utilize a CRM system to automatically send emails to customers who have left items in their shopping cart without completing their purchase.
The CRM can send a series of emails reminding the customer of the items they left behind, offering a discount, or providing helpful information about the product. This automation can increase the likelihood of the customer completing the purchase.
4. Time-Saving
Time is a valuable commodity for all business sizes, and implementing a CRM system can help save time by automating tasks such as data entry, appointment scheduling, and follow-up emails. CRM systems can also help to eliminate duplicate efforts by allowing multiple employees to access the same customer data, reducing the risk of confusion or miscommunication.
Small businesses can focus on more important tasks by streamlining these processes, such as improving customer satisfaction and increasing sales.
For instance, a small business owner can use a CRM system to automate appointment scheduling and follow-up emails. This saves time and helps ensure that customers are contacted promptly and consistently.
5. Data-Driven Strategies
Data is essential to creating effective strategies, and a business CRM system provides businesses with a wealth of customer data, including demographics, purchase history, and communication history. The data has the potential to enable tailored customer experiences and support the formulation of data-driven strategies.
A small business that sells gym equipment can use a CRM to study the buying patterns of its customers. By doing so, they can identify the most popular products and create successful marketing campaigns centered around those products.
On-Premise vs. Cloud-Based CRM for Small Business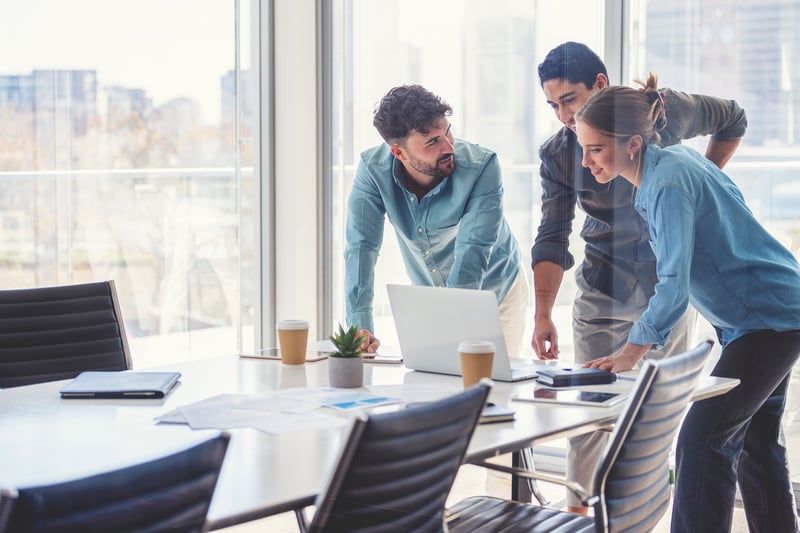 Small businesses need to manage their customer relationships effectively to thrive and grow. To achieve this, businesses can choose between on-premise and cloud-based CRM systems. On-premise CRM systems are installed locally on a company's servers, while cloud-based systems are hosted in the cloud and accessible via the Internet.
Both options have pros and cons, so it's important to weigh them up and choose the best option for your business. In the following table, we'll compare the two options in terms of cost, security, scalability, accessibility, and maintenance.
| | | |
| --- | --- | --- |
| Criteria | On-Premise CRM | Cloud-Based CRM |
| Cost | Higher upfront costs for hardware and software | Lower upfront costs, subscription-based model |
| Security | In-house IT team responsible for the security | Cloud provider responsible for the security |
| Scalability | Limited by hardware and software capacity | Easily scalable, cloud provider manages resources |
| Accessibility | Accessible only from the office | Accessible from anywhere with an internet connection and the necessary authorization |
| Maintenance | In-house IT team responsible for maintenance | Cloud provider responsible for maintenance |
Overall, both on-premise and cloud-based CRM systems have their advantages and disadvantages. Businesses should weigh their options and choose the option that best suits their needs, budget, and goals.
While cloud-based systems have many benefits, on-premise systems can still be a viable option for some businesses, depending on their specific requirements.
Benefits of Using Small Business CRM Systems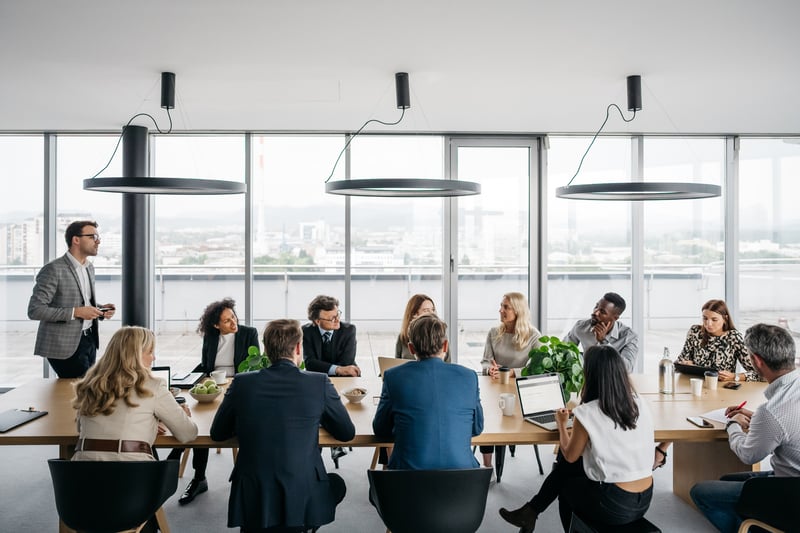 As a small business, we know you have a lot on your plates, and managing customer relationships is one of them. Keeping track of customer data, managing leads, and providing exceptional customer service can be daunting.
While we showed you the importance of small business CRM systems and why you need one, here are a few more benefits to consider:
1. Capture and Convert More Leads
Generating leads is critical for small businesses. However, ensuring these leads are captured and converted into customers is equally important. This is where a CRM system for small businesses comes in handy.
By using a CRM system, businesses can manage their leads more effectively, track their interactions with potential customers, and follow up on leads promptly. This leads to higher conversion rates and increased revenue.
2. Better Customer Service
Excellent customer service is vital for any business in today's competitive marketplace. In fact, research shows that customer service has a direct impact on customer loyalty and retention.
The good news is that small business CRM systems can help you stay organized by providing easy access to customer data, such as contact information, purchase history, and communication history. This makes it easier for employees to quickly answer questions and resolve issues, leading to a better customer experience.
3. Improves Customer Retention Rates
Retaining customers is more cost-effective and beneficial for a business's success than acquiring new ones. So, customer retention plays a crucial role in the growth of any business.
Small businesses can use a CRM system to manage customer interactions, track their behavior, and find chances for upselling and cross-selling. This leads to increased customer retention rates, a win-win for both the business and the customer.
4. Increased Customer Satisfaction
As detailed earlier, using small business CRM systems can boost customer satisfaction and increase customer loyalty, as happy customers tend to become more loyal. By tracking customer interactions and preferences, businesses can tailor their products and services to meet the needs of their customers.
Doing so can lead to a more personalized experience, which in turn, leads to higher levels of customer satisfaction.
5. Centralized Customer Information
Managing customer data can be a challenge for small businesses. However, a CRM system can help by providing a centralized platform to store and manage customer information, such as contact details, purchase history, and interactions.
This makes it easier for businesses to access customer information quickly and efficiently, which leads to better decision-making and improved customer service.
In summary, a small business CRM system offers many benefits, as highlighted above. By investing in small business CRM systems, small businesses can improve their bottom line and gain a competitive advantage in today's marketplace.
How to Choose a CRM System for Small Businesses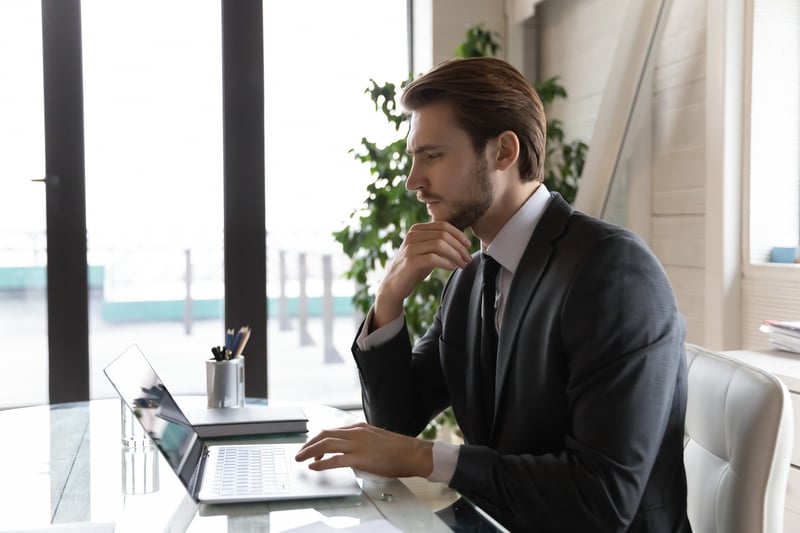 Choosing the right CRM system for your small business can be tricky. After all, there are so many options, and you don't want to waste time or money investing in a system that won't meet your needs. So, here's what you need to consider when selecting a CRM system:
1. Compatibility
First and foremost, you must ensure that the CRM system you choose is compatible with the other software tools you use in your business. This could include your website, email marketing platform, accounting software, etc.
You want to avoid ending up with a CRM that doesn't integrate smoothly with your existing systems, which can cause major headaches. Think of it like choosing a dance partner - you want someone who can keep up with your moves and complement your style.
2. What Are Your Must-Have Features?
Next, think about the features you need in a CRM system. Do you need to be able to track leads, manage sales pipelines, send automated emails, or generate custom reports?
Different CRM systems offer different features, so it's important to prioritize your needs and make sure the system you choose has everything you require.
Think of it like shopping for a car - you want to get all the features you need when traveling from point A to point B comfortably and efficiently.
3. Is the CRM Mobile-Friendly?
In today's mobile-first world, your CRM system must be mobile-friendly. This means you should be able to access it from your phone or tablet, and the interface should be easy to use on a smaller screen.
This is especially important if you and your team are frequently on the go, meeting with clients or attending events. Think of it like a good pair of shoes - you want something comfortable and reliable to keep up with your busy schedule.
4. Check the Reputation
Before you commit to a CRM system, take some time to research its reputation. Read reviews from other small business owners, check out the company's social media pages, and ask for recommendations from colleagues in your industry.
You want to choose a CRM system with a proven track record of success, as this can give you greater confidence in your investment. Think of it like dating - you want to do your due diligence and ensure the person you're interested in has a good reputation before committing.
5. Consider the Customer Support
No matter how easy-to-use a CRM system is, there will inevitably be times when you need help or support. That's why choosing a system with excellent customer support is important. Look for a CRM provider offering phone, email, or live chat support and a robust online knowledge base.
Knowing you can get help and keep your business running smoothly can give you peace of mind. Think of it like having a personal trainer - you want someone who can offer guidance and support when you hit a roadblock.
6. Plan Your Budget
Finally, you need to consider your budget when choosing a CRM system. Different systems have different pricing structures, with some charging per user, per month, or per year. You need to weigh the costs against the benefits and choose a system that fits your budget while meeting your needs.
Remember that investing in a quality CRM system can ultimately save you time and money in the long run. Don't be afraid to spend a little more upfront if it means greater efficiency and profitability. Think of it like buying a suit - you want something that looks good and fits well but that you can afford without breaking the bank.
In summary, choosing the right CRM system for your business isn't a decision to take lightly. Consider your current systems, prioritize must- features, check the system's reputation, and plan your budget before committing to a CRM provider. Like any personal or professional relationship, you want to ensure it works for you.
Essential Features of Small Business CRM Tools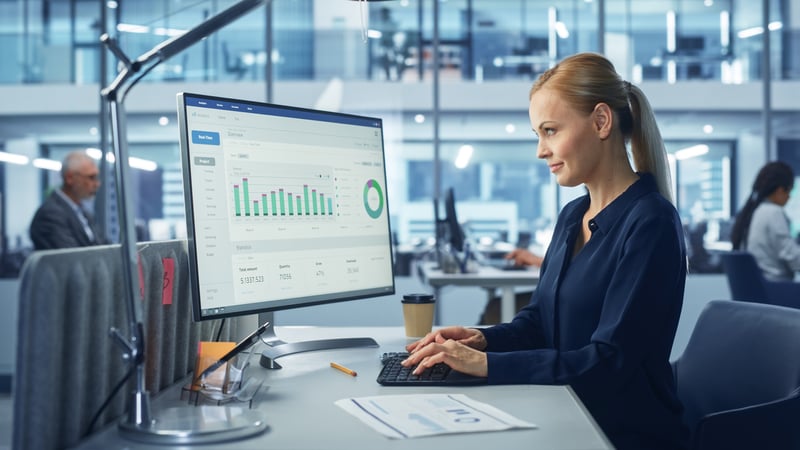 You now understand the value of small business CRM systems, but what specific features should you look for? Here are some of the most essential ones:
Contact Management
Contact management is one of the most critical features of small business CRM systems. It enables businesses to store and organize customer data in one central location. With contact management, businesses can keep track of customer interactions, purchase history, and contact information.
It's like having a Rolodex, but much more advanced and efficient. This feature lets businesses personalize customer interactions, making them feel valued and appreciated.
Sales Management
Another essential feature of small business CRM systems is sales management. This feature helps businesses track and manage their sales pipeline, from lead generation to deal closure.
With sales management, businesses can monitor their sales team's progress, identify potential roadblocks, and forecast sales revenue. This feature means you have a sales dashboard that provides real-time insights into your business's sales performance.
Marketing Automation
Marketing automation is a game-changer for small businesses. This feature helps businesses automate repetitive marketing tasks like email campaigns, social media posts, and lead nurturing. With this feature, businesses can create targeted campaigns that resonate with their audience and drive conversions.
Customer Service Management
Small businesses depend on having good customer service. By managing customer service well, businesses can support customers, quickly solve problems, and keep track of how satisfied customers are. This feature allows businesses to create a knowledge base, manage support tickets, and provide self-service options to customers.
Reporting and Analytics
Reporting and analytics features allow businesses to track key performance indicators (KPIs), such as sales revenue, customer acquisition costs, and lifetime value.
With reporting and analytics, businesses can make data-driven decisions and optimize their operations for maximum efficiency.
Mobile Access
Mobile access is an increasingly important feature of small business CRM systems. With mobile access, businesses can access customer data, manage sales pipelines, and respond to customer inquiries. This feature enables businesses to be more responsive and agile, providing better customer service and improving sales efficiency.
According to a report by LeadSquared, using mobile CRM increases the chance of reaching sales quotas significantly, as 65% of reps who use it achieve their quotas compared to only 22% of reps using traditional CRM. This highlights the crucial role that mobile CRM plays in sales.
Email Tracking
Small business CRM tools often come with email tracking features that enable businesses to track and analyze the effectiveness of their email campaigns. These features allow users to see which emails are opened, which links are clicked, and which emails result in conversions.
In addition, they offer valuable information on customer behavior, such as the kinds of emails that generate the most interest and the time of day when customers are most likely to read their emails.
Calling Capabilities
Small business CRM tools should come with calling capabilities that enable businesses to make and receive calls directly from their CRM system. Users use these features to take note of calls, record them, and keep a history of all calls made. They provide information on customer behavior, including which customers are most involved and the questions they frequently ask.
For example, imagine a small consulting firm using a CRM system to manage customer relationships. The system can help the firm track customer calls by logging call notes and history.
The system can also help the firm identify which customers are most engaged by showing which ones have called multiple times or have asked specific questions. This allows the firm to provide better service and build stronger customer relationships.
Overall, small business CRM systems are essential for businesses that want to improve customer experience, streamline operations, and drive growth.
Top CRM Software for Small Businesses
With a clear understanding of what features you need in a CRM, it's time to decide which software platform is the best for your small business. There are plenty of options, but here are some of our best picks.
1. Ringy (That's us)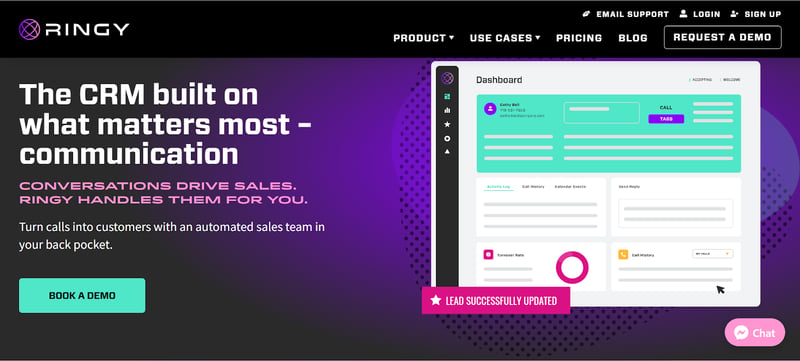 Ringy is a cloud-based CRM solution for small businesses. It offers an intuitive, user-friendly interface that simplifies the sales process, streamlines customer communication, and improves team collaboration. Ringy has several features that make it a top contender in the small business CRM space.
Some of the features that make our platform stand out include the following:
| | |
| --- | --- |
| Features | Description |
| Lead management | Capture and manage leads from multiple sources |
| | Store and organize contact details and communication history |
| | Track deals and their progress through the sales funnel |
| | Send and receive emails within Ringy |
| Task management | Create and assign tasks to team members |
| Customization | Customize fields, stages, and pipelines to fit your business |
| | Gain insights into team performance and sales pipeline |
| | Access Ringy from anywhere using the mobile app |
As you can see, Ringy offers a wholesome package when choosing small business CRM systems. This software has everything from automated campaigns and advanced reporting to easy integration.
Finally, our pricing is tailored to small businesses, so you won't have to break the bank. At just $109/month, you can get started with Ringy and unlock the full potential of your small business.
2. Pipedrive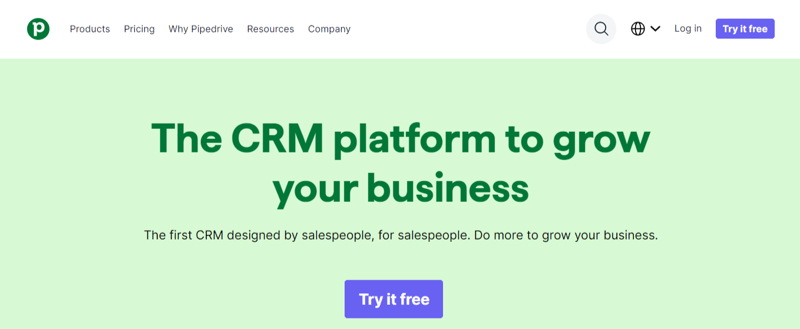 Pipedrive is another CRM software that helps small businesses manage their sales pipeline efficiently. It offers an easy-to-use interface and automation features that reduce administrative tasks and enable you to focus on selling.
Here are some of the features of Pipedrive:
| | |
| --- | --- |
| Features | Description |
| Pipeline management | Visualize your sales pipeline and track your progress |
| Lead management | Capture leads from various sources and manage them |
| Contact management | Store and organize contact details and communication history |
| Email integration | Send and receive emails within Pipedrive |
3. Insightly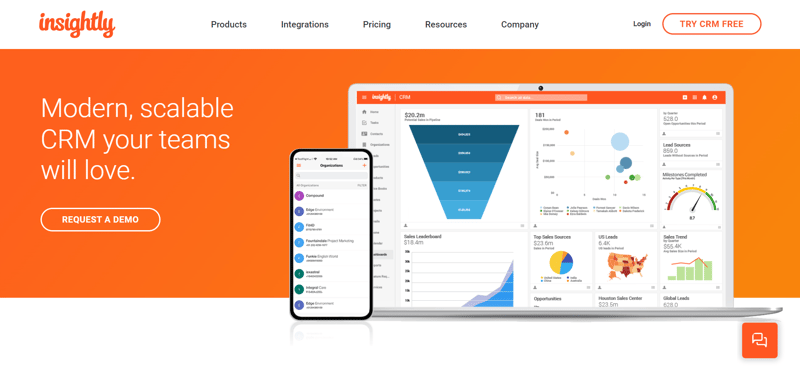 Insightly is a CRM software that helps small businesses manage customer relationships effectively. It offers an all-in-one platform with sales, marketing, and project management features.
Some of the features that come with Insightly include:
| | |
| --- | --- |
| Features | Description |
| Sales pipeline management | Visualize your sales pipeline and track your progress |
| Project management | Manage projects, tasks, and milestones |
| Customization | Customize pipelines, stages, and fields to fit your business |
| Reports and dashboards | Gain insights into sales and marketing performance |
| Marketing automation | Automate marketing campaigns and track their performance |
Ringy stands out as the top contender in the small business CRM space due to its unique features, such as lead scoring, appointment scheduling, and integration with various third-party applications. Its mobile app also allows you to manage your sales pipeline.
FAQ
How to Implement a Small Business CRM Tool
Implementing a CRM tool is a great way for small businesses to improve customer interactions and streamline operations. So, here are some steps to consider when implementing a small business CRM tool:
Define your business needs and goals: Determine what specific tasks you want your CRM system to automate or improve, such as tracking leads, managing customer information, or streamlining customer communication. By defining your needs and goals, you can select a CRM system that aligns with your business requirements.
Choose a CRM system: Consider the features, pricing, and scalability of each system, as detailed in the previous section.
Set up your CRM system: Once you've selected your CRM system, it's time to set it up. Start by importing your customer data into the CRM, such as names, contact information, and purchase history. You can also configure the CRM to track specific customer interactions, such as email opens, clicks, and website visits.
Customize your CRM system: Every business has unique needs, so it's essential to customize your CRM system to fit your specific requirements. For example, you can create custom fields to store additional customer information or create custom reports to track sales performance.
Train your team: After setting up and customizing your CRM system, training your team on how to use it effectively is crucial. Provide training on how to input and manage customer data, run reports, and use automated workflows.
Integrate your CRM system with other tools: To get the most out of your CRM system, consider integrating it with other tools you use, such as marketing automation platforms or accounting software. This can help automate processes and reduce manual data entry.
In summary, implementing small business CRM systems can help businesses improve their customer interactions, streamline operations, and increase sales. Following these steps, you can select and set up a CRM system that meets your business needs and goals.
Conclusion
Choosing the right CRM software for your small business is crucial to managing customer relationships effectively, improving team collaboration, and increasing sales.
If you want to learn more about how Ringy can help your small business grow, why not see the software in action? With our platform's intuitive features and affordable pricing plan, Ringy can help you streamline your sales process and improve customer satisfaction.