OVERVIEW
Under the hood...
What ringy does
Ringy offers the same cutting-edge tech as top CRMs, at a price to compete with them all. It gives sales agents the tools to automate and streamline their workflow, reach more prospects with greater impact, and make data-driven decisions to maximize ROI.
How Ringy Looks
Ringy combines multiple platforms into one complete, user-friendly dashboard. At a glance, agents can see their incoming call list, real-time text messages, and lead vendor success rate. With a click, users can launch entire drip marketing campaigns, import leads, send SMS or emails, and take or forward calls.
Why Ringy Works
Ringy brings sales teams an intuitive interface that just makes sense. Finally, agents can take advantage of automation, AI, and multiple communication channels without breaking the bank or hiking a steep learning curve. Ringy takes care of the important details, from local ID to lead nurture messages, so agents can focus on making high-quality sales calls that win customers.
Calling
Focus on finetuning your pitch, Ringy handles the rest
Agents can take calls within the platform and divert calls to their smartphone or another agent. This flexibility supports multi-tasking sales teams who need to make notes, adjust call lists, and check details while pitching to prospects.
Cloud VOIP Softphone
Click to call, coach, and conference
Ringy is a built-in softphone, enabling agents to make calls, SMS, and emails from their internet connection. Agents can receive discreet coaching from their upline during their calls, and sales teams can collaborate effortlessly using the divert and conference functions.
Local ID
Wherever you are, you'll always be familiar
First impressions are crucial for cold calling. Sales agents using unknown numbers immediately start on the wrong foot, as prospects dismiss calls as spam or untrustworthy. Ringy's Smart local ID connects your call to a prospect's state ID. It's linked to your account, so prospects can call you back on the same number.
Automation
Eliminate mundanity and focus on sales
With intuitive AI and automated functions, Ringy takes care of repetitive tasks and nurtures your leads via SMS and email until they're ready for you to close the sale. Say goodbye to tedious admin sessions and focus on finetuning your pitch!
Testimonials
See why companies trust Ringy
Unlock your potential with a CRM that gets it done
The service is great!
The service is great and much better than other CRMs I have used in the past. It gives me the ability to follow up with leads without even thinking about it. I like the drip marketing. I can start a lead in the drips and then the system takes over so I can use my time elsewhere to do other important activities.
Great system!!! Best CRM by far
The ease of use of Ringy is fantastic! It's a personal assistant for a fraction of the price of a real assistant. Makes contacting prospects a lot easier.
Email
Get personal in less time
Market your service, get to know new prospects, or just keep in touch to keep things moving. Got a winning line? Make it a template and send it to as many leads as you like, at the most effective time. Emails can be as automated or personalized as you please, sent alone or as part of a strategic drip campaign.
SMS
Reach prospects in familiar places
Text messages are more personal and easier to respond to. With Ringy, you can send a clever SMS to as many leads, at whatever time, and with whatever message that'll work. With your inbox on your dashboard, you can automate responses or answer in real-time to create a personalized chat.
Drip Campaigns
The smartest way to nurture leads
Ringy helps you drive ROI by staying in constant contact with thousands of prospects, using personalized SMS and emails sent at just the right time. The platform automatically adapts messages based on your lead's personal details, and includes useful templates made to suit your business.
Boost Your CRM Experience with Our AI Tool for SMS
For just $10/month, you can add these powerful features to your CRM:
Suggest a Reply
Respond to clients quickly with AI-generated responses that are based on conversation history, saving you time and effort.
Improve Text
Say what you want in the best way. AI-enhanced clarity and tone ensure you're putting your best foot forward when communicating with clients.
AI Chat Bot
Respond to leads in seconds with instant suggested replies, automatically sent to your iOS or Android device.
Add the AI Tool for SMS to your Ringy subscription and improve your communications effortlessly.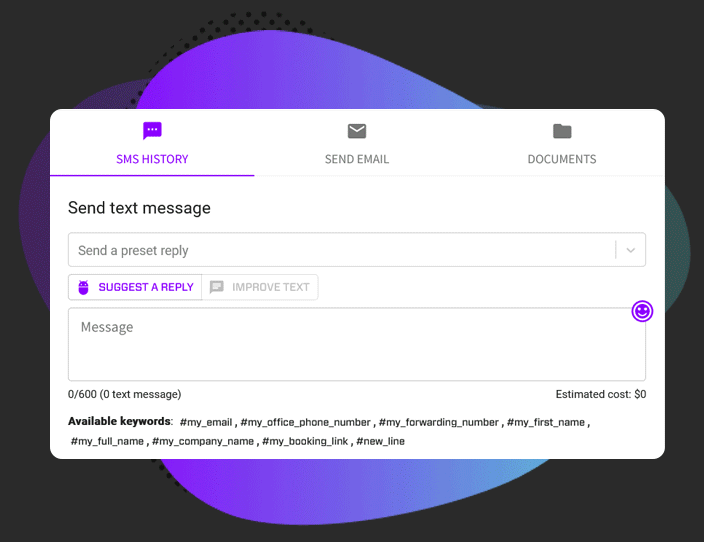 Organize, Manage, and Track
Organize contacts
All your notes in one place
Add leads yourself, import a fat stack of them, or integrate a lead vendor so they can come in automatically. Agents can see a prospect's full history at a glance and hit the ground running before a call. You can group your contacts by organization, stage in your sales pipeline, or level of contact.
Manage pipeline
Whatever works for you
Customize your call lists and pipeline to suit your targets. Ringy integrates with your calendar, so your workflow is accessible and customizable. Your prospects can schedule appointments themselves, and Ringy can create them automatically.
Track progress
Scale rapidly without dropping the ball
Ringy is your sales assistant, on your desktop and in your pocket. You'll get instant updates from your prospects and your team, so you'll never miss a beat. Ringy enables busy sales teams to maintain personalized relationships with prospects while scaling their performance.
Insights & Reports
Your 360 view of performance, growth, and opportunities at a glance
Powered by AI and automation tools, Ringy provides managers with the insights they need to make impactful decisions. With a click, you'll receive agent performance, lead ROI and CPA, revenue, open-rates, and conversion rates updated to the minute detail. With deeper insights, you can adapt what isn't working and capitalize on what is.
Mobile App
The sales expert in your pocket
Ringy lets you take your dashboard with you. Your desktop and mobile platform connect seamlessly. Divert a call to your mobile in an instant for a sales pitch on the move. Our mobile app is compatible with iPhone and Android.
Privacy & Security
Keeping your data safe is the least a CRM should do
Ringy supports businesses of all sizes with state-of-the-art security testing to identify and fix any slight vulnerabilities. You can adapt access to different members of your team, so valuable information is only visible to the right people. We're constantly working to ensure that prospect's data is protected.
STILL NOT SURE?
Read our Ultimate Guide on CRM Meaning to review functionality, use cases & the best software to consider when adopting a CRM.